No other talk dominated domestic markets in 2015 more than the turmoil seen in energy markets.
Oil fell to a six-year low before the close of the year. At one point, a barrel of oil was selling for $35, representing a tumble of 30% for 2015. It was the second year oil saw a significant decline. The black gold fell from around $100 a barrel in early 2014 to end that year around $50.
As energy investors assess what will happen in 2016, their eyes will be on a few critical areas. First, there's always the geopolitical scene - the minute-by-minute changes in the Middle East always are on the minds of energy industry observers. In addition, OPEC continues to be a mess.
Yet, despite roiling global markets, some continue to watch for opportunities domestically. Shale oil producers are tightening their belts and some are engaged in lucrative M&A activity, moves that could make these companies interesting investment opportunities.
Jennifer Warren has followed the energy industry on Seeking Alpha since 2013. She shared her thoughts with Editor Michael Hopkins on what may transpire in 2016:
Michael Hopkins (MH): Can oil stay below $40 for much longer? What should investors know if the price cannot recover? What should they know if the price does recover?
Jennifer Warren (JW): Based on the actions of firms that produce the majority of global oil, their cost to explore, produce and operate, I think not. Oil has been at a price not seen since 2009, when the industry was at the heels of a demand shock owing to the financial crisis. U.S. supply was less robust then. U.S. production is starting to tighten, while OPEC had been turning on the spigots. Given the lower prices weighing on the sector for a while longer, many quality energy firms are displaying opportune prices.
At the end of the second quarter 2015 with WTI at $60, the land rig count was about 900, now at the end of December with mid-30s WTI, the rig count reached 700, with gas rigs declining more than oil rigs. An analyst at Jefferies expects an oversupply of 1 million barrels in the first half of 2016, according to their research note.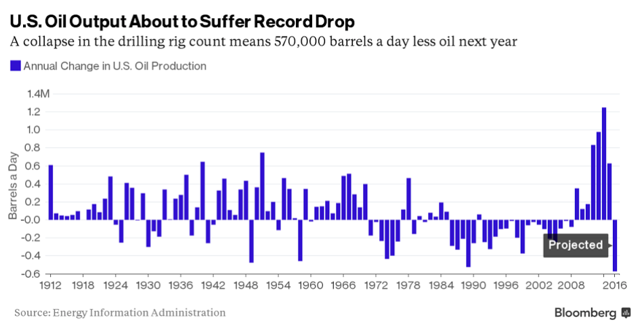 OPEC's new outlook suggests a 30.7 million call on their production to 2020, one million less than pumped in November. OPEC's medium-term estimates predict a $5/b increase each year so that a level of $80/b (nominal) is reached by 2020, with growing demand and the slowing of non-OPEC supply growth.1 The U.S. Energy Information Administration (EIA) projects averages of $50 WTI and $55 Brent, the global benchmark, in 2016.
The following is offered by the EIA:
"...U.S. crude oil production declines to continue through September 2016, when total production is forecast to average 8.5 million b/d. This level of production would be 1.1 million b/d less than the recent monthly peak reached in April 2015. Forecast production begins increasing in late 2016, to an average of 8.7 million b/d in the fourth quarter."
An oilfield services firm suggests the downturn is as severe as that of the 1986 period. A difference however is that the spare capacity of OPEC was more than 10 million vs. today's 3 million.2
Eventually, once some of the overhang of supply is reduced, the natural declines of oil production will come to the fore coupled with increasingly expensive costs to recover.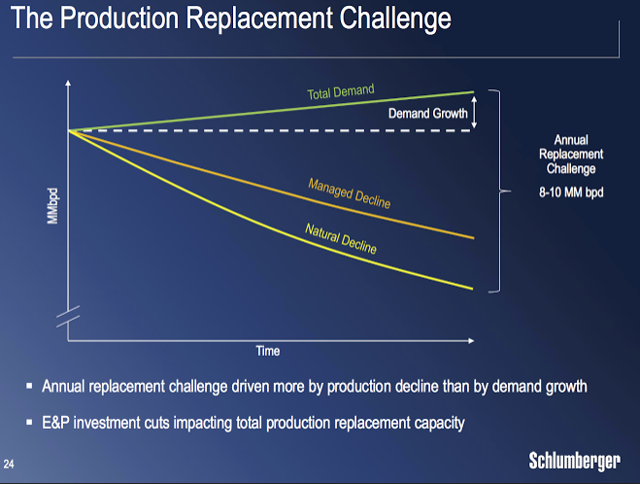 The first half of 2015 was a period of waiting to see how shale would respond to lower prices. OPEC did reverse course by pumping more and pushing supply higher to gain share. I think the chart titled "Growing Apart" in this previous article, indicating which member is pumping more and less, is instructive.
MH: Everything I've read here and elsewhere suggests OPEC is a mess. There's the price war that has broken out among members. And with Iraq pushing out a lot of oil (to pay for its war against ISIL) and Iran ramping up production (due to the gradual lifting of sanctions), could 2016 be as tricky as 2015 was for energy markets?
JW: Since the Paris attacks, Iraq will certainly have more help from allies with its efforts to push back ISIS, though big fights are ahead in Mosul and Fallujah. The Iraqi minister Haider al-Abadi says ISIS will be removed from Iraq in 2016. A composite of military forces are pulling Iraqi oil assets out of ISIS' control. This is wreaking havoc on the living conditions of citizens under ISIS control, according to some reporting.
Saudi Arabia is spending a considerable amount of its budget on the fight in Yemen. The decline in oil prices is providing cover for the government to reform economic policies, including privatizations and re-pricings of subsidies for oil, water and electricity. The first budget of the new King Salman includes some drawing of reserves and issuing bonds.
While the legacy of tensions between Iran and Saudi Arabia exist, the existential threats of ISIS and extremism are forging alliances in the region by necessity. Frankly, this had given me more hope than I have had in a while, which may be reversed however given the recent Saudi-Iranian flare-up over the Shiite cleric's execution. The chaotic environment reaching an inflection point in the Middle East - that many a diplomat has cited for the past few years - may have new turning points in 2016. I think the will is being mustered to take back that which belongs to individual nations, save Syria for this very moment. (This sounds like a Lord of the Rings moment.) But seriously, the world is out of options but to fight and reclaim civility, which happens to include countries connected to and surrounding a resource that moves people and products around the globe.
MH: Why is it important for investors to pay attention to the geopolitical issues surrounding energy markets?
JW: Geopolitics is an important factor in oil markets because the supply is spread among many countries, many of which are fraught with instability. Just look at how sentiment changed in a day from the latest Saudi-Iranian confrontation. In the past, supply shocks impacted price more readily, adding volatility. There are many hot spots in the Middle East obviously, of which one-third of global oil supply originates. While Iran appears to desire playing a more constructive role as a global citizen, its new path is yet to be fully understood or realized.
The inclusion of 4 million-5 million barrels of U.S. shale oil, when it previously did not exist pre-2009, has taken some of the geopolitical edge off of the market. But supply shocks can still be problematic to send up prices. We have been lucky for a while but once any tightening becomes apparent, then the risk will increase.
MH: U.S. oil shale producers have especially been challenged by falling oil prices. Yet in your last article you stated U.S. shale oil has created "a wedge in the market that is yet to be fully understood." Can shale oil producers take advantage of the recent turmoil in energy markets? Or is there more pain ahead?
JW: U.S. shale firms with healthier balance sheets and lower cost advantages have already taken advantage of the pain. They have extracted lower costs for oilfield services. U.S. firms have navigated a change to their advantage in the form of exports of crude becoming legal, something which might not have happened as swiftly, were it not for OPEC's gambit. Firms are leveraging their respective strengths and controlling what they can, such as focusing drilling in core areas or tightening financial measures. A December 30th news flash mentions that the first cargo of U.S. crude is headed for Switzerland and that the U.S. benchmark was trading at $36.94/bbl, $0.20 higher than Brent, a first in a while.
MH: Given the volatility in the oil markets, there was talk of M&A activity - big fish going after smaller, independent E&P fish. Are potential takeovers still on the radar?
JW: In the recent past, mergers in E&P firms have been floated like Concho Resources (NYSE:CXO) and Clayton Williams. Oil and gas firms have made more asset acquisitions, also being opportunistic. BP p.l.c (NYSE:BP) has acquired all of Devon Energy Corp.'s oil and gas properties, consisting of 480 wells over 33,000 gross acres, in the San Juan Basin in New Mexico and Colorado. These types of activities will likely continue into 2016, whether in the form of asset acquisitions or outright mergers.
MH: The turbulent markets also impact oil and gas exploration. A lot of projects have been postponed or cancelled. Will the pain persist for energy services companies?
JW: Oilfields services firm Schlumberger (NYSE:SLB) acknowledges that this is the most severe downturn in decades. The following chart explains how the large, global players are coping, balancing margins and market share. The chart clearly shows the stress in the U.S., in comparison to their operations outside the U.S. In North America, Schlumberger says that "recovery in activity is pushed out and there will be no pricing traction until idle assets are absorbed." Basically, excess capacity (and uncompleted wells being completed) need to be absorbed before new business ensues to increase services costs, alongside the need for oil prices to increase. An insightful comment is that when they have had to accept less-than-commercial prices, they are seeing it as an investment, rather than a market share play.
I cannot speak to the whole sector, given that there are many other operators. We do know that consolidation is in the works, as witnessed by the Halliburton (NYSE:HAL)-Baker Hughes (BHI) and Schlumberger-Cameron (NYSE:CAM) mergers. In the case of Schlumberger, the Middle East and Russia have remained robust, particularly Gulf Cooperation Countries. However, pricing concessions, a changing revenue mix and project delays are leading to revenue and margin challenges. They are trying to manage total costs per client and their strategic transformational activities over the last seven years are helping protect margins.
MH: You recently wrote on Energy Transfer (here and here) and its push to "remake the midstream map." What can we expect from midstream players in 2016?
JW: In the midstream space, acquisitions of entire firms, assets and swaps are taking place. It is a very diverse space. For Energy Transfer Partners (NYSE:ETP), in a potentially volume-stressed environment, their strategy is to capture more of the entire customer value chain from processing liquids to the final customer demand center. A focus on efficiency has spread from E&P firms to oilfield services to midstream. The transformations underway will eventually bear fruit for the industry's competitiveness over time. In the E&P space, the industry in not concentrated, same in midstream. More concentration in the midstream sector will likely occur, as it already is.
Export opportunities also offer growth for the industry over time. Enterprise Products Partners (NYSE:EPD) announced its first shipment of crude oil exports from the Gulf Coast, with its pipeline and terminal services being part of the supply chain. Pioneer (NYSE:PXD) is speaking with its midstream partners to facilitate exports expected to be flowing in the middle part of 2016. The Wall Street Journal reported on Dec. 31: "The first oil tanker of freely traded U.S. crude departed Thursday afternoon from the Port of Corpus Christi." ConocoPhillips (NYSE:COP) and NuStar Energy (NYSE:NS) loaded the tanker with oil pumped from the Eagle Ford Shale of South Texas, usurping Enterprise Products Partners' announcement of a first cargo of exports.
MH: You cover a lot of what's happening in the Permain Basin in West Texas. Why pay attention to this region? What companies stand out, especially as we head into 2016?
JW: The Permian Basin was a research Petri dish of mine since mid-2013. In a June 2013 energy trends presentation by a Council on Foreign Relations fellow and a Pioneer executive, U.S. shale gas was heavily discussed. Afterward, I asked the Pioneer executive how their Eagle Ford shale oil drilling was progressing. He replied that they were in fact excited about the Permian. I was then set on finding out what was happening in the Basin. I drove through the entire region, penning this article shortly thereafter. Around the time of an extensive article about Pioneer, the most prolific producer in the Permian, I began writing research articles that linked events, trends and observations - a major theme for a year or two on Seeking Alpha.
Interestingly, and yet not surprisingly, the Permian is the one region that has realized the least disruptions in production. In general, it is a function of lower breakevens, operational efficiency relative to volumes available, and access to infrastructure. I try to keep my eye on players like Pioneer, Apache (NYSE:APA), Occidental Petroleum (NYSE:OXY), Concho Resources and small caps like RSP Permian (NYSE:RSPP), Matador (NYSE:MTDR) and Diamondback Energy (NASDAQ:FANG). Incidentally Chevron (NYSE:CVX) has considerable legacy acreage there too. A number of midstream firms have stakes in the region as well, which I'll leave for another day.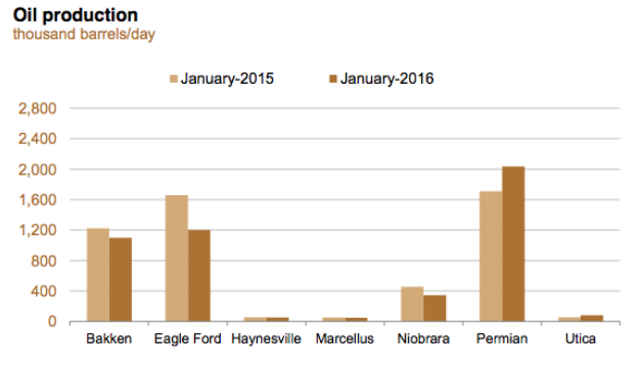 MH: This fall you did something somewhat "shocking" (at least for some of your followers) - you wrote about going green (well, actually Toyota's (NYSE:TM) plans to go green). Obviously, oil and gas companies are closely watching how energy markets evolve and what companies like Toyota and Tesla are up to. It's still important to watch what happens with renewables even with low oil prices, correct?
JW: The irony is that I had been writing about renewables' trends, shale gas and infrastructure heavily from 2006-2010, including a book chapter on green infrastructure, focusing on China and India. Then came shale oil trends (after a short stint for me at a global affairs nonprofit). Between 2012-2013, oil wells completed in Texas nearly doubled from about 10,000 to nearly 20,000; volumes were in full swing. As a researcher, it was an important trend that I wanted to understand. My green energy work stalled for a period, but mainly because of the demand for information about oil markets.
In spite of low oil prices, renewables continue to grow, as they are currently more tied to changes in the mix of fuel and energy sources for power generation. Demand for power generation globally is rising as economies grow and develop. Emerging economies can leap frog into more energy options than ever before. Carbon emissions and pollution are rising in developing countries, and thus the need and desire for cleaner energy alternatives will continue. Harvesting energy efficiency is a large space for energy firms of all types (and tech firms) in which to innovate and develop.
I acknowledge the tussle between oil and fossil fuel-based resources and other alternatives. The next 5-10 years will be very telling as to how the trends reveal their lines, especially in this lower oil price period. Increasingly, energy firms of all walks will continue to redefine themselves, consolidate, cross-pollinate and specialize.
1.) OPEC World Outlook 2015, summary.
2.) See Dec. 1, 2015, presentation.
Disclosure: I am/we are long OXY, RSPP, MTDR, APA.
I wrote this article myself, and it expresses my own opinions. I am not receiving compensation for it. I have no business relationship with any company whose stock is mentioned in this article.