On nearly every valuation metric you can judge Foot Locker, Inc. (NYSE:FL) on, you can't escape from the fact that the stock appears slightly expensive at the moment compared with the past five years. But is it?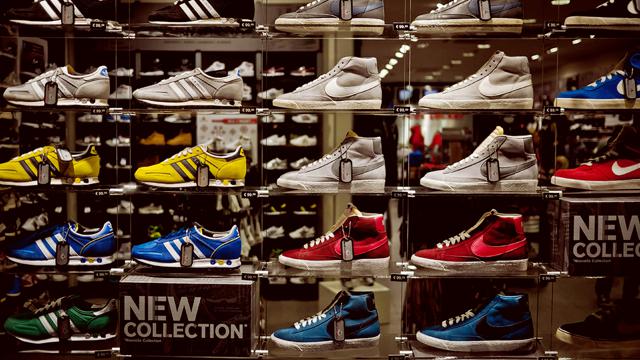 The company currently trades at 1.264x sales and 17.53x earnings, compared with the 5-year average of 0.94x sales and 15.67x earnings. Whilst these are by no means outrageously higher than their averages when viewed in writing, the price to sales ratio raises a few eyebrows when you see it in chart form as demonstrated below.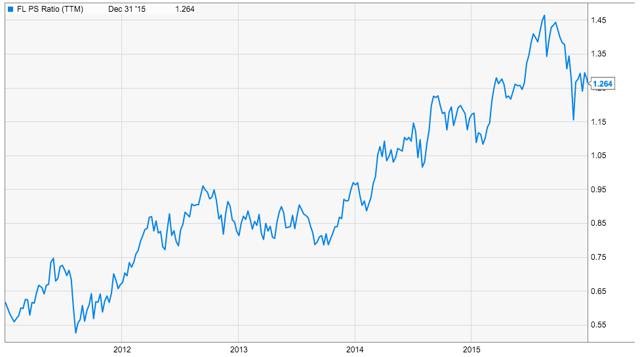 Source: Ycharts
Immediately, when we see a chart like this, we worry that things have become overblown and that there is potentially a lot of downside risk. But the more we look at the company, the more confident we are that it can sustain these valuations.
As you can see in the next chart, earnings growth is far outpacing revenue growth. We see this as a very positive trait and believe it goes some distance to explaining the increasing price to sales ratio.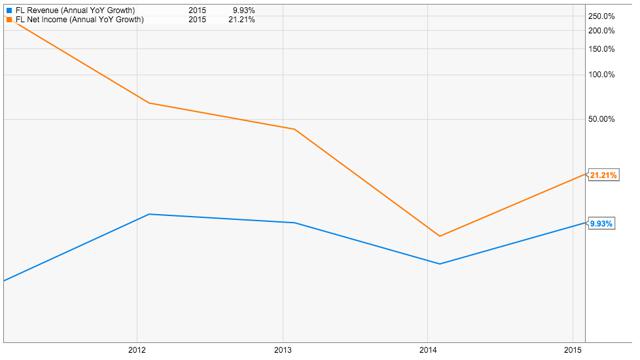 Source: Ycharts
We are happy with the performance of the company and the top line growth it is making in spite of headwinds caused by currency fluctuations. Yes, currency fluctuations, it's the same old story, but to demonstrate how big a difference it is making for the company you only need to look so far as the company's Q3 10Q:
Third quarter comparable-store sales increased 8.7 percent. Total sales increased 3.6 percent, to $1,794 million this year, compared with sales of $1,731 million for the corresponding prior-year period. Excluding the effect of foreign currency fluctuations, total sales for the third quarter increased 8.9 percent. The Company's gross margin rate improved to 33.8 percent of sales from 33.2 percent a year ago, while the selling, general, and administrative expense rate improved to 19.6 percent of sales from 20.4 percent."
On a constant currency basis, revenue would have been approximately $91 million more than what was delivered, bringing the trailing twelve-month revenue to $7.407 billion.
We feel the reason the price to earnings ratio has increased to an above-average range is down to a litigation charge related to a pension plan conversion back in 1996. The charge reduced earnings per share by 43 cents per share in the most recent quarter. If we did not have this litigation charge, the price to earnings ratio today would be 15.71x earnings which puts it bang in line with its 5-year average. As the company is appealing the charge, we could yet see a reversal. But it is hard to say whether the market has priced a successful appeal into the share price today, and we always live by the "hope for the best, but expect the worst" motto.
Litigation aside, we feel we can justify Foot Locker trading at a premium. As the athleisure and healthy living trends continue to flourish, we should be prepared to pay a premium for a company that is in a position to benefit greatly.
When you invest in Foot Locker, in many respects you're investing in Nike (NYSE:NKE). 70% of the products the company buys are from Nike, which allows Foot Locker to piggyback on Nike's meteoric growth. The downside risk here is that this reliance could be detrimental if Nike were to lose its appeal. Happily, we do not envisage this happening. The Nike talent roster includes some of the biggest names in sport, and the products are top of the range and ever-evolving.
We therefore believe that current and future market trends support the view that the company's 2020 goals listed below can be surpassed.

Source: Company release
Surpassing these goals would give shareholders major gains in the long term. If by the end of fiscal 2020, the company did achieve these goals, we would be witnessing net profit of $850 million that year.
Net income of $850 million is a rise of 60% from the current trailing net income of $529 million. This equates to an earnings CAGR of 9.9% per annum. We would therefore expect to see share price growth at the same rate.
Will they achieve this?
As stated above, a large part of this will come down to Nike's continued growth and the trend in athleisure. We see this trend as a long-term trend with a hint of a societal shift.
Further enhancing growth prospects, it was revealed on the Q3 call that direct to consumer sales increased to 12.4% of total sales, up from 12.1% a year ago. We see increasing levels of online sales as highly important for the company moving forward.
The company is positioned well worldwide with 3,432 locations, and we see room for deeper expansion into the Asia-Pacific region in the years ahead which will undoubtedly be a boost to the top line.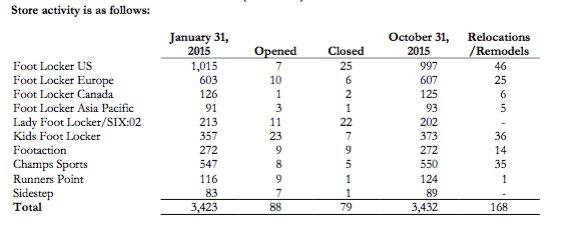 All in all, we believe the company is well positioned to surpass its fiscal 2020 targets. In light of this, we place a one-year price target of $72 on the company now, which represents a 10% return for the period from the last price of $65.09.
A Final Word
At first sight, Foot Locker looks a little overpriced, but when we drill down into the company, we feel it is fairly priced with the potential to offer shareholders fantastic returns over the next five years and beyond.
There are few companies that stand to benefit more from the athleisure and healthy living trend/societal shift that we are witnessing today. We believe Foot Locker is a buy.
Disclosure: I/we have no positions in any stocks mentioned, but may initiate a long position in FL over the next 72 hours.
I wrote this article myself, and it expresses my own opinions. I am not receiving compensation for it (other than from Seeking Alpha). I have no business relationship with any company whose stock is mentioned in this article.