Background
Would you buy the Dow 30 at an 18 P/E multiple if you thought half of the companies wouldn't be around in 15 years?
A little over a year ago, I wrote about how long term wealth preservation should consider declining company lifespans. It was based on the chart by Innosight below which shows how the lifespan of companies on the S&P 500 is getting shorter every year. The point I was making was that if company lifespans are getting shorter, then valuations should account for this by adjusting the P/E ratio downward. I provided evidence that P/E ratios should already have reset downward based on the current attrition ratios - but has not happened.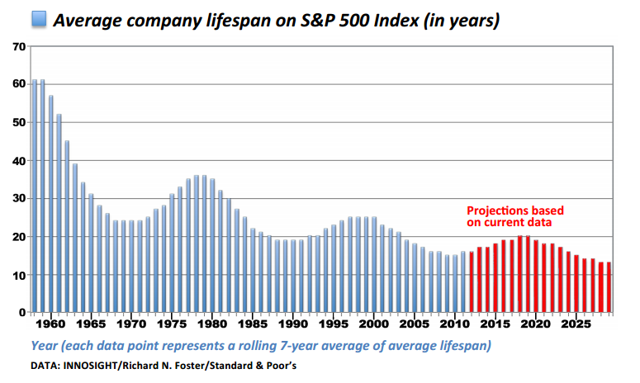 With the pace of innovation moving so fast, and with many new game changing technologies getting more attention in 2015, this issue is worth revisiting. I think it is one of the most overlooked risks that investors face for the next ten years - what I am calling the "Great P/E Reset".
This article is not meant to detract from the exciting future growth prospects or benefits to consumers as a whole, from new technological advances, but purely as a valuation wakeup-call as it relates to what has become entrenched, and sometimes casually referred to, as a "normal" or reasonable P/E ratio.
Earnings visibility is getting more opaque
The P/E ratio for the S&P 500 today is around 18, based on forward earnings estimates. This is partly due to low interest rates, but nevertheless implies either a very long time frame of earnings visibility, or very high levels of earnings growth, from the existing S&P 500 incumbents. The reality is that rapid technological change is making the visibility into a company's future stream of earnings more unpredictable. This article is really about highlighting the vulnerability of overly optimistic earnings growth or earnings visibility assumptions - the E in the P/E ratio.
Earnings visibility is key
The value of a company is simply the present value of its future stream of cash flows that will be delivered to its shareholders in the form of dividends plus the terminal value at the time you decide to sell it. The P/E ratio is simply the result of dividing the present value of future cash flows by the current earnings. Projecting out that stream of cash flows has become a lot more uncertain, which calls into question the prudence of a high P/E ratio. Current discount rates are about as favorable as they can be - barring negative rates - and so don't bank on getting any help from that department.
A P/E reset is probably one of the biggest risks investors face in the next 10 years
If you are managing your own, or client money, for the long term, this should be front and center when selecting stocks. The new normal is not low growth, but high attrition rates of existing companies due to the number of new entrants and the ease and low cost of starting a new company. I believe that markets have not yet assimilated the sheer size of the competitive threat faced by incumbents from new startups. We will provide some evidence of the scale and pace of change that will impact incumbents' ability to remain competitive and retain profit margins.
Warren Buffet has always stressed the importance of a sustainable moat -more important now than ever - but even some of his largest holdings like Wells Fargo and Company (NYSE: WFC) or American Express Company (NYSE:AXP) are facing an intense barrage of competition as we will highlight below.
Examples to support my case
Exhibit 1: CB Insights
CB Insights provides some of the most insightful data and predictive analytics you will find about promising private companies and the venture capital space. I will highlight a few charts from one of their presentations regarding disruption in the banking and finance industry.
On how cheap it has become to launch a tech startup; it costs just 1% of what it did just 15 years ago!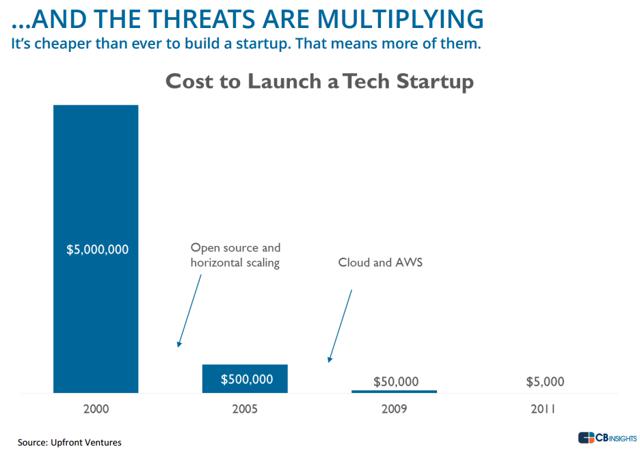 This had led to an explosion of investment activity and number of new startups.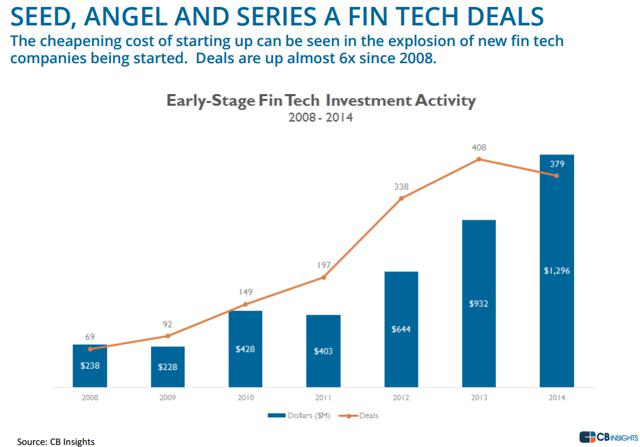 This last chart really opened my eyes to the scale of the competitive onslaught - the term they use "Unbundling" says it all. Just look at how many new entrants are attacking every segment of the banking industry.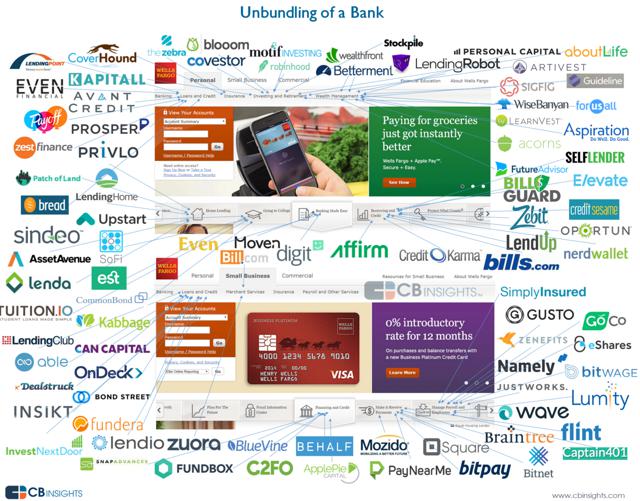 CB Insights asks "are banks going to be out-innovated and lose their edge not because of their incumbent, large competitors, but because emerging startups inflict upon them a death by a thousand cuts?"
Does the average investor have a good handle on the sheer size of the competitive presence in the pipeline? The word "unbundling" as used by CB insights is pretty radical - it feels like what a scrapyard does with old cars - dismantling. New entrant competition is so intense, and it seems likely to intensify. To expect incumbents' moats to remain intact going forward is a reach.
Exhibit 2: Peter Diamandis
Another great resource for how rapidly things are changing and how things will be like in the future is Peter Diamandis, Chairman and CEO of XPrize. Investors should stay in touch with his thoughts to get a sense of which industries are likely to come under attack from new technologies.
On self-driving cars, he explains how this will change the need for traditional auto ownership to one of on-demand usage and how it will reduce the need for ancillary products like fuel and auto insurance, and of course the companies that sell those products. Think autonomous self-driving cars are not going to happen? Read this story about a 26 year old hacker building a self-driving car in his garage.
Exhibit 3: John Chambers, Cisco CEO
If anyone has good insight into tech trends across the globe, it is John Chambers, Cisco CEO. On a recent panel discussion on "How Connected Devices are changing everything" at the Fortune Global Forum he said, referring to the companies represented in the room, "40% of us will not exist in a meaningful way in 10 years", including Cisco, "if they don't transition" or specifically due to "missed execution or missed opportunity in the next 2-3 years". The challenge incumbents face is here now, today - if you're waiting for more evidence, you may completely miss it.
The triggering event that will reset P/E ratios
I expect that at some point we will see a reset of investor expectations regarding P/E ratios due to the difficulty of assessing earnings sustainability. What will be the triggering event? Perhaps it will be another long established blue chip company being rapidly dethroned, like Kodak was, or just part of the economic cycle where another slowdown forces investors to assess the future more cautiously. Tipping points are hard to predict, but I think the forces are clearly in play. The large decline in the price of oil over the past year is a good reminder of how quickly things can change - oversupply due to advances in fracking technology and renewables coupled with reduced demand due to efficiencies.
What can you do?
With P/E ratios at the higher end of historical averages, the cost of a P/E reset is more severe than if P/E ratios were in the low teens.
Some basic common sense advice would be:
Pay attention to valuations. Long term returns are generally inversely proportional to the price you pay for a stock. Sitting on the sidelines with cash and being patient for valuations to come to you is hard, but sometimes the smart choice.
Paying heed to Warren Buffets insistence on having a protective moat is more important than ever. Focus on companies that have a long term moat or serve a basic need that is not likely to be innovated out of existence, like residential real estate or food staples.
An old fashioned cap weighted index may be better than a strategy of buying and holding individual companies since at least you will be rotating into companies that are growing and eliminating those with declining sales. Nevertheless, the speed of rotation will result in lower returns.
Lastly, the usual advice about diversification is useful too, if you are not able to stay on top of all the competitive threats to your portfolio companies.
Feel free to comment on specific examples, or ways to identify, companies with sustainable moats.
Disclosure: I/we have no positions in any stocks mentioned, and no plans to initiate any positions within the next 72 hours.
I wrote this article myself, and it expresses my own opinions. I am not receiving compensation for it. I have no business relationship with any company whose stock is mentioned in this article.