2015 In Review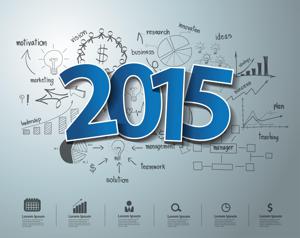 2015 was an interesting year for stocks. The continuous interest rate debacle, which I think we all got a bit Fed up of (terrible pun I know) was eventually resolved a few weeks ago, when the Federal Reserve decided to raise interest rates for the first time in 9 years. A further 4 interest rate hikes are expected this year, moving rates from 0% a month ago to near 2% by the end of this year.
August of 2015 was the worst month for the markets in 4 years, with worries about Chinese growth and collapsing oil prices at the forefront of investors' minds.
M&A activity was at levels not seen since the recession, either suggesting stocks are still cheap and worth paying a premium for, or that some companies are struggling for growth and are seeking to use acquisitions as a way of cutting costs and therefore grow EPS. Of course, management could be taking advantage of the lower interest rate environment to make acquisitions before rates inevitably increase. More than likely it's a combination of all 3, but either way I think it's a bullish sign for the market. These deals would not be happening if management had a negative outlook on global economic growth, even if it could mean that growth is expected to remain low for the foreseeable future.
Lower oil prices and a stronger dollar also weighed on the market. Oil companies are cutting forecasts and dividends could be at risk if the fall continues, with the resulting fall in energy stocks bringing the market down with it. The US Dollar index rose 9% in 2015, which had an adverse effect on all companies that sell abroad, as well as making imported goods cheaper, increasing the competitiveness of foreign rivals. Harley-Davidson (NYSE:HOG) is a good example of a firm that has suffered in the past 12 months because of this.
With all of the above in mind, it's no surprise that the markets were almost flat for 2015, with the Dow Jones Industrial Average and the S&P 500 (NYSEARCA:SPY) both down approximately 2% for the year. Having said that, US GDP was 2% for the year, and according to the Bureau of Labor Statistics unemployment fell from 5.7% in January to 5% in November. I remain bullish on the economy in the long run, but we have to be aware of the inevitable bumps in the road.
My Top Picks For 2016
With interest rates on the rise, it's worth looking at the banks, as they benefit from a rise in their Net Interest Margin. I wrote about Lloyd's Banking Group (NYSE:LYG) a few months ago, highlighting how the bank will benefit from the latest round of cost-cutting, higher interest rates and becoming fully privatized later this year. I remain bullish on the bank, and given the recent fall under $4.30 for the ADS shares, I plan to add to my position sooner rather than later. Once fully private, the bank will be able to substantially increase its dividend without returning dangerous levels of capital to shareholders, and increased EPS should send the stock much higher over the next few years. Also, PPI (Payment Protection Insurance) claims are coming to an end, and legislation may mean claims made after this year are void, which will remove a parasite that has been living off the banks' bottom line for a number of years now.
The Walt Disney Company (NYSE:DIS) has been widely debated over the last few months, with 'The Force Awakens' as the main catalyst for the increased coverage here on Seeking Alpha. However, Disney is so much more than the 'Star Wars' franchise. Nearly half of Disney's revenue comes from ESPN, which as we know has been struggling as of late. A small fall in subscribers is expected this year, which has worried investors, especially as Disney trades at a premium when compared to the S&P. There is one major advantage to Disney though, ESPN has exclusive rights to many of the country's favorite live sport, which many loyal customers will continue to pay for, because sport is best enjoyed live. I mean who wants to watch major sporting events on a catch up service? Disney has other major franchises that continue to make money every year, 'Frozen' and 'Mickey Mouse' to name 2 of many. With the recent fall to ~$103, Disney is cheap enough to start accumulating a long term position in. The modest 1.4% dividend is nothing to write home about, but the share buyback program will provide some stability on the down days and help increase EPS over time.
Next on my shopping list is Apple (NASDAQ:AAPL). The stock has trended lower since the new range of iPhones were announced, with worries of China and a strong dollar on investors' minds. But the fundamentals remain the same, the buyback is stronger than ever and the recent pullback means the stock is now yielding 2%. Apple is now cheap enough to be considered a value stock, which for a company with a growing dividend, a huge share buyback program, a mountain of cash and exciting new ventures like self-driving cars means Apple is somewhat of a bargain at current levels.
General Motors (NYSE:GM) has been looking for a break from the seemingly endless recall saga for what seems like an eternity now, but 2016 is looking positive for the Detroit-based Automaker. Cases are slowly closing, and new recalls are smaller and less severe than the ignition switch recalls of the past. GM is trading at less than 12x earnings and is yielding a massive 4.35% at the time of writing, making this stock one of the most attractive in the S&P 500. There has been caution about higher interest rates putting customers off buying cars on finance, which may be true, but higher rates will actually help GM fund its hugely underfunded pension pot. Sales are on the rise (view my article on GM for the breakdown here), but more importantly, there is a shift from the lower margin fleet sales to more profitable dealers. This, plus the long term plan of increasing efficiency by drastically reducing the number of platforms (26 down to just 4) needed to produce 99% of the current GM range will further increase margins in the future.
Finally, I will add to my position in The Boeing Company (NYSE:BA) if we see prices below $140/share. Boeing has a near half-trillion dollar backlog, a range of new aircraft like the 777 and its customers (the airlines) have been making more money than usual lately given the slide in the price of oil. At $140 or below the stock is reasonably priced, pays a solid dividend and can be relied upon for long term returns, especially as Boeing has enough orders to operate at full capacity for 7 years without receiving a single order.
Conclusion
All five of these stocks are ripe for picking, but of course, we must proceed with caution. I am holding more cash than usual, because the market has been volatile in 2015 and if the opening day is anything to go by, more of the same is to be expected. Having said that, investors with cash at times of panic will relish the down days, because every sell-off over the last few years has turned out to be an excellent buying opportunity for those with a long term horizon.
Disclosure: I am/we are long AAPL, GM, BA, LYG, DIS.
I wrote this article myself, and it expresses my own opinions. I am not receiving compensation for it (other than from Seeking Alpha). I have no business relationship with any company whose stock is mentioned in this article.