After pausing briefly to catch their breath, the bulls began to run again last week, as enthusiasm for U.S. corporate earnings and signs of economic recovery outweighed concerns about the still unresolved European debt crisis.
Perspective
Stocks: U.S. stocks continued the prior week's sideways drift, with a bit of a downside bias, before resuming their advance on Thursday. Unemployment claims data released pre-market by the Department of Labor, and news that the Greek government had "found" more budget savings, were credited with setting the bullish tone. Whatever the reason, the turnaround led to a gain of more than 1% on all of the major U.S. equity indexes.
Resuming the new year's trend, the small cap Russell 2000 led the way with a gain of nearly 1.9% for the week. Each of the S&P sectors advanced, with energy stocks taking the lead on the strength of a better than 4% rise in oil prices. The tech sector extended its gains, as shares of Apple (NASDAQ:AAPL) roared all the way to $526 before coming back to finish a little above $502, while rival Microsoft (NASDAQ:MSFT) extended its own more modest rally to a new multi-year high.
11 of the 12 foreign equity indexes we follow posted gains, with Australia being the sole loser in the group. Japan's Nikkei led with a gain of nearly 5% in response to easing steps announced by the central bank. Solid gains were also posted in Brazil and Hong Kong.
Bonds: U.S. Treasury bond yields popped along with equities on Thursday. While it was nothing very dramatic, it underscores the upside bias in rates we have been observing for the past couple of months. The higher yields ran through nearly the entire investment grade bond market: TIPs, corporate, and municipal rates all rose. Technically those bond classes still look fine, they had all run a long way and can pull back a bit -- in the case of munis, quite a bit -- without looking damaged.
Commodities: Oil had a big week, moving above $104 on Friday. Natural gas followed oil to the upside, but remains well below $3. Copper bucked the trend, going all the way back to $3.70 after getting to $4 less than two weeks ago, and breaking down through the 200 day MA. Gold was nearly flat on the week while the rest of the precious metals were down. Grains were also relatively flat, but the livestock index broke out on Friday, portending still higher meat prices ahead.
Currencies: In last weekend's article we observed that the U.S. Dollar index has short term support at 78.50, and indeed it came off support, briefly topping 80 on both Thursday and Friday before falling back to 79.33. The euro and Sterling fell, the Swiss Franc was flat, and the Aussie and Canadian dollars moved higher against the greenback. Meanwhile Yen continued to drop sharply after the BOJ policy announcement; it has fallen more than 4% this month.
Outlook
U.S. economic news and data was, once again, really a mixed bag. Both first time and continuing unemployment claims were lower than forecast, extending the run of positive data in this area. January consumer and producer prices were slightly lower than forecast, but "core" (ex food and energy) CPI and PPI were both higher. However the numbers are still very low and trending down, vindicating the Fed's stated position that inflation poses no imminent threat.
Housing starts and building permits beat consensus expectations, and though the absolute numbers are not very impressive, the positive results gave some hope for this deeply troubled sector. Outside the U.S., easing measures by the central banks of export heavyweights China and Japan, point to continuing softness in the global economy.
Stocks: Equities are continuing their low volume drift higher. This is making quite a few investors nervous, and I have been seeing a good deal of skeptical analysis. However this market is climbing a wall of worry and beginning to attract the attention of retail investors; the most recent ICI flow of funds shows the largest inflows into domestic equity funds in more than a year. One week does not a trend make, but we are seeing signs that the rally has legs. The Dow Industrials and the NASDAQ have both reached post-crisis highs during this move. There has been some commentary to the effect that the massive move in Apple shares has been disproportionately moving the NASDAQ, but as it is not a Dow component, it does not explain the move in the Dow.
I am bullish on tech, but Apple isn't the only thing that is working.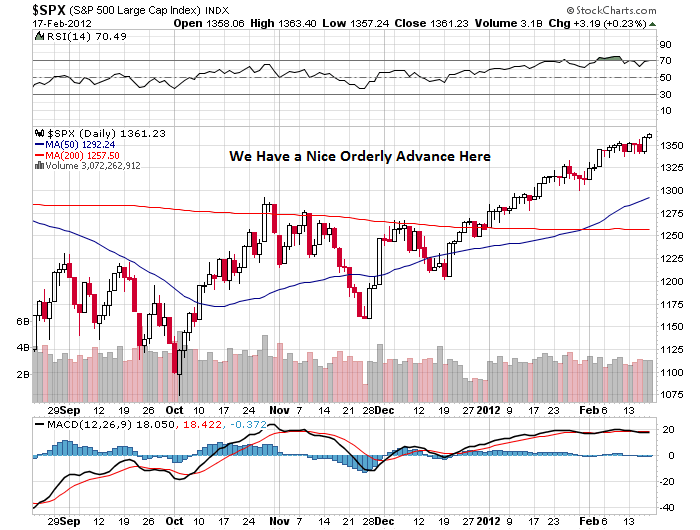 Two more tech stocks that we like broke to new multi-year highs last week: the aforementioned Microsoft and Intel (NASDAQ:INTC) - the old "Wintel" duo. We are long MSFT and it has been mentioned in this space several times in recent months. Intel is on my watch list and I would like to own it, but somewhere closer to $25.50 than the current $27+. I also like energy stocks and have several on the watch list. Among them are Conoco Phillips (NYSE:COP) and BP; both have seen several high volume up days recently and are near breakouts.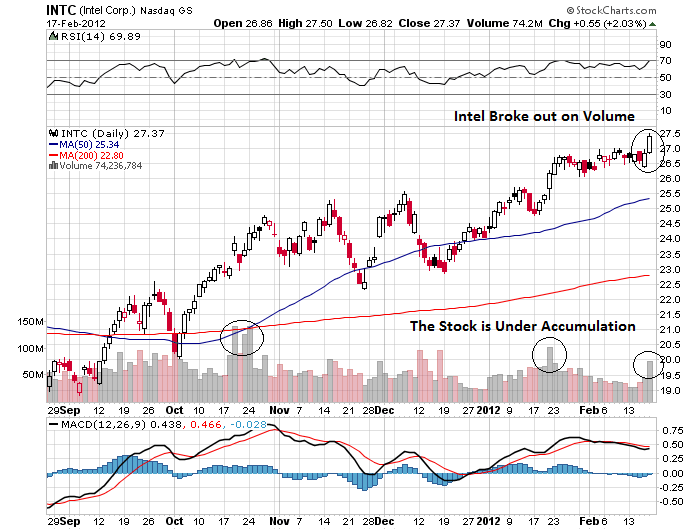 Bonds: We have been noting for the past few weeks that there is not much movement in the Treasury bond market, but that yields seem to have an upside bias that presents a risk to bond fund holders. To illustrate the point, below is a three year chart of the popular iShares long term Treasury fund (NYSEARCA:TLT). The shares made a huge run last summer, and look toppy at this point. TLT can come back to the 50 day moving average, around $105, very easily. That would represent a loss of 10%. I won't belabor the point beyond this. Again, just be careful and have a plan for how to respond if yields begin to rise. Elsewhere, corporate and municipal bonds have enjoyed substantial gains over the past few months. Both are vulnerable to corrective action. I would be careful about investing new money in the bond market. A little patience might be rewarded with more attractive yields.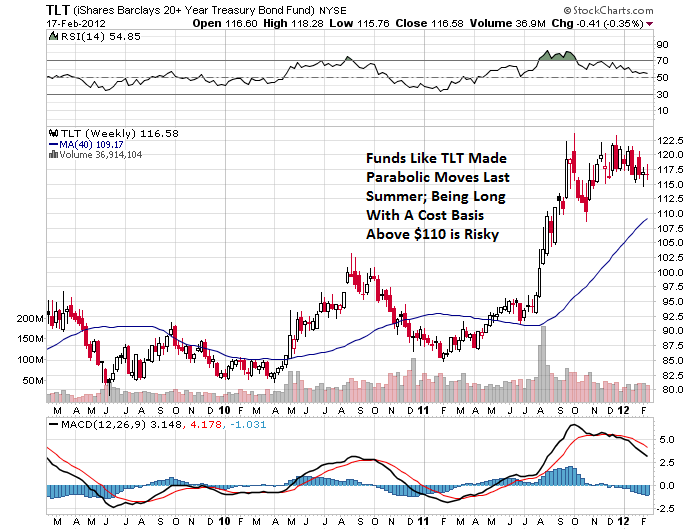 Commodities: Thanks to the strength in oil prices, broad commodity funds are holding up very nicely. The move in oil is probably attributable in no small part to the Iran situation. This is another case where geopolitical events are moving markets in ways that are not necessarily in line with the fundamentals. In any event, we need to pay attention for several reasons. One is that ETFs such as the Powershares oil (NYSE:DBO) and commodity (NYSE:DBC) funds will do well. Another is that sustained high oil prices will be a drag on the economy and have an adverse effect on some equities. As regular readers know, we are also long gold for a trade. Gold is in a consolidation around $1,725 after the post Fed meeting breakout, and there is not much new to report. I would like to see a move above $1,800 reasonably soon. A break below $1,660 would probably shake us out.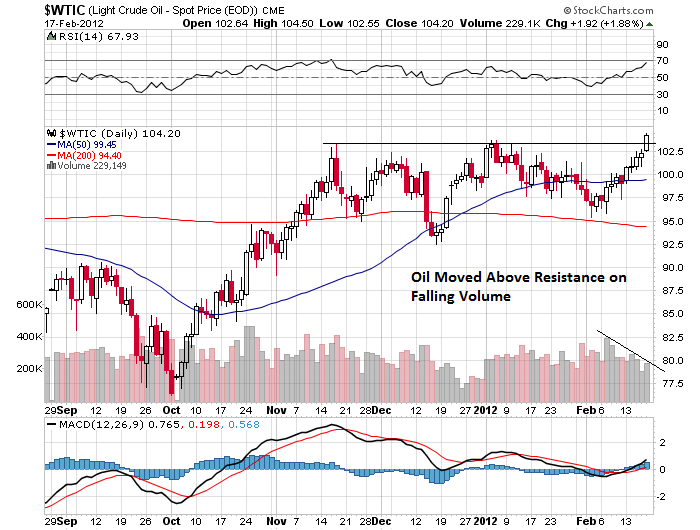 Currencies: The U.S. dollar is coming off near term support, and the market appears to expect it to move higher. It seems to have bottomed against the Yen and though it may pull back in the very short term, a move back above 80 seems likely. Of course, the big player is the euro, and as Seeking Alpha contributor Marc Chandler noted, the put/call ratio suggests that the market is positioned for a lower euro. If the move goes the other way, we could see higher oil and gold prices, which would be very problematic for the U.S. economy.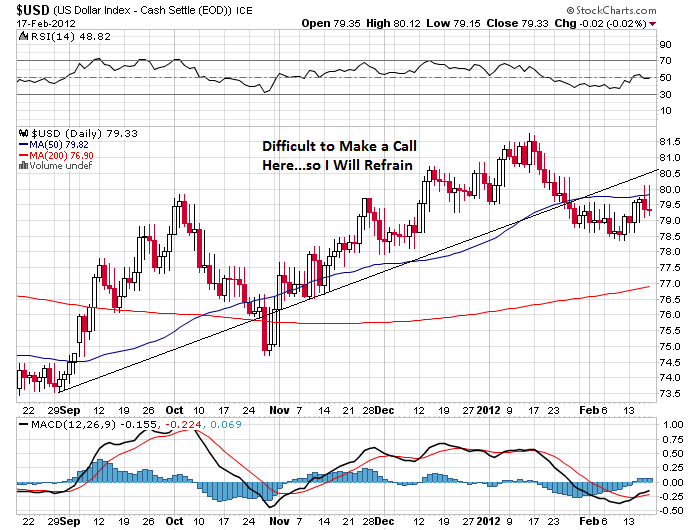 Disclosure: I am long MSFT.