Overview & Background
Throughout the year I've been attempting to find the top stocks for dividend growth and income from the different sectors of the market. Earlier this month I presented my updated outlook on the utility sector with The Top 10 Utility Stocks For 2016 And Beyond.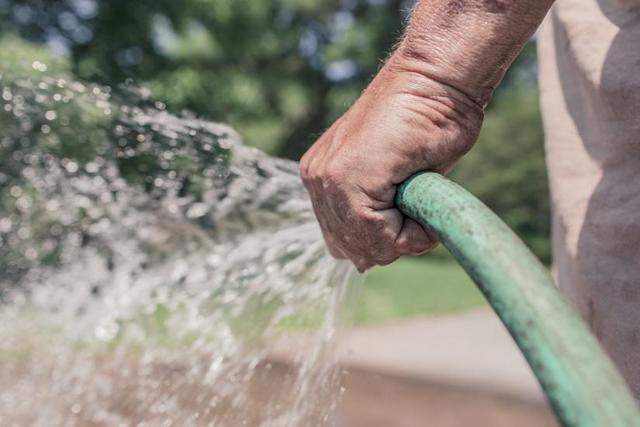 In the comments following that article, several readers expressed interest in hearing my thoughts on water utilities that were omitted from that watch list. To be clear, I didn't omit those companies because they are poor investment ideas, I did so simply because I didn't think they quite fit alongside the electric and gas distribution utilities that were selected.
Regarding the water utilities, David Fish's U.S. Dividend Champions, aka "CCC", List contains nine water companies from the sub-sector. These are nine companies that have raised dividends for at least five consecutive years, and of those nine, five have produced streaks of greater than forty years.
Here are the nine companies from the list, along with some additional information that I thought would be helpful. The information was gathered from F.A.S.T. Graphs, the CCC List, Yahoo Finance, and companies' investor relations pages.
| | | | | | | | | | | |
| --- | --- | --- | --- | --- | --- | --- | --- | --- | --- | --- |
| Company | Ticker | Service Location | # Years Div. Inc. | S&P Credit Rating | Debt / Cap | Market Cap (B$) | 52WK HIGH | 52WK LOW | % Below 52-week High | Share Price |
| American States Water Co | (NYSE:AWR) | 7 States | 61 | A+ | 40% | $1.6 | $44.14 | $35.80 | -5.0% | $41.95 |
| American Water Works Company Inc | (NYSE:AWK) | 16 States | 8 | A | 51% | $10.7 | $61.20 | $48.36 | -2.4% | $59.75 |
| Aqua America Inc | (NYSE:WTR) | 8 States | 24 | n/a | 48% | $5.3 | $31.09 | $24.40 | -4.1% | $29.80 |
| Artesian Resources Corporation | (NASDAQ:ARTNA) | DE, MD, PA | 18 | n/a | 41% | $0.2 | $29.16 | $20.00 | -5.0% | $27.70 |
| Connecticut Water Service Inc | (NASDAQ:CTWS) | CT, ME | 46 | A | 42% | $0.4 | $39.93 | $33.15 | -4.8% | $38.01 |
| California Water Service Group | (NYSE:CWT) | CA, HI, NM, WA | 48 | n/a | 34% | $1.1 | $25.99 | $19.55 | -10.5% | $23.27 |
| Middlesex Water Company | (NASDAQ:MSEX) | DE, NJ, PA | 43 | A | 60% | $0.4 | $28.02 | $21.24 | -5.3% | $26.54 |
| SJW Corp. | (NYSE:SJW) | CA, TX | 48 | n/a | 49% | $0.6 | $35.67 | $27.54 | -16.9% | $29.65 |
| York Water Co | (NASDAQ:YORW) | PA | 19 | A- | 45% | $0.3 | $26.67 | $19.69 | -6.5% | $24.94 |
As you can see, many of these companies are trading within a few points of 52-week highs, with SJW Corp. and California Water Service Group trading more than 10% below those levels.
Another thing that caught my eye was the fact that many of these are small-cap companies, with only American Water Works Company and Aqua America trading with market caps over $5B, and the remaining companies at $1.6B and below. This can lead to difficulty in finding quality coverage on the companies, as small companies operating in just one or two states generally aren't as widely covered by analysts.
This could make forecasting their future income potentials a bit more difficult compared to the gas/electric utilities and will cause me to rely more on past track record rather than analyst earnings estimates when making my projections.
Historical Numbers & Analyst Estimates
In order to predict where future dividends are headed, I think it is important to see what companies have paid in the past. This can give a sense of targeted payout ratios and the commitment by management towards dividend growth.
The spreadsheet shows the analysts' expected 2016 earnings for each company and corresponding payout ratio based on the currently declared dividend rate.
The "Normal" PE is the number I found by looking at various time periods on F.A.S.T. Graphs, and the corresponding "Delta PE" being the difference between "Normal" and the expected PE based on EPS estimates. A negative number means that the company is currently trading below my fair value estimate, while a positive number indicates that the stock may be overvalued.

One thing that immediately jumps out to me is how much higher a "Normal" PE the market rewards companies in the water sector with compared to their gas and electric utility counterparts. Looking back at the utility article, the average "Fair Value" PE from that list of 30 stocks was 15.4, which is significantly lower than the 21.7 seen for the water utilities. Additionally, the average payout ratio for the water companies (56.1%) is lower than those seen with the gas/electric utilities (60.9%) as well.
This combination of lower payout ratios and higher relative valuations leads to lower dividend yields for investors as the average yield for the water utilities is 2.7% compared with 3.7% for the gas/electric.
What the water companies lack in yield they must make up for with growth right? Well, not exactly, although I would say they certainly provide for stability as seen by the long dividend growth streaks shown above. For comparison's sake, the water companies have an average 5YR dividend growth of 4.5% and 10YR growth of 3.5% compared with 5.9% and 5.3% from the gas/electric companies. There certainly appears to be a tradeoff in both income and growth to gain the perceived stability from the water sector.
Income Projections
For this table, I have gone through the last several conference call transcripts from each company, as well as presentations from their investor relations pages to attempt to find targeted payout ratios for dividends. I then used the targeted payout ratio, historical payout information, and the expected EPS growth rates to predict a dividend growth rate going forward.
These numbers were then all used in conjunction with the delta valuation number to project total returns over the next five years, as shown in the two columns on the far right. These numbers assume reinvestment of dividends.

As you can see, the future income potential across the different companies is fairly equal, but there is a wide range of estimated total returns in the group. I will admit my confidence in these numbers is a bit lower than in some of the previously covered sectors, as there is wider range of "Normal" valuation levels among the companies, which has a big impact on expectation for future capital returns. For example, American States Water appears to be 13% overvalued at current prices using its "Normal" PE of 21. Meanwhile York Water Co. has a higher current PE of 25, yet is trading at fair value due to the market traditionally rewarding it with a higher multiple. So while I am projecting a 4.3% annualized return for AWR and a 7.5% return for YORW, this assumes that the market will continue to reward YORW with a premium valuation over the others on the list.
Another aspect that makes forecasting a bit more difficult is the lack of guidance from management regarding dividend growth rates or targeted payout ratios. This was surprising to me, especially when considering how long some of these companies have been paying increasing dividends. Just three of the nine provided any sort of guidance, and of the ones that did, neither AWK nor WTR are meeting their targeted payout rates. Compare this with the gas/electric utilities, where 25 out of 30 companies provided dividend policy guidance, and you can see where the difficulty lies.
Finally, when looking at current valuations, several are trading below their "Normal" PE levels, but with multiples still in the 18-25 range, they still aren't where I would consider them cheap.
My Top Five
In selecting my five stocks, I will stray somewhat from my previous articles that focused strictly on income projections and use a more balanced approach with my picks. With a bit more uncertainty regarding dividend growth rates and valuations, I think a blended approach is warranted. I am still taking projected income into account, but also factoring in valuations and projected total returns.
As in previous articles, please keep in mind that this list is presented based on share prices at the market close on January 4, 2016, and is subject to change in the future as prices fluctuate.

SJW Corp. is a Dividend Champion with a 58 year streak of dividend increases, during which it has grown payouts at a 3.9% annual rate over the last decade. The company is based in San Jose, California and serves roughly one million customers in that community as well as another thirty-six thousand in Comal and Blanco counties in Texas. In addition to the water business, SJW also operates a land company with holdings in California, Arizona, Florida, Texas and Connecticut.
SJW had a bump in earnings in 2014 due to a one-time recognition of revenues, but those are projected to normalize to $1.54 in 2015, which puts the payout ratio at a comfortable 50% of earnings. This payout ratio is the low end of its historical 50-60% payout ratio range, which led me to project a bit higher dividend growth rate going forward.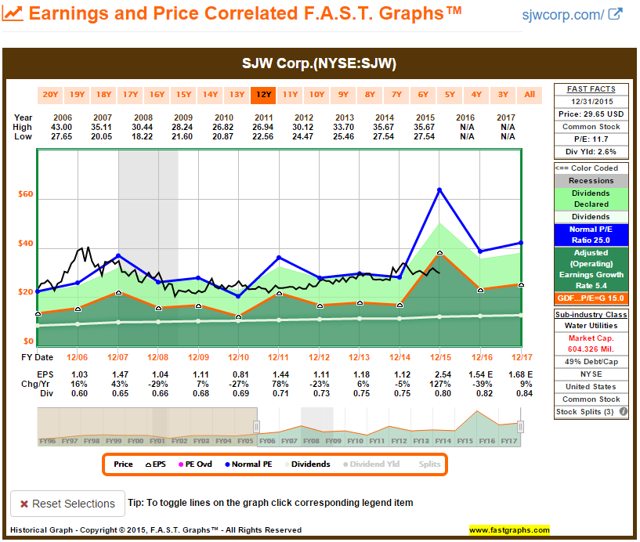 Analysts are bullish on the growth prospects for SJW, projecting a 5YR earnings growth rate of 10%. I am a bit skeptical that this will be seen however, as this would nearly double the growth rate seen over the last decade. The company appears to be trading below fair value at current prices, and with a potentially higher dividend growth rate on the horizon, this appears to be a decent entry point on the stock.
Aqua America Inc. is a Dividend Contender with a 24-year streak of dividend increases, during which it has grown the payout at an 8% annual rate over the last decade. The company is headquartered in Bryn Mawr, PA and is the second largest company on the watch list with a market cap of around $5.3B.
Aqua America has been the fastest grower on the list, and as a result, the market has rewarded it with a higher historical valuation. Due to this higher valuation, the current yield of WTR is just 2.4%, yet with an expected dividend growth rate of 8.5%, the projected 5YR yield on cost remains in line with its peers. As a bonus, the higher expected growth rate leads to a projected annualized total return of nearly 11%.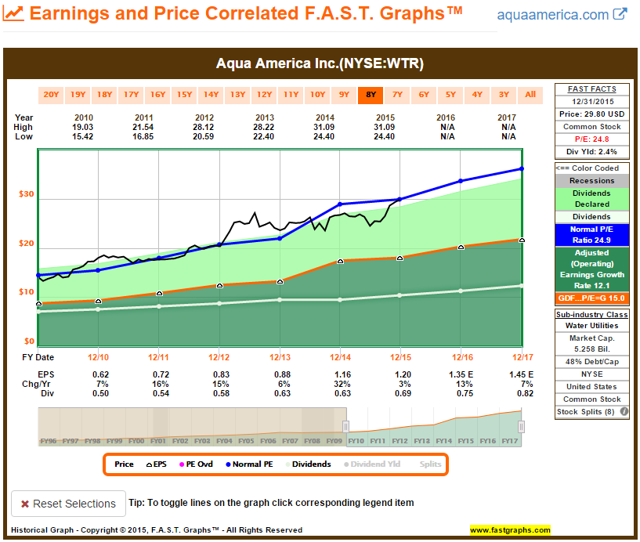 With a larger operating market covering 8 states, and a higher growth rate than its peers, WTR is one of the few stocks on this list that I could see owning at some point in the future. The stock is fairly valued when comparing it to historical levels, but I would personally be looking to buy closer to a 2.75% yield point. That said, Aqua America looks to me to be one of the best in the sector, and is worth consideration for those looking to start a long-term investment.
Connecticut Water Service Inc. is a Dividend Champion with a 46-year streak of dividend increases, during which it has grown payouts at a 1.9% annual rate over the last decade. The company is headquartered in Clinton, CT and serves 123,000 customers in Connecticut and Maine.
With a payout ratio now well below recent historical levels, CTWS is one company that I am projecting an increasing growth rate going forward. As mentioned, the growth rate over the last decade has been just 1.9%, but the most recent increase was 3.9% and analysts are projecting EPS growth of 5% going forward. I think future increases could possibly mirror earnings growth, which leads to a 5YR yield on cost with dividends reinvested of around 4%, in-line with its peers.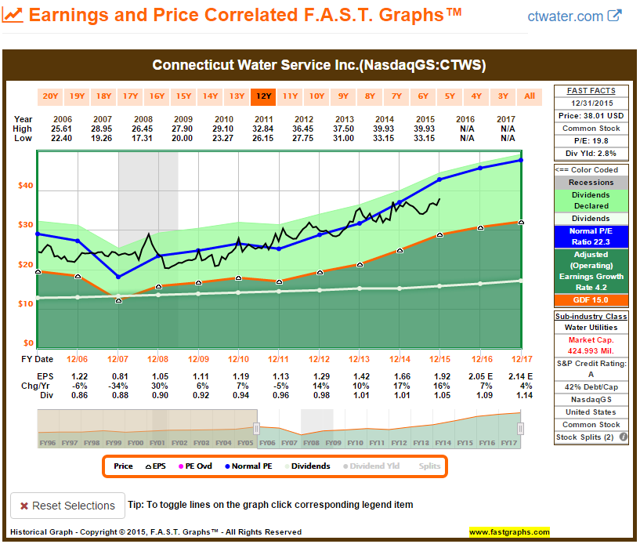 In addition to an expanding dividend growth rate, the stock is trading below historical valuation levels. The combination of a nearly 2.8% yield, attractive valuation, and higher growth rate provides a total return projection of around 10.6%, which falls just below that of WTR.
California Water Service Group is a Dividend Champion with a 48-year streak of increases, during which it has grown payouts at a 1.4% annual rate over the last decade. The company is headquartered in San Jose, CA and serves 490,000 customers in CA, WA, NM and HI.
Similar to CTWS, CWT is a company that is currently trading below normal fair value levels and has a payout ratio that is below recently elevated levels. Its most recent dividend increase of 3.1% was more than double the 10YR rate, and with analysts expecting earnings growth of 5%, I have projected a 4% dividend growth rate going forward.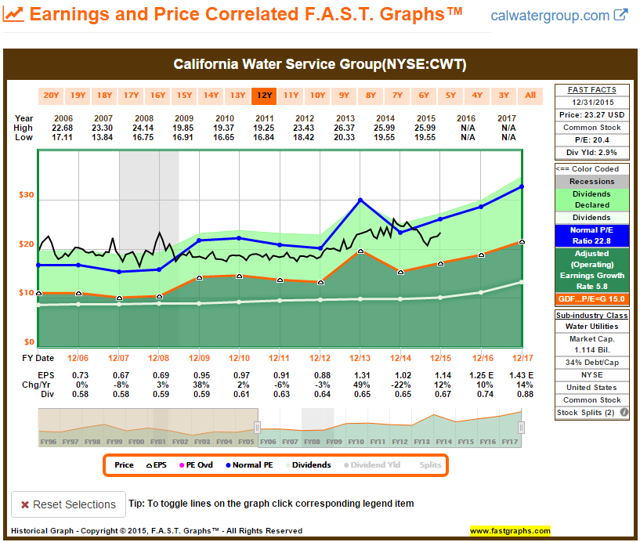 I like that CWT has a bit bigger market cap than some of the others on the list and also serves customers across several states to help diversify revenue streams. The higher yield of 2.9% is also attractive, and coupled with the lower current valuation and 5% growth rate could lead to nearly double-digit annual returns going forward.
American Water Works Company is the most short-lived company on the list, with just an 8-year streak of dividend growth, but is also the largest at a market cap of over $10B. It also has the second highest dividend growth rate over the last 5 years at 8.1%.
AWK is the one I'd most compare to the diversified utilities of the electric/gas sector as it operates in 16 states and also operates in the sanitary sewer business along with the water treatment and distribution business. Additionally, its water enterprise business designs, builds, operates, and maintains water and wastewater facilities for military bases, municipalities, the food and beverage industry, and other customers.
The company is projecting EPS growth of 7-10% in the years ahead and also provides guidance of a targeted 50-60% payout ratio, which is ahead of the current 48% rate. As a result, I expect AWK to grow the dividend at a 9.5% rate going forward. So although the current yield is just 2.25%, the higher growth rate still projects to a 4% yield on cost with dividends reinvested after 5 years.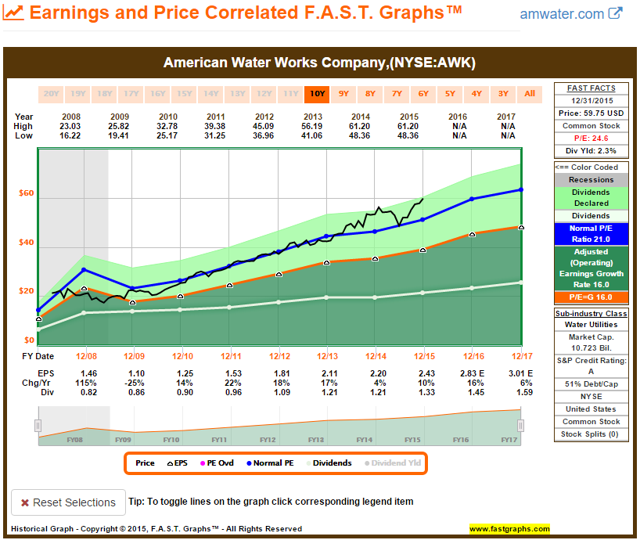 American Water Works is trading at a premium to fair value when looking at F.A.S.T. Graphs, but with an EPS estimate of $2.83, trades at a 21 multiple to 2016 earnings. AWK, along with WTR, is one that I am most likely to own at some point in the future. It is a bit expensive for my personal tastes right now, but I would be interested on any pullback. Its diversified business, high quality "A" credit rating, and strong growth rate makes it a very attractive candidate.
Summary & Conclusion
The water utility companies have tremendous track records of providing consistent dividend growth for investors, with several companies producing 40+ years of increasing payouts. However, with the market paying a premium for this stability, valuations in the sector remain high, which leads to lower yields than what is seen in other areas of the market.
Even with the relatively high valuations, there are some attractive companies in the sector. People are always going to need water, and unlike gas/electric utilities, there aren't any concerns about "green" technologies changing the operating environment.
I don't own any of the stocks mentioned at this time, but will be watching the sector more closely now after putting together this list, and will consider adding one to my portfolio with any significant pullbacks. My personal targets would be WTR, AWK and AWR due to their larger market caps, higher growth rates, and more diversified businesses.
As with my previous sectors covered, I plan to write future updates as prices and fundamentals change. If you would like to receive notification of when those are published, I kindly ask you to "follow" me for future updates.
Disclosure: I/we have no positions in any stocks mentioned, and no plans to initiate any positions within the next 72 hours.
I wrote this article myself, and it expresses my own opinions. I am not receiving compensation for it (other than from Seeking Alpha). I have no business relationship with any company whose stock is mentioned in this article.
Additional disclosure: I am a Civil Engineer by trade and am not a professional investment adviser or financial analyst. This article is not an endorsement for the stocks mentioned. Please perform your own due diligence before you decide to trade any securities or other products.