2015 proved to be the worst year for oil and the energy sector since the great recession of 2007-08. While oil is trading at multiyear lows, I don't see meaningful improvement in the fundamental outlook for oil in 2016. This article discusses the key factors that are likely to keep oil prices depressed through 2016.
At the onset, I must mention that EIA expects oil (Brent) to average $56 per barrel in 2016. That implies 47% upside from current levels of $38 per barrel. I assign low probability to an outcome where oil trades in the $55 to $60 range in 2016, but I will discuss some factors later in the article that can trigger upside for oil.
Inventory glut has been a critical factor that has resulted in a decline in oil price in 2015. According to EIA, the inventory glut is likely to persist in 2016. This is the first reason to believe that oil prices will remain depressed. As the chart below shows, petroleum production will exceed petroleum consumption through 2016. While the excess of production over consumption is likely to narrow, inventory overhang will persist.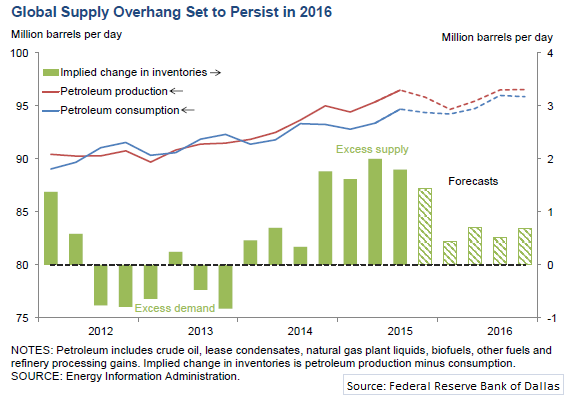 Besides the projections that this chart shows, my concern for 2016 is further weakness in the global economy and its potential impact on petroleum consumption with the other factor remaining constant. The reason I am talking about the global economy is the fact that global trade growth slumped to 1.99% for 2015. According to OECD, whenever trade growth has been below 2%, the years have been associated with global recession. Investors need to closely watch the growth trend for 2016 and, if there is disappointment on that front, oil can trade even lower than current levels.
As a recent data point, China's Caixin index has been disappointing in that equity markets in Asia have slumped. Global economic woes can get worse and geopolitical tensions can potentially add to the weakening global economy. The next important factor that will impact oil price trends in 2016 is oil supply from Iran. The country already has a significant inventory of oil to be released in the global market. According to the EIA:
The EIA estimates that Iran has the technical capability to increase crude oil production by about 600,000 b/d by the end of 2016. The pace and magnitude at which additional production volumes reach the market depend on how quickly Iran meets conditions triggering sanction relief and how successful Iran is in production and marketing operations. EIA expects most of this increase would occur in the second half of 2016.
An important point to note here is that countries have engaged in providing discounts in order to gain market share, and I believe that Iran could offer discounts to gain market share once it starts supplying oil. This will put downward pressure on oil prices. Overall, three critical factors will determine the trend for oil prices in 2016: excess inventory, global GDP growth, and Iran oil supply.
At this point in time, all of these factors point to weak oil prices through 2016. In addition, I must mention that a strong dollar is negative for oil. While I doubt that the Fed can increase rates again in 2016, if that happens oil could trend lower. The only factor that can take oil prices higher in 2016 is the geopolitical one. Saudi Arabia recently cut ties with Iran and increasing tensions between these two powers in the Middle East can take oil significant higher. The two countries are already engaged in a proxy war in Yemen and things are moving toward getting worse. Oil is likely to discount this factor in the foreseeable future.
From an investment perspective, I would consider only selective exposure to the energy sector and to stocks with excellent balance sheet profiles. As the chart below shows, the number of bankruptcies in the energy sector is increasing, and I expect this trend to continue through 2016.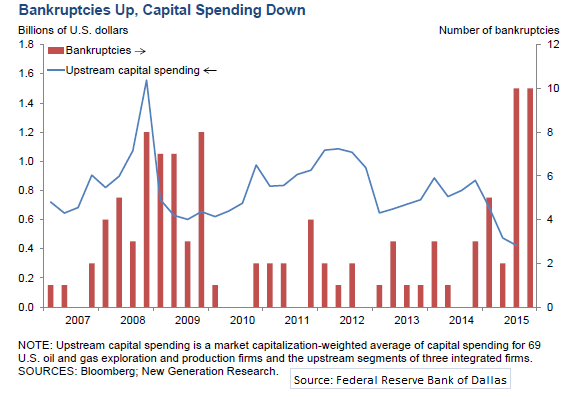 Among large players in the oil and gas exploration sector, I like Chevron (NYSE:CVX) as the company has low debt to capitalization, robust operating cash flows, cash inflow from asset sales, and significant investments in the LNG sector (which holds immense long-term potential). Chevron also provides dividend payout of $4.28 per share, which is sustainable through 2016.
I also see some value in the offshore drilling sector, and my stock picks from that sector are Rowan Companies (NYSE:RDC) and Diamond Offshore (NYSE:DO). The reason for liking both these stocks is the fact that they have strong, front-end-loaded order backlogs that provide a cash cushion for 2016 and 2017. In addition, Rowan has no new rig commitment and Diamond Offshore has just one new rig commitment. Therefore, the capital expenditure cycle is over and I expect leverage to decline for both of these quality names in the offshore drilling sector.
Even with the positives, I would consider only gradual exposure to the oil and gas sector and would wait for more positive triggers before gaining meaningful exposure to the sector. For now, there are more concerns than positives, and that's likely to keep oil sideways to lower.
Disclosure: I/we have no positions in any stocks mentioned, and no plans to initiate any positions within the next 72 hours.
I wrote this article myself, and it expresses my own opinions. I am not receiving compensation for it (other than from Seeking Alpha). I have no business relationship with any company whose stock is mentioned in this article.