I recently authored an article regarding Fitbit (NYSE:FIT) that focuses on the business model and the product offering from the company. As it pertains to any investment, these are the two key elements that will either drive the business or impede its progress. With that said, every business has what they understand or misunderstand to be their total addressable market or TAM for short. In the article "Fitbit's Total Addressable Market Hype May Leave Investors With Disappointment" I dive deep into the details surrounding some of these elements and how investors can forecast the future of the Fitbit business based on where it stands to date and what the company has also disseminated to investors.
For a hard goods vendor like Fitbit, it really does all come down to TAM and driving consumer demand. Here is what I offered investors and readers in my latest article and in consideration of Fitbit, it's products and what they portray to realize:
Fitbit fitness trackers do little more than yesteryear's Polar fitness trackers and heart monitors. Again, Fitbit simply repackaged and enhanced the technologies of yesteryear to offer a more appealing proposition to consumers. With that, they are also attempting to change consumer habits, especially those focused on their health and wellness. Using a Fitbit isn't complicated, but it doesn't have to be in order for the company to misunderstand its TAM. The fact that a fitness tracker does need to be explained to a consumer and asks the consumer to change their lifestyle habits while not solving any real consumer problems is enough to discount the company's and other outside interested party TAM valuations. In short, wherever an education is required to operate a consumer good, it reaches beyond the consumer habits that are normally present, no real problems are solved and there is a less costly way to achieve the same goals as if the good in question is used, the TAM is very often not realized. It is extremely unlikely that post the early adopter period that Fitbit will realize long-term unit sales growth. What I'm articulating here has yet to show up in any analysts reporting or media reporting and it likely won't. What they don't know needs to be considered is often not considered.
While much of the aforementioned statements seem opinionated, they are largely supported in the marketplace as factual representations. Fitbit is a NON-ESSENTIAL good. Nobody needs a Fitbit; if they desire to have one that is where Fitbit's operations are to be focused upon. There has never been a publicly traded company for which the business was centered around the sale of a NON-ESSENTIAL good that has shown steady growth past the saturation of the distribution channel. Again, the proof is in the marketplace for anybody who desires to achieve such levels of due diligence. The assumption that Fitbit will exhibit anything different in its business will be highly dependent on its ability to diversify its product and business. And this is being said as the company issues a press release centered on its soon to be launched Blaze smartwatch. The Blaze smartwatch, in my opinion, is not a diversification of product line, it is a reinforcement or embellishment of the existing product line.
So with that in mind a recent article touted what appears to be an early chink in the armor of the Fitbit business, the pricing. The article is titled "Fitbit: Will It Pull A GoPro?" (NASDAQ:GPRO). I had previously offered to readers/investors that I am not of the opinion that Fitbit's stated gross margins and pricing will develop as they assumed. The author of Fitbit: Will It Pull A Gopro" has detailed bearish sentiment for the stock in this article based on pricing concerns at the least and sales trends at the most.
It is very important, as a discipline in analytics, to understand proper correlations when drawing conclusions. I'm not of the opinion that the previously mentioned article draws appropriate conclusions based on the correlations assumed as well as the offered pricing concerns. So let's take a look at what was offered in "Fitbit: Will It Pull A Gopro?" for further consideration.
You see, for a market leader which bases its business on large margins and premium pricing, the main tell of problems is when discounts start to emerge. For instance, you'll notice that you usually can't find the latest Apple iPhone on sale, at least not in any significant way. This might change in the future, but while it remains true it means Apple's premium pricing is still holding with no significant impact on quantities sold. Up until recently, finding large discounts on Fitbit products was similarly difficult. It is that which might have changed."
Most analysts will be able to recognize the glaring issue with the comparing of a Fitbit MSRP lifecycle to that of an Apple iPhone (NASDAQ:AAPL), or any cell phone for that matter. The two products are in very different categories for a very recognizable reason. One product , as determined by societal needs (cell phone), is a needs-based product whereas the other product (Fitbit) is a NON-ESSENTIAL good. Cell phones are a mainstay in our lives and even with underperforming sales tend to maintain their pricing elasticity and/or pricing lifecycle that is highly dependent on upgrades. It's comparing apples to oranges if one prefers a more simplistic explanation. We need our cell phones, our food, our shelter, our automobiles and so on and for these reasons we are always more concerned about the inflationary impact on such needs-based goods.
When, and it always happens, but when prices for NON-ESSENTIAL goods find lower prices it is because of a variety of reason, but none more problematic than demand creation. The media tends to example competitive threats as being the greatest concern because it is "low hanging fruit", easy to recognize and requires less thought and due diligence. Competitive threats are not usually the undoing of a company that offers NON-ESSENTIAL goods as they tend to not proliferate products of great consideration in the market for very long and if they do they are soon thereafter acquired by a larger entity, if they are a leader of the category in question. It's just one of the reasons that company's like Jarden Corp. and Helen of Troy exist (NASDAQ:HELE). They are serial acquirers of one-trick-pony companies. Let's take a look at another offering from "Fitbit: Will It Pull A Gopro?"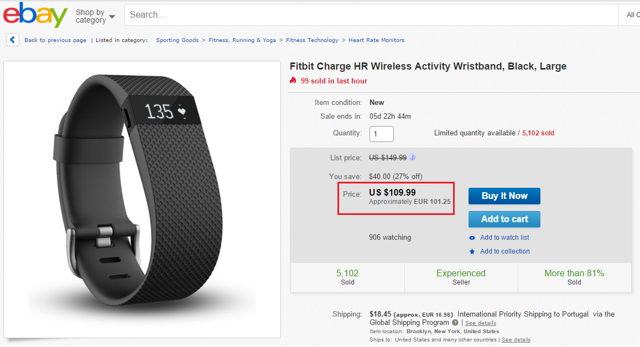 (Source: eBay - the link might die/change, red highlight is mine)
Notice three things:
First, there is volume for sale - 5,102 sales had already taken place.
Second, these are entirely new devices, not refurbs or display units.
Third, the price is a major discount. $109.99 or 101.25 EUR. The official price for the Charge HR is $149.95 and 149.95 EUR. This constitutes a discount of 26.6-32.5% (source: Fitbit.com)
Again we come to find an unfortunate offering of analytics from the author with a discounted Fitbit product supported on the eBay platform marketplace. Most analysts with experience would understand this to be the standard promotional structure for which resellers participate on eBay. Without consumer understanding of why prices are often what they exhibit on eBay, they purchase goods in abundance, daily, weekly annually. But it is the "blackbox" that some resellers taking advantage of the eBay platform that keeps most retailers from price matching anything offered on eBay. An example of this understanding comes directly from the largest retailer in the world, Wal-Mart (NYSE:WMT). Here is a link to the Wal-mart price matching policy. Best Buy and Target practice similar price matching standards that don't include a stores requirement to price match goods offered through eBay. In short, it is an absolute poor example of evidencing a pricing issue with Fitbit products to date. There is no constant rationale for reseller pricing on eBay and prices rarely exhibit consistency. To draw conclusion for Fitbit based on this outlet is little more than hyperbole.
Don't get me wrong, I do believe it is inevitable that Fitbit will need to amend either its pricing or distribution model, but not because of an erroneous eBay example and at this time. Fitbit will saturate its distribution channels eventually and the sell-in results will prove too difficult to comp by sell-through only. This will require the company to create demand, either through pricing initiatives or product development. Unfortunately both will come at a cost to gross profit, it's inevitable as proven over history. It even happened to Apple as they dedicated hundreds of millions of dollars into the R&D and as sales and profits eroded before eventually coming out with the iPod.
You have to love Jim Cramer right. The CNBC host and Mad Money character is very entertaining. Unfortunately, he can sometimes be a "bandwagoner". Remember him touting the ecosystem that was GoPro, pounding the table before it collapsed in share price. Now he is doing much the same thing with Fitbit, but relying on the health and wellness sentiment and trends. Additionally, he is touting the corporate clientele reach. As an investor or reader, one should understand that there is a reason developers and vendors target the consumer market instead of the commercial/corporate market. One is nearly quadruple the size of the other. Much like the supposed Gopro media revenue generating potential, one should consider the corporate potential of Fitbit. Tell me what Target (NYSE:TGT) does when they find the same, if not a worse, attrition rate for their staff of Fitbit would-be wearing employees than which is currently exhibited by the consumer market. And for a healthcare provider; what would they require of the consumer for the assumed discount if that consumer purchases a Fitbit. I'm not sure Mr. Cramer has addressed any of these questions. Actually I'm quite sure he hasn't otherwise why would he not offer such considerations in his Street.com analysis of Fitbit.
I'm not suggesting Fitbit is a short or a long investment at this time, just offering investors and readers analytics.
Disclosure: I am/we are long FIT.
I wrote this article myself, and it expresses my own opinions. I am not receiving compensation for it (other than from Seeking Alpha). I have no business relationship with any company whose stock is mentioned in this article.
Additional disclosure: With today's dramatic drop in share price I purchased shares below $26 and plan to trade these shares out quickly and hopefully with profits. A trading opportunity is not consistent with my long-term thesis and sentiment regarding the company Fitbit