The oil spread between Brent and WTI has dissipated by the end of 2015. And while the Energy Information Administration still expects this spread will rebound in 2016, the recent developments in the oil market - including the decision of Congress to lift the 40-year old ban on oil export -- are likely to keep this spread very low - perhaps even maintain its current near-zero level. For U.S. oil refineries this is likely to adversely impact their profit margins on these types of oil. And if not for the rising crack spreads and ongoing low oil prices, they would have presented higher earnings in 2015 compared to 2014. But moving forward, the lower spread are likely to further weigh on U.S. oil refineries profit margins.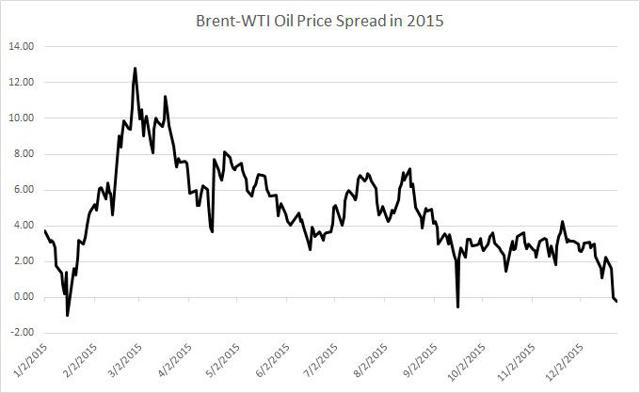 Source: EIA
The U.S. oil market has changed in the past several years, which brought down the spread between Brent and WTI from double digit figures to single digit -- an average of $5 per barrel over the last two years. Despite the drop in the oil spread, the EIA, at least as of the recent short term outlook, expects the spread to remain around $5 in 2016. Considering Congress voted for exporting oil, this could help eliminate the spread or at the very least maintain it at its current level. By removing the restrictions on exporting oil, the EIA estimates it will have only a modest impact on U.S. gasoline prices.
Other factors that helped reduce the Brent-WTI spread include: The development of oil transportation infrastructure in the U.S. to eliminate bottlenecks; U.S. refineries running on record high levels; low oil prices.
Despite the drop in the spread, major U.S. oil refineries kept increasing their earnings: Valero Energy (NYSE:VLO) is expected to report an EPS of $8.7 or 24% growth, year on year. And its EPS rose by another 40% back in 2014. Marathon Petroleum (NYSE:MPC) is also expected to show a gain of 35% in its 2015 EPS, year on year. The rise in profits was mostly related to favorable crack spreads and improved margins on some other oil prices relative to Brent. In general, low oil prices augmented the profit margins of U.S. oil refineries. So even though the Brent-WTI spread contracted during 2015, this trend didn't seem to hold back these companies from reporting higher profits.
Looking forward, however, analysts expect profits to decline in 2016 compared to 2015: Analysts expect Valero Energy's EPS to dip to $7.63 - this comes to a 13% decline, year on year. And Marathon Petroleum will record a 7% drop in its EPS compared to 2015. Although the oil market is still expected to show low prices, which should still good for U.S. refineries. Not only the Brent-WTI spread, as presented below, contracted in the past several quarters. LLS-Brent also narrowed to below $1 in Q4. And only the Mars-Brent spread remained close to $5.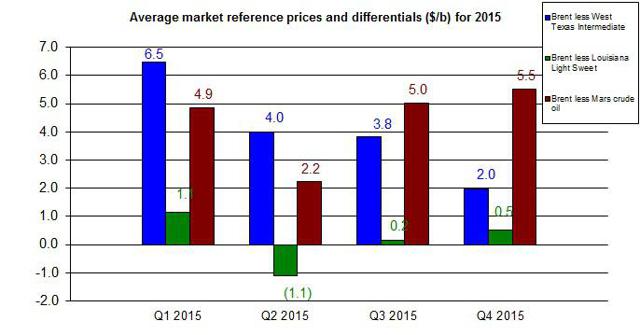 Source: OPEC
Finally the crack spreads are another big part that in the past offset the adverse impact of low Brent-WTI spreads. The average ULSD-Brent crack spread, as presented in the last market prices and uncertainty report, has slowly descended in recent months: As of November it was 7 cents lower than the 5-year average and 19 cents lower than in November 2014. And distillate crack spreads have also fallen. Conversely, RBOB-Brent crack spreads have been climbing over the last few months. The bottom line for U.S. oil refineries is that while 2016 could still be a year with high earnings - perhaps compared to 2014 -- there are some developments that are likely to weigh on their margins. That's why analysts have only placed a modest decline in the annual EPS estimates for Valero and Marathon Petroleum. I still think that 2016 will also be a good year for oil refineries - albeit perhaps not as good as 2015 -- on account of low oil prices, expected rising demand for gasoline and favorable crack spreads.
The Brent-WTI spread will become less relevant for U.S. oil refineries in 2016. In the past couple of years, the narrowing of this spread was offset by favorable crack spreads, falling oil prices and strong demand for gasoline. And these latter factors are likely to play a more dominate role in shaping the profits of U.S. oil refineries in 2016. For now, many crack spreads have fallen - even lower than their normal levels for this time of the year - and they could wind up cutting U.S. oil refineries' profits this year. For more please see: Goldman's Forecast On Oil - Another Case of Riding the Trends?
Disclosure: I/we have no positions in any stocks mentioned, and no plans to initiate any positions within the next 72 hours.
I wrote this article myself, and it expresses my own opinions. I am not receiving compensation for it (other than from Seeking Alpha). I have no business relationship with any company whose stock is mentioned in this article.