As promised last year, while this article continues to report results for the 3x9 Sectors Index, it also makes good on the promise to select one top yielding stock from each of nine business sectors along with the best yielding runner-up from any sector to be the tenth in order to perfectly diversify the top ten sector index portfolio, named 1x9+1 Sectors Index.
These two sector indices are analyzed using a once per year trading system triggered by yield, called the "Dogs of the Index" to determine the best of the best dividend stocks.
Charts below for the 3x9 Sectors Index and the 1x9+1 Sector Index reveal low yielding stocks (whose prices increase or whose dividends decrease) as candidates to be sold off once each year in order to sweep gains and reinvest the seed money into higher yielding stocks in the same index.
Two key metrics determine the yields to rank the stocks in each index: (1) stock price; (2) annual dividend. Dividing the annual dividend by the price of the stock declares the percentage yield by which each dog stock is ranked. Thus the investor is able to follow, trade, and await the results from an investment in the lowest priced, highest yielding five or ten stocks in the index.
Investment wisdom from the 3x9 and 1x9+1 Sectors
Listed below are the top twenty-seven 3x9 Sector stocks by yield as of 2/10/12 per Yahoo Finance data. This data is controversial since it reports estimated annual dividends that may or may not be paid depending on decisions by individual corporate governing boards.
Last month this Dogs of the Index strategist applied dog dividend methodology in a new forward test of the Dogs of the Index metrics to each of eight major market sectors: Basic materials, consumer goods, financial, healthcare, industrial goods, services, technology, and utilities. This index is derived from data reported in those articles.
Note that the rankings of 1, 2, or 3 for the nine sectors indicate the relative positions of the stocks in each sector January 20:
(Click on charts to enlarge)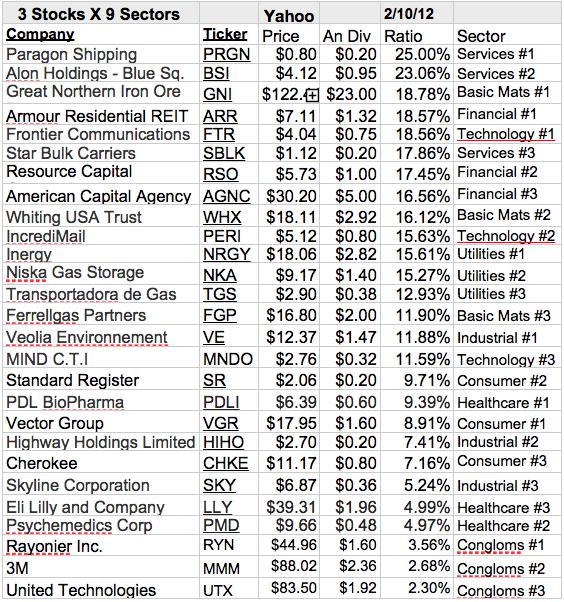 For February, the top ten dividend paying stocks in this index represent four sectors: Three services, two technology, three financial, and two basic materials. The top dividend yield slot is still claimed by a service firm, Paragon Shipping (PRGN). The former leader CPI Corp. (CPIC.PK) is now off the list with no dividends projected for 2012.
The nine top dogs and top runner-up on the above chart form the February 1x9+1 list:
(Click to enlarge)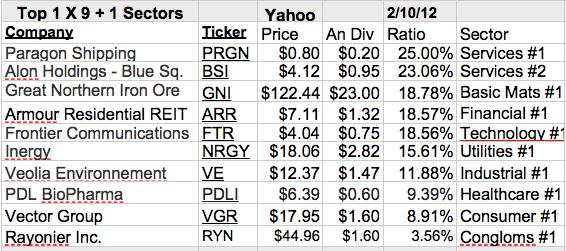 Vertical moves by 3x9 and 1x9+1 Sector dividend payers
Over the past four months, four different firms have bubbled to the top of the lists: DHT Holdings (NYSE:DHT), Chimera Investment Corp. (NYSE:CIM), Alon Holdings Blue Square (NYSE:BSI), and Paragon Shipping. All are powered to that position by those ever-controversial forward-looking dividend estimates, courtesy of Yahoo finance.
Color code shows: (Yellow) firms listed in first position at least once between October 2011 and February 2012; (Cyan Blue) firms listed in tenth position at least once between October 2011 and February 2012; (Magenta) firms listed in nineteenth position at least once between October 2011 and February 2012; (Green) firms listed in twenty seventh position at least once between October 2011 and February 2012. Duplicates are depicted in color for highest ranking attained.
Click to enlarge: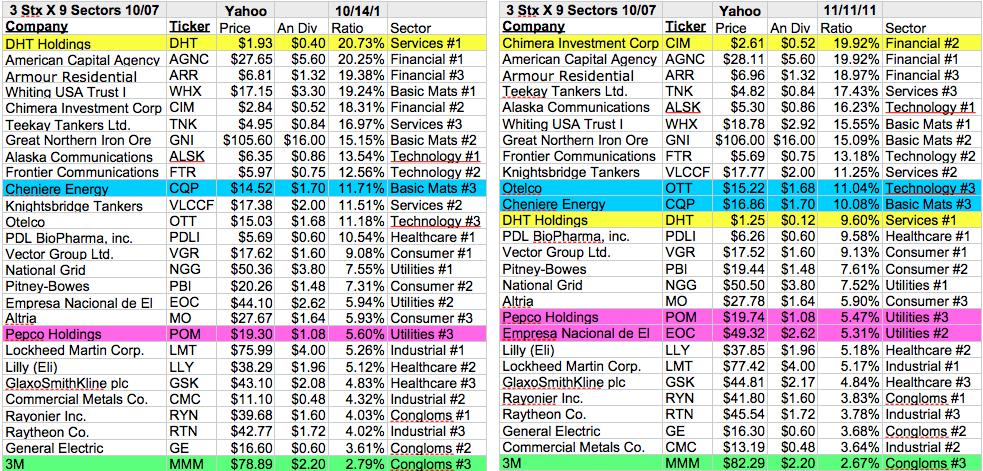 Dividend vs. Price results for 3x9 and 1x9+1 Sector index top 10s
Below are graphs of the relative strengths of the top ten 3x9 Sector and 1x9+1 Sector index stocks by yield as of February 10, 2012. Projected annual dividend history from $1000 invested in the ten highest yielding stocks each month and the total single share prices of those ten stocks creates the data points for each of the past four months shown in green for price and blue for dividends.
(Click to enlarge)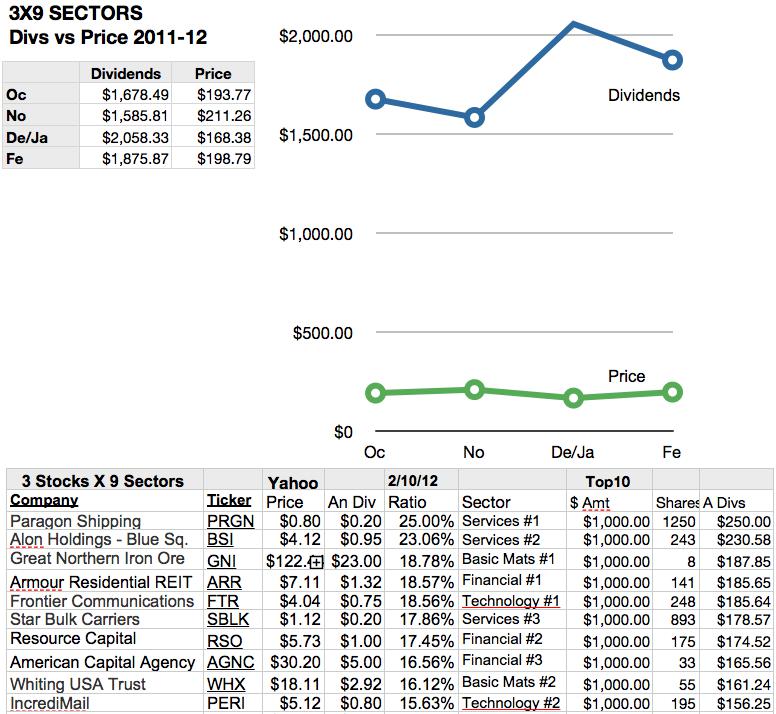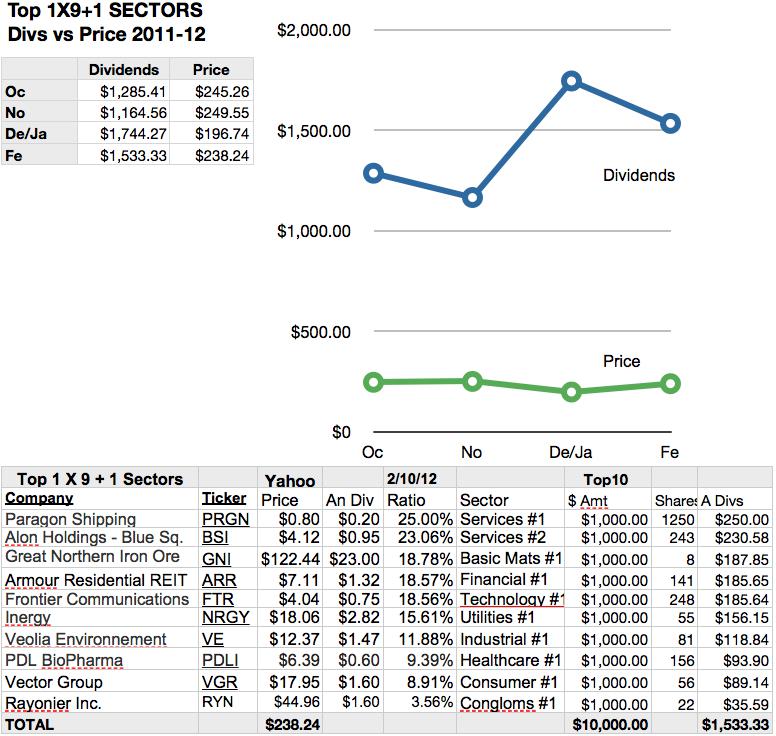 Notice how dividends rise and fall as prices fall and rise in opposition. The bear held sway in December/January and 3x9 Sector and 3x9+1 dividend yields popped as stock prices decreased. February dividends sank as stock prices increased. Will price gains continue for these sector top dogs in March? Stay tuned.
Disclosure: I have no positions in any stocks mentioned, and no plans to initiate any positions within the next 72 hours.
Disclaimer: This article is for informational and educational purposes only and shall not be construed to constitute investment advice. Nothing contained herein shall constitute a solicitation, recommendation or endorsement to buy or sell any security. Prices and returns on equities in this article are listed without consideration of fees, commissions, taxes, penalties, or interest payable due to purchasing, holding, or selling same.