A two-day 10.7% rally helped natural-gas futures to a three-week high of $2.684 per mmbtu on Friday Feb. 17, partly sparked by more-than-expected supplies decline, Encana (NYSE:ECA) shutting in production, and traders' short-covering.
U.S. natural gas futures just recently plunged to a 10-year low in mid-January hitting $2.32, and have dropped more than 50% from 2011 peak of about $5.00 in June, and the current market fundamentals suggest the recent artifical rally could not be sustained for long.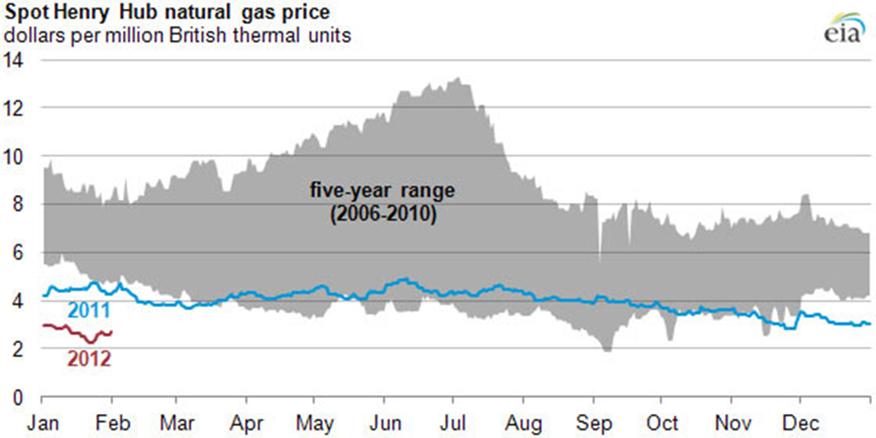 Abundant Storage
Working gas in storage was 2,761 Bcf as of Friday, February 10, 2012, according to EIA estimates. Although this represents a net decline of 127 Bcf from the previous week, stocks were nevertheless still 42% or 817 Bcf higher than last year at this time, and 38% (765 Bcf) above the 5-year average.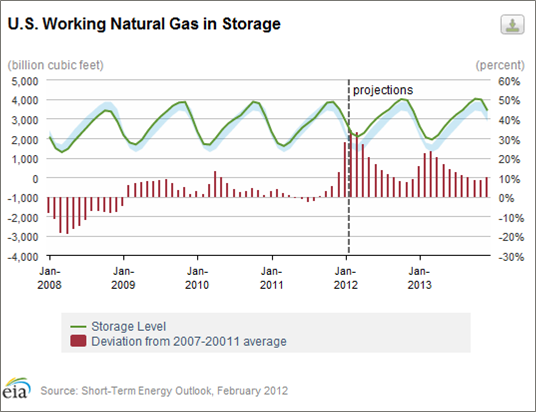 Gas from Oil Drilling
The record high storage level is partly the result of the relentless expansion in production. Advances in hydraulic fracturing and horizontal drilling has made recovering oil and gas from shale plays becoming more and more economical, and natural gas is often a by-product of oil drilling.
Many wells contain significant amounts of valuable natural gas liquids (NGLs), such as propane, ethane and butane, which are sold separately and linked to the price of crude oil. New oil shale plays like Niobrara and Eagle Ford have a much higher levels of associated gas than early tight oil plays like the Bakken. WSJ reported that nearly one-quarter of all U.S. gas production comes from oil wells, according to the government statistics.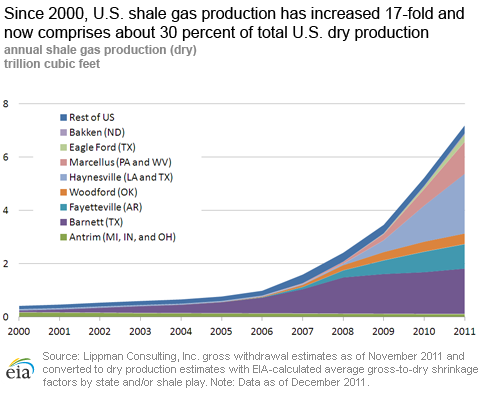 There are some other factors for this phenomenon of natural gas supply seemingly insensitive to price. Some producers have to drill in order to keep their leases, and some have joint venture funding and/or hedges in place, record low gas prices notwithstanding, while other smaller cash-strapped producers will keep pumping for the incremental cash flow.
Economy and Mother Nature
On the demand side, the still sluggish U.S. economy and warner weather do not bode well for natural gas either. Columbia Gas noted demand for the utility's gas is 8% less than normal and 21% below last year, and this winter is 19% warmer than normal and 28% warmer than last year. The forecast from EIA (see chart below) bears a similar story.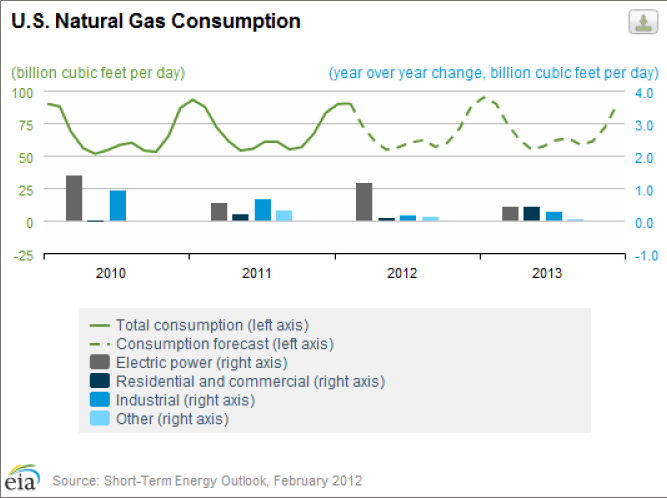 Let There Be [Stranded] Gas
While crude oil is busy responding to the geopolitical drama around the globe, the abundant domestic gas is stranded in the U.S. with very limited export capability. So even though oil and natural gas are both in the energy commodity family, their supply and demand fundamentals could have been any further apart.
Almost all gas producers are feeling the pain. Companies like Chesapeake Energy (NYSE:CHK) and ConocoPhillips (NYSE:COP) have been shutting in production and cutting back gas-directed drilling. However, the integrated majors like Exxon (NYSE:XOM) and Conoco have crude oil E&P (exploration and production) and the downstream refinery arm to cushion the record low natural gas prices, the gas-weighted independent E&Ps are not as lucky.
Producers Cash Crunch
For example, after announcing a $2.9-billion asset sale to Japan-based Mitsubishi, EnCana CEO Randy Eresman said in a release,
Encana plans to conserve most of the additional financial flexibility provided by this and previously announced transactions during this prolonged period of low natural gas prices.
Encana, Canada's biggest natural gas producer, indicated that the low natural-gas price is below the cost to add new supply and is making some wells unprofitable. The company will follow rival Chesapeake to immediately cut 250 million cubic feet of daily North American production and could cut by up to 600 million cubic feet, or 20% of last year's output.
Unlike Encana that entered 2012 with about 65% of expected 2012 natural gas production hedged, Chesapeake Energy, the second largest natural gas producer of the US, entered 2012 with none of its gas volumes hedged, betting that gas prices would rise, leaving the company fully exposed to the languishing commodity price.
Chesapeake is now seeking as much as $12 billion from assets sales and joint ventures to cope with a cash crunch amid rising debt. (According to Bloomberg, Chesapeake's capital spending has exceeded cash from operations in every quarter since October 2003, and the company has a net debt load twice the size of Exxon Mobil)
Moody's Warning
Moody's said in a recent report that companies with a strict focus on natural gas production are set to suffer in 2012 and names five gas-focused producers with single-B long-term ratings that it says will be especially vulnerable to gas prices lower than $3.00/mcf in the coming year - Comstock Resources (NYSE:CRK), EXCO Resources (NYSE:XCO), Penn Virginia (PVA), Quicksilver Resources (NYSE:KWK) and Carrizo Oil & Gas (NASDAQ:CRZO).
Utilities Also Getting Hammered
Low gas prices have led to low prices for wholesale electricity. Cheap electricity may be good for consumers, but it also has left utilities such as NRG Energy (NYSE:NRG) and Calpine (NYSE:CPN) as another sector victim to in addition to gas-weighted E&Ps.
Outlook
Right now, natural gas price is low enough to spur coal to gas switch from the power generation sector; however, that trend would likely reverse course as soon as gas hits the $3.00 range. Another potential natural gas demand booster would be from vehicle fuel use, which would depend on government legislation and consumer adoption -- something mid-to-long term IF it gets passed the challenging political environment.
The Recent Rally Is No Bull
In January, Bank of America Merrill Lynch said gas prices could drop below $2 in the fall, a level unseen since 2002. Right now, most analysts believe natural gas would hover in the $3 range at least till 2013, the time when some of the proposed LNG export facilities would come online. But by then, LNG cargos out of the U.S. could still have a hard time staying competitive with the tankers from Quatar, Australia and Russia that are much closer to the main LNG consuming regions of Asia and Europe.
So invest in natural-gas-focused stocks and/or funds like UNG if you have a similar long view (think 3-5 years and beyond) of natural gas as Exxon Mobil. But don't jump in just because of the false-positive from the recent rally. A rally without the support of market fundamentals is hardly a bull that would change the course of a mighty bear.
Disclosure: I have no positions in any stocks mentioned, and no plans to initiate any positions within the next 72 hours.