Market Sentiment:
By almost every measure of sentiment that I track, investors have become very optimistic, which is typically the main ingredient in a recipe for a correction. I've been looking for a correction on a simple technical basis for the last several weeks. I've been a bit surprised that the market has held up, but in doing so it has pushed several measures of sentiment to extreme readings. In my experience, this typically means that instead of a simple technical correction, the market could be facing a much deeper correction (10% or more).
Sentiment Surveys:
I track the results of several weekly sentiment surveys including Investors Intelligence (or II: which polls news letter writers), The American Association of Individual Investors (or AAII: which polls individual investors), and the National Association of Active Investment Managers( or NAAIM, which polls money managers). The combined results cover three groups of investors, but at the moment, they all have the same, and very positive outlook on the market.
II: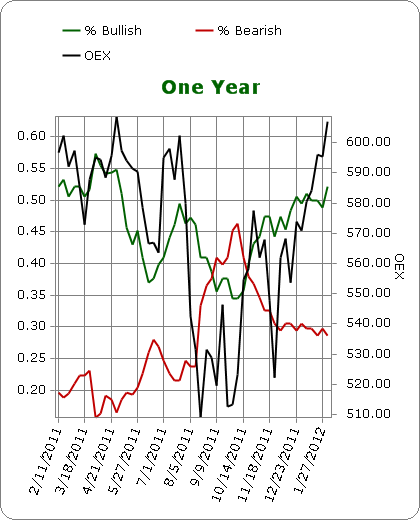 Notes: Rising prices have caused the spread between bulls and bears to widen.
Bulls 54.8%
Bears 25.8%
Source: Investor's Intelligence via Schaffer's Research
AAII: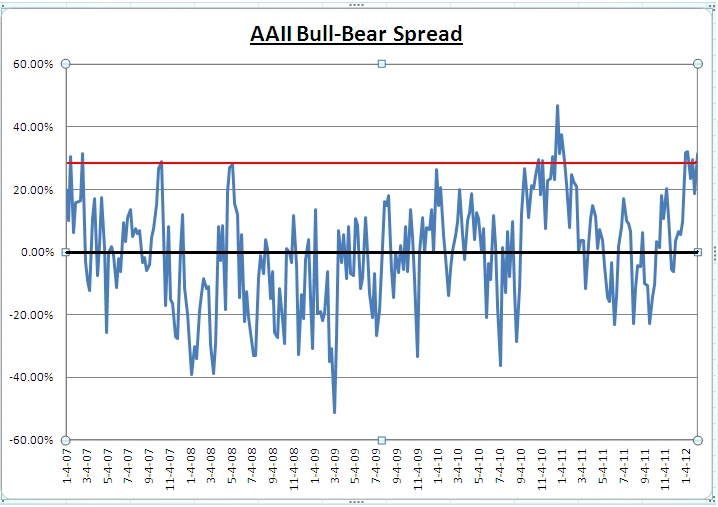 Notes: The percentage of bears has dropped off significantly. Individuals simply do not believe that the market lower 6 months form now. Individual retail investors however, do not have a great track record for predictions.
Source: American Association of Individual Investors
NAAIM: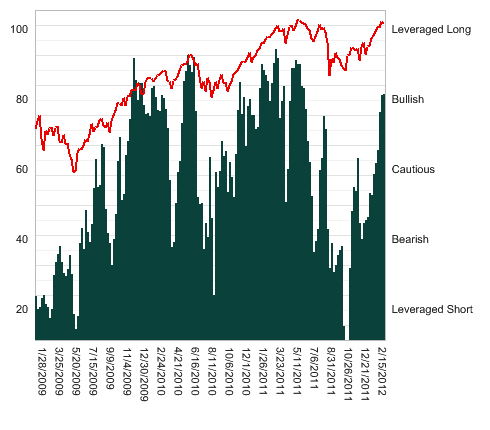 Notes: Managers have had a huge surge in bullish sentiment. Just a few months ago, the survey had a level of ZERO! Now that prices are back near their old highs, all of a sudden managers have become bullish. This is about as classic an example as you can get of "Sell Low, Buy High."
Source: National Association of Active Investment Managers
Survey Says:
All of the various sentiment surveys show the same basic picture: investors are currently very bullish on stocks, which generally means they are already fully invested or nearly so. This makes further gains very difficult, while increasing the probability of a correction.
The Options Market:
The options market provides insight in what speculators and hedgers are thinking. First, we can measure the number or bearish bets (puts) compared to the number of bullish bets (calls) via the put/call ratio. Secondly, we can look at the VIX index, which is essentially the premium that hedgers are paying for portfolio insurance.
Put/Call Ratio & $VIX:
Both the 3 and 5 day moving averages have been pushed to nearly the one standard deviation mark on the call side. We can see from past history that this generally means a very frothy market environment that is prone to corrections. Furthermore, the VIX has absolutely plummeted since spike late last year. I noted during that time, that despite how bearish the majority had become, the market would actually have a lot of trouble falling since investors were so well hedged. Now we have nearly the flip side image. Investors are not demanding insurance so the price of protection has fallen to extremely low levels. Ironically, in the stock market, when people do not want insurance, that is usually right before they need it.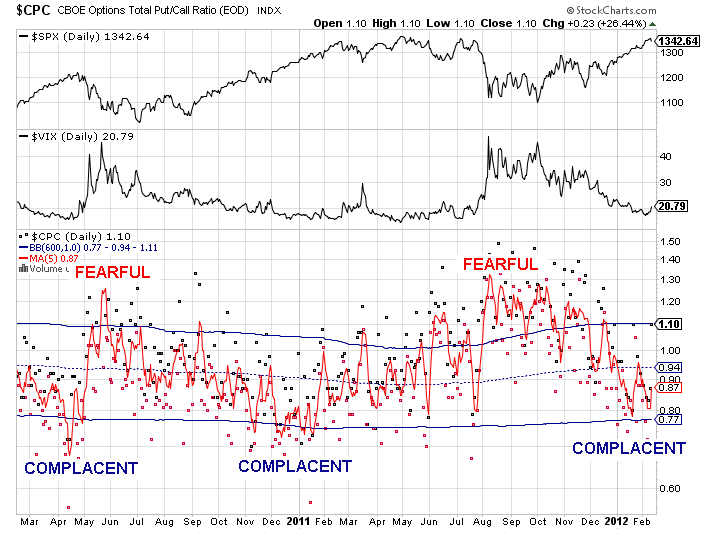 Notes: The options market indicates that option trading is becoming skewed to the call side, while the cost of portfolio insurance has dropped dramatically from over 40 to under 20 in the VIX.
Short Sales:
The NYSE keeps statistics on the number of shares held short, and updates these figures twice a month. Looking at the number of shares held short of some of the popular index ETFs gives us yet another view towards investor sentiment.
S&P 500: SPY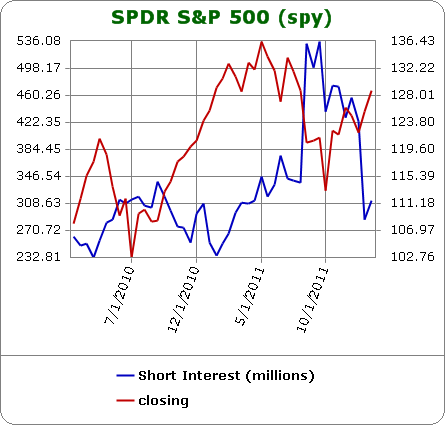 Nasdaq: QQQ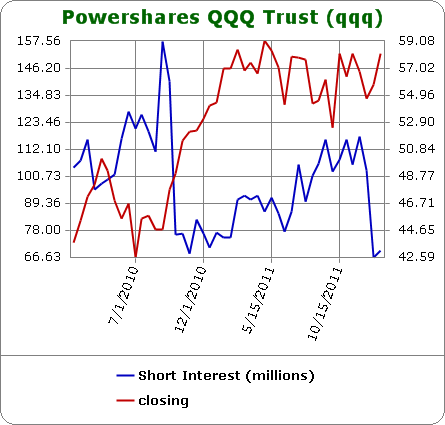 Dow Industrials: DIA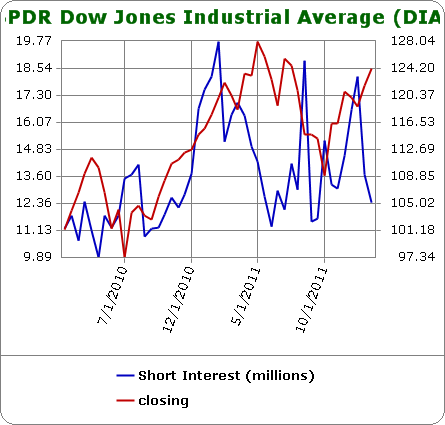 Total US Equity Market: VTI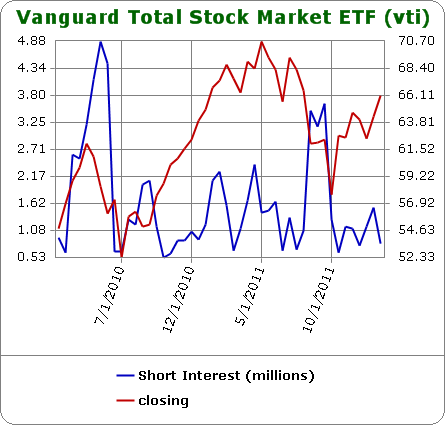 Notes: Short interest in the major index ETFs has plunged in the last several weeks. Market participants have gone from hedged/short to unhedged/long.
Source:Schaffer's Research
Summary:
Bullish sentiment can carry on, but when sentiment across every group begins to crystallize into bullish extremes, wise investors should take note. At the very least, on a risk adjusted basis, the "easy money" (if there is such a thing in the stock market) is essentially gone. At worst, the levels we are seeing across the wide spectrum of measures of sentiment are indicating we could be at the precipice of a large correction. Buyers beware.
Disclosure: I am short SPY.