While interest rates are certainly a major factor in REIT performance, they are far from the only factor which impacts REIT performance. Weakness in REIT shares during August 2015 demonstrated that REITs are not immune to concerns regarding global economic weakness.
If international headlines continue to spook U.S. listed stocks, investors with dry powder may be able to pick up some REIT shares "on sale" again.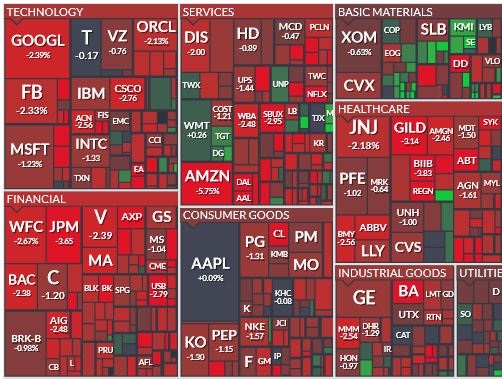 Source: Finviz.com - Jan. 4, 2016
The red squares in the middle of the financial heat map section once again demonstrate that China concerns can drag down shares of domestic REITs, which predominantly own institutional-quality U.S. real estate leased to creditworthy tenants.
Notably, in August 2015, a "China Syndrome" irrational sell-off created the best buying opportunity for the U.S. REITs during the entire year.
A Simple Strategy To Consider
I wrote an SA article "The Global Equities Sell-Off: Why Investors Should Consider REIT ETFs," which suggested a simple way for investors to take advantage of the mispricing in the REIT sector. Back in late August, the drop in REIT shares created such a compelling value that I suggested buying one of the four most popular REIT ETFs as one strategy to take advantage of the situation.
The four most popular exchange-traded funds (ETFs) are: the Vanguard REIT Index ETF (NYSEARCA:VNQ), the iShares U.S. Real Estate ETF (NYSEARCA:IYR), the iShares Cohen & Steers REIT ETF (BATS:ICF) and the SPDR Dow Jones REIT ETF (NYSEARCA:RWR).
Including dividends, buying REIT ETFs in late summer or early fall generated a 16-18% return for investors. If world markets become dicey to kick off 2016, and U.S. REITs are hammered down indiscriminately as they were last August, I would suggest considering a similar strategy.
Tale Of The Tape - Jan. 4, 2016
On the first trading day of 2016, it appears that the 7% "circuit breaker," or trading halt on the China exchanges, helped to cushion the sell-off in U.S. REIT shares on a trading day which saw the Dow 30 Industrials down over 400 points intraday, closing down 1.58% for the session.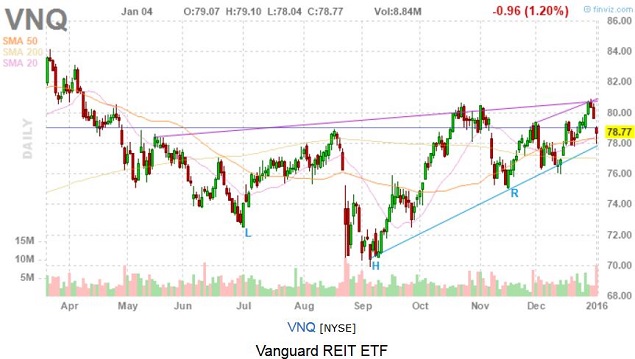 However, unless REITs pull back considerably out of the starting gate, I believe that selecting individual REITs that are likely to outperform the MSCI REIT Index (RMZ) will be a better strategy for 2016.
Real Estate Trends And Economic Drivers
A slowdown in the global economy also should serve to delay additional Fed rate increases moving forward, which would be bullish for REITs. Arguably, REITs should have been positive on the weak China manufacturing sector news.
The volatility in the price of oil can help to create winners and losers in the real estate industry as well. During 2015, there was a notable weakness in REITs with exposure to Houston as well as the Bakken and Marcellus oil shale regions.
There are other factors for investors to consider including market cap, sector (asset class), new supply (development opportunities/risks) and demographic trends. Everything from where consumers choose to live, how they shop, what they eat and where they work can impact the value of real estate.
If you are not familiar with the REIT asset class, I suggest that you consider reading my previous article, paying particular attention to the detailed exhibit from NAREIT/Cohen & Steers, which compares REIT sectors, lease durations, and economic cycles.
Here are five factors to watch for 2016:
1. Rising Interest Rates - The best guidance available from Janet Yellen's December 2015 press conference discussing the end to "ZIRP" (zero interest rate policy) was her stating that during 2016 and beyond to expect a gradual rise in rates by the Fed. Most notably, she made the point the process will be data driven, rather than a policy of a "preordained" series of increases.
All things being equal, rate increases can make accretive growth from acquisitions more difficult for REITs, as the spread between a REIT's weighted average cost of capital and acquisition yields are narrowed.
However, commercial mREITs with portfolios of floating rate loans, such as Blackstone Mortgage Trust (NYSE:BXMT), would stand to benefit. On the flip side, REITs with significant floating rate debt on their balance sheets, such as VEREIT, Inc. (NYSE:VER), the former ARCP, could see margins squeezed in the short term.
Many equity REITs have taken advantage of the historically low interest rates seen during the past couple of years to bolster balance sheets by issuing longer-term fixed-rate debt. However, these prudent balance sheet moves should already be baked into the share prices.
Moving forward, all REITs eventually will need to access capital markets in order to grow the size of the portfolios or replace maturing debt. While an increasing rate environment can act as a potential headwind for REIT share prices, there are other dynamics and variables which will influence each sub-sector or asset class.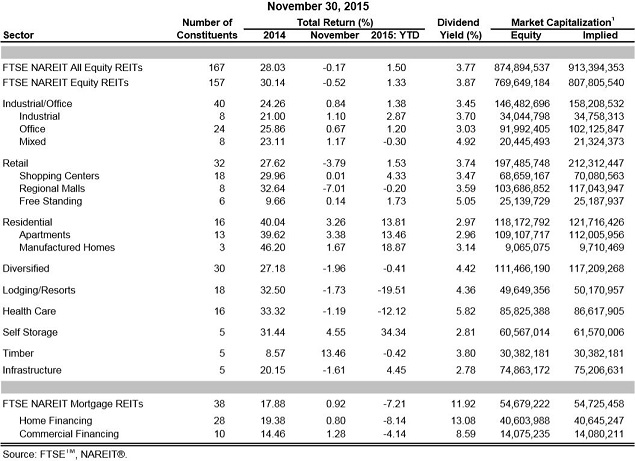 Source: Reit.com - Jan. 4, 2016
The most current data available from NAREIT indicates that self-storage, manufactured homes and multi-family apartments were the three top-performing sectors. Conversely, lodging REITs were the worst-performing REIT sector through the first 11 months of 2015. Healthcare REITs also were underperformers during the same time period.
While the table above does not break out datacenter REITs as a separate sector, they were another top-performing group of REITs during 2015.
2. New Real Estate Sector - The creation of a new GICS Real Estate top-level sector, which goes into effect after the close of markets on Aug. 31, 2016, will increase the visibility for real estate, which will become the 11th GICS sector.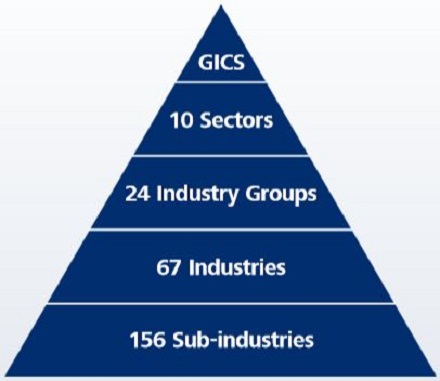 Source: MSCI
Mortgage REITs will remain in financials, along with banks and insurance. This separates the more highly leveraged mortgage REITs (mREITs) from equity REITS (eREITs) which own land and properties, typically utilizing far less balance sheet leverage.
There are multiple mutual funds and ETFs which track the financial sector. They will have to sell their equity REIT stakes. Since this divestiture must occur, there is a chance, at least initially, the new sector could result in some institutional selling pressure.
This in turn could provide investors with a better entry point for some of the largest market cap and most widely-held REIT blue chips, such as: Simon Property Group (NYSE:SPG), Public Storage (NYSE:PSA), Equity Residential (NYSE:EQR), AvalonBay Communities (NYSE:AVB) and Prologis, Inc. (NYSE:PLD).
These larger-cap equity REITs are held in many financial funds and ETFs, including the Vanguard Financials ETF (NYSEARCA:VFH), shown in the exhibit below: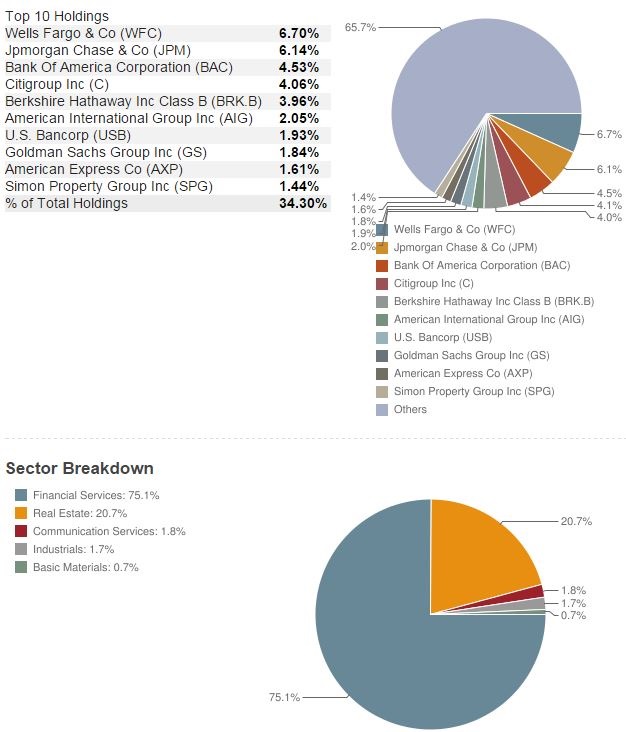 Source: Money.usnews.com - Jan. 4, 2016
However, this should be offset to some degree by the creation of new funds and ETFs which will be indexed to the new real estate sector as well as new actively managed and smart beta real estate investments.
This increased visibility, along with the availability of new products, also may result in financial advisors putting more emphasis on including the real estate asset class along with stocks, bonds and cash for retail clients.
3. Foreign Investment Tailwind - A modification of the 1980 FIRPTA regulations will allow foreign pension funds to invest in U.S. real estate in a manner more similar to U.S. pension funds. This should help increase the demand for well-located institutional-quality real estate, especially in U.S. gateway cities.
A major change will be to increase the ownership allowed in U.S. REITs by foreign corporations from 5% up to 10% (which is effectively the largest percentage of REIT ownership by any entity without special approvals by the board of trustees). The modifications also would reduce the taxes on gains on sale of U.S. real estate for those foreign entities.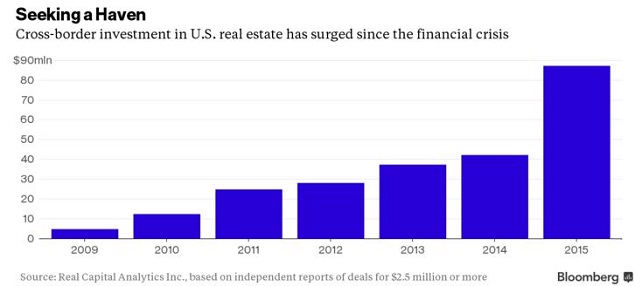 Source: Bloomberg - Real Capital Analytics
In an uncertain world, U.S. real estate is widely considered to be a safe-haven investment by many foreign investors.
According to Bloomberg, New York (Manhattan) led the way in 2015 with $23.5 billion invested, with Los Angeles being the second most popular destination for international investment, and San Francisco coming in third.
4. Strong Fundamentals - Since the Great Recession, lenders and regulators have been much more cautious on funding speculative real estate projects. Regional banks, formerly the main source of construction loan funding for private developers, have severely restricted speculative lending. This has resulted in new real estate projects being developed mainly by institutional investors, REITs and private equity.
These real estate professionals are data driven and look at markets more objectively. They also are far more likely to be geographically agnostic when it comes to allocating capital for new development.
Local developers are more likely to build in their own backyard. In past real estate cycles, this has led to rampant over-building in some markets. REITs and other institutional players are less likely to make poor decisions driven by development fees.
However, there are some markets and asset classes where supply may outstrip demand moving forward. This is another reason why individual REITs in a given sector might represent a better bet than others in 2016 and beyond. Additionally, tenant or industry concentration and overall portfolio quality are additional factors for investors to consider.
5. Real Estate Valuation - Existing stabilized real estate properties remain in high demand by the entire spectrum of buyers: publicly-traded companies, private equity and family offices, institutions and foreign investors. Private buyers are willing to pay higher prices (buy with lower yields or cap rates) than are currently reflected in many publicly-traded REIT share prices. Notably, during the past year, some REITs have become net-sellers of real estate or have chosen to recycle capital by selling non-core or assets in order to acquire assets in faster-growing markets.
Cap rates may begin to rise in 2016 with the end of the Fed ZIRP. However, this is a dual-edged sword. While it makes accretive acquisitions easier for REITs, it also reduces the valuation of the existing portfolio of properties. As real estate cap rates rise, the underlying asset prices fall, similar to the inverse relationship between yield and price for bonds.
However, unlike a bond, the initial or going in-cap rate for real estate can be improved by contractual increased in rent, higher re-leasing spreads achieved by marking to market existing tenants, and backfilling of vacant space (increasing occupancy).
Bottom Line
During the first week or two of 2016, I will be writing a series of articles which will suggest a number of names to consider which I feel will have a reasonable likelihood to outperform during 2016.
A couple of REITs are currently beaten down and are value-based ideas. There will be a few selections focused on generating income first, with total return a more secondary consideration. Some of my suggestions will not be REITs, but each will have a real estate or related technology component.
There are a few REITs which I feel are well managed and have a demonstrated track record of growing FFO and raising dividends. Some of these names can be bought at current valuations while others I will suggest be placed on a watch list to wait for a pullback prior to initiating or adding to a position.
There will be some small-cap REITs which have the advantage of being able to move the growth needle more readily and/or operate in a niche market. A few suggestions will be fairly recent IPOs or REIT spins, where the lack of a track record as a public company will have to be weighed vs. the opportunity.
There is one sector that I feel will outperform over the next two to three years, and I'm going to suggest a couple of alternatives for weighting a mini-portfolio comprising the entire sector. I also will explain why I believe this REIT sector will continue to grow and deliver outstanding returns for investors in almost any economic environment.
Please follow me on Seeking Alpha if you are interested in reading more about these picks for 2016 and beyond.
Disclosure: I/we have no positions in any stocks mentioned, but may initiate a long position in BXMT, SPG, VNQ, PLD over the next 72 hours.
I wrote this article myself, and it expresses my own opinions. I am not receiving compensation for it (other than from Seeking Alpha). I have no business relationship with any company whose stock is mentioned in this article.