The price of oil is caught in a difficult situation as geopolitical risks do little to offset a supply glut amid weakening global growth. As investors remain uncertain, selling continues for United States Oil (NYSEARCA:USO).
This week, the major headline came from tensions rising between Saudi Arabia and Iran. Relations between the two countries collapsed as Saudi Arabia executed a large number of what they deemed terrorists, while Iran refuted that the men deserved such a fate. Among the men executed was a notable Shi'ite cleric, which led to an attack of the Saudi embassy in Tehran.
The outbreak of violence and tension between the two largest players in the Organization of the Petroleum Exporting Countries is the definition of geopolitical risk, which in the past has pushed oil prices as high as $115 worldwide. The lack of movement in the price of oil following this event, however, proves that a vast gap exists between supply and demand of oil currently.
Over that same span, China released its manufacturing PMI reading. Chinese manufacturing is considered the main gauge of global economic health as its goods are shipped across the world, while emerging markets rely heavily on exporting resources to China to run its factories. The PMI measure came in at 48.2, down from the previous month's reading of 48.6. A print below 50 signals contraction.
With Chinese manufacturing declining as rapidly as it has since 2010, it signals the global economy is fragile. The world has failed to fully recover from the global credit collapse, leaving developed economies stuck at zero-bound interest rates. Slowing Chinese factory activity is thus leading to declining demand for commodities, which is one of the main reasons for the significant decline in commodity prices, as well as inflation in the past year.
The price of oil is thus being pulled in two directions. Geopolitical risks are a major concern, but the pull of a massive gap between supply and demand seems to be winning outright. Until the global economy can recover in a tangible way, the massive production of oil every month will continue to outweigh demand, meaning oil prices with remain at suppressed levels. USO is thus an unattractive investment, with the most actionable advice being wait till the commodity begins to stabilize amid a strengthening global economy in years to come.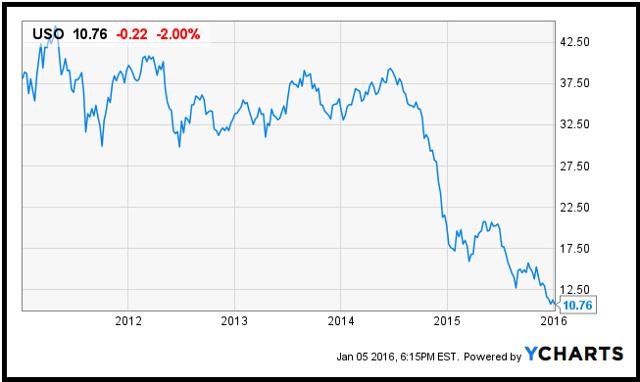 Disclosure: I/we have no positions in any stocks mentioned, and no plans to initiate any positions within the next 72 hours.
I wrote this article myself, and it expresses my own opinions. I am not receiving compensation for it (other than from Seeking Alpha). I have no business relationship with any company whose stock is mentioned in this article.