I recently wrote an article where I explained the performance of my "Sleep Well" S&P 500 seven-stock concentrated portfolio. The main argument behind the Sleep Well portfolio is that a portfolio with stable companies that have a wide moat, low debt levels and a valuation lower than the S&P 500 average should outperform the index in the long term. One reader had a remark that if we would eliminate the "FANG" stocks — an acronym for Facebook (NASDAQ:FB), Amazon (NASDAQ:AMZN), Netflix (NASDAQ:NFLX), and Alphabet (formerly Google, hence the "G") (GOOG, GOOGL) — from the S&P 500 my portfolio would have beaten the S&P 500. This got me curious, the FANG portfolio really outperformed both my Sleep Well portfolio and the S&P 500 by a large margin but does it deserve to be eliminated just based on valuation. In this article I want to see what are the probabilities behind the FANG portfolio beating everything else again in 2016 and the risk and reward behind owning the three different portfolios, the Sleep Well, the FANG and the S&P 500.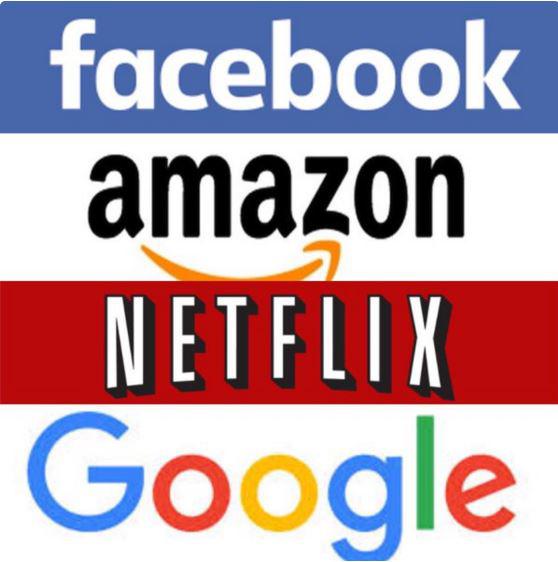 A small personal digression here: I remember it just like today when two years ago — when I was working for a Fortune 500 company in London and not much into stock research — I discussed with a colleague what would be the best stock to buy for long-term investors. My pick was, unfortunately, an oil company: Gazprom (OTCPK:OGZPY) — and you can all guess how that ended. My colleague's pick was Amazon (AMZN). At that moment AMZN was around $400 with a huge valuation, while OGZPY had a really low valuation. I figured AMZN was bound to fall and OGZPY bound to grow, since in the long term, stock prices should correlate with the underlying earnings. In the next few months AMZN fell from $400 to about $300, and you can imagine my self esteem along the way. I also won some doughnuts from my friend, as he lost his bet.
It is very interesting to see how, after two years, things turned out to be completely different, and he was completely correct with his pick. As a value investor, it is difficult for me to understand such things. That is why I want to compare my value ("Sleep Well") portfolio with a more daring, high-growth FANG portfolio. Perhaps, while we value-driven investors dig in the dirt, FANG investors enjoy extraordinary returns — or will it be vice-versa? Time will tell. But let us first see what is behind such investment strategies.
Introduction to the portfolios
The FANG portfolio
FANG is an acronym for the four famous growth stocks, Facebook (FB), AMZN, Netflix Inc. (NASDAQ: NFLX) and Google that changed its name to Alphabet Inc. (GOOG & GOOGL). These stocks are opposite to the sleep well portfolio in many ways and the most important one for investors is that they have outperformed most other benchmarks in 2015. FB, AMZN, NFLX and GOOG have grown by 36%, 120%, 162% and 45% respectively in 2015. In the period since my first Sleep Well article was published in September 2015 the "Fang" portfolio had a 15.52% return while the Sleep Well portfolio had a 1.03% return and the S&P 500 a 3.15% return. Something impossible to understand for value investors is that the FANG average PE ratio is 329.86.
The Sleep Well portfolio
From an in depth screening of the S&P 500 I found seven stocks that have relatively low PE ratios with stable or growing earnings, healthy cash flows that enable dividends and repurchases, low debt and a wide moat. More about the research methodology here.
The Sleep Well seven stock concentrated portfolio is formed by the following stocks: Gilead Sciences (NASDAQ:GILD), Merck & Co. (NYSE:MRK), Johnson & Johnson (NYSE:JNJ), 3M Company (NYSE:MMM), Eaton Corporation plc (NYSE:ETN), Wal-Mart Stores (NYSE:WMT) and Exxon Mobil Corporation (NYSE:XOM). The average P/E ratio is 14.25, the dividend yield is 3.18% and the average repurchases amount to 2.14% of the market capitalization. According to Morningstar, all of those companies have wide moats and long-term debt-to-equity ratios below 1.
Here I will analyze the two portfolios and make some possible scenarios and will do my best not to make judgments, as I have — like many other value investors in the last few years — been proven wrong enough already.
Comparison of fundamentals and future projections for the portfolios
The fundamentals of the two portfolios are very different with the main difference being the growth rate (table 1).
Table 1: Fundamentals of the Sleep Well and FANG portfolio stocks

Sources: Author's calculations, with data from Morningstar.
FB is the fastest grower, followed by NFLX and AMZN. FB's current stock price is $102.73 with EPS of $0.99 giving a PE ratio of 102.7. Is that PE ratio crazy? Well, depends from how you look at it, the 50% growth rate and the future potential monetization of the more than 1 billion daily active users FB has is something I have learned not to call crazy a priori. FB's earnings can be compared to GOOG's. In the last 10 years GOOG grew its EPS from $2.51 in 2005 to the current $23.08 and is still growing with a PE ratio of 31.25, and GOOG's revenue grew at 25% in the last 10 years and not at 50% as FB's is currently growing. To be conservative let us take the same growth GOOG had and apply it to FB for the next 10 years. FB's EPS should then be at $10 and the stock price with a PE ratio of 30 at $300 giving an 11% yearly return to the owner.
NFLX and AMZN have been growing revenues at 24% a year but have much higher PE ratios of 284 and 901 respectively. NFLX current EPS is $0.37 and stock price is $107.66. If NFLX can grow its EPS at the same rate GOOG did in 10 years we would have EPS of $3.7 that with a PE ratio of 30 would not be far from the current price. The story for AMZN is similar with current EPS of $0.69 and a PE ratio of 901. For AMZN to justify its current price its EPS should grow to at least $20 that attached to a PE ratio of 30 would give a valuation of $600.
The main question here is: are these valuations reasonable? My first answer as a value investor would be a big NO, but I have learned not to condemn something just because it does not fit my view of the world.
The FANG portfolios is made of stocks whose goal is not to be as profitable as possible but to be as big as possible for the moment and all their efforts are focused on growth, developing new technologies and to be and stay a leader in the changing and increasingly faster digitized world.
A comparison here can be made to Microsoft (NASDAQ:MSFT) who has been on the same mission to conquer the world with its products and create a wide moat for its business. We can use MSFT's historical PE ratio for comparison purposes (Figure 1).
Figure 1: MSFT's historical P/E ratio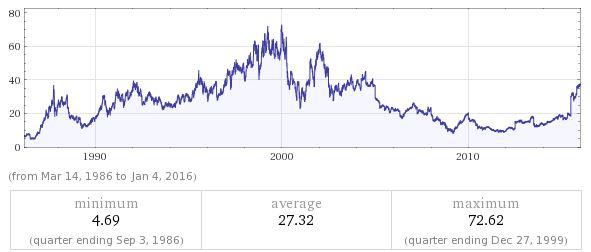 Source: Wolframalpha.
The highest PE ratio for MSFT was in 1999 at 72.62 and almost 20 years later MSFT's stock price is coming close to the 1999 peak. We must not forget that MSFT has been paying a steady growing dividend since 2003. Will the same scenario await the FANG stocks or will it differ?
I think the 20 years MSFT had to wait to justify its valuation will now pass much faster. The below figure shows the estimated growth in downstream demand for services in the period from 2013 to 2020.
Figure 2 Projected daily volume of downstream traffic per residential subscription for the years 2013-2020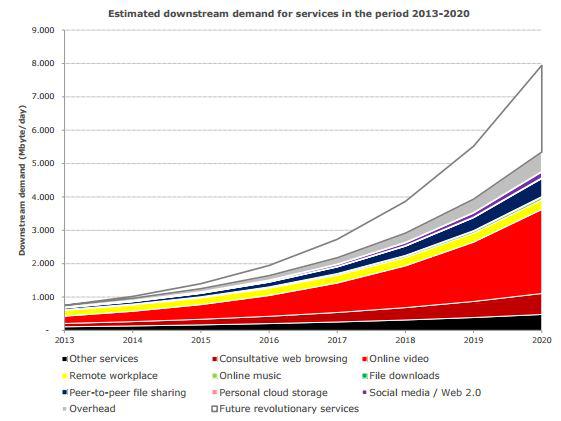 Source: Nlkabel.
What is interesting here is the growth rate of the traffic and that if the FANG stocks can grasp that traffic growth and transfer it into their revenues they might be able to justify their current valuations.
Expected returns in relation to growth
I have played a little bit and created two tables that show us what has to happen to the FANG stocks in order to justify their valuation in the next 5 years. I the first table I have used a PE ratio of 30 in five years and a 25% yearly growth rate for the FANG stocks with the exception of GOOG where I used a 10% growth rate and a PE ratio of 15 with a 3% yearly growth rate for the Sleep Well portfolio.
Table 2: Five-year projections for stock prices based on 25% EPS growth for FANG and 3% for Sleep Well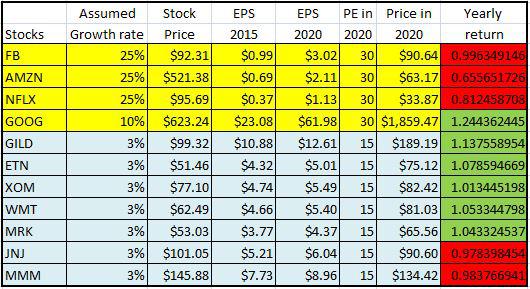 Source: Author's calculations.
With such an estimation only GOOG manages to give a satisfactory return within the FANG portfolio while the yearly returns of the Sleep Well stocks are related to their current PE ratios as no growth except the dividend yield is assumed.
As the previous table is not so positive for the FANG stocks in the below table I have increased the EPS growth rate from 25% to 50% a year and for GOOG from 10% to 25% a year.
Table 3: FANG portfolio with 50% EPS growth


Source: Author's calculations.
Even with a 50% EPS growth rate only FB has a satisfactory yearly return of 19% and of course GOOG with 25% EPS growth would reward the investor with yearly returns of 27%.
The risks related to the three portfolios
From a value perspective it would be easy to just say that if the future growth predictions are not met with the FANG stocks we could relive a replica of the dot.com bubble bursting scenario. On the other hand one might argue that the world is getting more and more FANG where data, sharing, entertainment and digital socializing is becoming more and more important so that the older companies will have a lot of trouble to cope with the new business environment.
Another important point is the risk related to valuation. WMT's stock is down more than 30% from its 52week high, XOM 17%, MMM 13.4%, GILD 20%, ETN 30% and MRK 16.5%. This shows that even if those companies can be considered blue chips their stock price can still fluctuate a lot during a year. A decline for AMZN like the one that hit WMT would bring AMZN's price from the current $633 to $433.
Conclusion
One can conclude that both portfolios have risks and that the good old S&P 500 is a good way of being exposed to both options while diversifying the risks. On one hand if we hold the Sleep Well portfolio we are sure that we will miss the growth and potential of the digital and social business revolution but on the other hand we can be relatively sure in the 3% dividend yield. The Sleep Well portfolio is for the patient accumulator of wealth while the FANG is for the one that is ready to risk a lot more and bet on the uncertainties the future will bring.
From a probabilities perspective I cannot say that either of the two portfolios is riskier than the other as both portfolios have its pro and cons but the required 50% growth rate necessary for a positive return with the FANG stocks is easily questionable, with the exception of GOOG.
I am looking forward to your comments, and I will check the performance of both the portfolios every six months, as I assume there is no other way than letting the future tell us who is right or wrong.
Disclosure: I/we have no positions in any stocks mentioned, and no plans to initiate any positions within the next 72 hours.
I wrote this article myself, and it expresses my own opinions. I am not receiving compensation for it (other than from Seeking Alpha). I have no business relationship with any company whose stock is mentioned in this article.
Additional disclosure: This article was provided for informational purposes only. Nothing contained herein should be construed as an offer, solicitation, or recommendation to buy or sell any investment or security, or to provide you with an investment strategy. Nor is this intended to be relied upon as the basis for making any purchase, sale or investment decision regarding any security. Rather, this merely expresses my opinion, which is based on information obtained from sources believed to be accurate and reliable and has included references where practical and available. However, such information is presented "as is," without warranty of any kind, whether express or implied. The author makes no representation as to the accuracy, timeliness, or completeness of any such information or with regard to the results to be obtained from its use should anything be taken as a recommendation for any security, portfolio of securities, or an investment strategy that may be suitable for you.