The Business
Hansen Natural Soda became Monster Beverage Company (NASDAQ:MNST) on January 5, 2012 in an effort to appropriately rebrand the company. Looking at the year end revenue, it's obvious that the company is making a monster bet on their energy drinks:


Source: Company 10-K
Monster's popular energy drinks include the regular Monster Energy, Monster Rehab, Monster Java, and Worx Energy. Monster promotes their drinks through the sponsorship of over 200 athletes, mainly in sports that appear in the X-Games. Advertising and promotional expenses accounted for 32% of 2010 operating expenses at $105 million.
In 2008, Monster began to expand internationally to compete with Red Bull and add a fresh revenue stream. Since the initial expansion, international revenue has accounted for an increasingly higher percentage of total revenue. 16.2% of 2010 revenue was international and with three quarters of data in 2011, it appears that Monster will bring in about 20% of their total 2011 revenue from international sources.
Valuation
With a quick look at Monster's current multiples, the stock appears to be trading at a lofty valuation:


(NYSE:DPS) (OTCPK:NSRGY) (NYSE:PEP)
Source: Bloomberg Terminal
A more in-depth discounted cash flow analysis confirms the current valuation. I assume a 10.8% CAGR in revenue from 2011-2016 and a slight decrease in gross and operating margins mainly due to high raw materials prices and increased international expenditures. Using a beta of .81 and a market risk premium of 7%, cost of equity from the CAPM model is 7.67%. As a check, the YTM on competitor's debt is 4% (Monster has zero long-term debt) and the equity risk premium is 4%, yielding an 8% cost of equity based on the bond yield plus risk premium model. Averaging the two, Monster's cost of equity is 7.84%. The forecasted terminal P/E is 25 (currently at 36.6).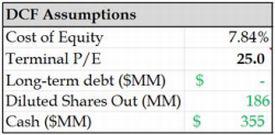 With these assumptions, the implied price per share from FCF to Equity after discounting back is $48.88, which implies that Monster's stock is currently trading at a 9% premium to its intrinsic value.
Outlook
There's no denying that Monster is a hot stock right now. The current price is up 86% from one year ago and some analysts have increased their price targets in response to the company's rapid expansion, huge revenue growth, and increased profitability. However, I believe investors should avoid Monster or consider selling their position for these main reasons:
1. Valuation
From my DCF analysis, the stock appears to be trading at a premium to its intrinsic value. Because DCF models are subjective, investors also need to take into account the company's multiples. Monster is currently trading at 36.6x earnings, 5.8x sales, and 19.1x EBITDA, which further suggests that the stock is overvalued. Monster must have their international launches go perfectly to plan and see very strong growth domestically to justify investors paying at this price.
2. International Uncertainty
I have several reservations about Monster's international expansion. First, looking for international revenue suggests that the US energy drink market is becomingly increasingly saturated and is forcing the company to expand. Second, their large advertising and promotional expenses are geared predominately towards American fans and sporting events. Marketing their product and winning consumers will not be as easy in the Baltic States as it is in the United States. Third, energy drinks have faced bans internationally, for example in France and Germany. Though the bans have been lifted, some countries require warning labels on the cans and prohibit energy drink sales to consumers under the age of 18.
3. Huge product concentration
As the table at the beginning of the note shows, energy drinks account for over 90% of total revenues for Monster and the segment is still growing increasingly concentrated. Though energy drinks are currently a hot product, it's impossible to foresee how long the demand will last. With American consumers showing increased demand for healthy beverages such as water and tea, energy drinks may be at risk looking forward.
4. Insider Activity
Per Morningstar insider activity, Monster insiders have sold 534,860 shares since December 9, 2011. With an approximate pre-split price of $100.00, this amounts to over $53 million sold in the last two months. Though insider selling isn't always necessarily negative, it is never positive. A sell-off of this amount raises red flags, in my opinion. Why would upper management of a company that is so hot be slimming down their personal holdings of the stock?
I recommend that investors avoid Monster at the stock's current valuation.
Disclosure: I have no positions in any stocks mentioned, and no plans to initiate any positions within the next 72 hours.