I have written articles describing the rise of solar energy and electric vehicles on Seeking Alpha in 2015, which you can read here and here. With the meteoric rise of Solar and EVs the final stage to be energy self sufficient will be energy storage most likely using lithium batteries.
As of 2016, there are already several regions such as rural Mindanao in the Philippines, rural Bangladesh, and Alzey-Land in Germany that are already 100% running on renewable energy, and many other countries and cities have goals to do the same. You can read about it here. Battery storage is already on the rise, currently Germany is leading the energy storage race with Australia (15% Solar penetration) following close behind.
The (independent) climate council of Australia released an excellent report in 2015 on home energy storage called "Powerful Potential: Battery Storage for Renewable Energy and Electric Cars by Andrew Stock, Petra Stock and Veena Sahajwalla (Climate Council of Australia)". You can view it here.
Some points they make include:
"The amount of battery storage capacity installed in Australia will grow 50-fold over the next 10 years.
Half of all households in Australia will soon have solar with battery storage, with the market potentially growing to $24 billion.
Globally, the market for solar PV panels and battery storage is expected to grow tenfold in less than five years.
Battery costs have fallen by 14% on average every ear between 2007 and 2014 and more dramatic cost reduction for lithium ion batteries are expected as several companies rapidly scale up production."
Stocks to buy that will benefit from the growth in the energy storage market are mostly the battery manufacturers.
Estimated Global lithium auto battery makers market share 2015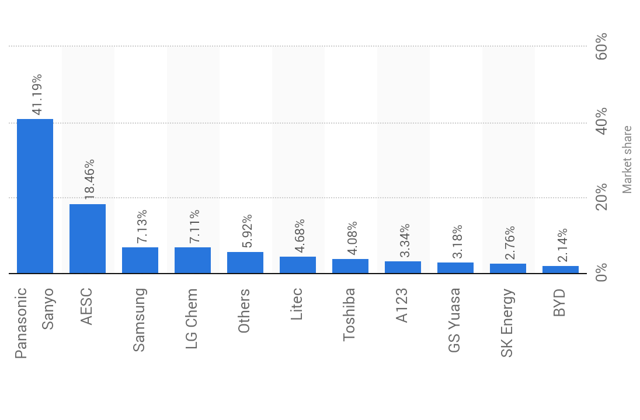 The above graph shows the current top global auto lithium battery manufacturers as of 2015, by market share. Panasonic (OTCPK:PCRFY) Sanyo was the clear leader with 41.19% market share definitely helped by supplying Tesla.
It should be noted that Byd is currently the world's largest manufacturer of rechargeable batteries (used for EVs, PCs, tablets, smartphones, phones and so on). In 2015, they produced 10 GWhrs and plan to grow this to 34GWhrs by 2020.
Lithium battery producers building gigafactories
The following companies have gigafactories planned: Tesla (NASDAQ:TSLA), Byd Co. (OTCPK:BYDDF), Foxconn Technology Group (OTC:FXCOF), and Samsung SDI (OTC:SSDIY). Tesla and Panasonic are by far the most advanced as the market leaders, with their gigafactory almost completed.
My top 6 energy storage companies in order of preference
1. Tesla (NASDAQ:TSLA) - Price = $223
I rank Tesla as my number 1 energy storage play for three key reasons:
Tesla will be first to market with a gigafactory located in Nevada, which will become the largest global manufacturer of lithium batteries.
Tesla has close ties to SolarCity (the No. 1 U.S. residential solar installer with 33% market share) as Elon Musk's cousins the Rive brothers are the co-founders. Tesla has the Powerwall home energy storage system, which is now selling globally.
Tesla is a leading EV manufacturer rapidly scaling up from 50,000 EVs pa in 2015 to 500,000 pa by 2020.
As stated on Tesla's website: "With Tesla Energy, Tesla is amplifying its efforts to accelerate the move away from fossil fuels to a sustainable energy future with Tesla batteries, enabling homes, business, and utilities to store sustainable and renewable energy to manage power demand, provide backup power and increase grid resilience".
Put simply, Solar City (NASDAQ:SCTY) and others will supply roof top solar and Tesla will supply the lithium batteries (Powerwall) for energy storage.
Tesla Powerwall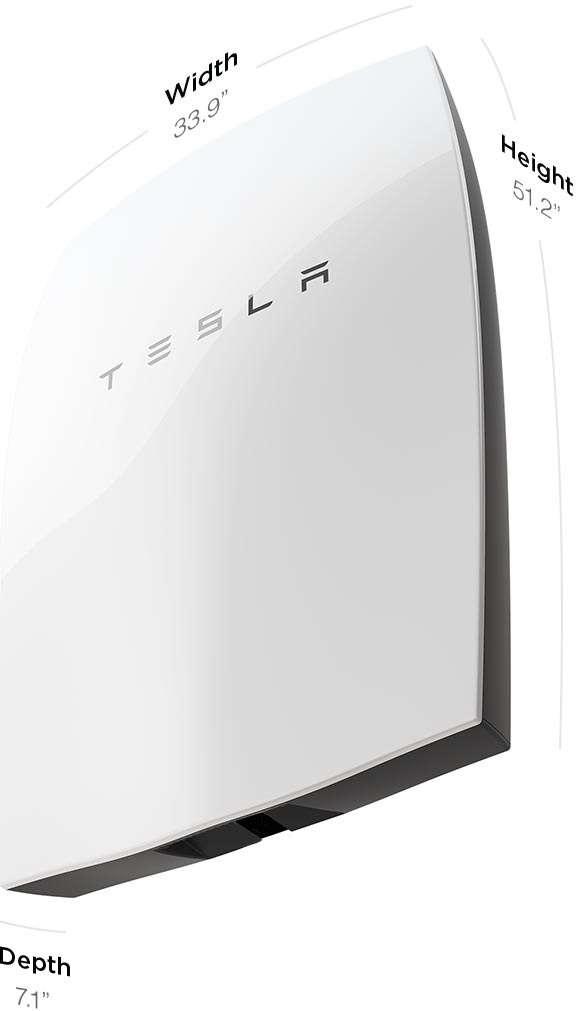 The Tesla Powerwall, is about the size of a suitcase, and the 7kWh version weighs 100kgs. Each Powerwall has a 7 kWh energy storage capacity, sufficient to power most homes during the evening using electricity generated by solar panels during the day. Multiple batteries may be installed together for homes with greater energy needs. A 10 kWh weekly cycle version is available for backup applications. A 7kWh version sells for $3,000, and a 10kWh version for $3,500 (price excludes inverter and installation). It is designed for daily use and comes with a 10-year warranty. The long-term plan is to allow individuals to get completely off-grid if they wish.
Many big companies including Amazon and Target, as well as utility company AES, are already using Tesla battery storage products. Investors will be aware the majority of Tesla's income is expected to come from it's electric vehicle sales, however battery sales to other EV makers, and for energy storage are other huge potential businesses. Tesla's gigafactory should give Tesla price advantages that come with economies of scale. Currently Tesla has an estimated 2017 PE of around 45, an analyst Hold rating, and a consensus target price of $277, representing 24% upside. It's market cap is close on $30b. I rate it as a strong buy.
2. Byd Co. (OTCPK:OTCPK:BYDDF) (OTCPK:BYDDY) (01211:HK) - BYDDF Price = USD 5.22
I recently wrote about Byd here. In December 2015, Byd got approval from the Chinese Securities Regulatory Commission (CSRC) for a $1.9b capital raising for Byd to raise funds for a gigafactory. The raising is expected to dilute shares by around 9.4%.
I rank Byd as No. 2 as they are the "Tesla of China" and have a similar strategy and products to Tesla. Additionally they are currently ranked number 1 for global EV sales, and sold close to 60,000 EVs in 2015, with a 2020 target of 500,000. Goldman Sachs forecasts sales increasing an annualized 57% all the way to 2020.
Byd also sells PV systems and storage, so is somewhat like a First Solar (NASDAQ:FSLR) and Tesla combined. The BYD home storage system is called the "DESS system." It comes in a 3kW/8kWh single-phase system and 9kW/8kWh three-phase system -- connects existing or newly installed solar PV systems with lithium iron phosphate battery storage through an inverter and battery storage module to the local grid. There is also an off-grid home energy system.
Currently, Byd (HK listing) has a stock price of HKD 41.20 and a P/E of 36.3, a 2016 P/E of 30.3, and 2017 P/E of 22.6. It's market cap is around $20b. Analyst consensus is a Buy, with a 1 year target price of $52.86. I expect this to be upgraded over the next few months, similar to the BoA upgrade to HKD 60. Also a strong buy for me.
3. Panasonic - Price = USD 9.95
Panasonic Corp. engages in the development, manufacture, and sale of electrical products. It has a market cap of USD 24.4b. The Japanese electronics giant's offers a 8kWh lithium-ion residential battery storage system and is similar to it's competitors. What differentiates Panasonic is it's partnership with Tesla both as a current supplier and a partner in the Tesla Nevada gigafactory.
Currently Panasonic has a 2016 P/E of 15.1, and 2017 P/E of 12.5, an analyst Buy rating, and a consensus target price of $13.48, representing 35% upside. I would recommend to buy it based on it's sound valuation and potential growth from the battery division. It's risk can be if it were to part ways with Tesla. However this can be offset by the huge growth coming in the EV market and home energy storage market.
4. Samsung SDI (SSDIY:US) (006400:KS) - Price = 114,500 Korean Won
Samsung SDI Co., Ltd. is engages in the manufacture and sale of secondary cells and plasma display panels. The Samsung SDI All In One energy storage system combines a solar/battery inverter and a lithium-ion battery offering 3.6kWh capacity. Bigger batteries are also available. The battery system weighs 95kg and has a small footprint (100cm × 26.7cm × 68cm) and can be controlled remotely via a web interface or mobile app. It also has a 2 year product warranty and 7 year performance warranty.
According to Barclays research, Samsung SDI gets three-quarters of its revenue from batteries, and is priced at only 0.7x book value compared to Tesla at 23x. They have a price target of 160,000 Won. Its current P/E is at 25 and its 2016 P/E is 23. The PEG ratio is 1.09 indicating fair value for the growth potential. Analysts rate it as an overweight with a target price of 135,033 Korean Won. However, for liquidity reasons, it would be best bought on the Korean exchange.
5. LG Chem (051910:SK) - Price = 338,000 Korean won
The South Korean appliance manufacturer launched its 6.4kWh Residential Energy Storage Unit (RESU) onto the Australian market in July of 2015. The lithium-ion battery based system is similar in size, shape and capacity, to the Tesla Powerwall, and is expected to last 15 to 20 years, or at least 6,000 cycles. On its launch, it was being offered in Australia at $A6,898.
The units -- which can be used as both a hybrid and/or off-grid solution -- allow for high output with extremely long life spans. And can be upgraded to a total of 12.8kWh with 3.2kWh expansion units. According to Jeff Wehl, from Brisbane-based Ecoelectric, the technology easily defies grid costs with a typical cost per kWhr of around 15 cents over 15 years.
According to Barclays research, LG Chem supplies 13 of the top 20 global auto makers and six of China's top 10. However, only 15% of its revenue comes from batteries and the rest from petrochemicals. LG currently supplies GM's Chevy Volt and soon the all electric Chevy Bolt. Currently it trades at a P/E of 23.6, and Barclays has a price target of 396,000 won. Note that the ICE car companies (Tesla and Byd's competitors) will choose Samsung SDI or LG Chem as their battery supplier rather than Tesla, Panasonic or Byd.
Energy storage sellers/installers and inverter suppliers
Other companies in the energy storage market that focus generally on selling and installing the above companies products as well as inverters include Enphase (NASDAQ:ENPH), Fronius (private), Imergy, Redflow (NYSE:AU), AES Corp (NYSE:AES), NEC (OTC:NIPNF), RPC Inc (NYSE:RES), Sharp (OTCPK:SHCAY), Younicos (private, interest held by First Solar), and Southern California Edison (SCE). You can read about some of them here.
My top pick would be SolarEdge.
6. SolarEdge (SDGE) - Price = $29.49
SolarEdge is an Israel company with a global business. It has an agreement with both Tesla and SolarCity to be the non exclusive Tesla Powerwall's "inverter supplier." SDGE's IPO was in March 2015 at $20. Current market capitalisation is $1.2b. SEDG gets ~75% of its sales from the U.S. residential market, and thinks energy storage (fueled by a Tesla partnership) could provide 10%-15% EPS upside by 2017, thus making SolarEdge "an early play on the emerging grid batteries investment theme. Its current P/E is 50, with a 2016 P/E of 20.3, and a PEG ratio of 0.86. Goldman Sachs target price is $41.
Conclusion
The energy storage market is no doubt about to boom. How to best invest in it is really the question. I have given my suggestions above and believe the first three (Tesla, Byd, and Panasonic) are the standouts. As usual, I welcome any other good suggestions -- ideally companies that have a market advantage or monopoly in technology.
Disclosure: I am/we are long TSLA, BYDDF, FSLR.
I wrote this article myself, and it expresses my own opinions. I am not receiving compensation for it (other than from Seeking Alpha). I have no business relationship with any company whose stock is mentioned in this article.
Additional disclosure: The information in this article is general in nature and should not be relied upon as personal financial advice.
Editor's Note: This article covers one or more stocks trading at less than $1 per share and/or with less than a $100 million market cap. Please be aware of the risks associated with these stocks.