Global equity markets have sold off heavily in recent weeks, leaving many analysts hoping for a strong earnings season for support. The issue with relying on results, though, is that corporate fundamentals have been deteriorating in recent years.
Below is a chart of S&P 500 revenue growth since the year 2000. There was an obvious slowdown in revenue during the financial crisis, followed by a subsequent reversal higher in the aftermath of the decline. Since 2012, however, revenue growth trended lower, culminating in actual contraction during 2015.
S&P 500 revenues have been affected by both a strong U.S. dollar as well as a still weak global economy. For companies with an international presence - which is most of the S&P 500 - a stronger dollar weighs on international revenues. The currency conversion is negatively affected by a strong dollar and weak local currency. Alongside that, a strong dollar deters exports of goods. With U.S. exports falling, businesses have seen revenues slow.
With regards to a weak global economy, a slowdown in demand has weighed on top line growth. Slowing growth in developed countries is weighing on demand for goods, while falling revenues in developing economies due to suppressed commodity prices are affecting shipments to emerging markets as well. In all, top line growth has had little optimism in the past few years.
And even as margin expansion and share buybacks have aided earnings per share growth, the measure has fallen in recent years. With a lack of top line growth, management has had to get creative with ways to grow earnings per share.
One of the most utilized ways to grow earnings per share has been to buy back outstanding shares of stock with large cash reserves. The reallocation of excess cash to retire shares, as opposed to capital investment, led to rising EPS, but slowing economic activity.
After a slight rebound in 2013, EPS finally dipped into negative territory in late 2014. There was only so much cost-cutting and margin expansion possible before slowing revenue growth finally caught up to the bottom line.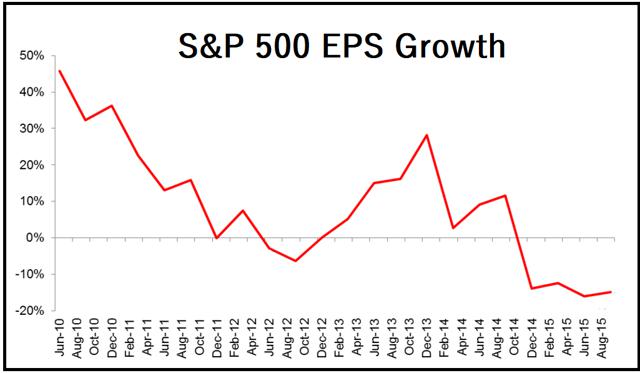 So, it is fair to say U.S. corporations have had difficulty with underlying demand for goods and services in the past few years. This means a majority of the recent bull market can be attributed to the Federal Reserve's low interest rate environment. With loose monetary conditions, investors bought up shares of U.S. companies with fervor.
Now that conditions are tightening for the first time in the last decade, though, the stock market looks to be struggling. Higher interest rates and weak corporate results culminate in financial market volatility and increasing selling pressure. It then looks like a very difficult environment for the SPDR S&P 500 (NYSEARCA:SPY), the SPDR Dow Jones Industrial Average (NYSEARCA:DIA), the PowerShares QQQ (NASDAQ:QQQ), and the iShares Russell 2000 (NYSEARCA:IWM). All of the indexes listed have experienced selling pressure in recent weeks, but remain close to record highs. With investor caution on the rise, it means all four indexes present an attractive short opportunity in 2016.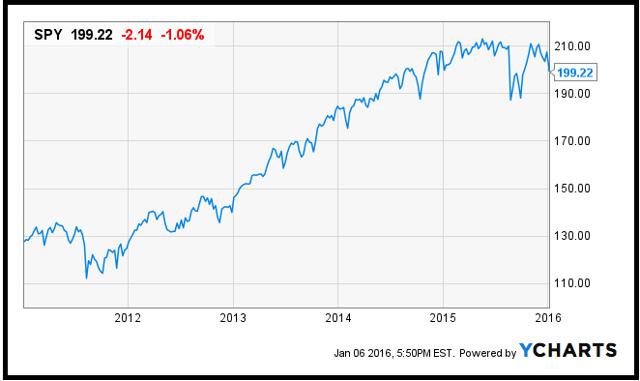 Disclosure: I/we have no positions in any stocks mentioned, and no plans to initiate any positions within the next 72 hours.
I wrote this article myself, and it expresses my own opinions. I am not receiving compensation for it (other than from Seeking Alpha). I have no business relationship with any company whose stock is mentioned in this article.