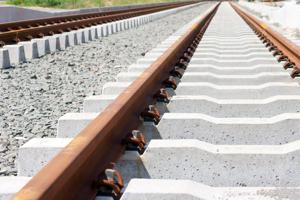 On Tuesday, January 5, it was reported that Chinese rail freight volumes fell 10.5% in 2015. Considered to be one of the best indicators of economic health, as noted by fellow contributor Das Kapital, I strongly believe that this decline may be one of the many contributing factors to the recent sell-off rattling the Chinese markets over the last few trading sessions.
The importance of this particular decline is two-fold. For starters, the 10.5% decline in 2015 is nearly 2.25x greater than the 4.7% decline that took place in 2014, which raises a red flag and makes us question what may be really going on. Secondly, this could be the start to a very unfavorable trend over the next 12-24 months.
Am I saying that the 2016 decline will be 2.25x greater than that of the 2015 decline? No, I'm not. But if rail freight volumes don't start improving, double-digit declines could become commonplace.
So, what needs to happen in order for rail freight volumes to improve? Given the fact the Chinese economy is built on a foundation of both manufacturing and exports, the simple answer is for its factories to produce more products and then ship those specific products via railway to destinations throughout China and to destinations abroad.
Although it might sound great on paper, we must recognize the fact that demand for Chinese goods has declined, a large number of Chinese factories are overcapacity, and a sense of fear has minimized the activity of those who may be looking to invest in both China and the companies that are based there. Chinese exports can't demonstrate an improvement unless the number of orders increases, and in order for that to happen, a significant influx of capital investments must occur.
In my opinion, many businesses have either significantly reduced, or in some cases even halted, their capital investments in China. In doing so, these businesses have made a wise choice by putting the needs of their shareholders first, rather than strategize about where and when their next capital investment in the region would take place.
Conclusion
As capital investments in China continue to decline, we must ask ourselves whether or not we should proceed with caution or completely rule out the idea of an investment at this time.
For those of you considering a position in an ETF such as the iShares China Large-Cap ETF (NYSEARCA:FXI) or the iShares MSCI China ETF (NYSEARCA:MCHI), I must agree with Das Kapital and say that by shorting either of these ETFs, the results could yield some very favorable upside.
However, for those of you who may be looking to establish a long-term position via the ETF route, I'd actually stay on the sidelines for a bit longer and wait for the Chinese economy to stabilize before executing such a move.
Disclosure: I/we have no positions in any stocks mentioned, but may initiate a short position in FXI, MCHI over the next 72 hours.
I wrote this article myself, and it expresses my own opinions. I am not receiving compensation for it (other than from Seeking Alpha). I have no business relationship with any company whose stock is mentioned in this article.