Pepsi (NYSE:PEP) now provides a good entry point for long term investors after the recent plunge in its stock price. The stock price fell below $63 from $67 within a week. During an earnings conference call, the company lowered its 2012 guidance and announced that it would lay-off 8,700 employees from its workforce. However, this may not be all that bad.
Pepsi is an interesting company. In the last 8 quarters, the analysts were very accurate in their earnings estimates, and the largest discrepancy between the expected and actual quarterly earnings per share was 2 cents. Basically, in the first half of 2012, the company is expected to earn $1.79 per share. Pepsi earned $1.95 per share in the first half of 2011. Analysts expect the drop in the company's earnings to be temporary and they expect earnings to continue to growth starting 2013. This is why investors with a time horizon longer than a year would benefit from this stock.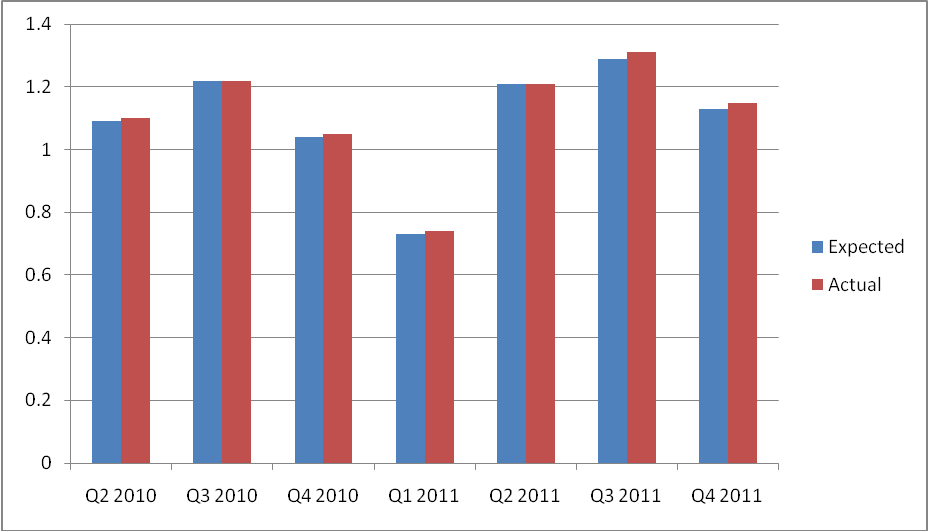 According to the company's latest 10Q report, Pepsi sold 8% more snacks and 5% more beverages worldwide in 2011 than the previous year. Also, compared to 2010, the company's total net revenue increased by 11%. Indra Nooyi, the CEO of the company, announced 2012 as the company's "transition year" which will prepare the company to keep growing 5-9% each year between 2013 and 2020. Some of the things the company will do include:
Increase marketing spending by $500-6$00 million annually starting 2012. The company will work with fewer marketing agencies and try to get more out of each of its marketing partners.
Make more use of new technologies, standardized processes and best practice policies to save $500 million annually in the next 3 years.
Develop better capital management policies to cut expenditures and increase return on investment incrementally every year.
Increase dividends and engage in more share repurchasing in order to reward stockholders.
The biggest challenges faced by the company include fluctuations in foreign currencies as it sells products all over the world, high commodity prices, market share gains of rivals such as Coca Cola (NYSE:KO) and Dr Pepper (NYSE:DPS) and legal issues in terms of safety of its products as there is research linking soda consumption with a variety of diseases including but not limited to diabetes and asthma. Pepsi already raised its prices in order to pass higher commodity prices to the consumers in 2011, so it cannot do that again anytime soon. Interestingly enough, Coca Cola also announced some cost cutting measures for 2012. Pepsi will continue to be committed to keep growing through acquisitions and new products.
Last year there were speculations about Pepsi splitting up into multiple companies such Fritos, Doritos and Pepsi Beverage, however Indra Nooyi denied such speculations and reportedly said: "together, these brands create more value than they would apart". A great thing to say about Pepsi is that it wants to provide value to its stockholders and continues to reward stockholders in different ways such as dividends and stock repurchases. For example, in the last 5 years the company spend $30 billion in stock repurchases and dividends.
The company's purchase of Wimm-Bill-Dann, a dairy firm, proved profitable as Pepsi's revenues were up by 31% in Europe, with help from revenues of WBD. Pepsi also plans to invest more into healthier foods. For example, last week PepsiCo and Tata Global Beverages (TGBL) entered into a partnership to sell nutrition water in India. According to management of Tata Global Beverages, this business is expected to grow by about 7% annually.
Pepsi has a strong history of dividend growth. Currently it pays $2.06 per share, yielding 3.20%. This is better than Coca Cola's $1.88 and 2.80%. In the last 10 years, Pepsi's dividend per share grew by an annual rate of 24.3%. This compares well with Coca Cola's annual dividend growth rate of 13.5%. Coca Cola has been raising its dividends every year in the last 50 years whereas Pepsi has been raising its dividends every year in the last 39 years. Both companies do a stellar job in dividends.
By nature, Pepsi is a defensive stock. In the short term, it may not provide much in terms of capital appreciation. This is why the stock is better suited for long term investors and dividend investors. For these investors, the stock provides an attractive entry point at the moment because it is rare for defensive stocks to experience plunges. In 2012, the company will experience some restructuring but by now, all the panic associated with such restructuring must be already priced in as the stock's plunge almost came to a halt. Pepsi's share price should not go much lower unless some really bad news regarding the company emerges out of nowhere. Once again, both the company's CEO and analysts expect the company to continue growing at a decent annual rate of 5% to 9% again starting 2013.
Other than Coca Cola, Pepsi also competes with Dr Pepper and Monster Beverage Corp (NASDAQ:MNST). Unlike Coca Cola and Pepsi, these two companies are more of growth stocks. For example, in the last quarter Dr. Pepper saw an EPS growth of 22% and Monster Beverage (formerly known as Hansen Corporation) saw an EPS growth of more than 50%. For growth investors, these stocks may offer better opportunities.
Sources: Investor Relations webpages of Pepsi, Coca Cola, Dr Pepper and Monster Beverage.
Disclosure: I am long PEP.
Additional disclosure: I am long PEP but I have very few shares.