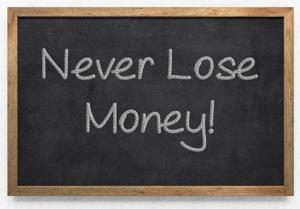 Warren Buffett's #1 rule of investing is "Never lose money". In addition to this #1 rule, I offer several other important rules and thoughts that will probably turn out to be useful in 2016.
Never lose money
This is the #1 rule of Warren Buffett. He calls it "Never lose money." I will rephrase that again as this is the most important rule of investing for me as well. For me, that rule means we should think about the return of capital more than the return on capital. Think about capital preservation first, profits later.
How much do you really lose when you lose 100% of the money you invested?
Think about it this way. If you permanently lose a dollar of your capital, you miss ALL the future gains from it. The resource is lost forever for you. You miss decades of future profits. So you don't miss just the 100% of your initial investment. You lose thousands of percent of future gains! That's a huge opportunity cost to pay for our greed and hung for profits in very risky stock adventures.
When considering a new investment and reviewing your existing portfolio, make sure you think very hard about the downside risks before you imagine the dream scenario of maximum gains. Can the investment drop in half over several months or not? Would it then be a screaming bargain trading well below reasonable liquidation value or not? Is the stock highly cyclical? Will it suffer heavily if global economic growth slows down considerably? What did the stock do during the 2008/2009 market meltdown (are the company dynamics still similar)?
There are several other rules that will guide most of the capital allocation in my portfolio in 2016, though I will leave a portion for high risk/high reward strategies as well. So the overall portfolio will use the so-called barbell strategy more or less.
Cash will be king
I don't mean in the doomsday scenario way. Yes, you should hold a higher portion of cash than usual, but I am not expecting an Armageddon. Also, by cash, I don't really mean cash per se. Rather, I believe you can always find an investment better than cash that has positive expected returns or a positive carry and one that can hedge your other holdings. So for me, holding cash is almost always an inferior option.
But what I mean by "cash will be king" is that you should have plenty of such "safe" or hedged investments that can be easily converted to cash without a loss when needed to take advantage of lower prices in other investments you want to make.
Let's be honest. We are in a stealth bear market already. Chances are very high that this bear market will continue into 2016 and even accelerate on the downside. So chances are high that many good and great opportunities will arise in 2016. The cash flexibility will probably be very valuable next year.
"Cash is king" will hold true for companies as it holds to investors. Only the strongest companies will survive the coming credit tightening cycle, the deflation of the commodity supercycle, and the resulting very tough corporate economic conditions. The highest quality companies holding cash and generating positive FCF will have a higher chance of not only weathering the storm but also buying valuable assets and distressed competitors at excellent implied future ROIs.
As cash will be king, liquidity will be the queen
Make sure you are invested in highly liquid investments, which you can liquidate at almost any time without a high percentage loss due to the bid-ask spreads or low liquidity. This will not only make you flexible in managing your risk and margin but will also let you quickly raise cash at times when the specific market is panicking and providing the best risk-adjusted opportunities.
This liquidity rule is closely connected with the "cash will be king" presumption. I believe we've only seen the top of the iceberg in forced asset liquidations, such as the illiquid corporate junk bonds fund of Third Avenue. There are many other illiquid asset subclasses where ETFs have created an illusion of liquidity, and the ETFs will also exacerbate the liquidity squeeze (or the ETFs price fall) due to the ease and speed with which these ETFs can be sold and bought.
Avoid debt
Related to the liquidity problem is the debt issue. Government debt, corporate debt, and definitely junk bonds should be avoided as direct long investments. The yields have been compressed to the extreme, and they don't provide income sufficient to cover the future risks of defaults and higher interest rates. Yes, yields have widened recently, but in my opinion, the risk premia are not wide enough to cover the range of future possible defaults. I am not talking only about defaults of corporations, but also of municipalities and states. Think ten times Peabody (NYSE:BTU), Puerto Rico, and Greece (NYSEARCA:GREK) "restructurings". I believe we are nowhere near the end of the credit widening cycle. We are not really close to the typical risk spreads that were seen at the top of the previous major global credit tightening cycles.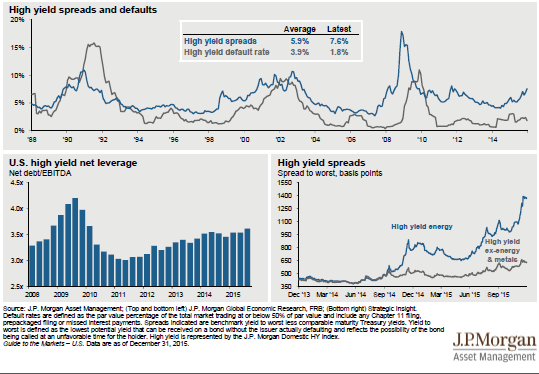 Source: J.P.Morgan
Buy companies with very strong free cash flows and a strong balance sheet
The hunt for yield and growth (to a lesser extent than in 2015) but safety at the same time will likely continue. This will keep creating an ever narrower number of market outperformers while the rest of the market will massively underperform, creating what I call a stealth bear market where a select few stocks perform well but the vast majority lags.
Buy great companies at a good price, not good companies at a great price
The hunt for safety will cause investors to flock to the best of the best stocks that have strong moats, a strong balance sheet, strong growth, you name it. Yes, they will already be expensive, but they will likely get more expensive as most investors and the industry invests with the mindset that they simply have to invest the money somewhere, and partly in stocks due to automatic minimum stock allocation levels. So Warren Buffett's saying from the later stages of his evolving investment career will hold true in 2016 and beyond. I paraphrase his saying: "Prefer to buy great stocks at a good price over buying just good stocks at a great price."
So, from several different angles, it will be smart to buy the best companies in their industry or niche. First, the strong will get stronger, and the weak will get weaker or perish in this downturn. And second, the market weakness usually spreads gradually throughout the risk scale, keeping the safest, strongest stocks rising the longest into the bear market.
When and if the broad market selloff becomes indiscriminate at some point during the bear market or during steep sell-offs driven by margin squeeze and risk management (such as for some stocks during the August "24 flash crash"), I prefer to buy the strongest stocks. Why not buy the best of the best if they sell off as much as the weak stocks?
Yes, by doing that, you forfeit some upside (beta) because the riskier stocks will rebound stronger, if there is a rebound. But that's the caveat. Nobody knows when the rebound will come, whether we will see one, five, or ten years of mediocre stock returns followed by a raging bull or not. If the bear continues, the "good" companies will become weak or bankrupt, but the great companies will just fall to the "good" ranks, mostly surviving the mayhem to deliver above average future returns as opposed to a high risk of a total loss of capital in the case of "good" companies turning "bad".
Remember, the overall global monetary and fiscal policy remains very accommodative
Despite the FED beginning its interest rate cycle, the cycle should be very gradual and the peak rate should be relatively low. Moreover, almost all other central banks around the world are engaging in continuous, massive asset purchases. So high quality, defensive assets will continue to be bought by central banks around the world, such as Treasuries (NYSEARCA:TLT), REITs, and high quality stocks such as blue chips and the highest quality S&P 500 stocks (NYSEARCA:SPY), especially the non-cyclicals.
"Buy the dip" will continue to work only for the highest quality stocks
The reach for yield and safety will continue (partly also reach for growth to a lesser extent than now), but it will be focused on a narrower area of a high quality segment of the market, leaving the high-volatility, high-debt, and small-cap segments of the market awfully behind in drawn-out bear market.
Despite all this, be very careful shorting stocks
In theory, a long-short equity strategy sounds great if you expect a sideways to down market. However, volatility is likely to be high, and the short squeezes usually happen at the same time that your long stocks lose value because other investors are forced to liquidate both crowded long and short positions at the same time. So the long-short strategy may work over time on average, but during times of distress, the strategy is likely to temporarily backfire, and both legs will probably be negative, doubling your losses. So you need to think about the proper position sizing and the value of the aggregate long and short position, and use a more diverse and creative way to hedge, which includes commodities and currencies.
In general, I would advocate against any kind of leverage. A short stocks position in a balanced (market-neutral) long/short strategy is prudent in my opinion for 2016, but I would base the selection on a good individual stock thesis, and not short the entire market, such as the S&P 500. Even a narrow leadership may keep the index elevated. I would also keep the position relatively small and diversify out of stocks to balance the risks. I should also explicitly mention that I would stay away from a short stock only strategy (without some hedges such as long stocks or other assets). A quick look at the charts of some stocks in 1999/2000 reveals why. Markets may stay irrational much longer than any of us can stay solvent. NetAPP (NASDAQ:NTAP) surged more than 1000% in less than two years only to deliver performance on par with Nasdaq (NASDAQ:QQQ) fifteen years later.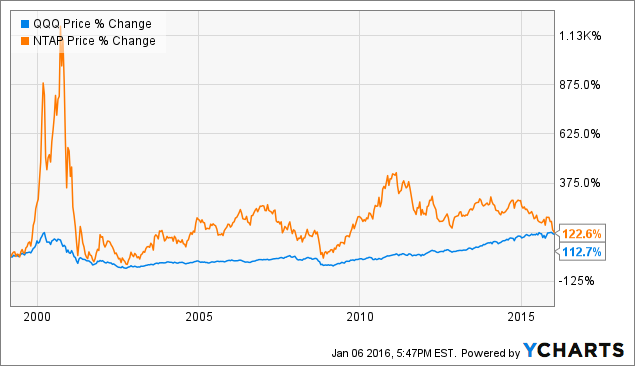 Conclusion
These are my humble suggestions for 2016 investing rules, mixed with some predictions. To briefly sum up, think about safety first this year. Avoid losing money. Cash will be king, liquidity the queen of 2016. Avoid indebted stocks. Buy the highest quality stocks that have zero net debt, stable and reliable free cash flows, and strong moats. If they have solid future growth prospects, all the better, but I would not overpay too much for future growth, which is always uncertain. Add some diversified market-neutral strategies as a low-correlation source of positive absolute returns. Good luck investing in 2016!
Disclosure: I am/we are long TLT.
I wrote this article myself, and it expresses my own opinions. I am not receiving compensation for it (other than from Seeking Alpha). I have no business relationship with any company whose stock is mentioned in this article.