The mysterious sudden correction of 2016 hit its fevered peak Thursday afternoon. A couple of us were discussing the oddness of this week's trading action in the comments yesterday. Stocks have been violently straight down to start the year despite a lack of any real negative news.
An astute Yahoo Finance article asked if US investors were living in a "parallel universe" following Thursday's drubbing that left the Dow (NYSEARCA:DIA) down another 400 yesterday and 1,300 points off recent highs. The S&P 500 (NYSEARCA:SPY) found itself roughly 150 handles off its recent highs as well.
And the majority of the selloff appears to have been caused by China (NYSEARCA:FXI) (NYSEARCA:ASHR). The US economy is growing at an okay rate. Things aren't great, but they aren't let's crash stocks bad either. And as far as the US economy goes, nothing of note has changed since last week.
There were some other jitters related to geopolitical developments and falling oil, but by Thursday, those had largely cleared up. Even the other main drag, energy (NYSEARCA:XLE) resolved itself, with natural gas (NYSEARCA:UNG) shooting higher on a great inventory report, and oil (NYSEARCA:USO) heading higher in its footsteps.
Initially, the market bounced Thursday morning, but then all that gave way, with the S&P shedding 2% of its value from the morning onward for no apparent reason whatsoever. This correction, seemingly without cause, developed into some sort of weird contagion.
Fortunately, as of this writing (midnight ET), it appears the worst is behind us. I normally write the Briefing in the late afternoon, but since the market keeps making violent overnight moves, I held off writing this one as late as possible.
I was rewarded for my patience. Thursday night, the Chinese market opened stronger, and the Yuan wasn't devalued again as it had been previously. This seemingly mundane news hit the market like a lightning bolt. S&P futures are currently up about 20 points, and the Dow shows 150 points of green.

The US market, for this week at least, has decided to do whatever China does. This is rather odd, since normally these markets are virtually unconnected. SA author Marc Chandler writes:
The correlation between China's CSX 300 and the S&P 500 may not be what you think. Over the past sixty days, the correlation on the percentage change of each is less than 0.1. Over the past 30-day, it is less than 0.05. Inconsequential.
Put simply, the US market steeply corrected because a market it usually ignores dove and the US suddenly decided to freak out about it. Now that China has recovered, US futures have similarly deciding to go flying higher. This is the sort of bizarre side effects you get from a HFT-driven algobot market.
Whatever the reasons may be, it seems we'll get a large rally today. Hopefully, you got some good bargains at the lows, or at a minimum, you didn't sell stocks at the worst levels. I for one am looking forward to volatility (NYSEARCA:VXX) receding. Futures show volatility dropping 6% at this hour - a much appreciated aid to my suffering short position.
Retail Rebounds; Wal-Mart, the New Momo Darling?
In a development few people expected, retail stocks have been among the best performing of the sectors to start the year. From Monday morning on, the S&P Retail ETF (NYSEARCA:XRT) has largely been able to tread water while the rest of the market has gone bungee jumping.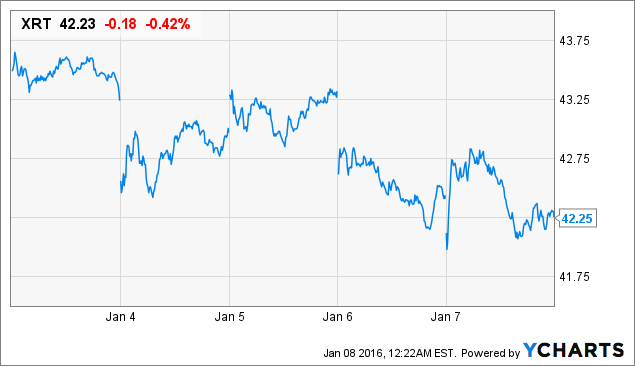 XRT Price data by YCharts
Leading the way has been Wal-Mart (NYSE:WMT), which continues to trade completely obliviously to the broader market. Is this simply a case of Wal-Mart being too cheap, as I argue it is? Or are people buying Wal-Mart on an economic trade-down thesis with the stock market dropping and causing the resultant negative feedback loop from the wealth effect running in reverse?
Or, to throw a third possibility out there, are the losses of the FANG stocks, and Amazon (NASDAQ:AMZN) in particular, the gain of mainline retail? If 2015's trade was long Amazon and short retail, it seems 2016 is getting a dose of the exact opposite. Amazon got hit hard again Thursday, and is down almost a hundred points from last week's high. Wal-Mart, on the other hand, continues ramping higher.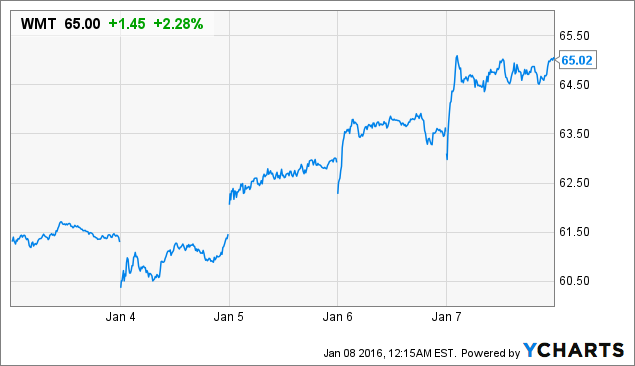 WMT Price data by YCharts
Natural Gas/Weather
As I noted above, natural gas had a strong day, up 5%. The recent snap of cold weather has done wonders for reversing the previously dour sentiment.
The latest forecasts I've seen indicate that temperatures will heat back up following this recent cold snap. Still, unless the thermostat goes back into the 50s, you get the sense that the captivating narrative around there being no winter this year has ended.
Many of the cold weather stocks have started shooting higher. Northeastern ski resort operator Peak Resorts (NASDAQ:SKIS) was up more than 5% on Thursday despite the bad broader market. As long as it snows, companies like that will be able to recover lost ground.
One stock that hasn't turned the corner yet is snowmobile maker Polaris (NYSE:PII).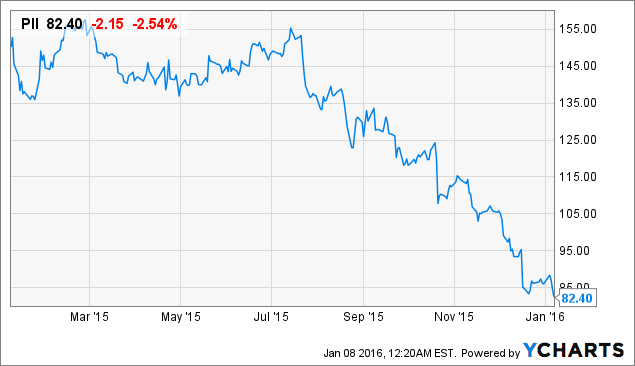 PII data by YCharts
I discussed this one a few days ago, and nothing here has changed. It continues to drop with the market. However it is deeply oversold, and will also benefit if the pessimistic mood toward this current winter season lifts even slightly.
Disclosure: I am/we are long WMT, PII.
I wrote this article myself, and it expresses my own opinions. I am not receiving compensation for it (other than from Seeking Alpha). I have no business relationship with any company whose stock is mentioned in this article.
Additional disclosure: Short VXX.
Editor's Note: This article covers one or more stocks trading at less than $1 per share and/or with less than a $100 million market cap. Please be aware of the risks associated with these stocks.