A stock market already in the mood for a bounce got a little extra goose from a solid December jobs report issued Friday morning.
Even with a comforting economic number, a tough trading week leaves some Wall Street observers warning for more volatility, however-market twists that are likely to include at least short-term recoveries such as the one taking shape on Friday. The major stock averages fell some 2%-3% in Thursday's volatile session, sending the broad-based S&P 500 (SPX) to its lowest since the beginning of October (figure 1).
As for that jobs report, the U.S. economy welcomed 292,000 new hires last month, Labor Department data showed. The unemployment rate remained at 5%, largely because almost a half-million people joined the labor force. Employment gains for November and October were revised up by a combined 50,000.
There's more, construction jobs added to the tally significantly in back-to-back months, a potential sign of housing market strength, too. But-and this is a biggie-average hourly wages paid to American workers fell a penny to $25.24. That result could tamp down any immediate inflation worries. We know from speeches and meeting reports issued this week that the Federal Reserve undertook a tough two-sided debate when it opted to raise interest rates for the first time in a nearly a decade late last year.
Now, one might argue that the significance of this report is muffled by this week's stock slide. There's no imminent interest rate hike tied to this release. That factor-considering it's a week with plenty of outside noise including oil's drop and Chinese market panic-could spell continued uncertainty for the stock market to start the year.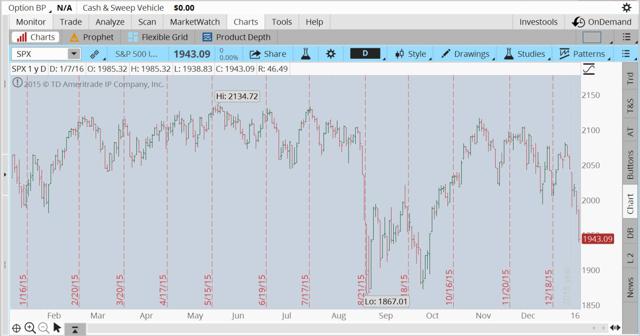 Figure 1: Support in Play? The S&P 500 (SPX), plotted here on the thinkorswim platform, broke through support at 1960-68. Another layer of chart support emerges at 1922. Data source: Standard & Poor's. For illustrative purposes only. Past performance does not guarantee future results.
Fragile Rise for Crude? Crude oil prices assumed a mild recovery on Friday. That after plunging to their lowest in more than a decade earlier this week, tugging energy shares and the broader stock market lower. U.S.-traded crude futures moved back above $33 a barrel, and London-traded contracts back above $34, in early Friday action. Industry analysts said a near-term test of $30 looks probable as the market continues to wrestle with Chinese demand worries amid heavy global oil supplies.
Goldman Weighs in on China. China's yuan currency could slide another 6% over the next 12 months as decision-makers there grapple with a weakening economy, according to an analyst note from Goldman Sachs. Goldman cut its forecast for the Chinese currency, saying it now expects the U.S. dollar to buy 7.00 yuan in 12 months, up from their previous forecast of 6.60 yuan. By the end of 2017, Goldman expects the dollar to buy 7.30 yuan, up from 6.80 yuan. The lowered yuan forecast is consistent with "our view that 2016 will be a year of continued 'bumpy deceleration' and significant policy easing in the Chinese economy, and that the potential for greater CNY depreciation remains a large source of uncertainty," the analyst team, led by Goldman's chief Asia-Pacific economist Andrew Tilton, said.
Retail Struggles. A Thursday boost to most retail stocks after upbeat industry-wide holiday sales data evaporated for Gap (NYSE:GPS) after its own results disappointed investors. Gap said its core sales fell 5% in December amid declines across all of its brands. That was enough to send its shares tumbling in after-hours and pre-market trading. Another mall brand, American Eagle Outfitter (NYSE:AEO) shed some 10% in early Friday trading after issuing weaker-than-expected same-store sales.
TD Ameritrade, Inc., member FINRA/SIPC. TD Ameritrade is a trademark jointly owned by TD Ameritrade IP Company, Inc. and The Toronto-Dominion Bank. Commentary provided for educational purposes only. Past performance is no guarantee of future results or investment success.
Disclosure: I/we have no positions in any stocks mentioned, and no plans to initiate any positions within the next 72 hours.
I wrote this article myself, and it expresses my own opinions. I am not receiving compensation for it. I have no business relationship with any company whose stock is mentioned in this article.