"Hysteria is impossible without an audience. Panicking by yourself is the same as laughing alone in an empty room. You feel really silly."
Chuck Palahniuk
"Life is ten percent what you experience and ninety percent how you respond to it."
Dorothy M. Neddermeyer
Introduction
I have written a series of articles in 2015 warning of an impending downturn in the U.S. markets. My thesis was that valuations had been driven to unsustainable levels, similar to prior peaks in 2000 and 2007. Unsurprisingly, for a long-time value investor, a correction has occurred, but it has been hidden under the surface, with the notable exception of the panic inducing August plunge.
While the average stock has entered bear market territory, down over 20% from its 52-week high, the S&P 500 Index remains stubbornly less than 10% from its all-time highs. The stealth bear market has pummeled value stocks, yet leading growth names have flourished. As recently as December 14th, when I published an article on Seeking Alpha titled, "Melt Up Or Meltdown?" it was unclear which direction the broader U.S. markets would break.
The last week of December and the first week of January, seem to have clarified that the markets are making a move to the downside. Adding to the sense of gloom, almost every market indicator shows negative divergences developing. However, when examining leading stocks, they are continuing to exhibit relative strength, providing serenity to this market decline, while keeping a lid on volatility. Thus, could the downturn in the market just be getting started or has it already run its course?
Thesis
The market correction will not be completed until leading stocks and market capitalization indexes correct materially.
SPY & QQQ Continue Outperformance
U.S. stocks have outperformed international markets since 2011. Within the U.S. stock market, a bigger market capitalization has correlated very positively with outperformance. The PowerShares QQQ ETF (NASDAQ:QQQ), which is designed to track the performance of the NASDAQ 100 Index, and counts five of the world's ten largest market capitalization companies among its largest holdings, Apple (NASDAQ:AAPL), Alphabet (NASDAQ:GOOGL) (NASDAQ:GOOG), Microsoft (NASDAQ:MSFT), Amazon (NASDAQ:AMZN), and Facebook (NASDAQ:FB), has outperformed the S&P 500 Index, as measured by the SPDRs S&P 500 ETF (NYSEARCA:SPY). The SPY has outperformed the iShares German ETF (NYSEARCA:EWG), which is nearing its August lows, providing evidence that American multinational companies remain the destination of choice for global investors.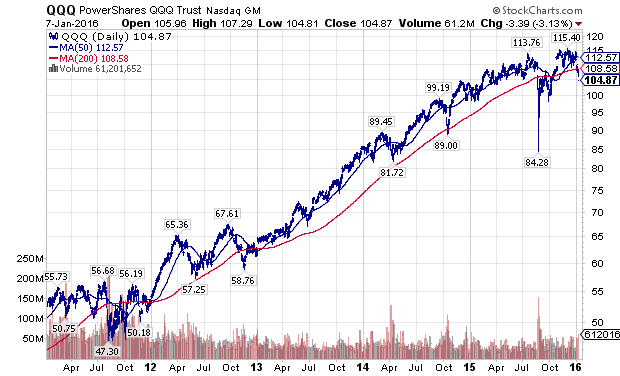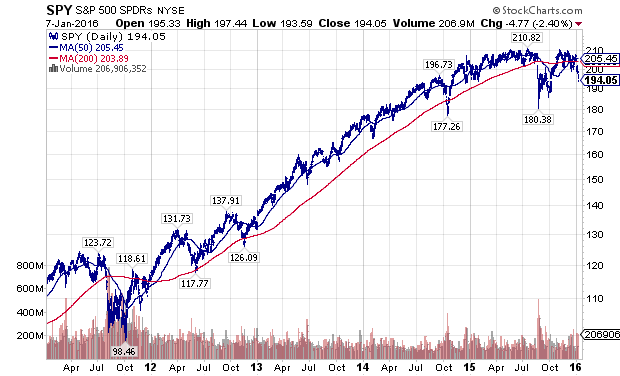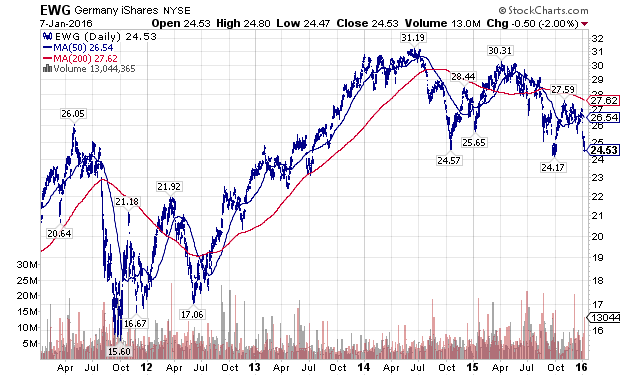 The Average Stocks Is In A Bear Market
While the SPY is down 8% from its 2015 high, the average stock is down much more, as shown in the following table from Bespoke.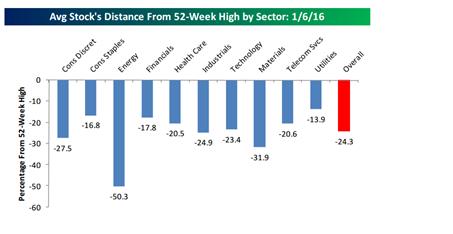 Through the market close on Wednesday, 1/6/2016, the average stock is down over 24%, and that was before Thursday's almost 400 point sell-off in the Dow Jones Industrial Average, as measured by the SPDR Dow Jones Industrial Average ETF (NYSEARCA:DIA).
Leading Stocks Still Showing Strength
The earlier mentioned large-cap NASDAQ stocks, particularly the already mentioned AMZN, FB, GOOGL, and MSFT have been showing relative strength. This is also true for NASDAQ stalwarts Netflix (NASDAQ:NFLX) and Starbucks (NASDAQ:SBUX). The charts of each company are shown below.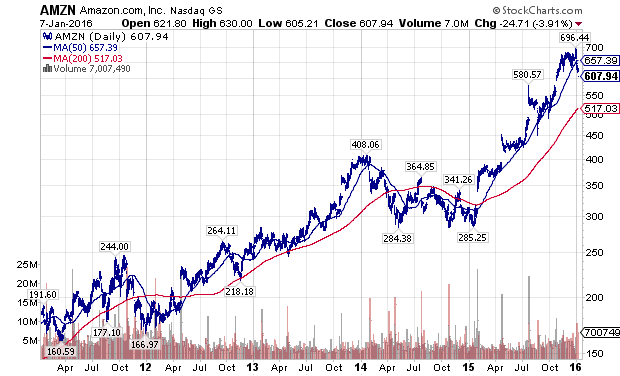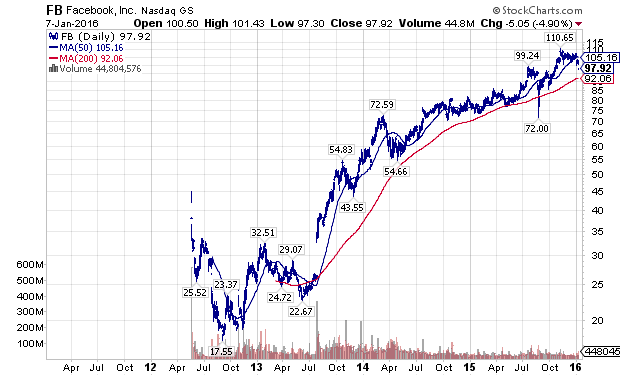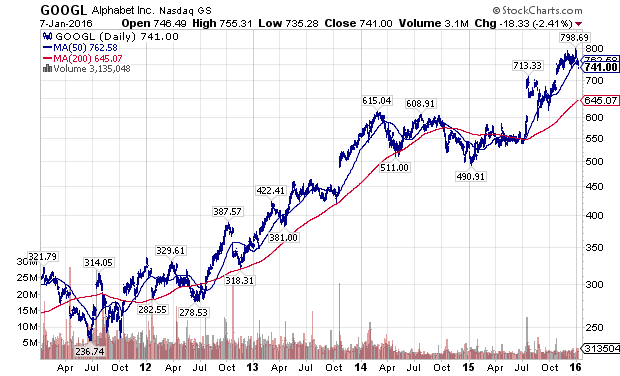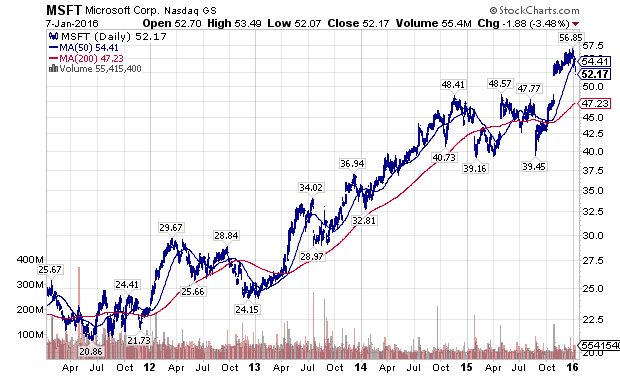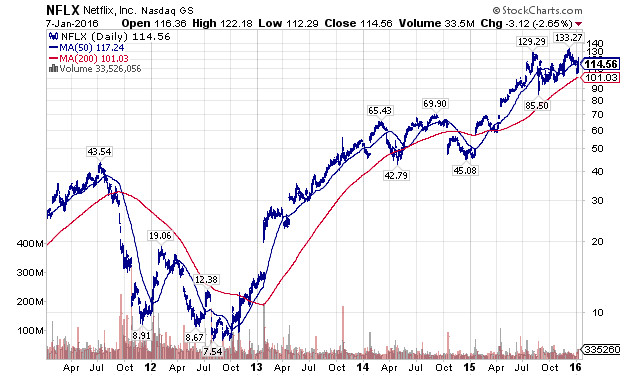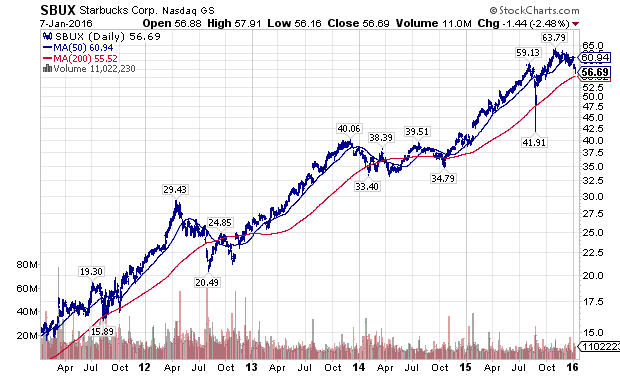 All of these stocks remain well above their August 2015 lows, and as a group, they are continuing to exhibit relative strength.
Negative Divergences Continue To Build
In contrast to the leading stocks, negative divergences continue to develop in small cap equities and high yield bonds. U.S. small capitalization stocks, measured by the Russell 2000 Index, and represented by the iShares Russell 2000 ETF (NYSEARCA:IWM), are now undercutting their August lows.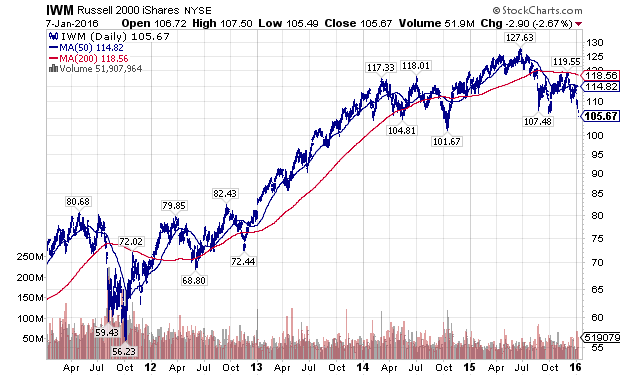 Painting a darker picture, high yield bonds, as measured by the iShares iBoxx High Yield Corporate Bond Fund (NYSEARCA:HYG), and by the SPDR Barclays High Yield Bond ETF (NYSEARCA:JNK), have made material new lows.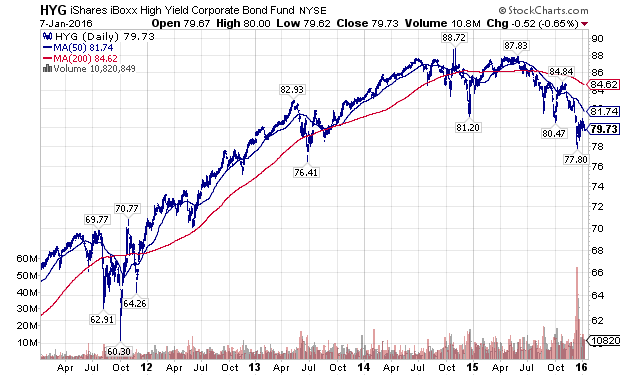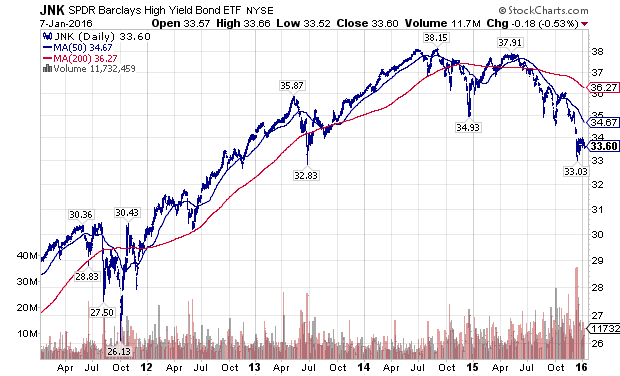 This negative divergence in small-cap stocks and high yield bonds, suggests that the QQQ, SPY, and their leading stocks have further room to decline before this market correction is over.
Volatility Remains Muted
Despite the worst start to the year since 2008, volatility strangely is far below its August peak levels.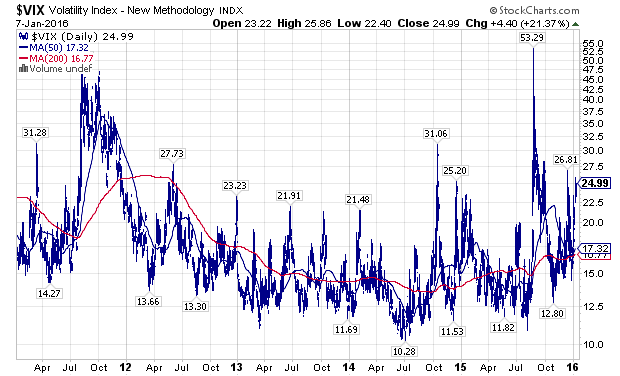 The decline in the stock markets, outside of China's freefall, has been an orderly affair thus far. Even China, as measured by the iShares FTSE China 25 Index Fund ETF (NYSEARCA:FXI) does not look that bad, when viewed in the context of the last five years.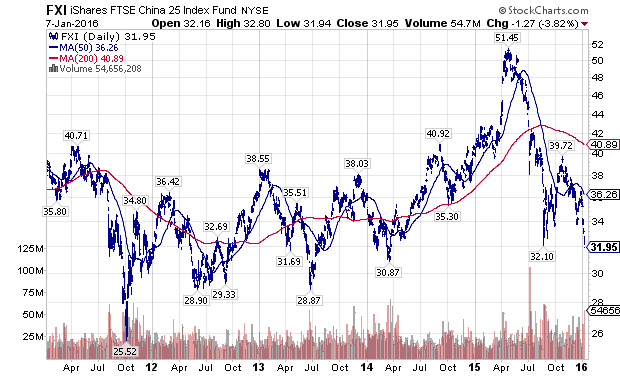 From my view, China stocks remain a better bargain than their U.S. counterparts. For those that crow about the market, the current intervention by Chinese authorities in their stock markets, how is the U.S., under the leadership of the interventionist Federal Reserve, any better?
Conclusion: The Correction Has Room To Run
With volatility remarkably complacent, and the average stock already in a bear market, nameplate U.S. market capitalization indices, and leading stocks have more downside potential. Having said this, many stocks, particularly value stocks, have declined substantially from their bull market highs already, providing buying opportunities for the discerning investor. Similar to 2000, when many value stocks and REITs outperformed over the bear market from 2000-2002, it is a tale of two distinct markets.
Disclosure: I am/we are short THE SPY IN HEDGED PORTFOLIOS.
I wrote this article myself, and it expresses my own opinions. I am not receiving compensation for it (other than from Seeking Alpha). I have no business relationship with any company whose stock is mentioned in this article.
Additional disclosure: Every investor's situation is different. Positions can change at any time without warning. Please do your own due diligence and consult with your financial advisor, if you have one, before making any investment decisions. The author is not acting in an investment adviser capacity. The author's opinions expressed herein address only select aspects of potential investment in securities of the companies mentioned and cannot be a substitute for comprehensive investment analysis. The author recommends that potential and existing investors conduct thorough investment research of their own, including detailed review of the companies' SEC filings. Any opinions or estimates constitute the author's best judgment as of the date of publication, and are subject to change without notice.