Potash Corp. (NYSE:POT) had an abysmal year as it plunged over -55% in 2015 and -75% since its 2011 high. Personally, I'm not a big fan of commodity stocks even though Canada is full of them. At first glance, Potash Corp. looks like a huge value play with rebound potential. It has a trailing P/E of just 9.2 compared to a five-year historical average of 17.2 and a book value of just 1.6 compared to its five-year historical average of 3.9. Wow, what a bargain you must be thinking. A huge dividend yield of 9.23% would make any income investor drool. The stock is cheap and the dividend is huge but what about the fundamentals of the business?
Potash Corp. will have another rough year
Potash Corp. headed into 2016 with huge downward momentum and could face declining demand in 2016. Analysts are predicting that potash demand will be 8% less than last year and even if that did not happen and potash demand was the same as last year. The free cash flow generated by Potash Corp. would still not be able to sustain that fat 9.23% yield. This is a classic case of the "accidental super high yield" due to the price of a stock dropping by so much that the dividend yield is actually inflated to a potentially unsustainable value. To make matters worse, Potash does not have the most efficient operations in the industry. Uralkali and Belaruskali are Potash Corp.'s competitors which have lower operating costs and have been producing Potash nearly over its capacity. Potash Corp. also has cut its production which makes things very difficult for Potash going into 2016 with prices of potash expected to be weak.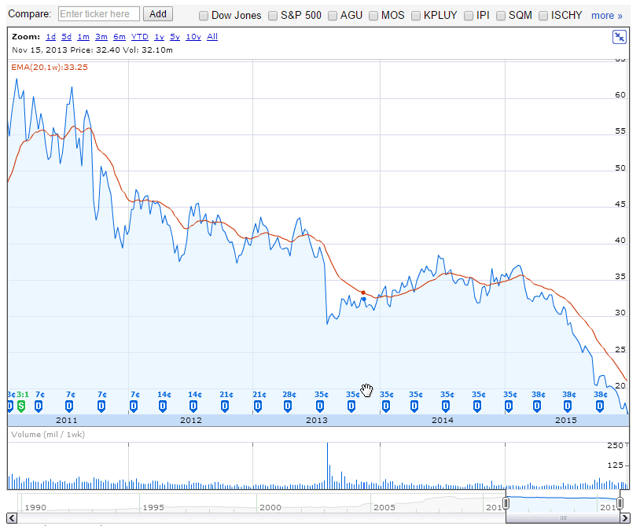 Falling knife is not worth the risk
Stay away from Potash Corp. and its 9.23% yield. Although its valuations are low, there are major headwinds ahead and its dividend may be slashed once Potash can no longer generate enough cash flow from lower demand and a lower price for potash. If you invested in Potash today with intentions of holding it for the short term, you would most likely bleed cash and end up with a dividend cut. This is more likely to happen than a sudden rebound in potash prices within the year and a recovery of the stock. If you own shares in Potash I would sell them before the big dividend cut later in 2016. The stock may not have upward momentum for many years down the road.
Disclosure: I/we have no positions in any stocks mentioned, and no plans to initiate any positions within the next 72 hours.
I wrote this article myself, and it expresses my own opinions. I am not receiving compensation for it (other than from Seeking Alpha). I have no business relationship with any company whose stock is mentioned in this article.