High-yield debt has taken a beating recently and Transocean (NYSE:RIG) bonds are no exception. However, massive liquidation in high-yield funds created an opportunity for investors to scoop up relatively safe instruments trading at substantial discounts. RIG's bonds expiring on December 2016 are a compelling investment idea with the price fluctuating between 96 and 98 over the past week or so.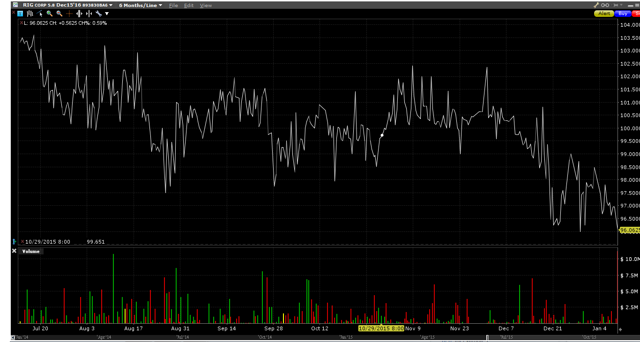 Below you can see a brief description of this particular bond: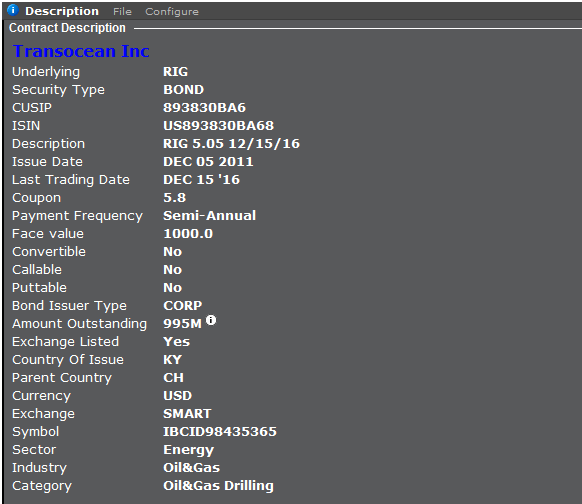 Bid-ask spreads are a bit wide, but there's a good amount available around 97 with equivalent yield to maturity of 9.3%. Typically a yield which is that high entails a significant amount of risk. But a quick look at Transocean's financial statements should put to rest most of the concerns for potential investors.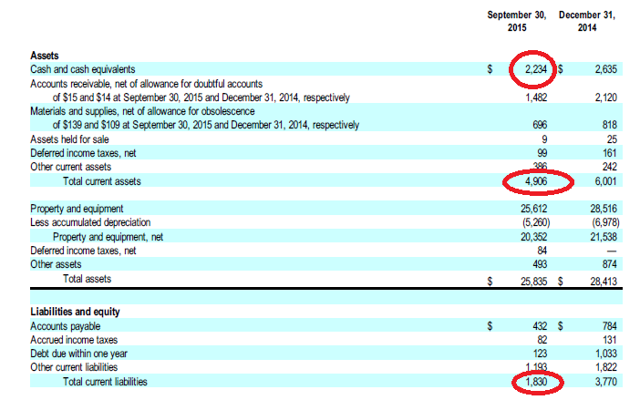 Transocean had $2.2 billion in cash and $4.9 billion in current assets against total current liabilities of $1.8 billion as of September 30th, 2015. Current liabilities do not include 2016 bonds, which have a remaining face value of 995 million.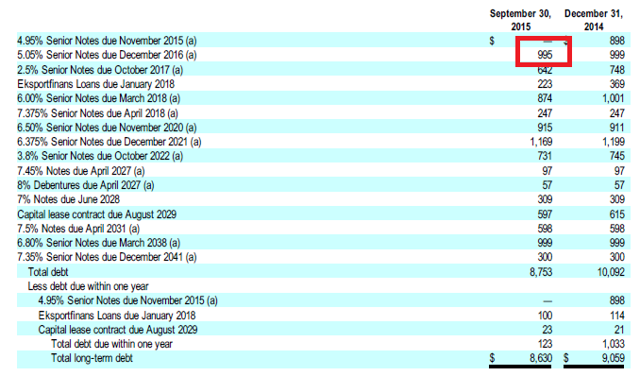 Other current liabilities include estimates of maintenance capex and newbuild expenses. Transocean is expected to make a final payment for Deepwater Proteus in Q4 2015 along with milestone payments for other newbuilds. Total remaining capex for 2015 is approximately $700 million of which newbuild capex is $627 million.

For 2016 estimated newbuild capex is $1.3 billion inclusive of capitalized interest.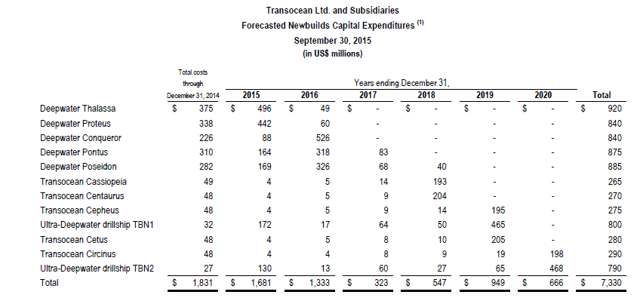 The company is guiding for approximately $100 million of maintenance capex on top of newbuild expenses. Thus, we get a full picture of estimated non-operating cash outflows until the 2016 bond payment is due.
$ millions
Remaining 2015 non-operating cash outflows
700
Expected 2016 non-operating cash outflows
1400
Mandatory principal repayments
130
Macondo-related payments
60
Total non-operating cash outflows
2290
On the operating side, RIG has a firm backlog of nearly $4 billion for 2016. In addition, the company will receive lump sum payments for the cancellation of Discoverer Americas and Polar Pioneer. The company still has a claim on $250 million of insurance payments related to the Macondo accident, but there is no assurance these proceeds will be approved by insurers. Operating cash flows expected for 2016 and the remainder of 2015 are presented below:
$ millions
Remaining 2015 operating cash flows
600
Expected 2016 operating cash flows
1600
Change in working capital
200
Total operating cash inflows
2400
RIG will generate approximately $2.4 billion in cash until the 2016 bond payment of $995 million comes due. Cash generated from operations will be more than sufficient to cover expected non-operating cash outflows leaving the company with $2.2-2.3 billion in cash. The company will simply use cash on hand to repay the bond, therefore default probability is rather insignificant. We find this security attractive for our income-oriented clients and have bought at these levels.
Disclosure: I am/we are long RIG 2016 BONDS.
I wrote this article myself, and it expresses my own opinions. I am not receiving compensation for it (other than from Seeking Alpha). I have no business relationship with any company whose stock is mentioned in this article.