In today's low yield environment, investors who continue to search for higher income may view emerging market debt as a viable opportunity, especially given the recent selling pressure in emerging markets related to the slowdown in China and the significant drop in energy prices, which are closely tied to many of these economies. Is this view justified with adequate yield to compensate for the risk, or do such bonds offer further downside?
First, let's rewind to the financial crisis of 2008 to form a backdrop for our discussion. Prior to the crisis emerging markets benefited from strong commodity growth and demand for goods and cheap labor from developed economies with increasing debt burdens. As the 2008 crisis unfolded, emerging economies could no longer rely on investment from the developed world and turned to the credit markets to fuel their growth. As monetary policies in the US, and then Europe became more and more accommodative, the interest rate differentials widened between EMD (emerging market debt) and developed markets. Many EMD sovereigns were being lauded for their strong balance sheets and fiscal prudence, compared with the high debt to GDP ratios of the developed countries. This coupled with low interest rates in developed countries created more demand for EMD bonds as investors viewed the combination of higher yields and strong fiscal standing as a powerful combination. Strong capital flows into EMD caused yields to compress. However, as China slowed and commodity prices plummeted, investors sought the safety of the relatively strong US economy, causing the US dollar to strengthen.
Where are we today? EMD has exhibited strong positive correlations with oil prices, or conversely, EMD spreads over Treasuries have been negatively correlated with the price of oil------as oil drops EMD will typically sell off and the yield differential over Treasuries widens. This relationship is depicted in chart 2, with the year 2015 standing out as a notable exception for US dollar denominated EMD. What is the reason for this apparent anomaly? We believe there are two main drivers. First, let's examine chart 1 which shows data for US dollar denominated EMD and the return differential in 2015 between US dollar and local currency debt is approximately 12-13% as of this writing, with local currency debt declining approximately -12% after converting returns back to a strong US dollar. Therefore, EMD local traded according to historical correlations but it is the unusually strong US dollar that contributed significantly to this anomaly. Second, we have entered an unusual period of low supply for emerging market debt in general, propping up bond prices while demand remains reasonably strong. The reasons for this supply phenomenon are varied, including reluctance to come to market over concerns related to China, minimal issuance by companies in Brazil and Russia, and until recently uncertainty over the timing of a rate increase in the US. Chart 3 shows how EM debt new issuance has dropped significantly in 2015 for both corporates and sovereigns.
Chart 1

Chart 2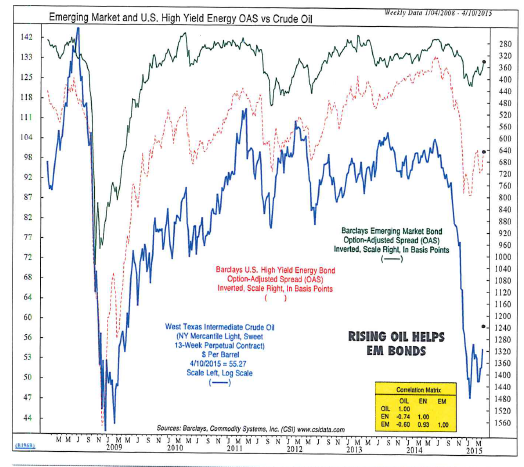 Chart 3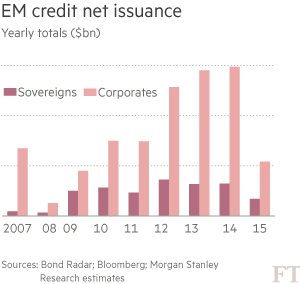 Are we out of the woods? We believe we are getting close, but risks remain, especially if the recent supply trend turns out to be a short term event as EM sovereigns come back to market with increasing debt loads. Today, Europe appears to be slowly on the mend and has significant trading relationships with EM countries with over a quarter of the EU's gross trade going to emerging markets. This should help take up some slack in EM economies created by the plummeting commodity prices. As mentioned above, the dollar has been exceedingly strong and a headwind for commodities and EM investments in general, but currencies tend to mean revert over time. This could indicate this trend isn't sustainable, or the strengthening dollar could be a reversion from the weakening that has taken place since the year 2000. Chart 4 shows the USD trend over the last 20 years. If one were to draw an imaginary line through the center, it appears we may have entered a period where the USD has surpassed a long running median, which would be a positive for commodities and EMD should the USD reverse this recent trend. On the negative side, many sovereigns' fiscal situations have deteriorated significantly, which is illustrated by negative GDP growth in many EM countries such as Brazil, Venezuela, and Russia coupled with fiscal deficits in countries like Turkey, Colombia, Brazil and South Africa, with some deficits reaching greater than 5% of GDP. As a result, we believe energy prices need to recover from these levels and at least stabilize in order to protect energy exporters in the EM space from further economic malaise, while importers should ultimately benefit from lower energy prices.
Chart 4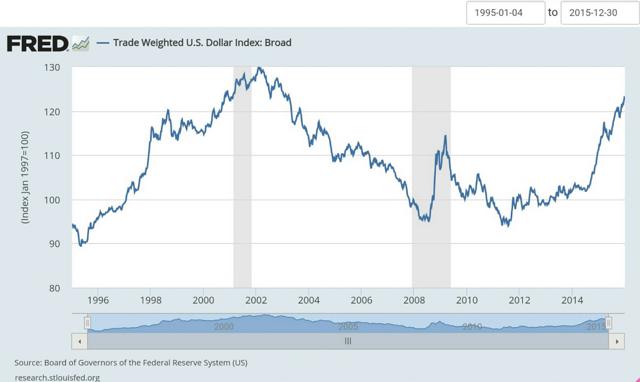 In conclusion, while we believe there are selective opportunities in the EMD space, investors should have a longer term view due to the potential volatility in this space and focus on active strategies that are flexible in duration, currency and country selection. Many closed end funds such as the Templeton Emerging Markets Income Fund (NYSE:TEI) are priced at very attractive discounts, approaching price levels in 2008, and portfolio managers in these structures have more flexibility to invest opportunistically since the underlying capital is fixed and not subject to investor redemptions. Finally, it is important to emphasize the need to size the investment appropriately given the investor's risk appetite. As mentioned above EMD tends to be positively correlated with commodities and US high yield, and such relationships should be considered on a look through basis when allocating to this space.
Disclosure: I am/we are long TEI.
I wrote this article myself, and it expresses my own opinions. I am not receiving compensation for it. I have no business relationship with any company whose stock is mentioned in this article.