National Oilwell Varco (NYSE:NOV) has had made a number of significant changes to its business model, the largest of which is the separation of its distribution business. However, the business environment has changed drastically over the past twelve months, putting the company and its backlog under unprecedented pressure. Its share price tumbled significantly, losing almost half of its value in the past year.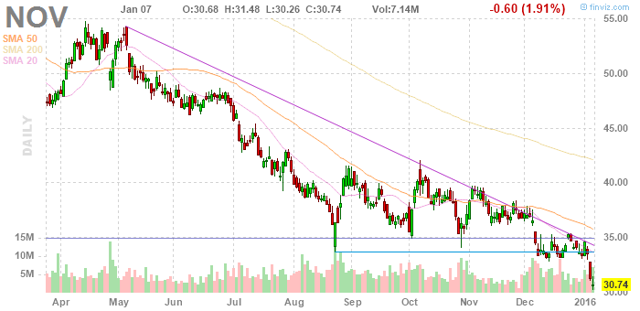 The latest selloff in oil prices pushed its stock price down to its lowest level in the past 52-weeks. That's not all. I'm foreseeing even further drops in both the company's share price and its dividends over the coming days. I do not view the latest dip in prices as a buying opportunity, since 2016 could be worse than 2015 for all oilfield service companies, not just NOV.
The fall of the energy sector has prevented major oil and E&P companies from investing in future projects; NOV's revenue base is wholly dependent on these investments. Oil producing companies have adopted a strategy of pumping even more oil - albeit more efficiently - from their existing assets, hoping to offset the pricing pressure, while at the same time significantly reducing future investments.
Due to this strategy, oil prices have continued dropping daily, and they are now at their lowest levels in the past eleven years. The latest trading day was the most horrible yet for companies that are dependent upon oil and gas for their livelihood; prices dipped below $33 per barrel.
With the current oil glut and continued bearish fundamentals for oil prices, analysts are predicting a huge drop in investments from oil and gas companies. Last year, investments were reduced by 30% and they are expected to drop by an additional 20% in 2016, based on Citigroup's analysis. I believe that investments will be reduced even further than predicted, since oil prices are not yet showing any signs of stabilization.
Recently, National Oilwell wrote off $1.1B of backlog linked to the Petrobras drill ships package, accounting for 12% of its total backlog. You can read the details of this write-off here. The current volatility in prices has already cost the company half of its revenue base in the past 12 months. In Q3 alone, its revenues declined 15% on a sequential basis, dropping 41% from Q3 of last year. Moreover, its earnings are falling just as quickly, as customers are clutching them for even greater discounts. Its EBITDA came in at around $511 million in Q3 of 2015, down 19% sequentially and 58% from the same quarter of last year.
In a few days, the company is expected to post poor financial results for the final quarter and for the entire year of 2015. Its backlog will decline at a considerable rate and the prospects for the inflow of potential backlog in 2016 looks difficult, under current market conditions. Therefore, I believe that 2016 will be much tougher than 2015 for this struggling company. At the moment, its cash situation is ok, and free cash flows are covering dividends, but with the consistent fall in earnings, its cash flows will contract. Consequently, it will become difficult for the company to sustain its current dividends.
In Conclusion
The steep fall in NOV's share has validated my prediction for this company. Even at current levels, it is not an interesting play, with ongoing low oil prices and bleak future fundamentals. The company's financial performance will decline further in the coming quarters, which I believe - along with the low oil prices - will continue to put pressure on its stock performance. I also question its dividends for the year to come, if this situation persists. I suggest investors wait longer before committing to this risky play.
Disclosure: I/we have no positions in any stocks mentioned, and no plans to initiate any positions within the next 72 hours.
I wrote this article myself, and it expresses my own opinions. I am not receiving compensation for it (other than from Seeking Alpha). I have no business relationship with any company whose stock is mentioned in this article.