When we blog about investing, we often try to bring real-life examples to show how our own theories and investment theses work or not. The major arguments we can find against all theories is that we use past numbers and to some extent play Monday morning quarterback with our data.
The advantage of writing for several years is that you can use past articles to validate with facts. You probably know by now that I'm highly reluctant to consider a dividend stock strictly by its yield. In fact, I avoid all high-yield dividend stocks in my portfolio.
On June 2014, I wrote my case against high-dividend yield. In this article, I continued a discussion started with one of my readers who claimed he is making a very good return with his high dividend yield stocks. I took the four stocks mentioned in his email (KMP, Brietburn (BBEP), Starwood Property (STWD), Ares Capital (ARCC)) and compared it to four holdings of my portfolio at that time (Johnson & Johnson (JNJ), McDonald's (MCD), Helmerich & Payn (HP) and Chevron (CVX)). I found with a great surprise that, over the period of 5 years (from 2009 to 2014), the high yield stocks beat my stock selection easily (by 20% not even counting their higher dividend yield. However, over a period of seven years (prior to the 2008 crash), my picks were easily defeating the high-yield stocks. The conclusion of this article was that high-yield stocks perform very well in a bullish market but do terribly bad when the market goes down.
I wanted to verify if this statement is true by including 2015 in my comparison. While 2015 wasn't a catastrophic year, we finished the year in negative territory as you can see with the S&P 500 total return (including dividends):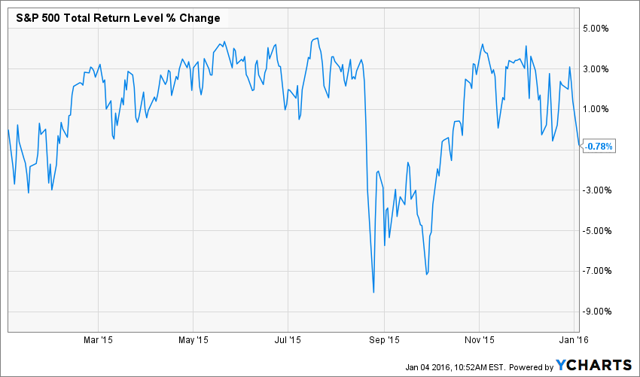 Source: YCharts
Instead of simply comparing stats with numbers from my previous article, I also will use a third comparison with our Dividend Stocks Rock starter portfolio. This portfolio was created in October 2013 and its purpose is to give a solid base to any beginner investor. Since the starter portfolio contains four stocks, it's a perfect match for this comparison. Therefore, we will compare the high-yield portfolio with four stocks I used to have back in 2014 and my starter portfolio.
High-Yield Portfolio
In order to make my comparison, I will replace KMP by KMI as Kinder Morgan (KMI) made changes with its stocks and KMP holders received KMI shares later in 2014. Here are the performances of the four high-yield stocks:
| | | | | |
| --- | --- | --- | --- | --- |
| Company Name | Ticker | 1yr Return | 5 Year Return | Dividend Yield |
| Kinder Morgan | KMI | -64.70% | -51.90% | 13.63% |
| BreitBurn Energy Partners LP | BBEP | -90.40% | -96.90% | 0% |
| Starwood Property Trust | STWD | -11.50% | -9.19% | 9.44% |
| Ares Capital Corp. | ARCC | -8.68% | -17.60% | 10.85% |
| Portfolio Average | N/A | -43.82% | -43.90% | 8.48% |
As you can see, it has been a terrible year for the four companies. The total average return is -43.82%. This means that if you had invested $100,000 on January 1st 2015, you are left with $56,180. Well… there is a good news if you want to be part of the high yield believers - you are now earning $4,764 per year in dividend payments. This is still a higher number than any portfolio including aristocrats for instance.
The bad news is that Kinder Morgan cut its dividend by 75% and that BreitBurn Energy Partners doesn't even pay a dividend anymore. I've been trying to make this point over and over again, but I think this time I have a real-life example to prove it: high dividend yield doesn't mean anything if they are to be cut later on down the road. You can actually see in the following graph that the dividend growth was merely inexistent over the past five years prior to the dividend cuts:
Source: YCharts
I can appreciate that retirees are looking for a source of income and they might not find a 2-3% dividend yield appealing, but I bet most of them are now spending several sleepless nights these days. They lost substantial income in 2015 on top of seeing almost half of their nest egg disappear with these four stocks. I want to remind you that I'm not cherry picking here - these four companies were mentioned by readers as solid holdings and I've seen so many KMI defenders over the past three years that I think several high-yield chasers might have similar holdings… with a similar result.
What Happened To My Previous Picks?
As I highlighted in the 2014 article, the following four companies were picked from my own portfolio at that time. I didn't pick my best performing holdings (I left Apple (AAPL), Disney (DIS), Lockheed Martin (LMT) aside for example). In fact, my choice of holdings is far from being high performers considering I picked HP and CVX, two companies affected by the oil industry crumble. Let's take a look at how they performed:
| | | | | |
| --- | --- | --- | --- | --- |
| Company Name | Ticker | 1yr Return | 5 Year Return | Dividend Yield |
| Johnson & Johnson | JNJ | -1.77% | 66.08% | 3.01% |
| Helmerich & Payne | HP | -20.60% | 10.46% | 5.20% |
| McDonald's | MCD | 26.08% | -1.41% | 3.05% |
| Chevron | CVX | -19.80% | 10.46% | 4.87% |
| Portfolio Average | N/A | -4.02% | 21.40% | 4.03% |
The portfolio lost 4% but it is mainly compensated by its average dividend yield. However, when you look at the long-term period (five years), the portfolio is up by more than 20% on top of its dividend that is ever growing. Because this is the key for dividend investors - if they focus on dividend growth, they will make sound investments most of the time. Here's how dividend payments have evolved over the past five years: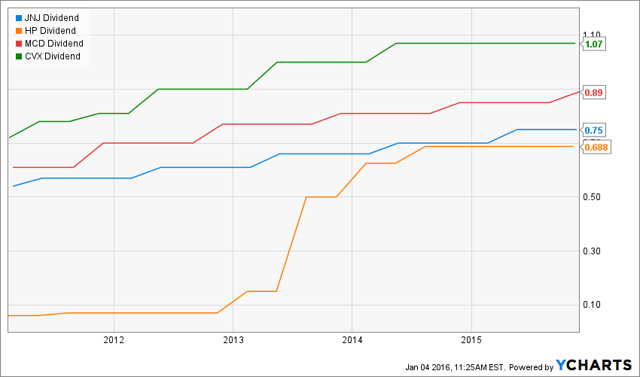 Source: YCharts
Now you can see why dividend growth is the most important metric I follow in my seven investing rules.
However, this should not be considered as a good starter portfolio. Having two companies out of four that are linked to a highly volatile industry is not the best decision. This also is the main reason why the portfolio shows negative results in 2015. Let's now take a look at a more appropriate core holdings to start:
The DSR Starter Portfolio Results:
The idea behind the DSR starter portfolio is to select a group of four companies that are well diversified geographically and by products too. Companies that should be able to perform no matter what will happen in the ever changing economy. Those companies are mostly known by dividend investors and they can be called "boring" by many. However, the results are there:
| | | | | |
| --- | --- | --- | --- | --- |
| Company Name | Ticker | 1yr Return | 5 Year Return | Dividend Yield |
| Kimberly Clark | KMB | 10.18% | 110.70% | 2.80% |
| Coca-Cola | KO | 1.75% | 30.64% | 3.13% |
| McDonald's | MCD | 26.08% | -1.41% | 3.05% |
| Wal-Mart | WMT | -28.60% | 13.61% | 3.24% |
| Portfolio Average | N/A | 2.35% | 38.39% | 3.06% |
As you can see, the performance beat both the high yield and the four stock picks from the previous article. The starter portfolio shows a very steady progression in their dividend growth: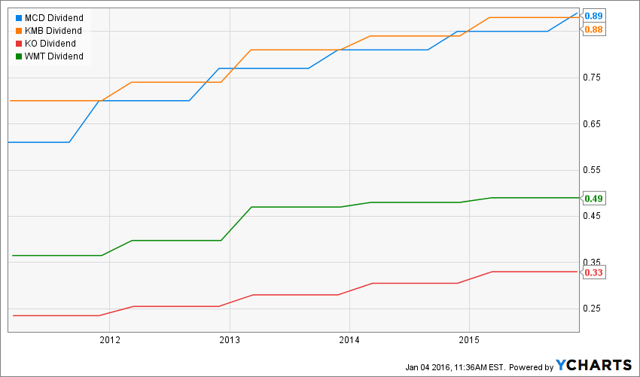 Source: YCharts
Funny enough, the difference in percent between the smallest portfolio yield and the highest isn't reflected in dollars:
| | | | | | |
| --- | --- | --- | --- | --- | --- |
| Portfolio | Starting Investment | Portfolio Return | Value on Jan 1st | Dividend Yield | Expected Pmt |
| High Yield | $100,000.00 | -43.82% | $56,180.00 | 8.48% | $4,764.06 |
| 4 Picks | $100,000.00 | -4.02% | $95,977.50 | 4.03% | $3,870.29 |
| DSR Starter | $100,000.00 | 2.35% | $102,352.50 | 3.06% | $3,126.87 |
Chances are that if we hit another bad year in 2016, the last two portfolios will not only outperform the high yield in overall return, but will also beat it in terms of dividend payments.
Final Thoughts
For me, it has always been obvious that selecting strong and sound companies increasing their dividend year after year is the best dividend growth investing strategy. No matter the size of the yield, it's the dividend growth showing a steady trend that is important. Once again, high-yield stocks are very interesting during bullish times as the overall enthusiasm hides the true nature of a high yielding companies - it pays a higher yield because it has additional flaws other companies don't have. But when you look over a long-term period, the dividend growth stocks with smaller yield will always beat the high yield paying stocks on their own ground - higher dividend payments!
You may say that I'm biased because I write an article about something I believe in and obviously provide facts that support my theory. I don't disagree with that statement. In fact, I'm always open for discussion. Therefore, if you can bring your own facts to the table (another four stocks with yields over 5% for example) and do the same comparison, I'll be more than happy to look at them.