Introduction
I wrote on several utility companies in 2015. Although this sector might seem boring for many investors, it can offer some real value and safety to dividend growth investors. It is crucial to divide the companies by yield and growth as I suggested in a previous article. As I stated there, I am willing to sacrifice current yield for growth, and I believe there are more utility companies that offer medium growth and medium yield to accompany Wisconsin Energy (NYSE:WEC), and Avista (NYSE:AVA) that I already own.
Xcel Energy (NYSE:XEL) is a utility company that seems to have the profile of Wisconsin Energy, which is my favorite in the sector. It offers a medium yield, and the outlook is for medium growth. In this article, I will analyze and try to figure whether I should initiate a position in this company.
XEL is a holding company. Through its four utility subsidiaries, Northern States Power Company, Minnesota; Northern States Power Company, Wisconsin; Public Service Company of Colorado; and Southwestern Public Service Company, it is engaged principally in the generation, purchase, transmission, distribution and sale of electricity, and in the purchase, transportation, distribution and sale of natural gas.

Fundamentals
First, I will look at the fundamentals of the company. Revenues are growing pretty slowly, but this is typical to this sector, as these companies are monopolies which are tightly regulated. Revenues grew from $9.62 billion in 2005 to $11.68 billion in 2014. This is a CAGR of 2%, which is low, but acceptable if earnings grow at a faster rate. Significant growth in revenues is many times achieved through acquisitions in this sector.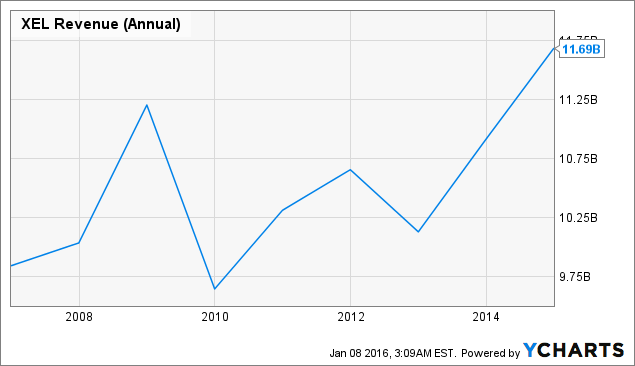 XEL Revenue (Annual) data by YCharts
Earnings per share is a whole different story. EPS over the past decade grew steadily at over 5% annually. A nice mid-single-digit growth for a regulated monopoly is appreciated. The EPS grew from $1.23 in 2005 to $2.03 in 2014. This is a CAGR of 5.2%, which is enough to support the dividend growth. The company and analysts forecast that EPS will grow at the same pace in the medium term.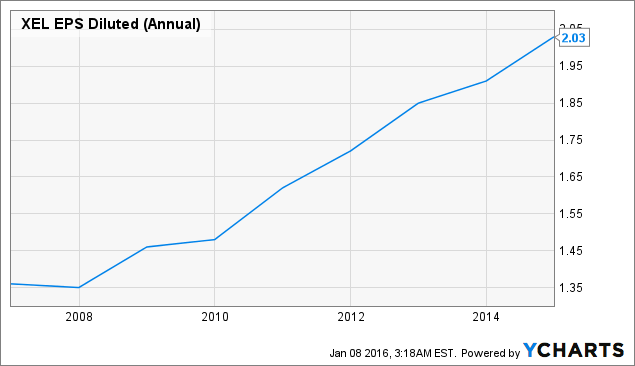 XEL EPS Diluted (Annual) data by YCharts
Dividend is the crucial element for investors in this sector. It grew very modestly over the past decade, and therefore, the payout ratio was decreased. The dividend grew from a quarterly payment of $0.225 in 2006 to $0.32 in 2015. This is a CAGR of 3.7%, but the last two dividend raises were two times the average raise at 7%. The payout ratio is sustainable at 60%, and the company wishes to maintain it between 60% and 70%. Therefore, the dividend hikes will probably be around 6% in the coming years. The current yield is 3.5%, and it will grow soon as the company will probably raise its dividend next quarter.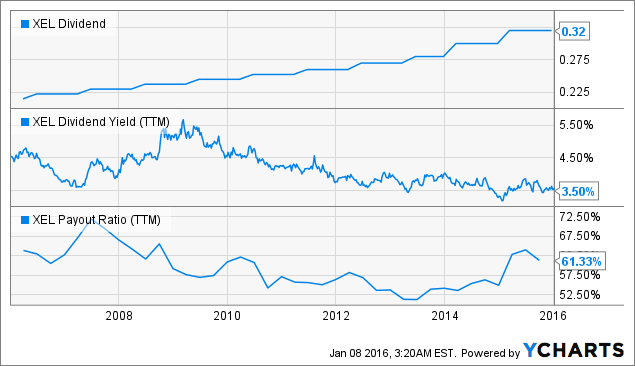 XEL Dividend data by YCharts
The company has been funding its growth through both debt and equity. Therefore, the amount of shares outstanding grew, but, as the money was wisely used, EPS kept growing as well. In addition, the debt load is well managed. The credit rating varies between BBB+ and A, which is pretty safe.
Valuation
Xcel Energy is what I called in a previous article a type 2 dividend growth stock. It has medium yield and medium growth. Therefore, I will compare its valuation to Wisconsin Energy, which is also a type 2 dividend growth stock, and they are both from the same sector.
I will look at the P/E ratio, P/S ratio and the P/B. I will concentrate on the future metrics, as I am willing to buy shares for the long run, and I care less about their past performance.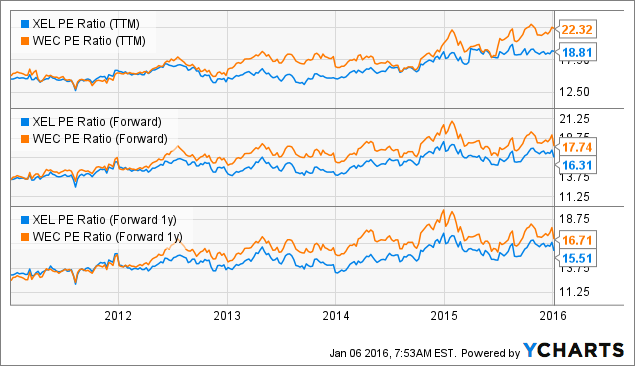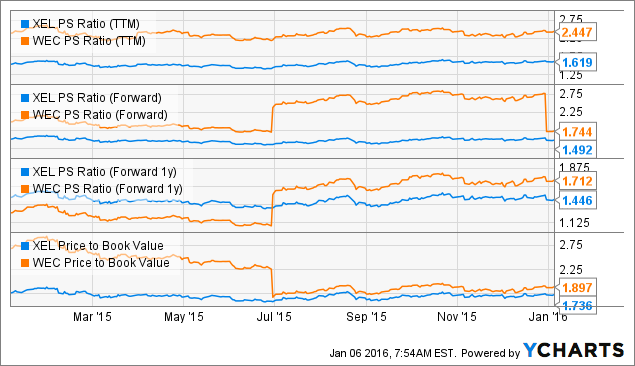 XEL PS Ratio (TTM) data by YCharts
This is an interesting comparison as both companies try to maintain 60-70% payout ratio, and Wisconsin Energy is growing faster than Xcel Energy. As the metrics show, XEL is traded for a cheaper valuation. This is justified by the lower growth. The difference between 6% and 7% might seem irrelevant, but when it compounds annually, it becomes significant.
I believe the difference in all the valuation metrics should be larger. From my point of view, the valuation of XEL is a little bit high, especially given the market is so volatile. I think from the valuation point of view, it is better to initiate a position when the yield is closer to 4% at around $32, and if the market continues with its volatility, it might get even lower.
Opportunities
I will now try to look at the opportunities and risks. Sometimes great opportunities justify a premium in the valuation. The first opportunity is the diversification of this business. The company is diversified with its products; electricity and now natural gas. It is also diversified geographically, as it does business in many states. True, this diversification may be confusing, as most of its income comes from Colorado and Minnesota. However, the exposure to the South gives the company some room to grow outside of its natural habitat. Texas is a quickly growing state, and this is a good opportunity for XEL.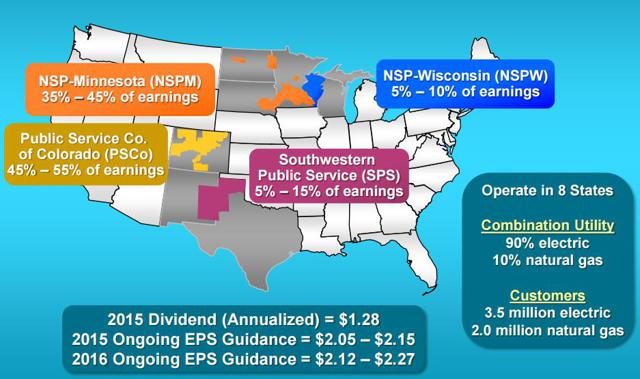 Xcel Energy is a utility company. Therefore, it suffers from tight regulations. However, these regulations are due to the fact that the company is a local monopoly. Residents must rely on its services. Therefore, regulators are limiting the price increases. Xcel's management team managed to increase its earnings and dividends despite the regulations. It aims to bring shareholders 6% annual increase in EPS under the tight regulations. This shows me that the management knows how to deal with the regulators, grow the business, and manage debt that funds capex.
President Obama said that by 2030, renewable energy will account for 20% of the market. This will happen as the government will lure companies to invest renewable energy projects. XEL is ready for that; it invests in plants that use natural gas which is cheap and clean and renewable energy mainly in Colorado and Minnesota. The company also invests in its transmission network and gas infrastructure. All this is done with the support of the regulators.
Talking about the regulators in these eight states, they were very good for XEL. They support its grid modernization and the new investments, and they also allow price increases that will help the company to grow, and eventually earnings will grow as well. When the regulator is the king, their willingness to allow the company to increase prices for gas and electricity is crucial.
Risks
The first risk is the constant use of debt. This sector requires a lot of money and credit to fund major projects like new power plants and modernization of the massive transmission network. Therefore, the company must have constant access to credit. In a time when interest rates are raising, the debt may become more expensive. It will harm earnings and FCF. However, I must note that XEL knows how to deal with its debt, and the current credit rating is the proof.
The regulation that I mentioned before works well for XEL at the moment. However, as I said, the regulator is the king, and changes in their policy can shake the well-regulated companies. If, for example, regulators limit the allowed return on equity, earnings will drop. Regulations are here due to the fact that XEL is a monopoly, but they also make it more dependent.
The current valuation is also a risk. It is at the fair valuation territory, but I think that some of the company's peers like WEC enjoy a better valuation. As the interest rate is about to rise slowly and the market is very volatile, this can pose a short-term and even medium-term risk for investors.
A big part of the business is in the Rust Belt. The growth there is slower, and the weather is harsher. It requires more gas for heating, but the costs of maintenance are also higher. This is why I am glad the company is more diversified, and operates in the southern part of the country as well.
Conclusion
Investors in American companies should be grateful that they have so many fine companies to invest in. The stock exchange is full of many good and stable companies, and XEL is definitely one of them. The fundamentals are strong, the outlook is bright, valuation is fair, and there are several growth prospects for the future of the business.
However, in order to invest in the company, I must buy its stock. At the moment, the valuation is fair, but not compelling enough for me. I will be much more comfortable to invest in XEL at a price range of $32-33, and if the market keeps being that volatile, we might see the $30-31 range again. You can always initiate a tiny position that will help you track the movement of the share price.
Disclosure: I am/we are long WEC, AVA.
I wrote this article myself, and it expresses my own opinions. I am not receiving compensation for it (other than from Seeking Alpha). I have no business relationship with any company whose stock is mentioned in this article.