It's no secret that the steel industry has had a tough time of it in 2015, with broadly lower prices affecting profitability. As a result, the broad sentiment is that Alcoa Inc. (NYSE:AA) will report low earnings come Monday, with the analyst consensus at $0.03 per share. Indeed, the company is not alone with competitors such as Nucor (NYSE:NUE) also expected to see lower than expected earnings at $0.28 per share. However, in this article I wish to explain why I take the view that irrespective of eventual earning reports this Monday, Nucor is likely to sustain a competitive advantage against Alcoa going forward.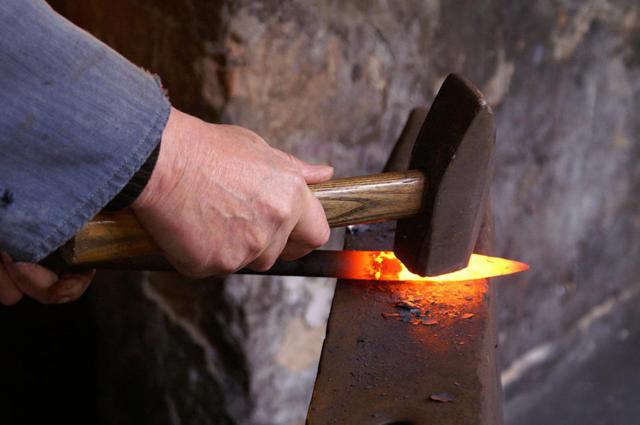 Source: Pixabay
Price and Valuation
When we compare Alcoa to competitors Nucor and ArcelorMittal (NYSE:MT), we see that while all three companies have declined over the past year, Nucor has declined by just over 20 percent while Alcoa and ArcelorMittal have declined by 47 and 64 percent respectively.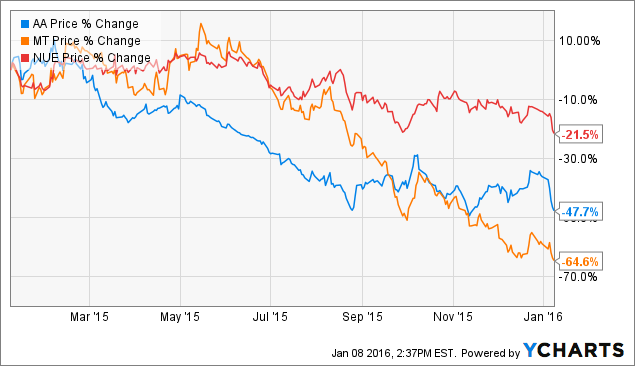 Moreover, we see that growth in normalized diluted EPS (in percentage terms) has been substantially higher for Nucor over a five-year period.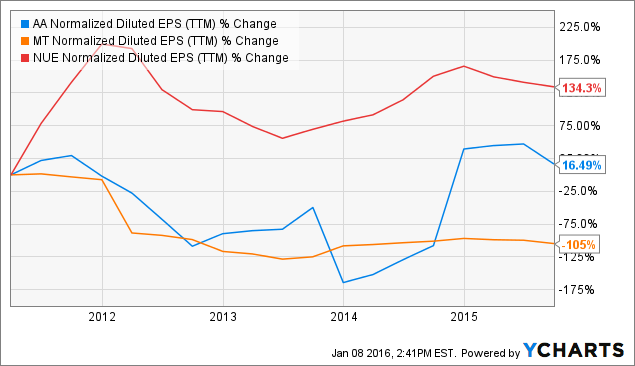 Additionally, for 2015 Nucor was the only steel company which reported a positive net income in spite of falling steel prices while that of Alcoa and ArcelorMittal was significantly to the downside: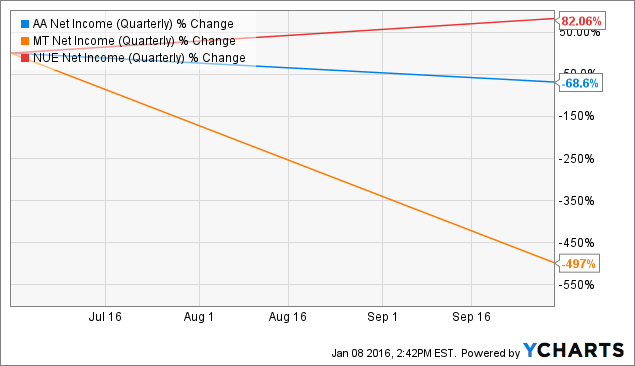 In spite of the vast discrepancy in performance, we see that the valuations of the three companies as measured by EV/EBITDA are quite similar, with that of Nucor trading at only a slightly higher ratio: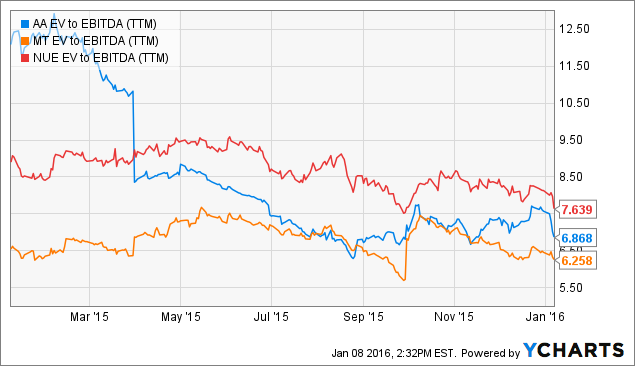 In this regard, I suspect that Nucor may be significantly mispriced in spite of the recent fall in steel prices and this may present a significant buying opportunity given vastly different earnings and profit performance.
Alcoa vs. Nucor - Business Fundamentals
The biggest strain on the steel industry in the past year, as mentioned, has been lower prices. Excess supply from emerging economies such as China have pushed down price and led to lower competitiveness by Western counterparts.
Notwithstanding this, I take the view that Alcoa is more exposed to such price drops than Nucor and much of this stems from the relative diversification of the two firms' business models.
Alcoa is significantly overexposed to lower aluminum prices. Coming back to the case of China, aluminum supply had increased sharply in that country in 2014 and thus Alcoa faces significant competition from firms such as Aluminum Corporation of China (NYSE:ACH).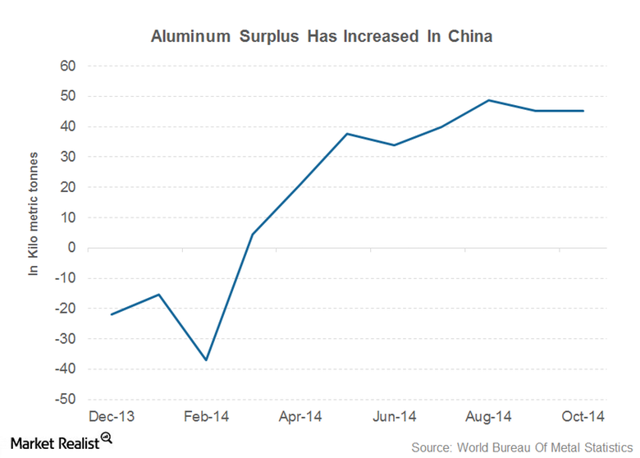 Source: Market Realist
While the firm is in the process of splitting its metal-making and manufacturing business, Alcoa still has significant exposure to the primary metals sector at 30 percent of its overall product line, while raw materials account for 15 percent of Nucor's product offering.
Alcoa Segments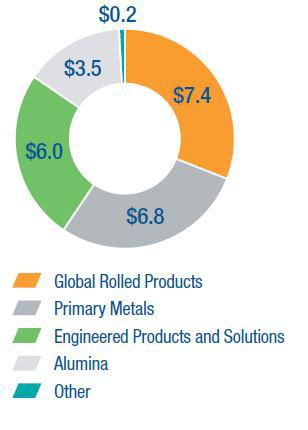 Nucor Segments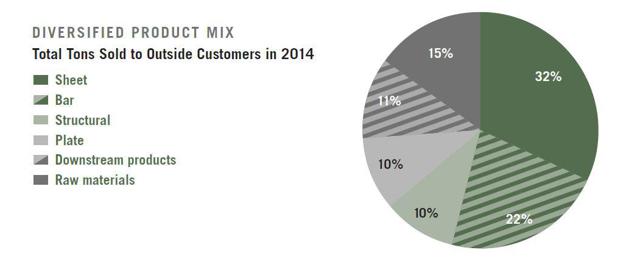 Sources: 2014 Annual Reports
Additionally, while a reduction in sheet steel prices are expected to lead to lower Q4 earnings for Nucor, the automotive industry is expected to remain strong. In this context, Alcoa is at a significant disadvantage in this sector since aluminum is 2-3 times more costly than steel on a per weight measurement basis, while steel remains 2-3 times more durable than aluminum.
In this regard, even if steel prices should rebound more broadly, I anticipate that aluminum will remain uncompetitive. Moreover, with Nucor's capacity for sheet steel production, the combination of low weight and high strength levels is likely to offer a superior, low-cost alternative to automobile manufacturers.
More broadly, Nucor is the largest recycler of steel in the United States. This allows the company to not only accrue significant cost savings, but also broaden the array of steel products manufactured. For instance, after the October 2014 acquisition of Gallatin Steel, Nucor's capacity to produce flat-rolled steel increased from 1.8 million to 13.1 million tons.
As a result, the firm is continuously developing the production capacity to reap economies of scale through mass production at low-cost, allowing the company to thrive in spite of lower prices (a Wal-Mart of the steel industry, if you will). While margins have invariably been hit as a result of lower prices, a rebound in price will mean significantly higher profit margins as a result of greater production capacity.
Conclusion
In light of the above, I take the view that Alcoa is overexposed to a decline in aluminum prices going forward. While steel prices have invariably taken a hit, Nucor is a more diversified company with the ability to maintain a more diversified product range which has limited the effects of lower prices. Going forward, I expect that a potential rebound in the steel industry would mean significant upside for Nucor, given a similar valuation to Alcoa in spite of a markedly different financial performance in other areas.
Disclosure: I/we have no positions in any stocks mentioned, and no plans to initiate any positions within the next 72 hours.
I wrote this article myself, and it expresses my own opinions. I am not receiving compensation for it (other than from Seeking Alpha). I have no business relationship with any company whose stock is mentioned in this article.