Last year, a few mass media sources announced that Netflix (NASDAQ:NFLX) was going to expand its business into several new countries. The main purpose of this expansion is to become a global video-content provider, as Netflix spokesperson Yann Lafargue stated a few days ago. He also said that Russia was one of the potential targets (link to the Fortune article).
Because I am bilingual, I tried to find some additional information in the Russian media. Here is what I found: Joris Evers, Netflix's VP of Communications, announced that Netflix will debut in the Russian market by the end of January 2016. Moreover, he mentioned that the company has made agreements with Rostelecom, one of the largest telecommunication companies in Russia, to promote Netflix via monthly subscriptions with Smart-TV and set-top boxes. Finally, Vitaliy Svistunov, Development Manager of the Smart-TV unit at LG (OTC:LGEAF), said that his company has already made modifications to the hardware to allow Netflix to be streamed into LG Smart-TV sets (the links for the Russian media sources are here and here).
Netflix estimates the Russian market to have 80M potential subscribers (it is the total number of Internet users in the country and about 60% of the population). If the average subscription price is $10 per month, just like in the US, the total market potential is $9.6B per year. As a current Russian resident, I can provide a useful commentary on why these numbers will hardly ever be reached (even in the next decade). Moreover, I want to name a few reasons why Netflix will probably not even see one-twentieth of this figure during the first 2-3 years of operations in the Russian market. On the other hand, I also want to give a few points as to why the company has a good chance to reach a sales level of $200M in the next five years in Russia.
The First Barrier To Entry: The Ruble Devaluation And High Inflation
I think this is the most serious issue. Today, the Russian ruble tested a level of RUB 75 per USD, a historical maximum since the 90s (even if we take into account the currency devaluation in 1998). Even before the most recent devaluation, the GDP per capita in the US was much higher than in Russia. According to the World Bank's statistics, in 2014, an average American earned about $55,000 per year. It means that the $120 bill paid for Netflix's annual subscription was about ~0.22% of personal income.
An average Russian earned about $12,800 per year during the same time frame - more than 4 times less than the average American. In 2014, the average Russian could get the annual Netflix subscription for ~1% of his annual income. You can easily see the difference here.
Diagram 1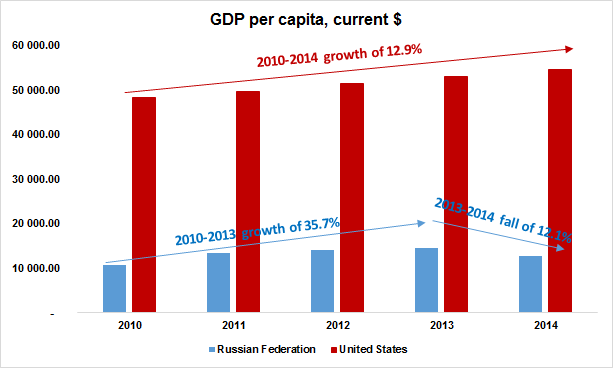 Source: data by World Bank, infographics by author
Diagram 2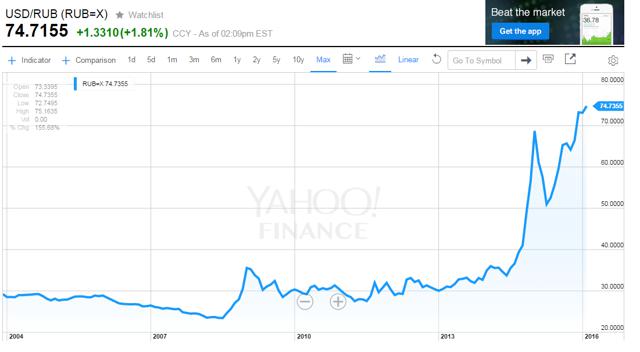 Source: Yahoo Finance
However, this is not the worst point. According to the Russian Statistics Bureau's forecast, the Russian GDP per capita will fall by about 4% in 2016, so it will roughly be at a level of RUB 750,000. Given the average USD/RUB exchange rate of 61.35 in 2015, the Russian GDP per capita is about $8,500 per year, or ~40% lower than in 2014 (see Diagram 3). Moreover, several days ago, the Russian Statistics Bureau announced that the average monthly income for October 2015 in Russia was RUB 33,357 per month, or about RUB 400K per year. Given the current exchange rate of RUB 74.76 per USD, this results in less than $5,400 per annum.
This means that the $120 Netflix annual subscription is now more than 2% of the average annual salary. Add to this the 15% inflation rate in 2015 and the rising unemployment rate (the official data are not applicable as about 30%-40% of Russians work "illegally"), and you will see the economic trap Russia has fallen into.
Diagram 3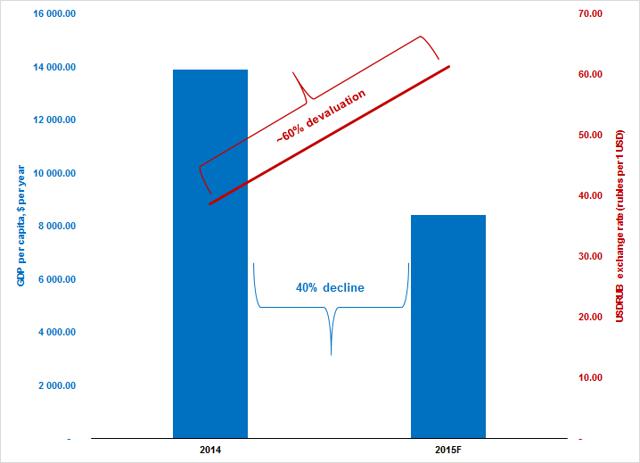 Source: data by Rosstat, Finam.ru, infographics by author
The forecast for 2016 and thereafter is not optimistic - a 0% growth of nominal GDP in the best case and a CPI level of 6%-10% is expected. The real GDP has been falling for almost one and a half years and is likely to continue declining in the future. The RUB devaluation in the next five years is in question, but the purchasing power parity theory shows that the fair exchange rate will be about 80-90 rubles per dollar (unfortunately, I do not have the data but a friend of mine almost precisely calculated the potential for the devaluation in his article a year ago).
The Second Barrier To Entry: Competitors
Despite the bad economy, the video streaming market does exist in Russia. Its main players are shown in Table 1. According to the table, the total market turnover is currently at about $146M. In February 2015, analysts said that the Russian market may become a RUB 11.5B market by 2017, or increase by more than 100%. However, the RUB devaluation means that this level will only total around $154M, which implies a compound annual growth rate of less than 3% in USD terms.
Table 1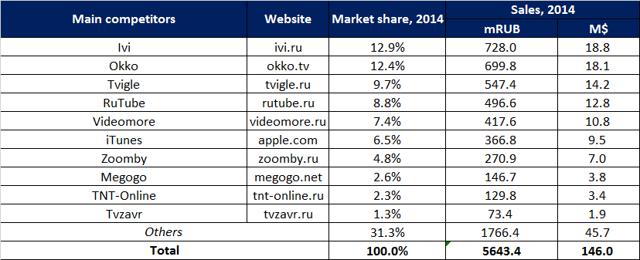 Source: data by RosBusinessConsulting, infographics by author
Let us now look closer at Netflix's two main competitors in this market: Ivi and Okko.
Ivi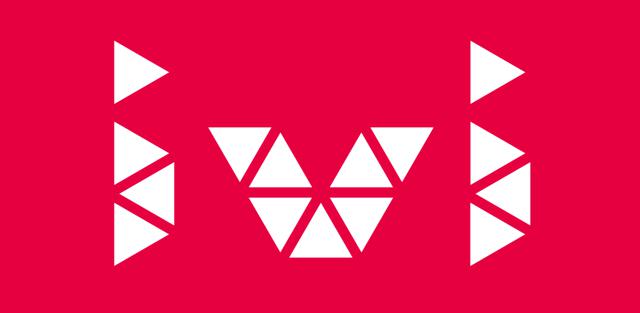 Founded in 2010, and owned by private equity firms Baring Vostok Capital Partners, ru-Net, Tiger Global Management, and Interros, Ivi has become a leader in the video streaming market with a base of 8.5M subscribers and sales of RUB 728M in 2014. Despite the high revenue growth in 2014 (54% year over year), its operating income margin has been near zero for the time period. The net income has been negative and, because of increasing costs, is not going to turn positive in the next 1-2 years.
The key strengths of this business are:
The service is growing very rapidly. The company has quickly become a market leader. A few friends of mine do not know of any streaming services other than Ivi.
The company definitely knows the market and its target audience. With several sales channels (monthly subscriptions, single-movie options, free films with online advertising, etc.), it shows excellent sales growth figures.
Low prices. A monthly subscription for full HD movies with 1080p quality and no online advertising costs only RUB 400, or about $5.35 per month. This is two times lower than what Netflix charges, by the way.
Strong sustainability background. Four private equity multibillion funds can make additional investments to fund further market penetration. Netflix's plans are the best catalyst for that.
Okko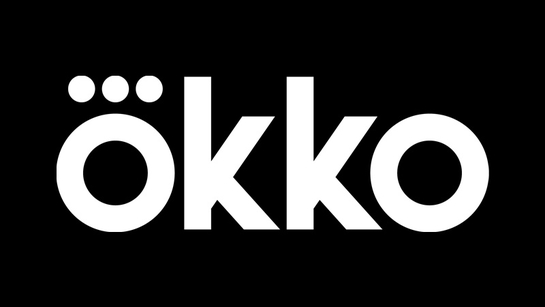 This is the second biggest video-streaming service in Russia with a market audience of 1M people and a market share of 12.4%, according to the revenue figures. Its main focus is providing Smart-TV services to premium clients. The main approach is providing high-quality content to loyal customers at a reasonable price. The customer base exceeds 100,000 people at the moment, so the company has a good margin of safety. Moreover, its revenue has increased four times in 2014 and reached a level of RUB 700M ($9.3M). Just like Ivi, the company has recently shown a positive operating income. However, its net income is yet to turn positive.
The key competitive points of this business are:
The fantastic growth rate of over 300% in 2014.
The focus on high quality content and premium service. The high quality results in…
…Strong loyalty, which provides a certain level of safety.
The core video-streaming market is not limited to these companies. There are also Internet and telecommunication providers that are going to fight with Netflix for audience. Most representatives are regional, so I do not know all the names. My friends mostly use Akado. Using Akado as an example, I will explain the business model of similar companies in Russia.

Despite the fact that its main business model is providing access to the Internet, Akado also provides several additional products and services, including selling wireless routers, pay-TV, telephone connection, etc. One of the additional services is purchasing movies "for home viewing". The main point here is that it costs user only 60 rubles (less than 80 cents) to buy a movie in HD quality and watch it without online advertising. A lot of people can afford this price.
Besides that, there is an additional service to the current monthly plan which gives customers unlimited access to video content. It costs about ~RUB 500 per month (~$6.5 per month), on average. It is an ideal option for those who want to have the Internet, Pay-TV, and Home Cinema bundle at once.
Finally, the broadcasting companies majored in public entertainment, such as: 1tv, Russia1, TNT, CTC, do not want to allow Netflix to capture their market share, even if they do not offer House of Cards and Orange is the New Black series. 1tv is the most popular TV channel in Russia (like ABC or NBC in the US) with more than RUB 30B (~$400M) in revenues. Its majority shareholder is the government of the Russian Federation.
Netflix is going to have to fight with both core competitors like Ivi and Okko and with non-core competitors, whose interests are hurt by the company's intrusion.
Final Barrier - The Most Significant One
Even if Netflix provides a good value-for-price service and successfully fights against its main competitors, there is a problem which Netflix cannot solve: there are websites with free movies, video, and audio content. People not only can use the content online but also download it in high quality.
These sites can be divided into three categories: the torrent sites ("torrents"), social networks (the most famous is Vkontakte (VK), founded by Pavel Durov, the ex-CEO of VK and the founder of Telegram), and other sites.
Torrents
Approximately 99% of Russian Internet users are torrent pirates. There are mainly three reasons for that.
First - The legislation is at an early stage. There have been no precedents of people being put in jail for copyright infringement. Moreover, Russia does not have a precedential law system. Hence, it takes a very long time to review each court case.
Second - Relatively low standards of life make people want to spend time finding cheaper entertainment options.
Third - Russian IT specialists are one of the best in the world. It is not difficult for them to circumvent the law and create anonymous systems to bypass the regulations.
Several years ago, the government tried to close one of the most popular torrent sites at the time - torrents.ru. They successfully did it. However, a new website was created right after that called rutracker.org, which quickly became filled with the content from the closed website torrents.ru.
In 2015, Russian authorities tried to close rutracker.org, but the legislation process went on for too long. Finally, the court announced that the domain rutracker.org had to be blocked in Russia. Several organizations made an official protest, so the court had to postpone the blocking for a month. By that time, the site's administration had taught its users how to avoid the domain locking and download the necessary files without being trailed (you can see this in Diagram 4).
Diagram 4

Source: infographics by author
As you can see, blocking just one torrent site in a ten-year period is a system's failure. Besides, there are dozens of other torrent sites where one can easily download the desired content. Hence, the problem seems to be impossible to solve.
Social networks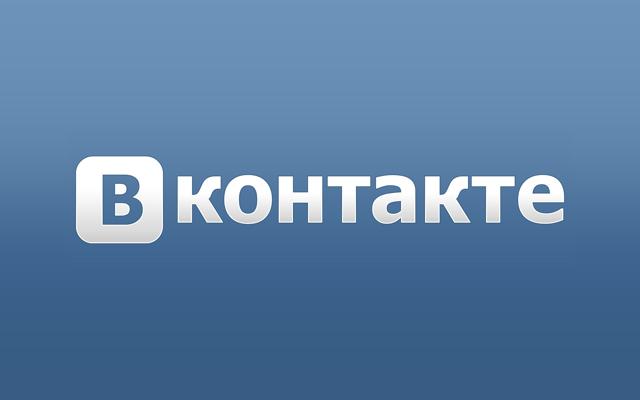 VK is the most popular social network in Russia and the CIS and one of the most well-known in Europe. VK has always been a free source of audio and video content. Sometimes the quality is very high (HD 1080p or even higher). In the last years, there has been a series of "mass cleanings" of illegal content. Each day, dozens of copyright holders ban thousands of illegal movies and songs. However, most people can spend a reasonable amount of time to find a movie they want to watch (even if it was released in the movie theaters less than week ago).
Because the majority holder of VK is Mail.ru Group, controlled by Alisher Usmanov (Forbes 28 in 2012 and 71 now and Vladimir Putin's pal), the website will never be blocked by the Russian authorities for copyright infringements in the near future and neither will the free content.
Other sites
There is nothing much to say here. I just want you to look at Diagram 5, where you can see that there are more than six billion requests per month for phrases like "watch movies online for free" or "the best films online". There are thousands of websites that make money by providing these movies for free in exchange for online advertising.
Diagram 5

Source: Yandex Words Statistics
Note: Yandex (NASDAQ:YNDX) is the most popular search engine in Russia (Google is second). Wordstat Yandex is the analogue of Google Trends.
Why Will Netflix Probably Be Popular In Russia In The Next Five Years?
Despite the unfavorable facts I have mentioned before, Russia is slowly becoming a developed country. I see changes in the legislation and in the people's mindset. The legislation changes are mostly about the copyright law. Nowadays, it is difficult for many people to cope with the idea of distributing audio and video content without the author's permission. The torrent sites are being shut down, and there are additional investments being made to make this process go faster.
Moreover, the content owners have found a compromise with the Internet users. Everybody agrees that both downloading and watching for free and selling content for a high price is not profitable to anybody. Hence, copyright owners provide high-quality content at a reasonable price, and people buy and enjoy it. On the other hand, the latter have to cope with online advertising on the websites they visit.
Netflix is a big company, much bigger than any of this type in Russia. Hence, a good strategy going forward is to make acquisitions of the biggest competitors in the core market and reaching compromises with the non-core market players. On the one hand, this will decrease the level of market rivalry. On the other hand, it will help penetrate the market quicker and give the company the necessary local experience.
There are several recommendations from me for the company's success in the Russian market:
As I have already mentioned, acquisitions of key core market players. Ivi is the best target here because it is owned by four private equity funds. I do not think they will refuse to sell their stake in the currently complex macroeconomic environment. Cash is a king, as they say. It can definitely work here.
Provide highest quality at a reasonable price. People will not pay for low-quality content because they have access to torrents, VK, and other sites. However, the price should not be higher than $8-10 per month as most people cannot afford spending 2% of their monthly income on watching movies, even if the movies are interesting and of high quality.
Provide choices for customers, including free watching. Ivi's strategy of monthly subscriptions, pay-as-you-go, and free films on random days has helped its revenues increase by more than 50% over the last year.
Make watching high-quality films at home a good tradition. The current economic situation is the main reason why most people cannot afford to spend too much money on entertainment. Hence, a prolific marketing strategy is the way to make the business grow in the long term.
Conclusion
I do not expect Netflix to have a nice ride in the Russian market. However, reaching a subscriber base of 2M, with each user paying about $100 annually is a reasonable target for the company over a five-year period. As I said in my introduction section, this implies that the company could be making $200M in sales in Russia in the years to come.
The company's success mostly depends on the recommendations I have mentioned before. I believe that the company already knows about the issues I have mentioned and will do its best to use the knowledge to its benefit in order to succeed.
Disclosure: I/we have no positions in any stocks mentioned, and no plans to initiate any positions within the next 72 hours.
I wrote this article myself, and it expresses my own opinions. I am not receiving compensation for it (other than from Seeking Alpha). I have no business relationship with any company whose stock is mentioned in this article.