PrivateBancorp (NASDAQ:PVTB) has outperformed the iShares U.S. Regional Banks ETF (NYSEARCA:IAT) by roughly 20% in 2015 and emerged as one of the best regional banks. The stock performance has been mostly driven by astonishing revenue growth and expected benefits of the Fed tightening. I believe that the bank will continue to deliver great results in the upcoming period; however, it is likely to be time for an overhaul regarding the share price performance, as the current valuations, in my view, suggest a fair value for PrivateBancorp.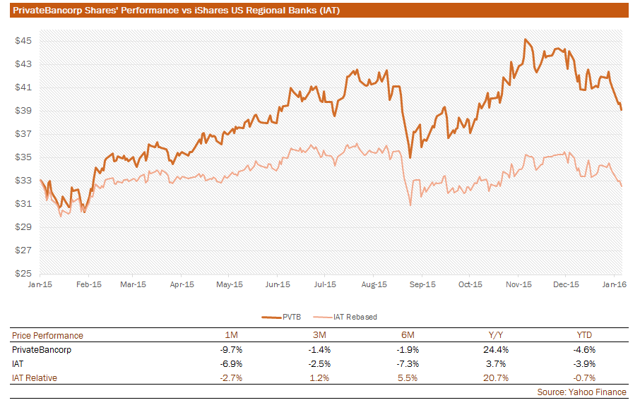 For 9M 2015, PrivateBancorp recorded a net income of $133.1 million, which was up by 14.9% y/y. During the same time period, an EPS of $1.70 was reported which was slightly higher than analyst estimates, and also higher than last year's figure of $1.48. The rise in earnings was mainly driven by fast loan growth and stronger mortgage banking income and deposit service charges.
The average loan book of the bank increased by 13% in 9M 2015 y/y from $11 billion to $12.5 billion. The bank's focus on loan growth had nearly no effect as we saw only a 6 bp decrease in yields which was relatively good given the depressed interest rates in the credit market. On the liabilities side, non-interest bearing deposits increased by 16% and became an important funding source for the growth. As a result, NIM was only modestly down by 2 bps to 3.20% in 9M 2015.
PrivateBancorp remains highly asset sensitive on the loan side, as about 97% of its loans are variably priced with about 70% linked to 30-day LIBOR. The sensitivity will build a supportive case for the bank as a means of loan repricing. However, note that we are likely to see a similar trend in cost of funding. Historically, the yield on interest-earning assets and cost of interest-bearing liabilities had a strong correlation to 30-day LIBOR (0.96 and 0.97, respectively, according to data since 1Q 2002 to date). Considering the trends in the asset-liability mix, I believe we may see 30 bps acceleration in NIM in 2016 that would lead to a 25% increase in net interest income. Also, as of 3Q 2015, the bank had $800 million notionally of variable-rate commercial loan swap to fixed-rate that would offset the benefits of higher rates to some extent.
Mortgage banking revenues were up by 57% in 9M 2015, from $7.2 million to $11.3 million. That represented 40% of the total increase in non-interest income in PrivateBancorp, that was up $10.2 million. Low rates have allowed the bank to thrive from refinancing. However, rising long term may actually pressure the bank's earnings in the form of lower mortgage banking revenues as they will result in reduced refinancing opportunities.
The bank has also done quite well in asset management, increasing the total amount of assets under management. Along with treasury management, the asset management and custody business will continue to boost the top line for PrivateBancorp.
The efficiency ratio has come under 55% in 3Q 2015 from 60s in 2012 as the bank has continued to grow its business volume. With the help of rising interest income, I expect the ratio to remain in low 50s over the next two years.
The bank's credit metrics have remained strong as nonperforming assets as a percentage of total assets were 34 bps and recoveries exceeded charge-offs for 3Q 2015. The bank has nearly no lending exposure to energy, as it has mostly concentrated on healthcare and manufacturing. However, largely due to the influence of loan growth, it is likely that we will see a 50% increase in the provisions at year-end. On the other hand, in 3Q 2015, we saw provisions for unfunded commitments more than tripling y/y, driven by $1.3 billion growth in unfunded commitments during the year as to support the future business needs of new and existing commercial clients. Also, for all the banks in the US, NPAs came to a level that are not sustainable and will probably rise in the upcoming period, resulting in an increase in the amount of the money banks have to set aside to cover them. This should be the case for PrivateBancorp too.
Based on the assumptions above, I expect PrivateBancorp's ROATCE to remain above 15% for the next two years, which puts me ahead of the consensus estimates. Earnings estimates upgrades will be on the way after the influence of rising rates on the bottom line is clearly seen. Yet, I still believe that the stock is fairly valued on the earnings growth potential.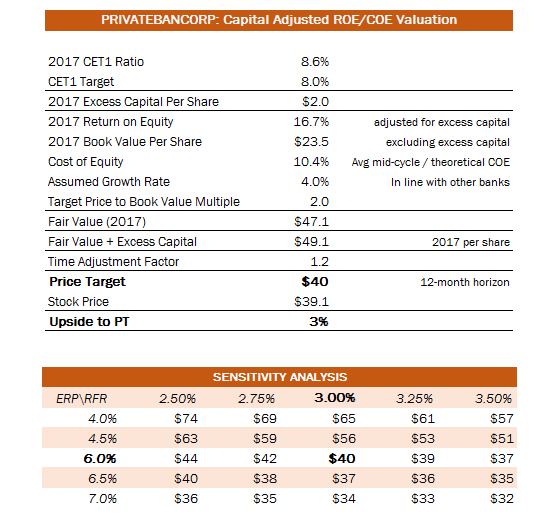 As seen above, I value the bank with an excess capital-adjusted ROE/COE method and derive a price target of $40 per share with a 12-month horizon, which implies a 3% upside potential from the current stock price. I used a cost of equity of 10.4% derived by using 6% equity risk premium, 3% risk-free rate and 1.23x beta. In addition to this, I see fit to add a sensitivity analysis table following the one that summarizes the valuation. It highlights the changes in the price target in case of lower or higher equity risk premiums and risk-free rates. In conclusion, PrivateBancorp is fundamentally strong with favorable prospects but a better entry point should present itself.
Disclosure: I/we have no positions in any stocks mentioned, and no plans to initiate any positions within the next 72 hours.
I wrote this article myself, and it expresses my own opinions. I am not receiving compensation for it (other than from Seeking Alpha). I have no business relationship with any company whose stock is mentioned in this article.