This is the fourth article in the series that aims to develop portfolio investment approach that 'beats the market'. The goal is to equip the readers both with the knowledge about the path and the confidence to stay on the path.
In the previous articles we have reviewed three theories of investment and how they can help in developing superior portfolios:
Initial two articles serve as a practical guide to structuring the core portfolio. While in the third article, we started building the satellite portfolio. In this fourth article, we continue exploring factors that could be utilized to enhance portfolio performance.
High Dividend Yield
Per Jeremy Siegel, the historical performance of stocks indicates that over the long term the highest yielding stocks outperform the market both on an absolute return basis and on a risk-adjusted basis. Following table shows the return on S&P 500 stocks ranked by the dividend yield and covers the period from 1957 to 2012.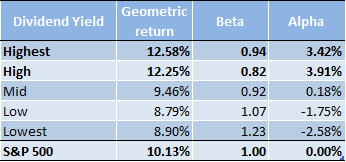 Source: Jeremy Siegel
The market participants developed well-known strategies, such as Dogs of the Dow and S&P 10, based on the similar philosophy. Those strategies involve choosing the highest (namely, top 10) yielding stocks of Dow Jones or S&P indexes. Over the long term (i.e. between 1957 and 2012), per findings of Jeremy Siegel, S&P 10 returned 14.14% of geometric return vs. S&P 500's 10.13%. Similarly, Dow 10 returned 12.63% vs. Dow Jones' 10.93%. Such difference of ~2-4% makes a big difference over the long investment horizon and is worth exploring.
Core 10 portfolio: high dividend yield plus high conviction
Jeremy Siegel found that a similar strategy could be used for the dividend aristocrats. The dividend aristocrats are the companies that increased their dividend payments for at least 25 consecutive years. Investing in top 10 yielding dividend aristocrats represents so-called "Core 10" portfolio. The historical performance of Core 10 portfolio is impressive (please refer to Jeremy Siegel's books).
Limiting the universe to dividend aristocrats when choosing high-yielding stocks has an added benefit. It provides an individual investor with added confidence. It's more likely that investor will hold on to the stock with 25+ years of growing dividend history. In addition, psychologically, an investor might find it easier to double down on a dividend aristocrat when prices go down and lock up the attractive dividends.
A current list of Core 10 portfolio is presented below: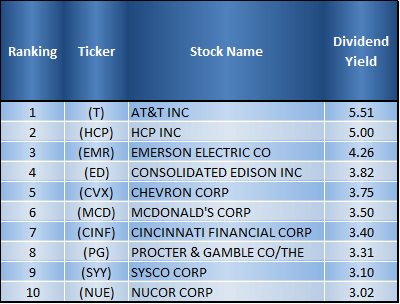 Source: Bloomberg
A detour
If you are anything like me and would not settle for classical Core 10 portfolio, there are ways of augmenting it. You might consider adding additional metrics, such as value and momentum.
I have used Graham's value criteria, namely P/E ratio < 15 and P/E * P/B < 22. If a stock meets both of the criteria it's given score of 2, as shown in the table below:
Core 10 with Value Tilt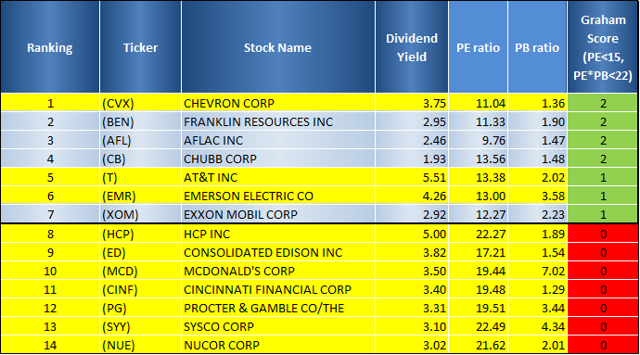 Source: Bloomberg
Only seven stocks scored passed one or both of Graham's criteria.
Let's add a couple of criteria from O'Shaughnessey (positive 1-year momentum and ranking by P/S ratio). After eliminating stocks with the negative 1-year total return, a number of stocks go down to 3: Chubb (NYSE:CB), AT&T (NYSE:T), and Aflac (NYSE:AFL).
Core 10 with Value Tilt and Positive Momentum
Source: Bloomberg
Is Core 10 Portfolio missing anything?
Looking back at the list of dividend aristocrats, one can notice that high-yielding stocks did not perform well during the last three years.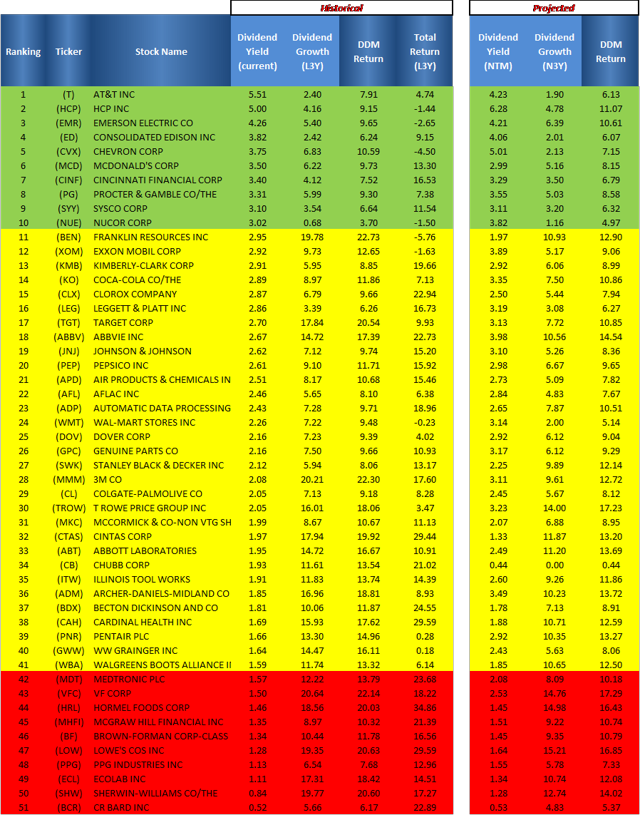 Per the summary table below, stocks with the lowest yield outperformed current Core 10 portfolio candidates (which returned 5.25%). The lowest yielding stocks returned 21.19% annual return.

How could this be? There are three key reasons to highlight:
1. I'm using the current list of Core 10 stocks. Instead, I should have rebalanced Core 10 stocks each year.
2. 3 years might be too short of a period to judge the long-term feasibility of the strategy.
3. The Core 10 portfolio does not take into account the dividend growth rate; it only focuses on the dividend yield.
First two points are very important. If you would like to run more comprehensive back-testing, I invite you to share your results. In the meantime, let me focus on the third point. The Core 10 portfolio focuses only on the yield and disregards the dividend growth.
One can argue that for a dividend investor, the dividend yield alone should not be sufficient metric. The growth of that dividend is also very important. Per the dividend discount model ("DDM"), the required return from the stock can be approximated through adding a dividend yield and a dividend growth rate.
Price of stock = dividend / (required rate of return - dividend growth rate)
Which could be re-arranged:
Required rate of return = dividend/price + dividend growth rate
Required rate of return = dividend yield + dividend growth rate
In other words, one can argue that the return on the stock could be approximated through taking into the account both a dividend yield and a dividend growth rate. Historical performance seems to support this argument: the stocks with the highest combined dividend yield and dividend growth rate perform better.
Coincidentally, the low yielding dividend aristocrats have significantly higher dividend growth rate compared to their higher-yielding peers. As you can see from the previous summary table, we can expect that the bottom 10 stocks will perform better than their higher-yielding peers (as long as DDM holds true over the long term).
So, we have established that the Core 10 does not account for a dividend growth yield. Another factor which is left out of the equation is buyback yield. The share repurchases being another way of returning a value to the shareholder, one should take them into account as well. The share repurchases tend to be more tax-efficient over the longer term. However, repurchases are less reliable than regular dividends. We will explore this topic in further detail when we analyze each stock separately.
How do I reconcile Core 10 and DDM?
First of all, as mentioned above, the last three years is not a long enough period to claim that the Core 10 portfolio no longer provides a superior return. You might consider checking out the historical performance of Dogs of Dow to see how such strategies might underperform during some periods of time.
Secondly, I did not rebalance the Core 10 on an annual basis, but instead looked at the historical performance of the current list of the stocks.
Nevertheless, as shown by Jeremy Siegel, I maintain that the Core 10 strategy should provide a superior return thanks to forcing investors buy stocks at an attractive price. At the same time, I also maintain that there is a benefit of taking into an account dividend growth rates. Both strategies can co-exist in the satellite portfolio.
How do I know that Core 10 and DDM Portfolio will continue outperforming? Past performance is not a guarantee of a future performance, isn't it?
"History does not repeat itself, but it often rhymes." And, I think that's the blessing to those who will follow the recommendations in this articles consistently and disregard short-term market gyrations. Just because history does not exactly repeat itself, investors tend to lose confidence in proven strategy after few years of underperformance. Some of the main reasons are thought to be human nature and memory.
One can argue that chasing the highest yielding stocks is similar to going after the value stocks. The argument is that as the price of the stock decreases, the dividend yield improves (as long as dividend per share is maintained/increased). As such, typically, the higher dividend stocks tend to be the value stocks (i.e. defining value stocks using P/E, P/B, and P/S metrics). Some definitions of value stocks actually include dividend yield as a metric to distinguish the 'value' from the 'growth'.
Therefore, the proponents of Efficient Market Hypothesis ("EMH") would attribute such performance to beta being an imperfect indicator of the riskiness of stocks. The reasoning for the high yielding stock outperformance would be, therefore, linked to the same reasons why value stocks outperform (i.e. the higher risk according to EMH). For the discussion of EMH and its implications to the individual investor, please refer to the first article in this series.
There is, of course, an argument that the market participants realized the existence of a small cap, value, and dividend phenomenon and traded up these stocks. Supporters of such arguments claim that due to 'arbitraging away', these opportunities do not offer any alpha. It's purely higher risk play. Only if CAPM used more comprehensive metric than beta…
We will review if such arguments are warranted in the future articles when we finalize our proposed allocations for the satellite portfolio. Before we discuss the execution, let us draw a preliminary conclusion. In the long term, tilting your portfolio in the direction of a high yield and a dividend growth is expected to help you beat the market. However, it might take years before you achieve such a superior returns; markets might favor the growth stocks for long stretches of time.
As groups of investors continue jumping from one bandwagon to another searching for an alpha, more passive investors might benefit from staying put. Unless you have a crystal ball, it's advisable to identify a portfolio allocation and don't deviate materially from these target allocations.
List of ETFs and Stocks
For the core portfolio, the recommended allocations are presented in the previous two articles. For the satellite portfolio, I suggested tilting portfolio to small-cap stocks and value stocks (see the third article). In this article, I recommend using Vanguard High Dividend Yield ETF (NYSEARCA:VYM) and Vanguard Dividend Appreciation EFT (NYSEARCA:VIG) to augment the satellite portfolio. The expense ratio of both is 10 bps.
As you can notice, all four are Vanguard ETFs. I recommend Vanguard ETFs mainly because of their low fees (I am not affiliated with Vanguard and do not receive any compensation for recommending their products). There are other low-cost ETFs as well; typically, I use other ETFs for very specific tax reason.
VYM would allow the reader to take an advantage of the high-yield stocks while VIG should help achieve a superior return through leveraging proven dividend growth stocks. Of course, there's always an alternative of buying specific stocks: e.g. top 10 based on specific criteria, such as a dividend yield or a dividend yield plus a dividend growth yield. In case you are interested in such alternative, my recommendation would be:
For 10-stock high dividend yield portfolio: HCP (NYSE:HCP), Emerson Electric (NYSE:EMR), Consolidated Edison (NYSE:ED), Chevron (NYSE:CVX), McDonald's (NYSE:MCD), Cincinnati Financial (NASDAQ:CINF), P&G (NYSE:PG), Sysco (NYSE:SYY), and Nucor (NYSE:NUE)
For 10-stock high dividend yield plus dividend growth portfolio: Medtronic (NYSE:MDT), V.F. Corp. (NYSE:VFC), Hormel Foods (NYSE:HRL), McGraw-Hill Financial (MHFI), Brown-Forman (BF), Lowe's (NYSE:LOW), PPG Industries (NYSE:PPG), Ecolab (NYSE:ECL), Sherwin-Williams (NYSE:SHW), and CR Bard Inc. (NYSE:BCR)
We will do a deep-dive on each of the suggested stocks in separate articles. We will explore not only their dividend yields and dividend growth but also the buyback yield and many other important metrics.
The size (i.e. small cap), style (i.e. value) and dividends are not the only factors that historically proved to generate superior returns. We will discuss "other" factors in the next articles and determine sensible allocation to the various factors. At that point, I will present the detailed execution plan (i.e. the list of all ETFs and allocations to each).
References/Bibliography
Jeremy Siegel, The Noisy Market Hypothesis, Wall Street Journal, June 14, 2006
Jeremy Siegel, The Future for Investors: Why the Tried and the True Triumph Over the Bold, 2005
Jeremy Siegel, Stocks for the Long Run 5/E: The Definitive Guide to Financial Market Returns & Long-Term Investment Strategies, 2014
Disclaimer: I'm not a tax advisor, please consult your tax advisor for any tax related matters.
Supporting Documents
Disclosure: I am/we are long VIG, VYM.
I wrote this article myself, and it expresses my own opinions. I am not receiving compensation for it (other than from Seeking Alpha). I have no business relationship with any company whose stock is mentioned in this article.