A quick summary:
As expected in our previous week's piece, US Non-Farm Payroll numbers came in much better than expected. This was of course, very much welcome by the markets after risk sentiment was battered non-stop throughout the week. We took a long position as well in the S&P500 inverse volatility Index (NASDAQ:XIV) at $22.47 and we expect the position do well over the next few trading sessions despite the sell-off in equities which we think is overdone in the short term at least.
Admittedly, despite the EUR, AUD, CAD and JPY moving or less moved as expected towards some of the key longer term targets, some of the moves have been greater than expected opening up alternative 'road maps' now for some of the currency pairs. Next week should prove to be an interesting week ahead given the potential for retracements and turnarounds following some of the moves which look a little overdone. Oil also moved according to expectations and has reached our ideal bottoming zone, so it is make or break time for crude. It will be interesting to see if tensions in the Middle East will suddenly flare up to provide the needed bounce in crude prices.
For now though, despite all the volatility and stress faced by traders and investors alike this week, we think it is a good thing to savor how far the US economy has come since the GFC in 2008. Are we on the verge of another crisis? Maybe. For now though, improving data points especially in employment terms continue to favor a more positive scenario.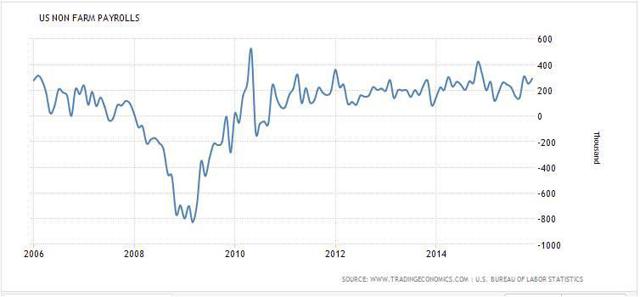 Key economic data and events for the coming week:
Monday, 11 Jan. 2016:
0930 GMT - Eurozone Sentix Confidence (Jan.)
1315 GMT - Canadian Housing Starts (Dec.)
1420 GMT - Canadian Budget Balance (Oct.)
2350 GMT - Japanese Current Account n.s.a. (Nov.)
2350 GMT - Japanese Bank Lending (Dec.)
Tuesday, 12 Jan. 2016:
0500 GMT - Japanese Economy Watchers Current Index (Dec.)
0500 GMT - Japanese Household Confidence (Dec.)
1355 GMT - US Redbook
Wednesday, 13 Jan. 2016:
0251 GMT - China Trade Balance Numbers (Dec.)
1000 GMT - Eurozone Industrial Production (Nov.)
1530 GMT - EIA Crude Oil numbers
1630 GMT - ECB Governing council non-monetary meeting
1900 GMT - US Federal Budget Balance (Dec)
2350 GMT - Japanese Corporate Goods Price Index (Dec.)
2350 GMT - Japanese Core Machinery Orders (Nov.)
Thursday, 14 Jan. 2016:
0030 GMT - Australian Employment Numbers (Dec.)
0700 GMT - German Wholesale Price Index (Dec.)
0900 GMT - German Annual GDP
1330 GMT - US Export Price Index (Dec.)
1330 GMT - US Import Price Index (Dec.)
1330 GMT - Canadian New Housing Price Index (Nov.)
2350 GMT - Foreign Buying of Japanese Bonds and Stocks (Dec.)
Friday, 15 Jan. 2016:
0030 GMT - Australian Home Loans (Nov.)
1000 GMT - Eurozone Trade Balance (Nov.)
1330 GMT - US Core PPI Numbers (Dec.)
1330 GMT - US NY Empire State Manufacturing Index (Jan.)
1330 GMT - US PPI Numbers (Dec.)
1330 GMT - US Retail Sales numbers (Dec.)
1415 GMT - US Capacity Utilization (Dec.)
1415 GMT - US Manufacturing Production (Dec.)
1455 GMT - US U-Mich Consumer Confidence Numbers (Jan.)
1500 GMT - US Business Inventories (Nov.)
Trading and Technical Strategy for the week ahead:
EUR/USD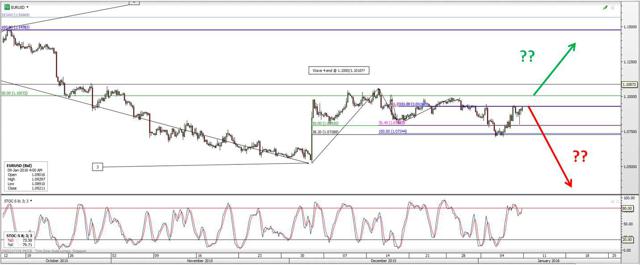 The EUR moved down as expected this week and reached one of our downside objectives at 1.0750 that we mentioned in the previous week. However, we were hoping for a much stronger downside follow through in selling for the pair to help cement the downside scenario. The rebound and structure of the move from the 1.07s to test upside resistance in the 1.09s is beginning to look like a variation of scenario 2 may be playing in the EUR instead of the primary scenario 1 expectation. Key level for the EUR to stay under remains at the 1.1090/1.1100 level to avoid our bullish scenario 3 possibility. We closed our short position from 1.0935 at 1.0783, just before the rebound in the EUR occurred and will be looking to re-establish the short around the 1.0925/40 level.
We think next week should bring EUR downside given the technicals at this point with short term oscillators indicating overbought conditions and key resistance at 1.0930 holding. The potential for more QE by the ECB on 21 Jan 16 given the absolute dismal inflation so far, should weigh on the pair from next week. Moreover, any potential leak of more QE consideration by the ECB in their 13-14 Jan non-monetary policy meeting could trigger selling in the EUR. Whilst unlikely as it is a non-monetary policy meeting, it continues to remain a possibility.
Medium- to long-term trading strategy (1-6 months):
With the Fed in a rate hike cycle, we think the next one to three months should see our primary scenario (Scenario 1) playing out with the pair making one final down move to the 1.0250-1.0300 level. Whilst we covered our short from 1.0935 at 1.0783, we are looking to re-establish the short position around the 1.0925/40 level. Our stop on this trade would now be at 1.1020 given how the EUR structure has developed in the last week.
Short-term trading strategy (Intraday, 1-3 days):
"No change to our current short term strategy, where one can consider buying back any shorts taken at 1.0920/40 at the 1.0880 level before selling again around the 1.0940 level to improve their overall costs."
The above short term strategy from last week would have worked very well for nimble short term traders especially for the first 2 days of last week. We chose to hang on for a break of 1.0800 to trade around our position. With the rebound now complete in our opinion, we are looking to re-establish a short position as mentioned above in our medium term strategy around the 1.0925/40 to play the expected downside next week. Our stop loss would be at 1.1020 for this trade as per the strategy above.
USD/JPY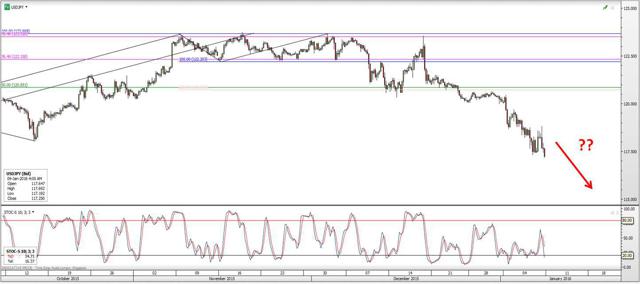 The USDJPY continues to flirt with lower levels with a projection target of 114 for the pair. With the BOJ not hinting at additional stimulus for the foreseeable future, the pair will probably find it difficult to move back above the 120 level. Upside into next week should be capped at 118.30 & 118.80 with more downside expected thereafter. Whilst it is tempting to go short the USDJPY now, the potential threat of a surprise announcement from the BOJ will continue to make any short trade a risky one. Personally, we prefer to stand on the sidelines for this pair for now until some key levels are reached.
Medium- to long-term trading strategy (1-6 months):
Given the reluctance of the BOJ to increase the size of its QE program, we think upside for the USDJPY is limited for now even with the Fed tightening. Moreover, the risks of the S&P 500 (SPY) falling further continues to be a major risk factor for longs in the pair. The recent COT FX futures report also suggests that market participants have now turned long JPY given the break of some key technical levels in the USDJPY. As such, we prefer to wait on the sidelines until a fundamental or technical break shows itself to take a position for the medium to longer term. As mentioned above, our bearish scenario could see the pair move to the 114 level and lower if the downside scenario plays out. We currently think that anything above 110 for the USDJPY would be acceptable to the BOJ at this time.
Short-term trading strategy (Intraday, 1-3 days):
Given the downside momentum for the pair, short term traders could consider selling the pair at the 118.30/80 levels to play the expected further downside move for the pair. Really aggressive short term traders could also consider the 117.90 level if they do not think that 118.30 will be seen. Our view is that next week should see some reprieve in USDJPY selling and a bounce in risk sentiment at minimum. We also think that a messy consolidation lies ahead for this pair below the 120 level which would make trading for the pair incredibly challenging.
AUD/USD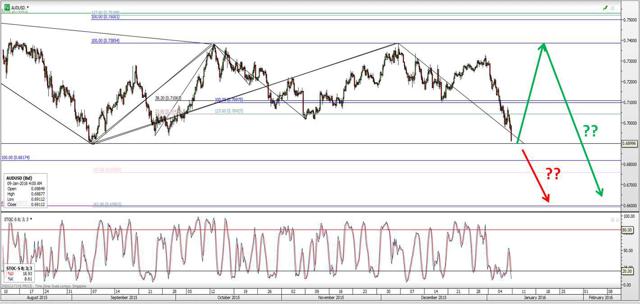 The AUD finally came down as expected to test the 0.7040 level before breaking through it swiftly. The current close below 0.6980 puts the initial bullish scenario in danger. At present, the 0.6900 level will serve as the key last stand level for the AUDUSD. A break of this level will likely lead to more downside momentum to the 0.66-0.68 level as we laid out in our strategy piece here. For now though, we hold the bias that due to the short term oversold conditions, the pair should bounce from here to test 0.7380 before continuing the larger decline scenario. Whilst 0.7500/0.7530 is still possible, we do not view it as likely at this point given recent developments.
Medium- to long-term trading strategy (1-6 months):
The medium and long term bias remains to the downside for this pair. However, current oversold conditions on the long-term time frames would make us nervous sellers at current levels for long-term short positions. Given the bearishness in the current wave down our long term sell target has now been revised down to the 0.7380 level where we will take a longer term short position. If the 0.6900 level breaks convincingly before this move up to 0.7380 occurs, we will re-assess the strategy as it would likely mean that scenario 3 in our 2016 outlook is playing out. Our eventual long-term target for the AUD continues to be at the 0.6000-0.6600 zone, which we think will be seen over the next year or two.
Short-term trading strategy (Intraday, 1-3 days):
"Given that our primary scenario expects one more downside move, short term sell orders can be considered around the 0.7320 level, with a stop loss at 0.7390 for a play on the 0.7040 level."
Following the general direction of the above short term strategy from the previous week would have brought some pretty decent returns with the move to below 0.7040 a lot more bearish than we expected. However, given the short term oversold conditions we would consider squaring any shorts ahead of 0.6900 waiting for a pullback to decide the next move. Aggressive traders can probably go long at the 0.6900 figure with a tight stop at 0.6850 for a play on the upper 0.70s or 0.7100 figure.
USD/CAD
The USDCAD finally moved up as expected deeper into our sell-zone although we are still below the 1.43-1.44 target region to execute a sell order. We view the Canadian employment numbers as a positive and one of the possible early signs of a turnaround in the economy. With oil at our stipulated technical bottoming zone, the potential end of the CAD's decline could be near.
Medium- to long-term trading strategy (1-6 months):
We continue to look for a long term interim top in CAD at the 1.4300-1.4400 region to sell short with a potential longer term target at the 1.2000-1.2130 region. However, our first target is found at the 1.2900 level. This suits our longer term view that oil is potentially at a technical bottom which should lead to a bounce that would be bullish for the Canadian Dollar.
Short-term trading strategy (Intraday, 1-3 days):
Unfortunately, the USDCAD missed our ideal level to go long by just a few pips. Nonetheless, we do hope that some still managed to catch this move up in the USDCAD. Whilst we think there is still more upside in the USDCAD, we think the risk-reward even for a short term long position on the USDCAD is not really worth taking at this time, unless you are hoping to scalp the market within an intraday time frame. Right now, we continue to look for sell USDCAD opportunities in line with our medium term view near our 1.43/44 target sell zone. Aggressive traders may consider layering into sell positions from 1.4230 onwards.
WTI OIL (USO)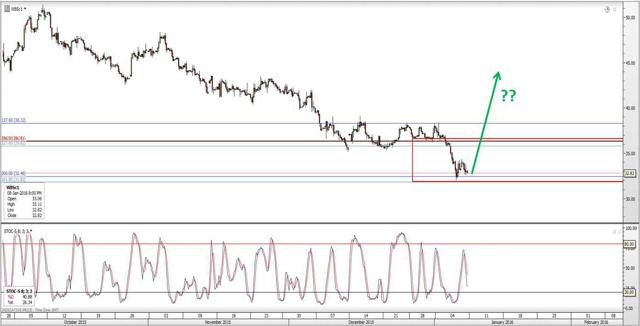 *Note on our price chart:
Before we dive into the WTI technical analysis, we have decided to use the WTI continuous futures price as a chart instead of the original spot price posted in our article. This price will match the nearest dated WTI Crude futures contract which will switch automatically once the contract settles moving on to track the next nearest dated futures contract. We will also be only analyzing the technical aspect of the WTI price, given the fundamental aspect of WTI oil is well covered by many subject matter experts in the energy commodities section. At this time, the nearest dated futures contract being tracked by the above price chart is the Feb. 2016 contract.
WTI Oil moved down to our target zone as expected in the previous week. It's now make or break time for oil, but we do find the drop in EIA crude oil inventory build encouraging despite the build in distillates and gasoline. It will be interesting to see how oil behaves from here, but do note that the bounce may take some time to materialize, with prices potentially going another $1-$2 lower from current levels before buying interest really picks up. The catalyst for putting in the bottom is still unknown at this time, though the degenerating situation in the Middle East between Saudi Arabia and Iran could be the trigger.
Medium- to long-term trading strategy (1-6 months):
WTI is at the 31.80-32.40 bottoming zone. A bounce from this level could go into the high $60s with a potential to reach as high as $80 before consolidating or coming off. With long term technical indicators moving into oversold territory, this bullish possibility should materialize in the not so distant future. Given that the bounce may take some time to materialize from this point until a catalyst is seen, we prefer to use oil ETFs like USO or longer dated WTI futures to go long crude at these levels. Whilst the USO and other oil ETFs are far from perfect, it will suffice for us given the hassle of rolling over WTI futures contracts.
Short-term trading strategy (Intraday, 1-3 days):
Our short term strategy does not differ from our medium to long term strategy at this point, with current levels being an opportunity in our opinion to go long WTI crude oil futures or through the use of an oil ETF like USO.
Thank you for your time, and we hope that you have enjoyed this weekly strategy piece. We look forward to your constructive feedback.
RISK DISCLOSURE:
HIGH RISK WARNING: Foreign exchange, Futures and ETF trading, carries a high level of risk that may not be suitable for all investors. Leverage creates additional risk and loss exposure. Before you decide to trade any instrument, carefully consider your investment objectives, experience level, and risk tolerance. You could lose some or all of your initial investment; do not invest money that you cannot afford to lose. Educate yourself on the risks associated with trading, and seek advice from an independent financial or tax advisor if you have any questions.
ADVISORY WARNING: THEMARKETJOURNAL provides references and links to selected blogs and other sources of economic and market information as an educational or informational service to its clients and prospects and does not endorse the opinions or recommendations of the blogs or other sources of information. Clients and prospects are advised to carefully consider the opinions and analysis offered in the blogs or other information sources in the context of the client or prospect's individual analysis and decision making. None of the blogs or other sources of information is to be considered as constituting a track record. Past performance is no guarantee of future results and THEMARKETJOURNAL specifically advises clients and prospects to carefully review all claims and representations made by advisors, bloggers, money managers and system vendors before investing any funds or opening an account with any brokerages or dealers. Any news, opinions, research, data, or other information contained within this article and our website is provided as general market commentary and does not constitute investment or trading advice.
THEMARKETJOURNAL expressly disclaims any liability for any lost principal or profits without limitation which may arise directly or indirectly from the use of or reliance on such information. As with all such advisory services, past results are never a guarantee of future results.
Disclosure: I am/we are long XIV.
I wrote this article myself, and it expresses my own opinions. I am not receiving compensation for it (other than from Seeking Alpha). I have no business relationship with any company whose stock is mentioned in this article.