When the monthly jobs numbers come out, I never just look at the number of jobs added. I look at both the number of jobs as well as the average weekly hours worked to get a more complete picture of the job market.
I take the total non-farm employees figure and multiply that by the average weekly hours of all private sector employees to come up with an aggregate number of weekly hours worked. I then do a year over year percent change comparison.
This gives a more accurate reflection of the health of the labor market.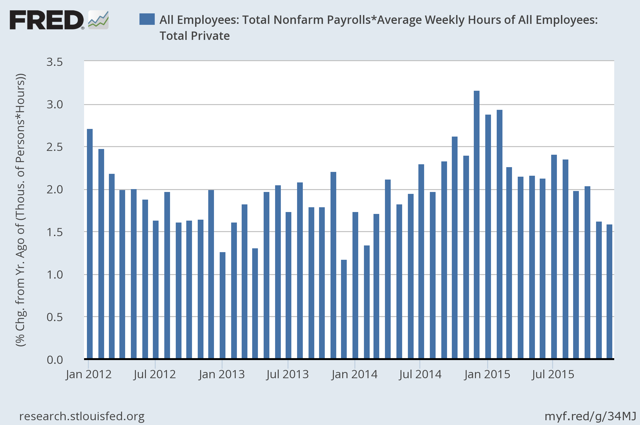 December of 2015 came in at 1.59%, which was the lowest rate since February of 2014 or 22 months ago. More telling, throughout 2015, the rate of change has been declining and that trend has not budged.
Post the last recession, average weekly hours were as low as 33.7 hours per week and they moved up to the 34.5 to 34.6 hour range. That appears to be the peak for weekly hours in the current US economy.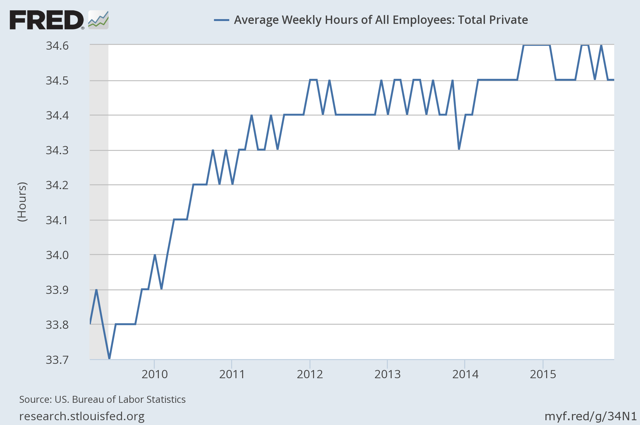 With that said, going forward, the year over year growth rates in aggregate work will prove to be weak without substantial job gains.
What makes the last 2 jobs reports less impressive is that average weekly hours have been .1 less that the previous years month.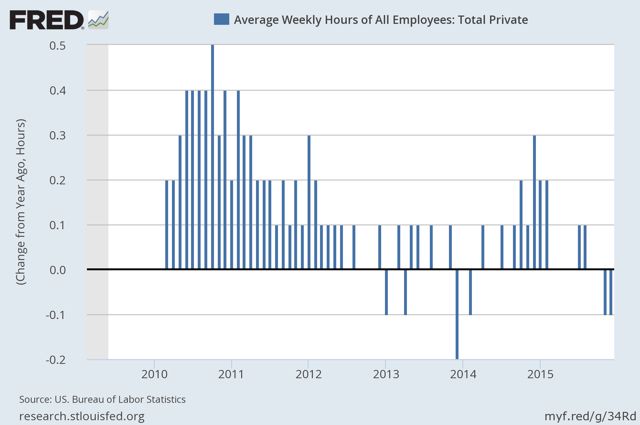 Atlanta Fed Downgrades 4th Quarter GDP Estimate
The Atlanta Fed earlier today forecasted that for the 4th quarter, GDP would grow just 0.8% on account of a weak wholesale trade report. There is a blatant slowdown in growth forecasts.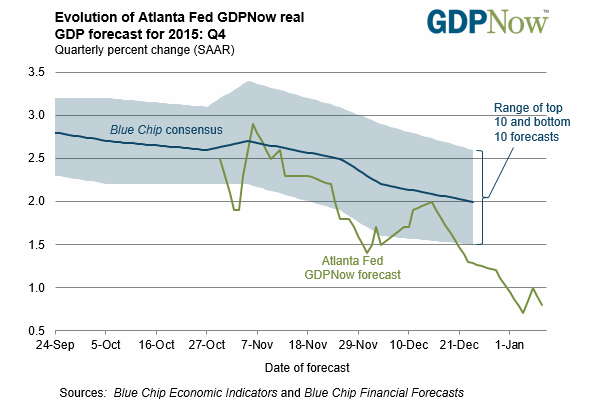 Productivity Not Helping
Since 2011, the US productivity rate, measured by output per hour, has seen very little improvement. In the first 3 quarters of 2015, the year over year growth has been just .63%, .79% and .57% respectively.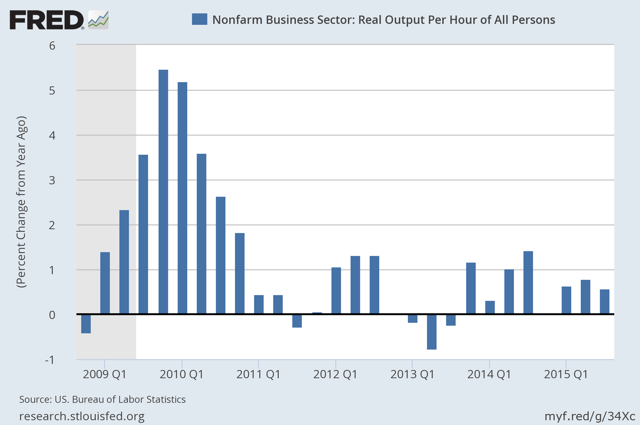 So there will be very little help coming from productivity for economic growth.
For 2016, I would expect productivity to remain very low and for growth to come mostly from aggregate hours worked. Aggregate hours worked may also prove to be very low on account of low labor force participation, baby boomers retiring, and an already very low unemployment rate of just 5%.
2016 may prove to be a year of very sluggish growth in the US.
Stocks Selling Off Post Jobs Report
Stocks sold off dramatically post this report, that some say was a strong jobs report that has lessened the prospects for a recession.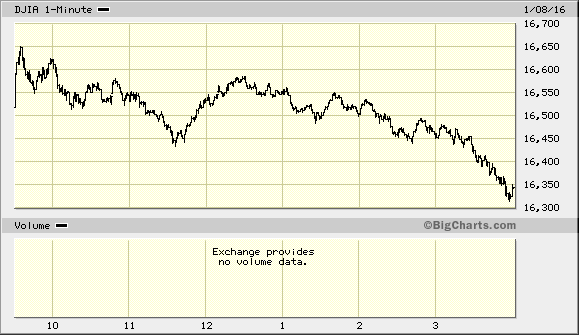 Perhaps stocks saw what I saw today, a not so strong jobs number.
Disclosure: I/we have no positions in any stocks mentioned, and no plans to initiate any positions within the next 72 hours.
I wrote this article myself, and it expresses my own opinions. I am not receiving compensation for it (other than from Seeking Alpha). I have no business relationship with any company whose stock is mentioned in this article.
Additional disclosure: I am long DIA and SPY puts at the time of this writing.