Following Taco Bell's recent Super Bowl teaser causing a bit of a stir in the media, we decided to take a closer look at the crestfallen Yum! Brands, Inc. (NYSE:YUM) which currently sits a massive 29% off its recent high of $95.90.

Yum Brands operates three of the most well-known brands in the food industry. Through KFC, Pizza Hut and Taco Bell, it develops, operates, franchises and licenses a system of restaurants which prepare, package and sell a menu of competitively priced food items.
The heavily redacted press release was a clever marketing ploy by Deutsch LA (NYSE:IPG) and caused quite a stir on social media. Whatever the new menu item is, we hope that it will be a boost to the slowing sales that are shown below.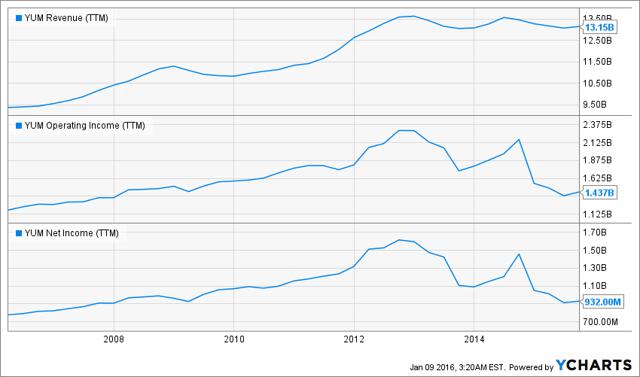 (Source: Ycharts)
Extremely disappointing results in China and India in the first three quarters of fiscal 2015 sent the shares tumbling. These two markets are seen as key to the future growth of the company and to see them struggle certainly made us and the market very uneasy. The slow-down seen at Pizza Hut was especially worrying but the company has made steps to turn this around rapidly by introducing cheaper options during the week where they were being hurt most. McDonald's introduced a $2.50 meal deal which is thought to have been a big reason behind their turnaround.
The market was expecting a 9% increase in Q3 comps year over year in China, but the company delivered just 2%. We don't feel the company has yet fully recovered from the damage caused by the China food scandal that engulfed both it and McDonald's (NYSE:MCD).
It takes time and a large marketing budget to move past incidents like that and rebuild the trust of consumers. We feel sure the company will get there eventually, and have no doubt that once it does the revenue trajectory will be back pointing in the right direction. As McDonald's has managed to turnaround its fortune in China in the last quarter, we have high hopes that Yum! may not be far behind.
Which is good news for shareholders ahead of the planned split into two independent publicly-traded companies. We're not going to go a lot into detail about the split, but we're very happy with it and see a lot of positives in the separation.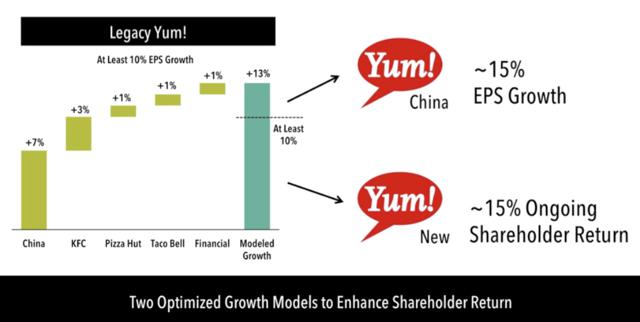 (Source: Company Presentation)
By splitting up the company it believes it can grow earnings by 15% in Yum! China, whilst providing shareholders with a 15% return with Yum! New. The way it intends to return 15% to shareholders is demonstrated below and all looks very achievable in our opinion.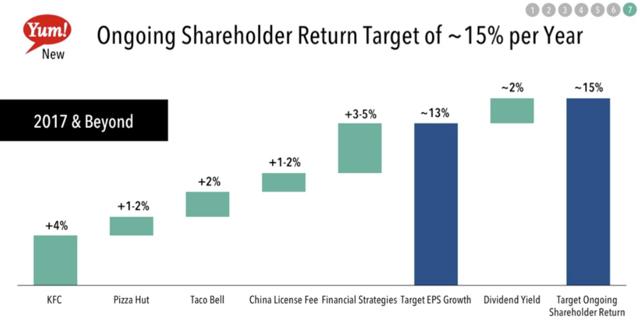 (Source: Company Presentation)
The key for fiscal 2016 is great performance in China. If the company can achieve this, we could have investors scrambling for a piece of the Yum! China action, which will only drive the share price higher.
As part of the split the company has plans to return $6.2 billion to shareholders through repurchases or a special dividend. The company already yields a 2.70% dividend that has been growing by an average of almost 15% each year, so there is significant money being returned to shareholders.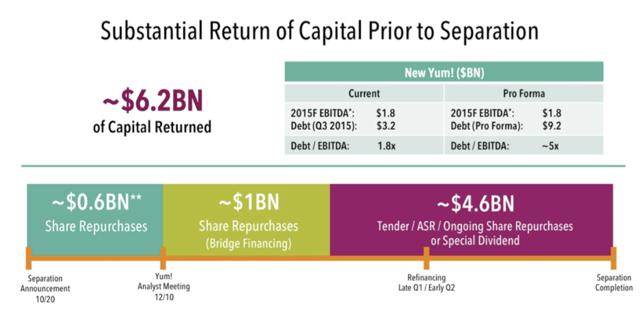 (Source: Company Presentation)
China is an important part of the company, but we mustn't neglect domestic operations, nor that of the rest of the world. We were pleased to see overall same-store sales grow by 2% in the US in Q3, with same-store transaction growth of 3%. An increase in advertising as part of the U.S. turnaround program has hopefully been paying off here. We have hopes that this is more than a one-off, or else shareholders may continue to remain skeptical and this could lead to the share price being held down. The rest of the world was mixed by comparison, with positives being offset by the negatives.
Looking ahead to 2016 we feel an investment in Yum! today is a bet on the China segment in fiscal 2016. We are estimating earnings growth of 13% in fiscal 2016, but a large portion of that is being derived from the China segment. If the China segment fails to fire, then the earnings growth would be heavily restricted.
Our financial model estimates earnings per share of $3.56 on revenue of $13.75 billion for fiscal 2016. Our two-stage valuation model gives us a one-year price target of $79.65, and is constructed through a weighted-average of the results of the future share price at a price to earnings ratio of 23 and a price to sales ratio of 2.5.
As the valuation is heavily influenced by a presumed increase of performance in China in fiscal 2016, we are hesitant to take a position until we have seen proof of a change of fortunes there. We believe the Q4 results that are expected at the start of February will give us a clear indication of the direction fiscal 2016 will take and whether we should open a position. Until then, we're going to resist this tempting investment.
Disclosure: I/we have no positions in any stocks mentioned, and no plans to initiate any positions within the next 72 hours.
I wrote this article myself, and it expresses my own opinions. I am not receiving compensation for it (other than from Seeking Alpha). I have no business relationship with any company whose stock is mentioned in this article.