To set the overall context for this article, it is important to note that Citigroup (NYSE:C) is currently trading at ~ $45 billion discount to its tangible book value (TBV). Given that year-to-date, Citigroup generated RoTCE of approximately 10% - the deep discount suggests the market is pricing in a severely adverse scenario impacting its operations.
Citigroup is widely viewed as an emerging markets (EM) play - this is only correct to a certain extent. The below chart from Citi's 3Q'2015 10-Q illustrates Citi's credit exposures: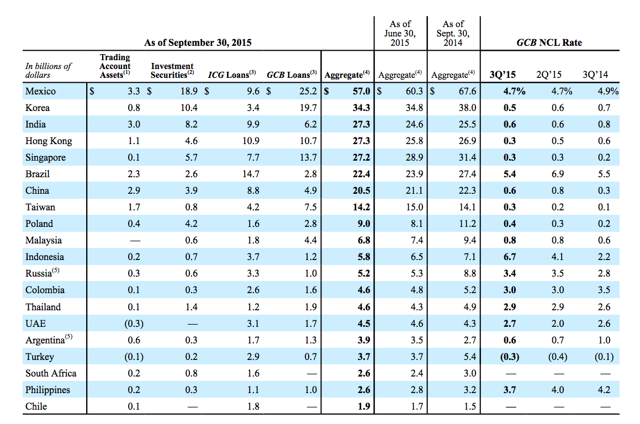 In the Global Consumer Bank (GCB), the larger exposures are mostly to developed EM countries (except Mexico). Korea, Hong Kong and Singapore are the largest consumer exposures in Asia and these historically exhibit low loan losses. China directly is also relatively small with less than $5 billion of consumer loan exposures. Furthermore, the target client segments are typically the affluent and emerging affluent - as opposed to mass market.
As such, all in all, this is not a classic EM risk exposure or a particularly risky business model - I am not sure the market is recognizing this point currently.
What about the Corporate portfolio?
The below extracts are similarly taken from the recent 10-Q:

As can be seen from above, the exposure to Asia and Latin America combined is less than 20 percent of total portfolio. Importantly, the exposures are largely to Western multi-nationals with local subsidiaries as well large locally-based MNCs (known as "EM Champions) - in other words, Citigroup's target clients in EM are not typically riskier local corporates.
Citi's corporate exposures by credit ratings are illustrated below: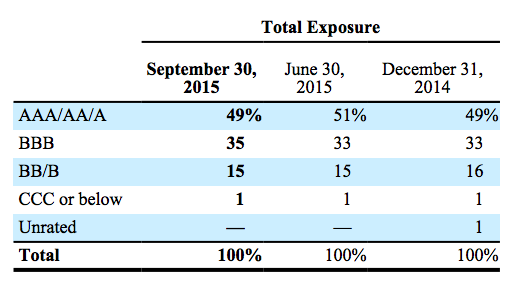 As can be seen from above, it is largely an investment-grade portfolio. The loss rates on these historically has been quite small and somewhat episodic - clearly though, the Energy portfolio has been impacted in recent times, given the collapse of the price of oil.
But what happens if the epicenter of the next crisis is China?
Under the Dodd-Frank Act, Citi is required to conduct a Mid-Cycle-Stress-Test (MCIT) designed by the firm itself and one that incorporates scenarios that reflect its unique vulnerabilities and stresses their business model.
The scenarios Citi ran in July 2015, incorporate a hard landing for China that is ultimately leading to a global recession. The stress period ran from the 1st quarter of 2015 till 2nd quarter of 2017 and incorporate the followings variables: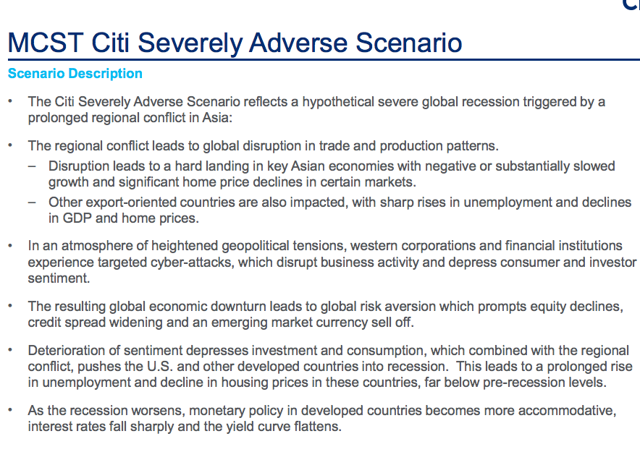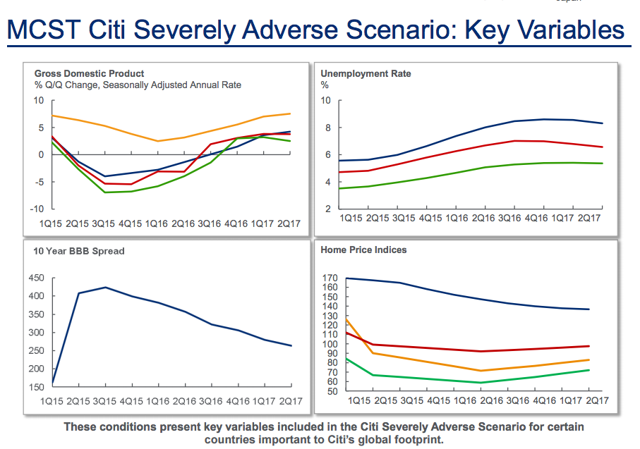 So what would the results be under these scenarios?
The loan losses are as follows: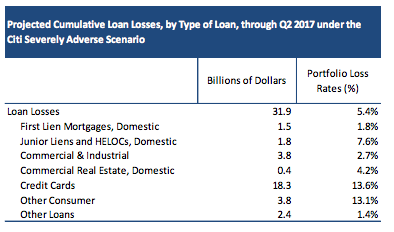 While the total loan losses over the 2 years are a hefty $32 billion, more than half relates to the Credit Cards portfolio (which is predominantly U.S. and Mexico exposures). Additionally, since mid-year Citi has further de-risked by selling OneMain and further reducing riskier U.S. mortgages. As such, I would expect the same tests taken today should result in reduced loan losses by approximately $4 billion.
In addition to actual loan losses, Citi's model includes $8 billion of reserve build as well as $18.5 billion of counterparty default. The latter I would find as highly unlikely - it would effectively, require one of the large dealer banks (e.g. JP Morgan (NYSE:JPM), Bank of America (NYSE:BAC), Deutsche Bank (NYSE:DB), Goldman Sachs (NYSE:GS) and Morgan Stanley (NYSE:MS)) to default on derivative exposures - I think there is a very low probability of one of these banks to default for various reasons.
As such, the financial model for the 2 year stressed period is as follows:
As can be seen from above, the net pre-tax loss over the 2-year global recession period is $34.6 billion. If you exclude the counterparty default, then the total loss is around $12 - $16 billion.
Certainly, not an existential risk.
Should you believe Citi's own models?
I think the answer is an emphatic "yes". Citi's forecasting of stressed scenarios has improved dramatically under the Fed's (somewhat induced) guidance. As Citi's CFO noted in a recent financial conference:
We can control the qualitative aspects of CCAR and that's where we are going to put our emphasis. And that means making sure that CCAR is nothing more than just another output from our normal activities. We use the same models that we used in order to generate our base budgets, that's what we use with CCAR. We think through how will the firm absolutely perform in a stress situation.
So what are the conclusions from above?
Does anyone know with real certainty what will happen with China? My personal view is that a hard landing followed by a deep global and U.S. recession is not the base case.
However, even if the worse happens and a global recession will ensue in 2016 - Citi's 2016 business model is very well-prepared for it.
Its credit and market risk profile (as well as its large peers) has been de-risked on the asset side and is fully protected by a huge capital cushion and plentiful liquidity - on these terms, it should be able to manage through it quite comfortably.
Quite simply, this is not a repeat of 2008.
So why is Mr Market punishing the stock?
It is irrational fear and indiscriminate selling at this stage - Mr Market doesn't like uncertainty. This will probably continue for a while.
More specifically, some of the concerns may be:
Global recession fears (as discussed above) and lack of Fed's ammunition to tackle it
Predictions that the Fed will not be able to raise rates in 2016
Citi's perception as a pure EM risk/play
Oil and commodity collapse decimating Citi's loan books
Perception that this is a repeat of 2008
Final thoughts
If you believe that we are on the verge of a China hard landing and a deep global recession - than you are probably well-advised to stay out of the markets completely.
If the global recession scenario plays out (low probability in my view) - then it will certainly be a live test of the post Dodd-Frank U.S. financial system. I am convinced it will prove to be a bastion of calm (but nonetheless the markets will not necessarily recognize this in the short term).
Otherwise, my base view is that eventually the appropriate policy response will be found - China certainly has plenty of firepower. I wouldn't necessarily bet against it.
In the meantime, I am in the camp that believes that this is a great opportunity to add some stocks at very good values.
I will track closely the data and earnings calls next week - so please stay tuned. As always, if there is demand for it - I will publish my EPS estimate for Citigroup's fourth quarter. And last but not least, please add me as a "real-time follower" if interested in the topic.
I cover U.S., European, Asian, Canadian and Australian large-cap banks, identifying long and short opportunities. If interested in the topic, feel free to add me as a "real-time follower" or message me if interested in a specific banking name.
Disclosure: I am/we are long C.
I wrote this article myself, and it expresses my own opinions. I am not receiving compensation for it (other than from Seeking Alpha). I have no business relationship with any company whose stock is mentioned in this article.