By now, investors have become used to the ups and downs of J.C. Penney's (NYSE:JCP) stock. The retailer's stock has collapsed hard and fast in the fourth quarter, even though the company did actually a really good job in operational terms. Over the last year, though, JCP is down ~12%, but that does not imply that J.C. Penney is a bad investment.
Convincing comp reversal
J.C. Penney won investors over in 2015 since its comparable store sales grew throughout the year, and the retailer made significant progress in getting its costs under control. As a matter of fact, J.C. Penney's rebound in comparable store sales rates was by far the biggest reason to buy the stock in the first place. For instance, in a difficult market and retail environment in which many retailers failed to excite investors, J.C. Penney reported third quarter comps of 6.4%.
It is undeniable that J.C. Penney has turned the ship around...just look at the retailer's comparable store sales growth figures over the last eleven quarters: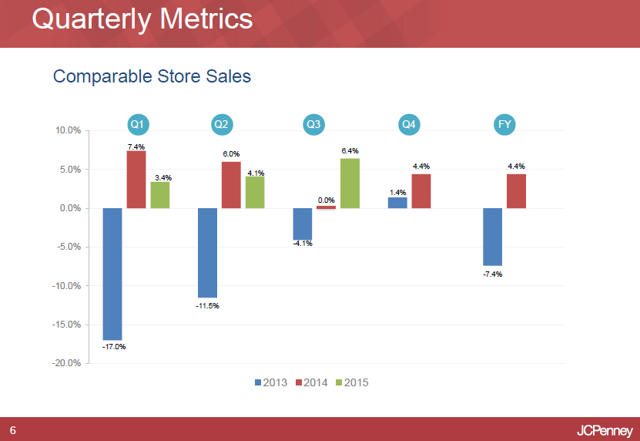 Source: J.C. Penney Investor Presentation
But even though J.C. Penney's stock has not exactly reflected the company's improving operational results last year, there are reasons to be optimistic that 2016 will be a better year for the company, and stock. Why?
For one thing, the U.S. economy is emerging as an anchor of stability in the world. According to last Friday's jobs report from the United States Department of Labor, U.S. employers created a whopping 292,000 (nonfarm) jobs in December. The unemployment rate remained unchanged at 5.0%, which essentially implies full employment. As long as the U.S. economy is roaring ahead and creates jobs and new income sources for its people, retail companies including J.C. Penney will see consumer spending growth.
Secondly, J.C. Penney is likely off to a good start to the year. Why?
Because the retailer reported excellent holiday sales numbers last week that could foreshadow what's coming to J.C. Penney in 2016. According to J.C. Penney's sales update, comparable sales were up almost 4% during the latest holiday period:
PLANO, Texas - (Jan. 7, 2016) - J. C. Penney Company, Inc. today announced that its comparable store sales for the combined nine-week November and December period resulted in a 3.9 percent increase over the same period last year, which equates to a 7.6 percent two-year stack of comparable store sales for the same time period. The Company also reaffirmed its full-year adjusted EBITDA target of $645 million and plans to generate positive free cash flow in fiscal 2015.
The release of J.C. Penney's robust holiday comparable store sales growth rates and the affirmed full-year guidance suggests that J.C. Penney has closed the year on a strong note, which obviously raises hopes that sales and margin momentum is here to stay.
And that's the reason why I am reaffirming my price target of $10 for the retailer. J.C. Penney's stock has fallen too fast and too hard in the fourth quarter, which interestingly leads to a compelling investment opportunity now.
J.C. Penney's comparable stores sales and margin growth trends are intact and have a good shot at improving even further in 2016 as long as the gift of consumer spending growth keeps giving. A $10 price target implies ~39% upside for the stock based on Friday's closing price of $7.17.
Your Takeaway
J.C. Penney's holiday sales shine the light on a successful year in which its turnaround efforts yielded substantial results, both in terms of sales growth and gross margin expansion. As far as I am concerned, J.C. Penney's stock has the potential to reclaim the $10 mark on the back of positive consumer spending news and strong fourth quarter results. Buy for capital appreciation.
Disclosure: I am/we are long JCP.
I wrote this article myself, and it expresses my own opinions. I am not receiving compensation for it (other than from Seeking Alpha). I have no business relationship with any company whose stock is mentioned in this article.