Overview
In this series of articles, I will be taking a look at various industry sectors and selecting what I believe will be outperforming stocks for 2016. For the first article, I reviewed the Airline industry and made my top picks for this year. In this article, I will review the following Food Products stocks:
Step 1
The first step I took to narrow down the list of possible options was to look at the earnings over the past five years of these stocks within the industry sector. I removed any stock that had negative or flat (less than 2%) earnings growth during this time. These stocks included:
Archer-Daniels Midland
Boulder Brands
Bunge
Campbell Soup
ConAgra Foods
Darling Ingredients
Dean Foods
General Mills
Hershey
JM Smucker
Kellogg
Kraft Heinz
Post Holdings
Seaboard
SunOpta
Treehouse Foods
Step 2
I then took the list of remaining stocks and checked the revenue growth of each over the past two years. I am removing any stocks that had flat revenue growth (less than 2%) or a decline in revenue over the past two years. These stocks include:
Adecoagra
Diamond Foods
Flowers Foods
Ingredion
Keurig Green Mountain
Mead Johnson Nutrition
Mondelez International
Pilgrims Pride
Tootsie Roll Industries
Step 3
My next move was to examine the trailing PEG ratio of each of the remaining stocks. I removed any stock that had a PEG ratio over 1.5 to focus more specifically on fairly valued/undervalued stocks. These stocks included:
Hormel Foods
J&J Snack Foods
McCormick & Co
Whitewave Foods
Step 4
The next set of data I reviewed was the Fundamental and Value Scores for each of the ten remaining stocks. These scores are calculated by YCharts and I have found them to be very useful when researching investment options. More details on each of the scores can be found here and here.
| | Fundamental Score | Value Score |
| --- | --- | --- |
| B&G Foods | 9 | 6 |
| Cal-Maine Foods | 10 | 9 |
| Calavo Growers | 9 | 5 |
| Fresh Del Monte Produce | 7 | 7 |
| Hain Celestial Group | 9 | 3 |
| John B Sanfilippo & Son | 8 | 7 |
| Lancaster Colony | 10 | 5 |
| Pinnacle Foods | 6 | 5 |
| Sanderson Farms | 9 | 8 |
| Snyders-Lance | 10 | 6 |
| Tyson Foods | 9 | 6 |
To determine the best stocks for 2015, I'm only taking into consideration stocks that have combined scores of 15 or higher. Doing this left me with the following remaining stocks:
B&G Foods
Cal-Maine Foods
John B Sanfilippo & Son
Lancaster Colony
Sanderson Farms
Synders-Lance
Tyson Foods
Step 5
My next step was to look at the book value of each company and to remove any stock that has seen a decrease in its book value over the past five years. However, none of the remaining stocks saw a decline in book value during this time period.
Step 6
I then looked at the remaining stocks and only included stocks with earnings yields of 5% or higher in my final analysis. Stocks with earnings yield under 5% included:
B&G Foods
Lancaster Colony
Snyders-Lance
Step 7
My next step was to look closer at each stock remaining that passed all previous criteria and determine whether or not there were any reasons to eliminate them as great stock candidates for 2015. In doing so, I reviewed the financials of each company, the most recent quarterly report transcripts, and searched for any news items that warranted concern.
Cal-Maine Foods
For its last quarter, the company posted a 44% increase in revenue and an increase in earnings per share from $0.76 to $2.26 compared to the same period last year. While the results appear impressive, they were actually below estimates as egg prices dropped significantly compared to previous quarters.
Even though, the stock is tied somewhat to the overall price of eggs, the company maintains a very health balance sheet and continues to drive growth through acquisitions and added capacity. With Cal-Maine's strong presence in both cage free and specialty egg markets, I believe it still has the potential to see positive returns in 2016 as long as egg prices do not fall sharply.
John B Sanfilippo & Son
For its last quarter, the company posted a 10% increase in revenue and an increase in earnings per share from $0.53 to $0.71 compared to the same period last year.
Unlike Cal-Maine, that saw egg prices fall, JBSS did not have the same problem as nut prices increased. Overall sales volume for the quarter was unchanged. However, almond volume was down and is expected to continue to decline for the remainder of 2016 as prices are expected to remain high.
While I believe JBSS remains a strong long term investment opportunity, I believe that price pressure for almonds, cashews, and pistachios will limit revenue increases for the remainder of 2016. And while, Cal-Maine has a similar risk associated with egg prices, I feel that it is currently more attractively priced considering both the possible risks and growth potential of both stocks.
Sanderson Farms
For its last quarter, the company posted a 10.7% decline in revenue and a drop in earnings per share from $4.04 to $1.22 compared to the same period last year. With its new Palestine complex getting ramped up to full production along with continued construction of its St Pauls complex, Sanderson Farms has plenty of growth potential ahead.
With a healthy balance sheet and very little debt, I feel that the biggest risk to Sanderson Farms is lower chicken prices. With prices already low, I don't believe there will be any further deterioration in price and there could possibly even be an increase in price throughout 2016, which would bolster Sanderson's earnings as it already has a considerable amount of its costs already locked in.
Tyson Foods
For its last quarter, the company posted a 4.1% increase in revenue and a drop in earnings per share from $0.87 to $0.83 compared to the same period last year. While Tyson Foods has had to operating in a difficult market, the companies strong product portfolio along with its improving margins, have helped it continue to see growth.
The company expects earnings per share for 2016 to be in the $3.50 to $3.65 range, which would be a significant increase from 2015's $3.15 value.
I believe that the company's new products, strong brands, and improving synergies related to the Tyson/Hillshire merger make this goal highly attainable. I also believe that Tyson has significant price appreciation potential in 2016 if it can meet its earnings goals.
Conclusion
Out of this group of stocks, my top picks are Cal-Maine Foods, Sanderson Farms, and Tyson Foods. I believe that all three stocks are currently attractively priced, and I feel that each of them all have the potential to see significant returns in 2016.
Cal-Maine Foods was easily the best performer of the three last year, gaining nearly 80%, while Sanderson Farms performed the worst, seeing a loss of nearly 30% last year.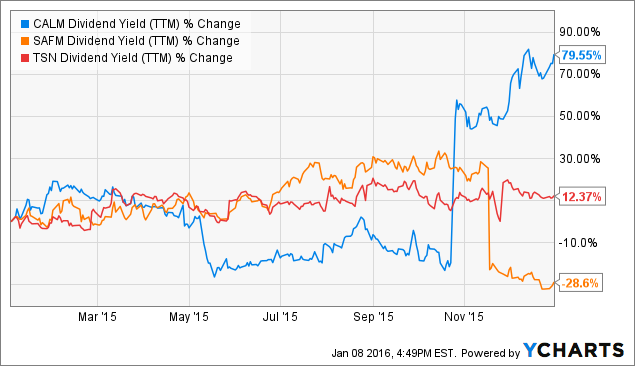 CALM Dividend Yield (NYSE:TTM) data by YCharts
This chart shows why these types of stocks (stocks linked closely to commodities need to be monitored closely). You can see that Sanderson Farms was actually having a great year, up until November when its stock price took a big hit. Nearly the complete opposite happened to Cal-Maine. Even though I think these three stocks have strong potential in 2016, the cost of the commodities associated with these stocks (chicken, eggs, beef, pork, etc.) should be monitored closely to determine whether short-term gains or losses will be seen.
As always, I suggest individual investors perform their own research before making any investment decisions.
Disclosure: I/we have no positions in any stocks mentioned, and no plans to initiate any positions within the next 72 hours.
I wrote this article myself, and it expresses my own opinions. I am not receiving compensation for it (other than from Seeking Alpha). I have no business relationship with any company whose stock is mentioned in this article.