General Motor's (NYSE:GM) unveiling of the final production version of the all-electric Chevrolet Bolt caused quite the stir, but also a debate on to what extent the Bolt will compete directly against the Tesla (NASDAQ:TSLA) Model 3. It is at the heart of the Tesla investment case.
The issues that are debated most intensely are:
Design
The argument goes something like this: Even though nobody outside the company has seen it yet, the Tesla Model 3 will be a much-better looking car than the Chevrolet Bolt, and so therefore it will not lose a significant number of sales to the Bolt.
Price
The argument goes something like this: Seeing as the Tesla Model 3 and the Chevrolet Bolt will be priced around the same, once the Tesla Model 3 becomes available it will take most sales not only because it looks better, but because it will offer free charging and a variety of other features not available on the Bolt.
Design trade-offs and impact on cost
Let's start with design, and let's assume that all the hopes and aspirations among the fans are accurate, with respect to what the Model 3 will look like once it is revealed this March. There is no shortage of such a "wish list" available to view simply by searching for "Tesla Model 3 pictures." This is one of the most recent examples, and it's an artist's rendering of an exceptionally beautiful sedan.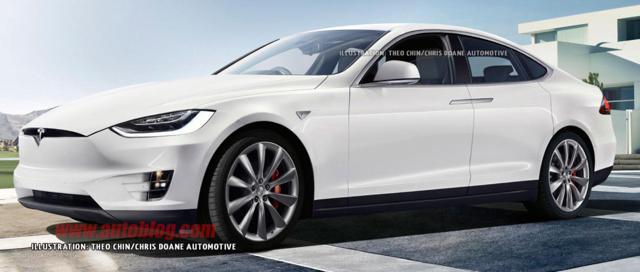 I asked a famous car designer, who works for one of the largest automakers in the world, to comment on Tesla design and what he thinks about it. He pointed out that a combination of four things is a designer's dream and has the ability to make any car look better:
Making the car longer.

Making the car wider.

Making the car lower.

Using larger wheels.
That pretty much describes the Tesla Model S - long, wide, low and with huge 21-inch wheels. It looks great. The idea is that the Model 3 will look like something similar, but perhaps as much as 20% smaller in at least some of those measurements. And that's how you end up with something that looks like the rendering I referenced above.
When you compare that with the real-world Chevrolet Bolt, as it was shown to the world on January 6, I think most people would agree that the third-party artist's rendering of the Tesla Model 3 looks better than a picture of the Bolt. Why? Well, see those reasons above: The Tesla is longer, wider, lower and has bigger wheels. It's the classic "How to make a car look better" formula.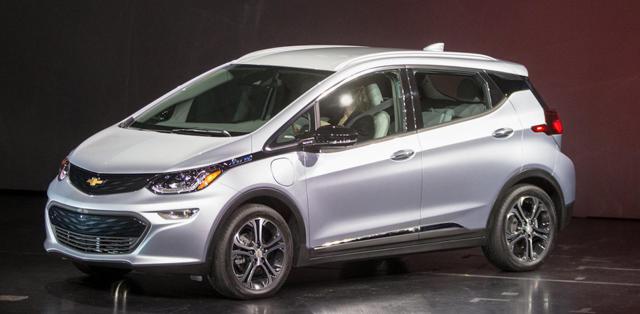 Source: Chevrolet
This begs the question: If this is the formula for how to make a car look better, why aren't all cars longer, lower, wider and with bigger wheels? I mean, forget about the Chevrolet Bolt. I mean ANY car.
The first reason automakers design "econo-boxes" is that they are less expensive to manufacture, using less raw materials and requiring less floor space on the assembly line and in transit. They are also less expensive to own, seeing as a narrower and shorter car has a lower probability of getting damaged at a curb or by a car in the front/back when you're trying to park it. In addition, bigger wheels cost more - both when new and to replace.
The other reason is practicality. Indeed, why do people buy ANY so-called econo-boxes if another formula for automotive design geometry looks so much better? A taller car is easier to get in and out of, and by making the car shorter and narrower, it becomes easier to park. If the wheels are smaller, the car is cheaper to buy and the tires cheaper to replace.
In other words, the Chevrolet Bolt is the exact opposite of the Tesla design formula:
Shorter.

Narrower.

Taller.

Smaller wheels.
You can think of these two different formulas as the opposite kinds of shoes. A woman can wear a pair of Nike (NYSE:NKE) running shoes, or stiletto heels. One is more practical and less expensive (Nike running shoes and Chevrolet Bolt), and the other is beautiful but more expensive (stiletto heels and Tesla).
This brings us to price - or rather, cost. Both GM and Tesla can set whatever price they want - at least for a while - but that doesn't mean it reflects actual cost of producing and supporting these cars.
Let's say, for the sake of argument, that GM and Tesla were to make the same kind of car - same size/design, same feature content. Which one would have the lower cost? While there is more than one variable to be sure, let me give you a hint: GM has the purchasing power for 200 times Tesla's annual volume (10 million vehicles versus 50,000). GM already has assembly lines set up, and therefore requires less incremental investment to fire up the production.
But these two products (Bolt and Model 3) aren't - or rather, won't be - the same kind of design, the Tesla bulls claim. The Tesla will be this longer, wider, lower car with bigger wheels.
Well, we have just established that the cost of the non-econo-box car will be higher than the econo-box, all other things equal. That should mean that GM has a cost advantage for two reasons: (1) Volume economics and (2) Fundamental design choices.
The conclusion from this analysis is that the Tesla bulls are at least partially right about their argument that the Tesla Model 3 will not compete exactly with the Chevrolet Bolt. Basically, if you want that longer, wider, lower car with bigger wheels, you will be drawn to the presumed Tesla Model 3 instead of the Bolt.
With that in mind, how could the presumed prices of these two cars reflect cost? The Tesla is promised for $35,000, whereas the Chevy Bolt is promised for $37,500 (or less). We have just established that the Bolt is inherently cheaper to manufacture.
Of course, you have to adjust the $37,500 price by the dealer discount and other incentive spend. Kelley Blue Book estimates that the average industry incentive spend is 8.8% of revenue, so that's $37,500 minus $3,300 = $34,200 right there. Generally, the incentive spend on electric cars is higher. I walked into a BMW (BAMXY) dealer a month ago and the opening discount offer on a BMW i3 exceeded 16%.
If GM's costs are lower than Tesla's - something in this pricing picture is simply wrong. One of these things must therefore be true:
GM is making an exceptionally large amount of money on the Bolt. Highly unlikely!

Tesla will be losing a fortune on each car sold near $35,000.

GM will be willing or able to lower its price well below $35,000.

Tesla's price will have to be well over $35,000 once it actually starts delivering the car.
Stated differently, and translated into the world of current internal combustion engine (ICE) cars, Tesla appears to be promising that they will deliver the equivalent of a BMW 328 at the price of a Kia Soul - including free unlimited electric charging for life. You can judge for yourself whether you think that's possible or realistic.
But the story does not end there. Clearly there is a demand for econo-boxes, for otherwise they would never sell. And not all econo-boxes look equally "cheap." Some look better than others.
This is where we get into how the electric vehicle (EV) market behaves a bit differently, at least in one important aspect, compared to the regular internal combustion engine car market. In the ICE market, range just is not an issue. Whether your car has 300 or 700 miles of range doesn't make a big difference, as you can just stop on almost any street corner in America and refill in less than five minutes.
In the pure battery EV market (BEV) market, things are a little different. So far, there has been only one EV with over 110 miles of range, and that's the Tesla Model S with over 240 miles of range. That's a huge jump from all the other BEV offerings.
At this juncture of the market, this void between ca 80-110 miles of range (Nissan (OTCPK:NSANY) LEAF at 107 miles being the prime example) and the base Tesla at 240 is simply so wide that the market is simply crying out for more range, period - whether in econo-box format or in "expensive sedan" format.
Why the electric car market is like the hard disk drive (HDD) market
In this dimension, at this stage of the market, the EV market actually has one similarity with the HDD market as it existed for most of the 1990s and 2000s before people started moving content to the cloud. It was all about buying the largest capacity HDD, at the lowest price, as soon as possible. Every other consideration was secondary.
The equivalent metric in the BEV market today is that the buyer wants the largest battery (measured as kWh capacity or range, in turn dependent on body size/style), at the lowest price (kWh or range per dollar), as soon as possible - the latter being the time-to-market consideration. In this context, the BEV buyer may initially be less particular about the kind of body style - econo-box versus luxury sedan - than what constitutes the market segmentation in the mature "regular" car market. And it is for this reason, that many presumptive Tesla Model 3 buyers will consider the Chevy Bolt - especially if they can get it in their driveway one or two years earlier.
Scenario: How the Chevy Bolt versus Tesla Model 3 competitive race could shape up
We are on the eve of hearing more technical details of the Chevy Bolt at the Detroit Auto Show Monday. By the end of March 2016 we will see some sort of concept, prototype or rendering of the Tesla Model 3 - and Tesla says it will start taking deposits at that time.
If Tesla holds to the $35,000 and doesn't disclose any "bait and switch" caveats with this price, it is likely to be a positive event for Tesla stock. One can imagine Tesla getting over 100,000 deposits almost instantaneously. Even though most of us have expected that to happen for years now, you know how it goes: It will turn out to be a big media story, and all other things equal I think it has a high probability of being positive for the stock.
But then, after March 2016, there will be a wait. The Tesla Model 3 doesn't arrive until late 2017 at best. If the Model X introduction is any indication, people who placed their deposits on Day One, February 9, 2012, will have waited four years to get their cars. For the Model 3, that means "late 2017" could easily turn into late 2018 or even late 2019.
In the meantime, if GM actually delivers the Chevy Bolt in late 2016 as promised - and that looks exceptionally likely right now - you will have "a bird in the hand versus a bird in the bush." If you have a deposit on the Model 3, you will surely check out the Bolt right away, and perhaps test drive it.
And when you check it out, maybe, just maybe, you find that the Chevy Bolt:
Looks better than you thought.

Drives just as smooth as your Tesla Model S.

Has as much passenger interior space as your Tesla Model S.

Has features that your Tesla Model S doesn't have, such as Android Auto and Apple CarPlay.

Fits shorter parking spaces, unlike a longer car such as Tesla Model S.
Then, well, perhaps the buyer may think twice about holding out for an uncertain Tesla Model 3. If that turns out to be the case, the initial March 2016 euphoria for the Model 3 will turn into doubt a few months later when the Chevy Bolt is delivered and gets great reviews from neighbors, friends, colleagues and relatives.
At that point, the media narrative may have become "The Chevy Bolt delivers on 200 miles of range, performs better than anyone thought, looks better than we initially thought, and it's available for delivery today." But that's months after the March 2016 Tesla Model 3 reveal. Tesla stock may do just fine starting in March 2016, for a few months. Designer stiletto heels sell well, especially if you promise that you will sell them for less than a Nike running shoe.
Disclosure: I am/we are short TSLA.
I wrote this article myself, and it expresses my own opinions. I am not receiving compensation for it (other than from Seeking Alpha). I have no business relationship with any company whose stock is mentioned in this article.
Additional disclosure: At the time of submitting this article for publication, the author was short TSLA, and long AAPL, GOOG and GOOGL. However, positions can change at any time. The author regularly attends press conferences, new vehicle introductions and equivalent, hosted by General Motors and most major automakers.