This is a follow-up article to my original AT&T (NYSE:T) article dated June 4, 2015, when AT&T stock was trading at $35.27. Since that article, based on the December 1, 2015, closing price, AT&T stock has fallen 4.2%.
So what has changed since my last article? In a nutshell, nothing, which in this case is not good. Revenues are still meandering along despite the DirecTV acquisition, the debt ratio is still increasing, and the percentage of net revenues dedicated to dividend payments is escalating over last year and is now approaching 100%. Let's analyze these issues one at a time.
Revenues
From 2010 through year-end 2014, revenues increased at an average annual rate of 1.64%.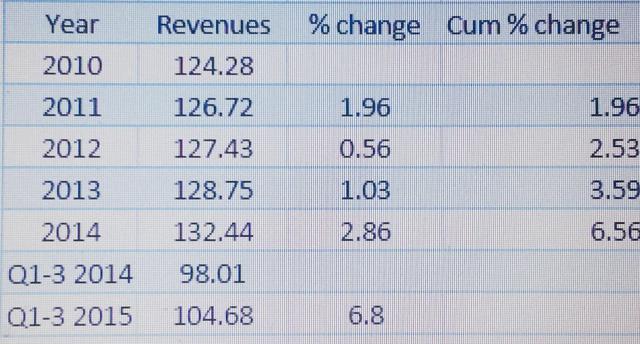 While better for the first nine months of 2015 (6.8%) thanks to the DirecTV acquisition, stiff crosswinds are surfacing due to cable competition from Netflix (NASDAQ:NFLX) and Hulu streaming services, and most importantly, wireless phone price wars.
Debt Ratio
This is the biggest concern. The past five years have not been kind to the AT&T balance sheet. The debt ratio has increased over 37%, has now crossed the psychological 50% barrier and now stands at 50.8%.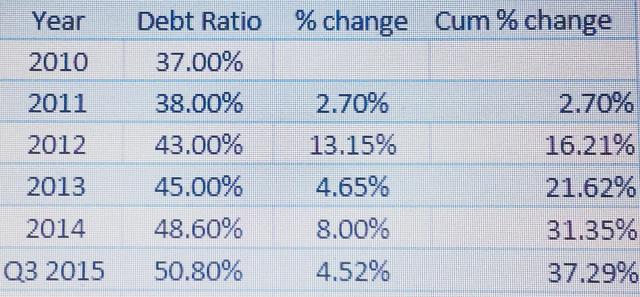 Dividend Payments
For Q3 2015, AT&T had earnings of 50 cents a share. The dividend payout of 47 cents represented a 94% payout. This represents an increase from the Q3 2014 payout ratio of 77%.
For the first nine months of 2015, the dividend payout was 82.5% of earnings which was an increase from the 69% payout in the first nine months of 2014.
I need to mention that management said free cash flow was $5.5 billion this quarter, so there are no immediate liquidity concerns. Management is forecasting a 70% dividend payout this year. How? Only time will tell.
Conclusion
While it may be argued that this constant year-after-year increase in the debt ratio is the result of capital expenditures related to network expansion and acquisitions, it needs to be noted that at some point debt needs to be repaid. Given the relatively flat revenues and net income being used for dividend payments, there is little wiggle room left for accumulated earnings to pay down the debt. Furthermore, with wireless lines and revenues being squeezed and actually witnessing declines, there are ominous storm clouds on the horizon. Despite AT&T being a Wall Street favorite, we are taking a very cautious stance on its 2016 stock performance. Given the factors stated above, it's hard to expect AT&T to outperform the market in 2016.
Disclaimer: The above comments are my opinion. Before investing make sure to perform your own research and due diligence. There are no guarantees of maintaining your entire principal investment when investing in the equities markets.
Disclosure: I/we have no positions in any stocks mentioned, and no plans to initiate any positions within the next 72 hours.
I wrote this article myself, and it expresses my own opinions. I am not receiving compensation for it (other than from Seeking Alpha). I have no business relationship with any company whose stock is mentioned in this article.