Last Friday, SA contributor and long-time Apple (NASDAQ:AAPL) bear Michael Blair published an article detailing how $8 a share in EPS was a distinct possibility for the company. Given the recent tidal wave of negative reports about Apple, one might think that Mr. Blair's always bearish stance on the company might be fair. Unfortunately, there were a few key errors in his calculations, and if we assume more reasonable figures for the fiscal year, it seems that his scenario is highly unlikely.
Two key items missed
The first item that was left out was "other income" items. This is basically Apple's interest income minus interest expenses, plus some other small things that aren't directly included in things like gross margins or operating expenses. While Apple has taken on a bit of debt in recent years, the company's cash pile has also increased. As detailed in the most recent 10-K filing, the company generated 1.49% on its cash and equivalents in the most recent fiscal year, and that was up from 1.11% in the prior year period. With the Federal Reserve raising rates in December 2015 plus the possibility of more rate hikes in 2016, that percentage could likely increase.
In fiscal 2015, Apple's other income items came to a positive ("gain") of $1.285 billion. Given what I said above, I think even in a worst case scenario we could see $1.4 billion this fiscal year. Even holding all of his other assumptions constant, the increased income here would add about 17 cents of EPS to his total. That's a 2% boost to his bottom line number right there.
Another major item that doesn't seem to be included is the company's buyback. It seemed that Mr. Blair's EPS figure was based on the most recent quarterly share count. As we know, Apple continues to buy back billions of stock per quarter. In fact, the recent decline in share price could allow the company to buy back more shares for a given dollar amount. In fiscal 2015, Apple's open market repurchases came at an average of $117.69 per share and the accelerated program was over $124.
With Apple shares now below $100, even a smaller buyback this fiscal year will still improve the share count quite nicely. Again, holding all else equal, the yearly share count will most likely be in the 5.4 to 5.6 billion range, providing somewhere between 10 and 40 cents of an EPS boost. Add in the other income benefit mentioned above and this could put Apple EPS up to around $8.50 a share, and I haven't even discussed the rest of his assumptions.
Examining some assumptions
While we're at it, we probably should examine some of the assumptions made. Let's assume for a minute that some of these iPhone production cuts turn out to be true. Mr. Blair calls for about a 14 million unit decline in iPhone sales as well as a $30 drop in average selling prices. While the unit number is the big question, I would think Apple's ASP will do a bit better as the company has pushed users to its higher storage devices, which go for higher selling prices. Additionally, some international markets have seen much higher prices to offset currency issues. Overall, Mr. Blair calls for about a $16 billion decline in iPhone revenues, which seems like a bit much.
Overall though, he calls for Apple revenues to decline by about $4 billion in the fiscal year to $230 billion. That's well below the current street average, and the average analyst forecast is down by about $4.25 billion already in the past month on iPhone fears. Even if the iPhone shows some weakness, there are a number of offsets. The Apple Watch will have four selling quarters in fiscal 2016, including a holiday period, as opposed to 2 periods in 2015. Apple Music will generate revenues, as well as the addition of Apple Pay in China. Holding all else equal, bringing Mr. Blair's revenue number up to the fiscal 2015 figure, a flat 2016, would equal about 17 cents in EPS.
Perhaps the assumption I disagree with most is Apple's gross margins. Mr. Blair calls for gross margins of 37.5%. The company guided to 39% to 40% in fiscal Q1, a quarter that will probably be about a third of the year's revenues, and gross margin guidance has been fairly conservative in recent quarters. Additionally, let's take a look at what Apple's gross margins have been in recent years.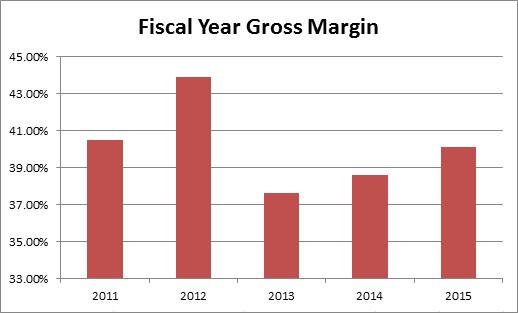 Source: Apple filings
The worst figure over that period was 37.62%, and that number is still above Mr. Blair's forecast. Higher storage capacity phones equal higher margins, and perhaps Apple will get some margin relief from the weakening of Chinese currencies. If we assume a worst case scenario of 38% for gross margins for the fiscal year, which I don't think will happen anyway, that 50bps of margin gives us an additional 14 cents of EPS holding all else equal.
Final thoughts
I could break down other items like the tax rate used, but I think my overall point has been made. If we add in the buyback and some other income items, Apple's EPS jump. If we don't look at doomsday scenarios for certain income statement items, EPS jump. Let's consider all of the following I discussed in this article:
Flat revenues of $233.72 billion.
Gross margins of 38%.
$1.4 billion of other income.
Yearly share count of 5.5 billion.
If we use those four items above as well as Mr. Blair's other figures, we get an EPS figure of $8.85, about 80 cents or 10% higher than what he came up with. That's my worst case scenario, and even I don't see that happening currently. Even so, we've seen analyst forecasts come down a bit over the past month, and the street's averages for revenues and EPS still stand at $240.35 billion and $9.66 respectively. While in a worst case scenario Apple's earnings per share could see an "8" handle, it seems highly unlikely that we'll see them anywhere near $8.06.
Disclosure: I/we have no positions in any stocks mentioned, and no plans to initiate any positions within the next 72 hours.
I wrote this article myself, and it expresses my own opinions. I am not receiving compensation for it (other than from Seeking Alpha). I have no business relationship with any company whose stock is mentioned in this article.
Additional disclosure: Investors are always reminded that before making any investment, you should do your own proper due diligence on any name directly or indirectly mentioned in this article. Investors should also consider seeking advice from a broker or financial adviser before making any investment decisions. Any material in this article should be considered general information, and not relied on as a formal investment recommendation.