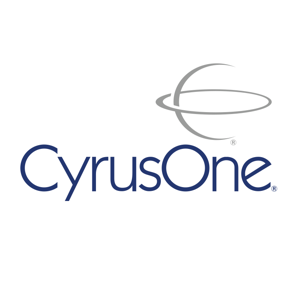 Last week, in an Investor's Business Daily article Marie Beerens wrote:
…CyrusOne (NASDAQ:CONE) appears ready to ride the wave of explosive growth in data that is fueling the market where it operates.
I'm glad I got on the bus early, my Data Center REIT returns performed extremely well - I started my first nibble back in August 2013 with Digital Realty (NYSE:DLR) and I began dollar-cost averaging shares in 2014 and into 2015.
In June 2015, I decided to diversify my Data Center REIT holdings by adding shares in CONE. Since that time, my shares in CONE have generated above-average returns of 21.2%.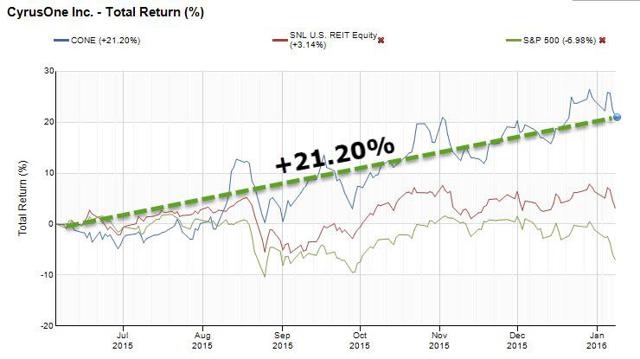 Simultaneous with purchasing shares in CONE, I explained my "tactical pairing will provide me with added diversification as well as enhanced shareholder returns."
CyrusOne Cuts The Cord
CyrusOne Inc. was previously the co-location unit of Ohio-based Cincinnati Bell Inc. (NYSE:CBB), and on January 17, 2013, the company spun off its data center portfolio by listing around 16.5 million shares on Nasdaq, raising around $313.5 million (around $19 per share).
Cincinnati Bell is the last of the "Bell Companies," and the 140-year old phone company recognized that the data centers were throwing off a lot of cash. By spinning off CONE, Cincy-Bell seized the opportunity to de-lever and help develop a standalone brand.
At the time of the IPO (January 2013), Cincy-Bell owned around 68% of CONE's shares; however, since that time, the ownership stake has reduced to around 9.5% today.
A More Diversified REIT
In July, CONE acquired Cervalis Holdings, a privately held operators of four data centers and two work area recovery facilities in metro New York. This transaction expanded CONE's portfolio of customers in the financial services industry from 10% to 21% of total revenue.

In addition, the Carvalis deal expanded CONE's total customer count from 708 to 929. Here's a snapshot of CONE's historical total customer growth: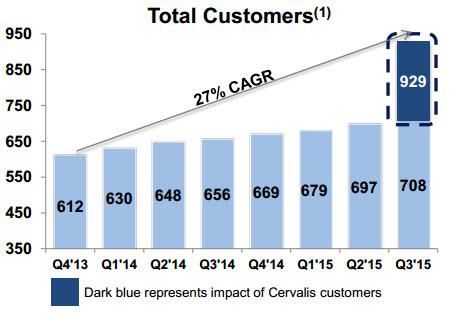 A majority of the company's tenants are Fortune 1000 companies, and around 60% of the REIT's annualized rent is from investment-grade customers. Since listing shares, CONE's Fortune 1000 customer base has grown from 115 to 169. CONE does not disclose its tenants and the company considers 9 of the Fortune 20 customers.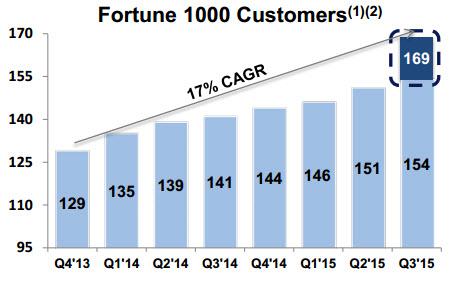 CONE has no more than 4% of rent generated from its top tenants and the company's percentage of annualized rent from top 20 customers is down 13% from September 30, 2014. The weighted average remaining lease term is up 4.5 months from September 30, 2014.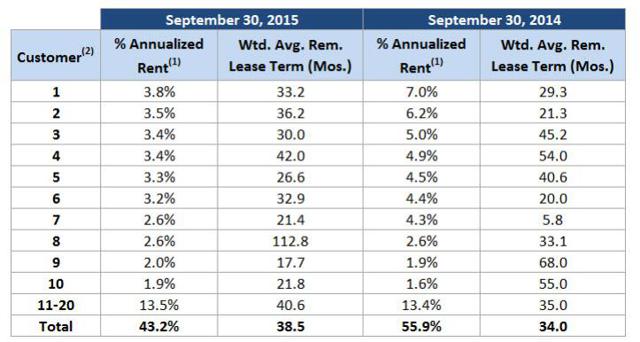 Interconnection revenue represents around 6% of CONE's overall revenue and most Data Center REITs have begun to grow inter-connects. Essentially, interconnects are fiber cables that transport data. It's a scalable business model that costs virtually nothing, and it creates up-sell opportunities and robust profit margins.
In 2013, CONE launched its National IX platform and over the last year (Q3-14 to Q3-15) CONE's interconnection revenue increased 72%. Here's a snapshot of CONE's historical interconnect revenue: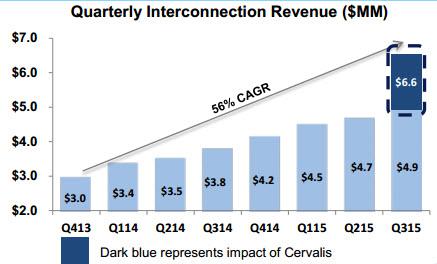 The benefits for CONE to own interconnect assets is that it adds "stickiness" solutions and enables penetration into new customer ecosystems. Growth of low cap-ex and high margin products, enabling same-store sales growth.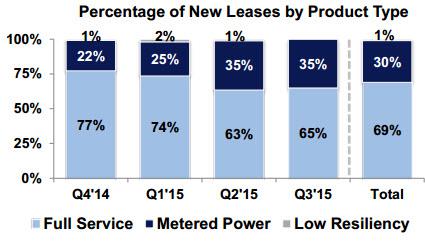 Cervalis has a strong track record of financial growth generating around 14% revenue CAGR over the past 5 years. The company was founded in 2000 and revenue topped $70 million in 2014.
This Cervalis transaction is a good indicator that CONE is growing outside of its Texas roots and expanding into other markets, diversifying into new markets where CONE has a track record for providing data storage services for a growing Fortune 1000 customer base (15 such customers coming from the Cervalis deal). Here's a snapshot of CONE's portfolio overview (31 data centers across 12 markets):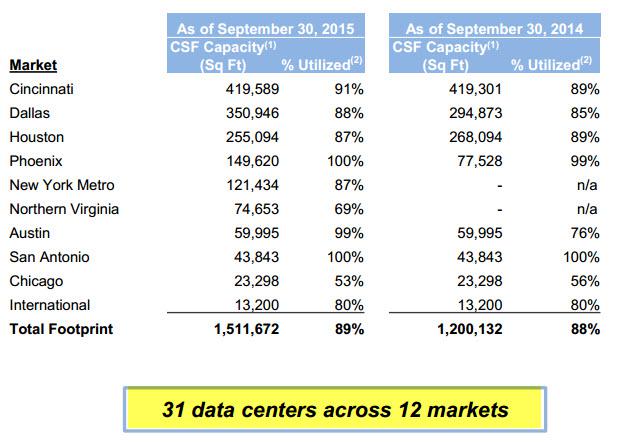 In Q3-15, CONE signed a record 392 leases representing approximately $13 million of annualized revenue. Notably, CONE continues to see very strong demand for its higher priced full service products, which accounted for approximately two-thirds of the leases signed in the quarter and about 53% of the monthly recovery revenue (or MRR).
CONE's share in infrastructure solution enabled the company to sell a mix of different products to customers which in turn allow the company to generate a higher yield on assets (by selling at a higher blended price per square foot).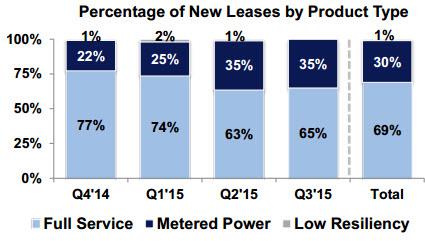 In Q3-15, approximately 47% of CONE's new MRR signed was from meter power deals with over 40% of the deals below 1 megawatt of power.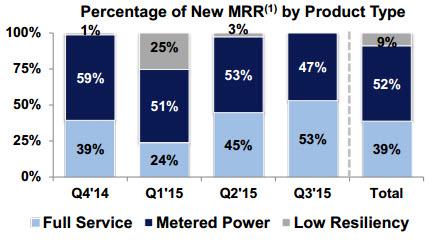 One Key Differentiator
In CONE's investor deck, the company highlights the incremental returns generated over the past couple of years on three of its largest developments during this time period. CONE made a strategic decision last year to focus on FFO growth by prioritizing investments in existing markets where it had the greatest opportunity to generate higher incremental returns.
CONE did not believe that historical investments that the company had made and the embedded earnings growth potential of the portfolio were being adequately valued in the public markets. As a result, CONE's focus on supply chain efficiency enables the company to deploy capital on a just-in-time basis, which allows the company to achieve strong development yields.

For example, Carrollton is currently yielding about 16% on the capital invested in the property which is 300 basis points higher than where it was three quarters ago. Over the last three quarters, annualized NOI at this facility has increased by almost $10 million, while CONE has only deployed an additional $27 million of capital and still remains only 82% utilized.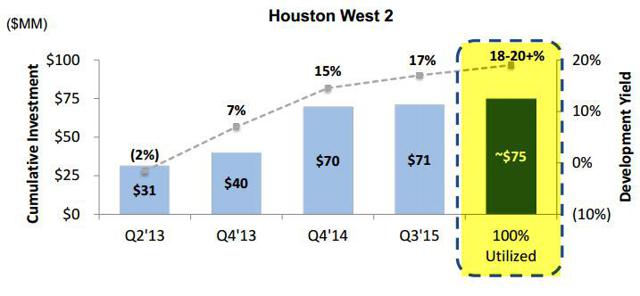 As you can see, CONE generates similar returns in Houston where its Houston West facility was brought online in Q2-13. The facility is fully built out and 82% utilized as of Q3-15, generating around 17% (should reach 18-20% once fully utilized).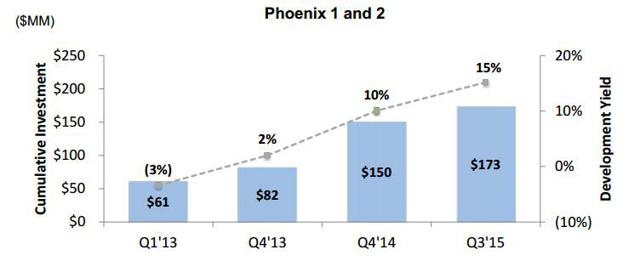 CONE's Phoenix 1 facility was brought online at the end of 2012 and its Phoenix 2 facility was brought online in Q4-14. Both facilities are fully built out and 100% utilized as of the end of Q3-15. CONE's development yields for these buildings are 15%.
CONE has around 200 acres of land for development and the company can grow to 3 ½ times its current size with development of existing powered shell buildings and its land bank.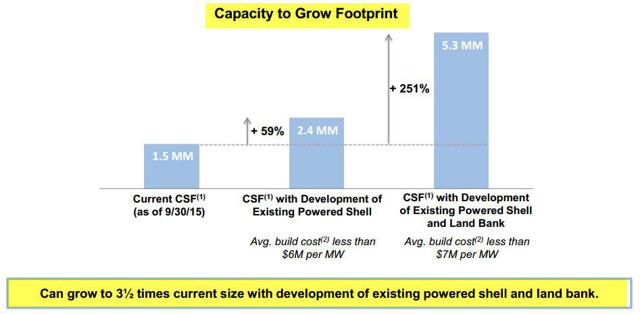 Can CONE Continue To Move The Needle?
CONE targets a payout ratio based on AFFO of around 55-65%. In 2014, the company's AFFO per share increased more than 50%, resulting in a payout ratio of 49% (slightly below the lower end of the targeted range). For 2015, it slightly increased the targeted range, resulting in a payout ratio that's more closely in line with the historical peer group average.
In Q3-15, CONE's normalized FFO per share was $.57, an increase of 30% over Q3-14. AFFO per share (in Q3-15) was $59 million, a 40% increase over Q3-14. Here's a snapshot of CONE's historical FFO per share results: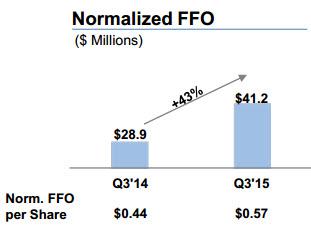 Here are AFFO per share results: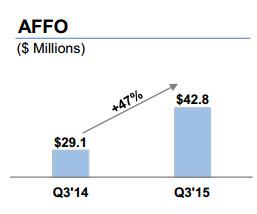 As noted, CONE expanded its customer base to 929, an increase of 317 since beginning of 2014. Revenue increased by 31% from Q3-14 to Q3-15.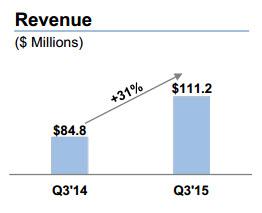 CONE's churn rate for Q3-15 was the lowest quarterly level since becoming public.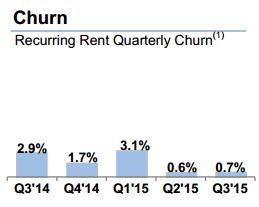 In Q3-15, CONE leased 4.8 MW and 29,000 CSF (colocation square feet); weighted average lease term of 57 months.

Total annualized GAAP revenue backlog of approximately 9.0 million as of Q3-15, with 99% expected to commence by the end of Q1-16.

Here's a snapshot of CONE's P&L. As you can see, the increase in AFFO of 47% was driven primarily by increase in normalized FFO and lower recurring capital expenditures.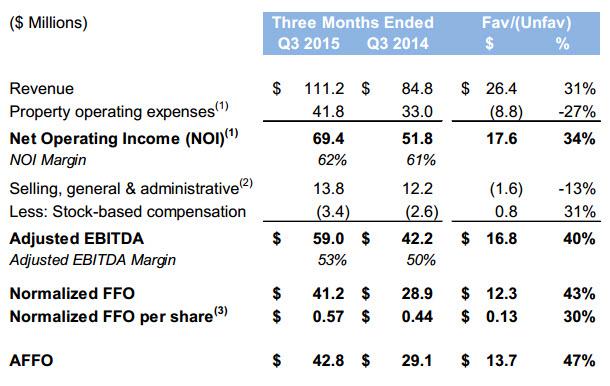 CONE revised year-end 2015 guidance upward: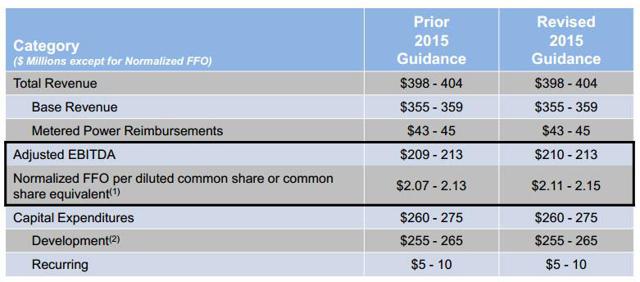 Here's a snapshot of CONE's historical AFFO per share growth:

As you can see, I included analyst estimates for 2016 and 2017. Here's a snapshot of CONE's historical dividend performance (including estimates for 2016 and 2017).

CyrusOne Is Cutting The Cord With Ma Bell, Should I?
As I said above, Cincy-Bell is now a minority owner in CONE (less than 10%) and while the data center REIT has performed well over the last few years, intelligent investors should wonder if there's room for more growth?
Let's compare CONE's market cap with the peers:

Now let's compare CONE's P/FFO multiple with the peers:

Now let's compare the dividend yield with the peers:

Here's how CONE and the peers have performed over the last year:

For prospective investors of CONE, I would wait for a pullback. I still hold DLR (over-weight) and I believe "pound for pound" DLR offers the most attractive fundamentals in the data center sector.
For current CONE investors (of which I'm one), I would stay in the game. The company's 2015 development projects leave the company well-positioned to capture future growth. The inventory is solid as illustrated below: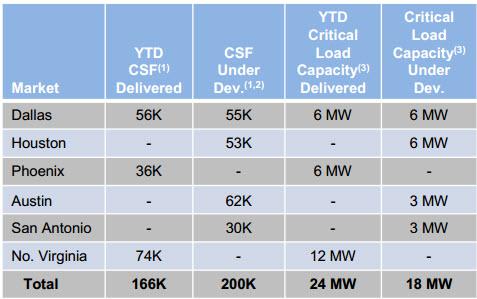 Also, since CONE's IPO, when the company had 68% of shares held by Cincy-Bell, the investor base has become more "Long" with classic REIT investor owners focused on real estate.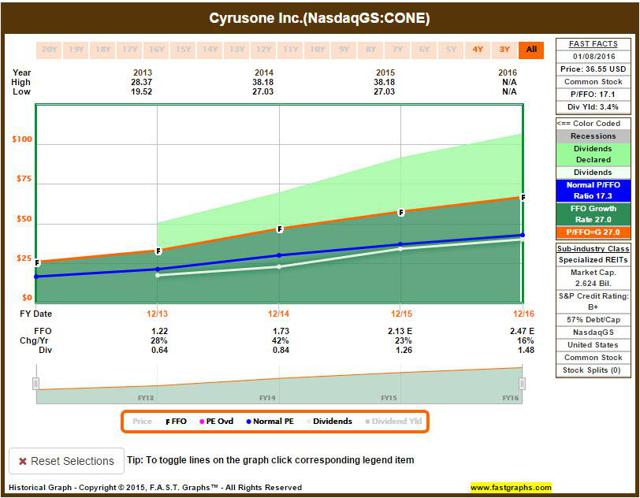 Finally, CONE is not investment grade rated (yet), but its debt leverage is comfortable and manageable (4x debt to EBITDA) and management appears to be focused on managing risk with a focus on discipline. I'm maintaining a BUY rating on CONE and I expect the company to deliver strong returns again in 2016.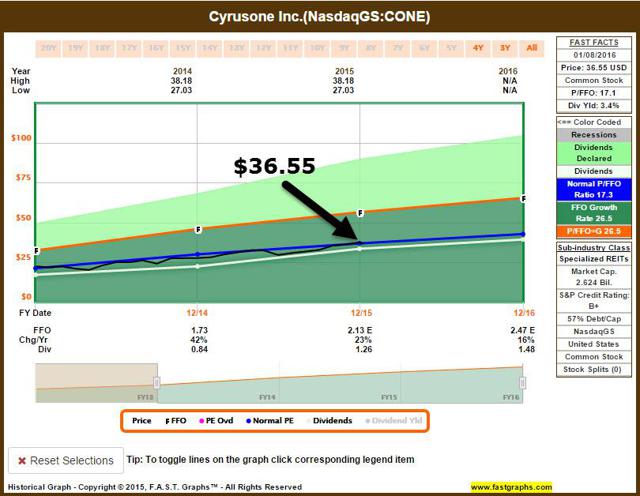 Sources: SNL Financial, FAST Graphs, and CONE Investor Presentation.
View my other articles on DLR HERE and DFT HERE.
Disclaimer: This article is intended to provide information to interested parties. As I have no knowledge of individual investor circumstances, goals, and/or portfolio concentration or diversification, readers are expected to complete their own due diligence before purchasing any stocks mentioned or recommended.
Disclosure: I am/we are long O, DLR, VTR, HTA , STAG, GPT, ROIC, HCN, OHI, LXP, KIM, WPC, DOC, EXR, MYCC, BX, TCO, SKT, UBA, STWD, CONE, BRX, CLDT, HST, APTS, FPI, CORR, NHI, CCP, WSR, CTRE, WPG, KRG, SNR, LADR.
I wrote this article myself, and it expresses my own opinions. I am not receiving compensation for it (other than from Seeking Alpha). I have no business relationship with any company whose stock is mentioned in this article.