At the beginning of 2015, Orexigen (NASDAQ:OREX) investors saw sales of Contrave in third place in a sector of three branded anti-obesity pills. At the end of 2015, Orexigen investors saw Contrave leading the pack in script sales by a wide margin. In a vacuum, this dynamic might be enough to generate excitement. That being said, we are not in a vacuum, and despite leading the sector sales are simply much lower than what is needed to excite the Street. Contrave saw a Q4 where 180,000 scripts sold, and a full year of sales at 664,000. Sales in the closing week of 2015 were about 12,200 scripts.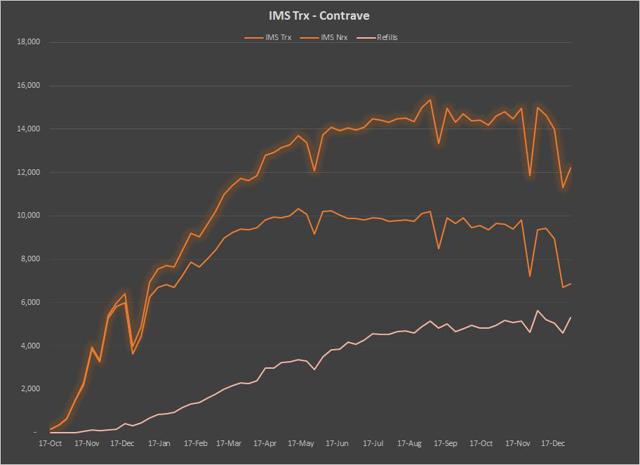 Chart Source - Spencer Osborne
On a quarter over quarter basis, Contrave was best in the sector. Sales in Q4 were only 3.86% lower than the record setting quarter of Q3. This is a decent performance in a vacuum, but disappointing considering how early into the launch the drug is. Simply stated, the trajectory in sales is flattening out, and anticipating "tremendous" growth in 2016 is likely a pipe dream. For the quarter, sales were at about 181,000 scripts.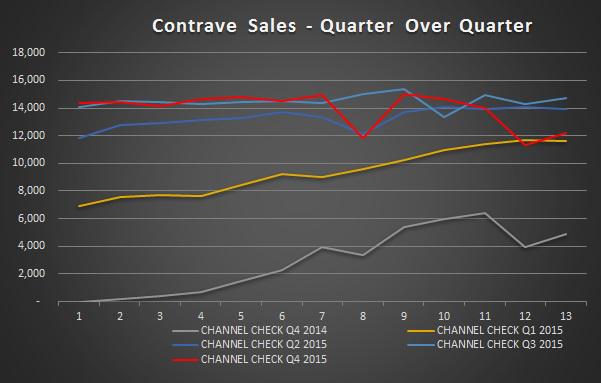 Chart Source - Spencer Osborne
Contrave should have the benefit of decent year-over-year numbers throughout the first half of 2015, but this is an area where Orexigen investors may want to spend some time looking into the historical growth patterns in the sector. Contrave enjoys the biggest marketing presence in the sector, but that is predominately in a sales force rather than any advertising on television. One boost that Contrave may see in 2016 is not so much in added insurance benefits, but rather in the fact that Qsymia from Vivus was dropped from some plans. This has the potential to make Contrave an attractive alternative for patients looking to save dollars, and because of the sales force calling on doctors, Contrave may pick up more Qsymia losses than Belviq from Arena (NASDAQ:ARNA).
From a market share perspective, the last few weeks of 2015 were a bit of a disappointment. While Contrave is the market share leader, the share essentially flattened out to close out the year. In the final week of 2015, the Contrave market share was at 42.15%. Peak market share for the year was 42.72% a few weeks prior. It was my opinion that getting to 45% market share in 2015 was an important step for this drug. That goal was not reached. Essentially, the company can use its marketing advantages to try to muscle out some better insurance tiers in 2016, but moves from insurance companies during the year might be much more modest than many think. Simply stated, this sector is not an insurance company favorite.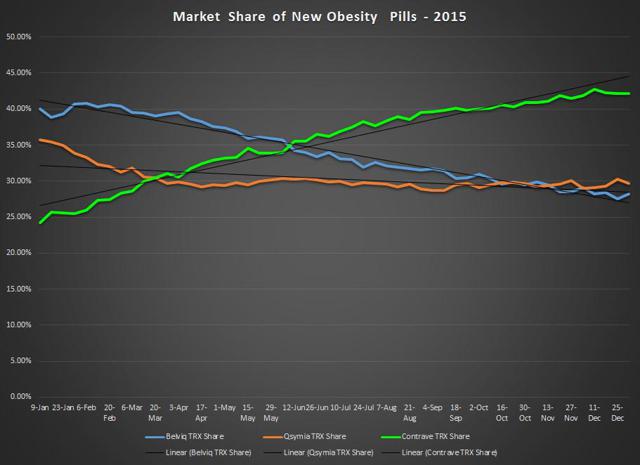 Chart Source - Spencer Osborne
In looking ahead to 2016, what can Orexigen investors expect, and what cautions may be ahead? What do we need to see happen to bring about equity appreciation? There are some critical things that are obvious. Sales need a dramatic increase that outpaces what was delivered in 2015 by a healthy margin. Even seeing sales go to 1,000,000 from 664,000 (a 50% increase) will not really be enough to deliver the revenues needed to sustain the company and demonstrate a path to profits.
Investors in Orexigen should look at the Arena and Eisai relationship for possible paths that will happen. Eisai has not made money from Belviq and after a year of pushing sales reps and television ads, Eisai decided to pull back marketing efforts in a major way. Will Takeda do something similar? Investors should consider this. It is not reasonable to expect Takeda to see losses in perpetuity. At some point something has to give. Organic growth through sales reps can only take this drug so far.
If we consider a round number of $15 per script to be the Orexigen share, the royalty revenue will be $15 million on script sales of 1,000,000. If we add in a $15 million annual milestone in September of 2016, revenues will be $30 million. That may give the Street some interest, but will still fall short of anything that demonstrates that Contrave sales can bring Orexigen to the promised land. This is why approval and launches in other countries is critical.
Contrave has been approved in Europe for many months now, but as yet no partner has materialized. One key reason that partners are not stepping into the game is that the sales in the U.S. have been vastly underwhelming. The reality is that in 2016, sales of 1 million scripts is likely way too aggressive an assumption. What is more realistic is that sales will be somewhere between 800,000 and 900,000. I am sure that I will get the obligatory catcalls about such numbers, but if you look at the sector history, you will see why being prudent is the best way to look at things. If Takeda starts to scale down its support, the numbers could be even lower.
In my opinion, investors in Orexigen need to consider that the drivers will be news flashes that deliver short-term pops with the equity likely losing ground or remaining stagnant. If you are of the opinion that scripts will be above 1,000,000, my suggestion is that you develop models that shows peak sales in June, peak sales in July, peak sales in August, and peak sales in September and work out the pace you feel gets you there. If sales are not tracking to your expectations by March, you should consider reworking your models. Stay Tuned!
Disclosure: I am/we are long ARNA, OREX.
I wrote this article myself, and it expresses my own opinions. I am not receiving compensation for it (other than from Seeking Alpha). I have no business relationship with any company whose stock is mentioned in this article.