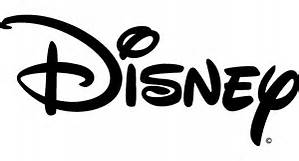 Shares of entertainment giant Disney (NYSE:DIS) have been hammered in the last few weeks and are now trading below the $100 mark. General weakness in the markets is to blame but another downside catalyst this past week was cautious commentary from two separate analysts regarding Disney's earnings in 2016. Specifically, Cowen said it was worried about blockbuster saturation, the idea that Disney's Studio business may be hitting an unsustainable peak. I disagree with this assessment and in this article, I intend to show that the Studio business is perhaps Disney's least worrisome segment, not a significant issue as Cowen asserts.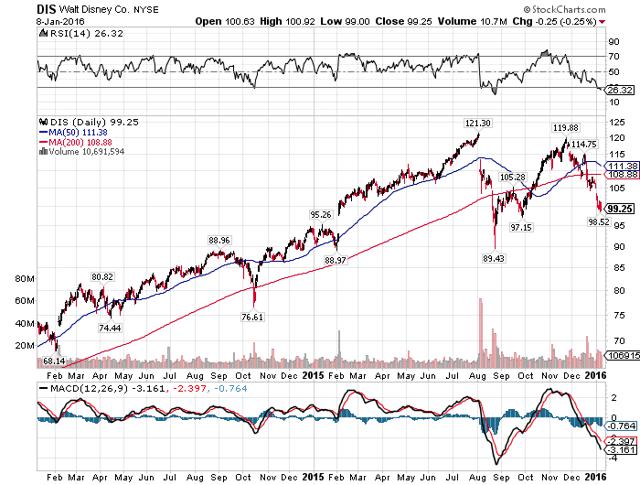 As a note, all data were taken from company SEC filings and charts are my own.
We'll begin our look at the Studio business by understanding where it has come from to see where we can reasonably expect it to head in 2016 and its implications on consolidated earnings. This chart shows the Studio segment's revenue and operating profits for 2008 to 2015, the fiscal year that just finished up for Disney.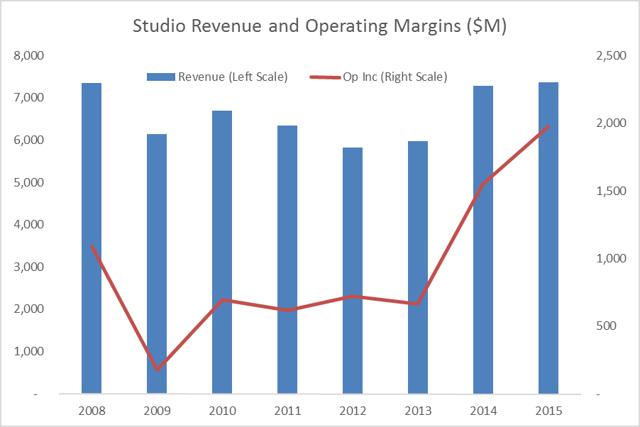 We can see that the segment's revenue is actually fairly steady between $6 and $7 billion annually as it takes in revenue from a wide variety of businesses. Of course, the business that gets the headlines is the movie business and in particular, in light of the runaway success of the new Star Wars installment. Results from that record-breaker are not included in this dataset as all of the revenue from Star Wars will be recorded in fiscal 2016 and beyond. And with the film already breaking all kinds of records, there is no reason to think that the segment's momentum won't continue.
Yes, Studio revenue is largely non-recurring as its revenue is front-loaded with a long tail but if there's one thing Disney has proven, it's that it understands what consumers want and how to produce it. And with the Star Wars roll-out literally just beginning, there should be years and years of blockbuster results coming out of the Studio business irrespective of all of the other franchises the company owns.
Another key here is that despite the fact that I believe revenue for the Studio segment will be higher in 2016, operating margins continue to skyrocket as well.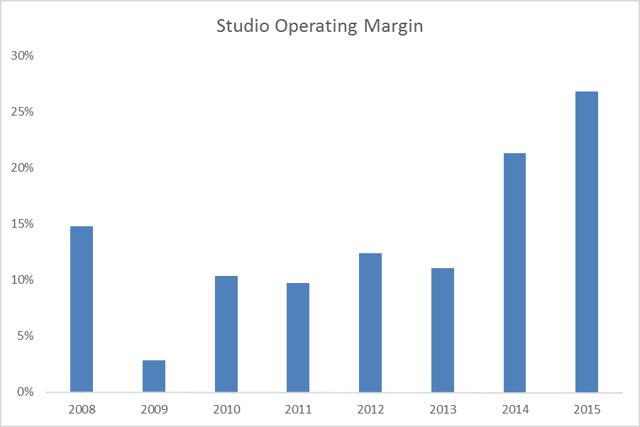 Disney saw 27% operating margins from the Studio business last year and if Star Wars is any indication, its margins will likely be even higher this year. That certainly bodes well for the company's earnings because if it hits $7.5 billion in Studio revenue - a very attainable figure - and 30% operating margins - again, quite reasonable if revenue rises - we'd see operating income of $2.25 billion from Studio, representing double digit growth over 2015.
But how will Disney get there? Its slate of upcoming blockbusters will certainly help but the anchor will obviously be Star Wars. Disney apparently negotiated very favorable terms with theaters in the US in terms of revenue sharing with that number topping 60% of ticket sales. With Star Wars likely reaching $900+ million in US revenue before it is pulled from theaters, we are talking about ~$540 million in revenue from US theaters alone. These are just round number estimates and it's not critical that these numbers are right, only that directionally they give us a good idea of the potential Star Wars has to impact the bottom line.
With costs around $200 million excluding advertising and other minor costs, we could see operating income from Star Wars at $300+ million just in the US, excluding the other $1+ billion in ticket sales from outside the US. That then implies that Disney could see a quarter or more of Studio's operating profits from the Star Wars film.
And oh by the way, none of this includes the company's merchandising revenues which are certain to be huge or the fact that Disney is using Star Wars content in its parks now. This also doesn't include other productions of the Studio business either with a strong lineup of superhero movies yet to be released that are coming in the next few years. With Star Wars films still on the horizon and spinoffs planned, there is a seemingly never ending pipeline of great content that will undoubtedly generate billions of dollars in aggregate ticket sales.
In short, forecasting an unsustainable top in Studio revenue is very shortsighted. I think it's pretty obvious 2016 will be a breakout year for the Studio business but that doesn't make it unsustainable. Disney knows its content generation ecosystem begins with movies and that is why it bought Marvel and Lucasfilm, thus owning premier franchises in the marketplace in the process. If anything, Studio's revenue base is likely to be reset higher to the $7.5 to $8 billion area from its current $7 billion and operating profits should rise as well as fixed costs like SG&A are leveraged with higher revenue. I think the analysis from Cowen is wrong as the weight of the evidence suggests that Disney's Studio run is just beginning, not topping out, and the implications for the ecosystem of Disney's content are huge and biased to the upside. 2016 will prove to be a breakout year not only for the Studio business but Disney as a whole and a $99, it is very cheap.
Disclosure: I am/we are long DIS.
I wrote this article myself, and it expresses my own opinions. I am not receiving compensation for it (other than from Seeking Alpha). I have no business relationship with any company whose stock is mentioned in this article.