JPMorgan (NYSE:JPM), often considered the best of breed bank in the US, has been absolutely crushed of late along with the rest of the banking world. The stock is now under $60, something that hasn't happened since the panic selling of last summer/fall. But with investors selling first and asking questions later heading into earnings this week, is there really that much cause for concern over the long term? Last week I profiled the company's loan-to-deposit metrics and how I think the ramp in loans is near but what about credit quality? In this article I'll take a look at the bank's credit metrics to see how it is doing with lending prudently, key for long term earnings growth.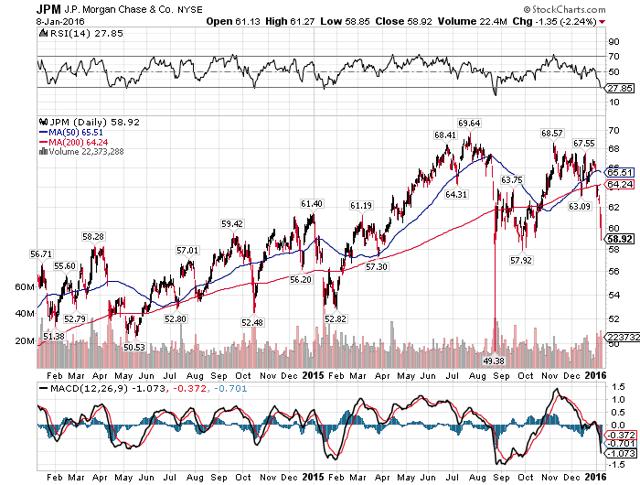 To start, all data are from company SEC filings and charts are my own.
In order to define credit quality for JPM - there are many ways - I've chosen to use the contra-asset account called Allowance for Loan Losses. This account is a place on the balance sheet where the company logs the total amount of loans it deems unreasonable to collect, indicating that this amount of loans is likely to end up with charge-offs and as a result, a negative impact to earnings. I like this measure because it is forward looking and can give us a great idea of not only where the company's credit quality has come from but also where it may be going.
This chart has the company's year-end allowances for loan losses since 2010 and at the end of Q32015.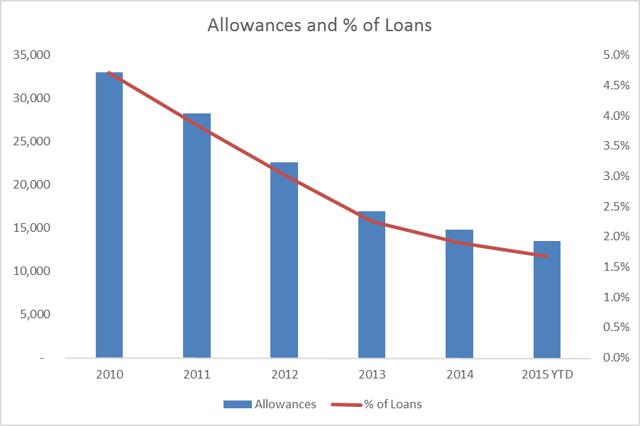 We can see that JPM's allowances have come down significantly in the past few years, a time when the worst of the financial crisis had already ended. It is important to note we aren't comparing the darkest days of the crisis to 'normal' circumstances; we are comparing apples to apples here in a lot of ways. Allowances that topped $30 billion six years ago have been more than cut in half and now hover around $13 billion. And as a percentage of loans, the numbers are even better. JPM has built its loan book recently and has done so with prudent lending terms, thus lowering the amount of allowances it must take against its total portfolio. This is a very desirable result that means JPM's credit portfolio is not only growing in size but also in quality as well. Recall that credit quality was the problem heading into the financial crisis and just from an investing standpoint, is a harbinger of future credit-related losses. JPM's credit quality has improved immensely in the past few years and it seemingly isn't done yet.
So what does this mean for the company's earnings and investment case? It means that as JPM grows its loan book - something I profiled in the linked article - its allowances amount should continue to fall as a percentage of loans. It is important to note that as the loan book grows, the total amount of allowances may flat line or even grow, but that is not what is important. So long as the amount of loans that are classified in allowances as a percentage of the total remains low, it means great things for the company's earnings trajectory. JPM currently has just over $800 billion in loans on its balance sheet so every basis point counts when you're talking about allowances. If we see similar loan growth in 2016 as 2015 we should see JPM's loan book at something like $860 billion or so by the end of this year. As allowances continue to come down, we could see 1.5% of total loans in allowances, meaning that even without an appreciable improvement in credit quality, JPM would have another ~$60 billion in loans on the balance sheet net of allowances in comparison to 2015. That's a lot of earnings growth power and I don't think analysts are fully appreciating that just yet.
As JPM continues to grow its loan book it will see not only operating leverage on its existing cost base due to higher volumes but as credit quality continues to improve, it will see margin leverage as well. As a progressively smaller amount of total loans are deemed uncollectable we'll see JPM's margins rise. This is akin to a retailer seeing fewer returns and will produce higher earnings on the same size balance sheet. JPM's ROA should continue to rise appreciably as it has in the past few years as the loan book grows and allowances fall. Higher ROA means higher margins and a larger credit book with lower allowances means higher volume gains as well. At 9.5 times earnings JPM is very cheap among its peer group with only Citi (NYSE:C) coming in lower. And with the momentum it has in both loan growth and margins from lower allowances, there is no reason to think JPM's years of high single digit or even double digit EPS growth are ending. I think analysts' expectations for just 4% EPS growth in 2016 are far too low considering the gains JPM is making with its credit book and that makes it a buy.
Disclosure: I am/we are long JPM.
I wrote this article myself, and it expresses my own opinions. I am not receiving compensation for it (other than from Seeking Alpha). I have no business relationship with any company whose stock is mentioned in this article.