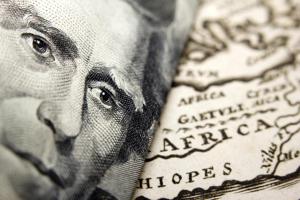 Barron's has a regular feature in the back of the markets section called "pulse of the economy", which gives a series of tables of economic indicators covering many aspects of the US economy. I review it every week to understand major US developments first hand, without the filter the mass market press puts on the numbers as they trickle out, piecemeal. In each area, Barron's reports the current level of any given indicator, accounting item, or index, plus the previous period and year ago. I find the year on year change and current level are the important elements to watch, to get a realistic view of what has been happening, without getting lost in week to week or month to month noise.
Since I read this report every week, I thought it would be of some interest to present an article here showing what I see in this report and how I assess it. Barron's is a subscription newspaper, in print or online, so I will not be showing all of their figures; sign up to get all this information yourself. If you have a subscription already, you can find the report I will be discussing in their online portal or in the print newspaper. Online, you want "market data", "market lab", "pulse of the economy". In the printed paper, you want the "market week" section, next to last page. I won't report every figure here, just the highlights I see as significant in each section, and my assessment of the overall story I see in the combination of all those highlights. Here is a link for those with a subscription to Barron's online:
The first section of the Pulse report covers overall economic growth and investment, including top line GDP figures, personal income, all fixed investment, and capacity utilization measures. As I scan this section I am looking for items that go beyond what I already know from headlines. We all generally know that GDP is rising slowly around 2% a year real, for example, so that just isn't news.
To me the big items in the current report are that personal income stands at $15.6 trillion, up 4.6% year on year, that the personal savings rate is around 5.5%, that fixed investment is $2.76 trillion and up a modest 3.65% year on year, and that industrial capacity utilization is down a bit to 77% from 80% a year ago. It is also noteworthy that a non-durable manufacturing index is much stronger than durables, and that residential investment spending, at $534 billion currently, is up much more than overall fixed investment (+9.4% vs +3.65%).
Here is the time series for the personal income item over the last 10 years, from Fred II -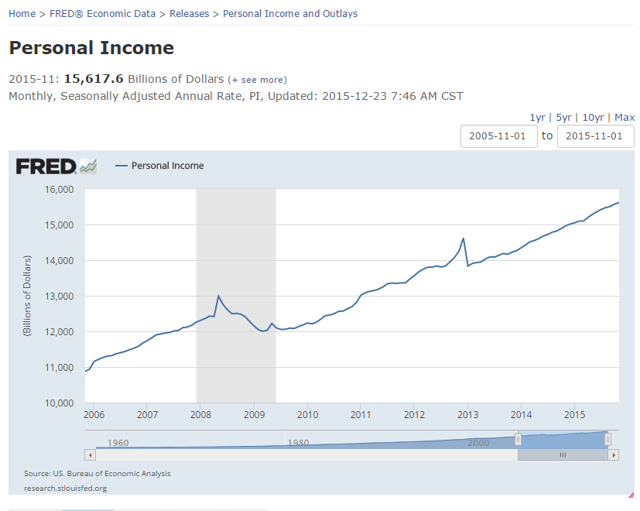 This first section therefore already tells a story of stronger personal income growth than the headline GDP figure, with areas of strength in non-durables and housing, and areas of weakness in heavier industry. Everyone is aware of the carnage in the energy sector last year on the dramatic drop in oil prices, and most are aware that the stronger dollar must have had some impact on foreign competition.
The next section covers "production", and we see uniformly negative figures. A "mining" output category shows a 16% year on year fall, and I know that line item in the NAICS industry classification system is where oil and gas extraction is located. Rotary rigs running shows a 60% fall, but surprisingly a capacity utilization figure for petroleum output only shows a 2% fall to 92.6% of capacity. This tells me that marginal exploration has been shut off, and lower prices have hurt sector income, but physical output has not yet fallen materially. Less widely known, the same section shows a 22% fall in steel output and capacity utilization, with the latter ending at 60% of capacity. Steel prices are also down and foreign competition is hitting the domestic steel industry hard. The full section tells a story of large falls in commodity prices and the stronger dollar making for vigorous foreign competition, all driving output in primary materials industries lower by 15-20% amounts. The moral is clear - avoid primary industry sector exposure in the coming year.
The next section is consumption and distribution, which covers wholesale and retail trade, autos, total consumer spending, and similar measures. The first thing that is noticeable is that consumer spending is up slightly - 2.35% year on year - but much less than the personal income figure we saw on the first section. Households have increased their savings rate, investment has also grown, and not all of the income gains have passed through to consumption expenditures. This tends to restrain demand and keeps overall GDP growth sluggish, but does tend to improve household balance sheets. Holding back, not splashing out, that is the message. The retail and wholesale trade figures tell a similar story, with wholesale trade down 4.6% year on year and retail up a sluggish 1.35%.
There are two other notable sets of figures in this section, covering autos and transportation costs. Autos are split among 4 line items, domestic vs foreign makes of passenger cars and the same for light trucks. The passenger cars are falling, the domestic makes rapidly so, while the light truck lines are going gangbusters. Import makes are doing better than domestic makes in both categories. It takes a few additions to see that the overall total is up 9% year on year, as well as improving in mix toward the higher margin light truck category. This means the auto sector had a banner year, and imported makes even more so. As the accompanying graphic shows, this has been a long slow increase since the recession, getting substantially better each year, in line with employment growth. Here is a plot of the annual light vehicle sales, showing the persistent improvement since the last recession -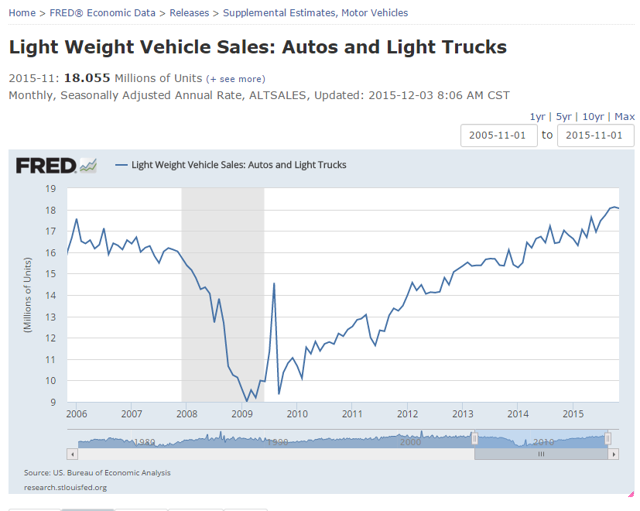 The strength in autos also fits with the lower gas prices and stronger dollar story we see elsewhere. Note though that higher auto output is not lifting steel, given the strength of the foreign makes, opportunities to import steel more cheaply, and so forth. The last item is the Baltic Dry index, down 39.5% year on year to a very low level. This tells us that transportation costs have fallen dramatically. The commodity price collapse worldwide and slowing in China have apparently freed up excess shipping capacity, and driven the bargaining power of freighter owners to very low levels. This must again be very good for foreign car makers looking to sell into the US market.
The next two sections cover inventories and orders, and the energy line item for crude oil inventories stands out as the most important item by far. Domestic crude oil stockpiles are up 26% year on year, a "build" of 100 million barrels, to 482.3 million barrels in inventory. The accompanying chart shows just how unprecedented the recent build in inventories is, compared to levels over the previous 5 years. Oil supply is clearly well ahead of demand, and those expecting a rapid rebound in crude oil prices are likely to be disappointed. Other inventory and orders measures show some weakness overall, but nothing to compare to the epic build in unsold oil stockpiles, which must be quite painful for those who bought it at $100 to $65 over the first half of last year, and now face selling it at $35 a barrel. The moral is that it is still too early to call any turn in the energy sector; hold off for 6 to 12 months on that idea.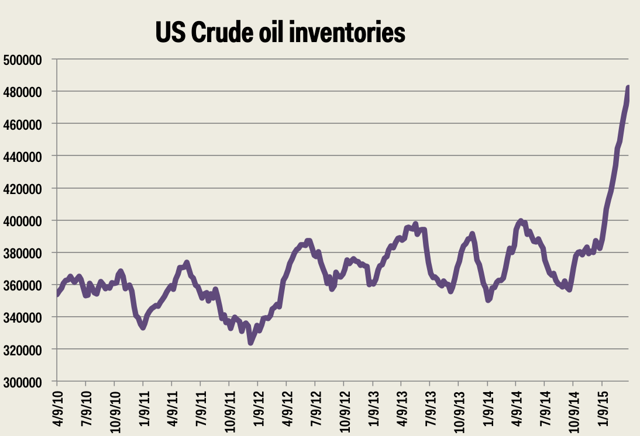 The short section on trade tells us that the trade deficit has widened from negative $429.1 billion a year to negative $546.1 billion a year, an increase of $117 billion or about 0.65% of GDP. Exports are barely higher, up 1.2%, while the already larger imports line is up 5.6% year on year. Since we import large amounts of oil which fell significantly in price, this is telling us where much of those savings went - they bought other imported goods, including the imported cars noted a couple of sections earlier. This also tells us that the slow overall growth in domestic output would be higher, nearly to the long run 3% average, but for this drag of pulling foreign production higher as they sell us more, net. All is in line with the general picture expected from dollar strength. Note that this also means the US is adding $117 billion a year in extra external demand to the world economy.
The next short section covers inflation. There isn't any. The year on year rate of inflation measure reads 0.5%, consumer prices also shows a 0.47% year on year change, while the GDP price deflator for 3Q2105 reads 1.3%. The JOC-ECRI industrial price index, meanwhile, measuring commodity input prices for industry, is down 24% year on year, to a level of 80. This index is defined such that its value was 100 in 1996. This tells us that overall commodity input prices for US industry have actually fallen by 20% over the previous 20 years, with that net move down all having happened in the last year alone.
Energy prices are a major portion of this index, of course, but the full index behavior shows this is not an anomaly or counteracted by higher prices for other industrial commodity inputs. The story here is the "busting" of the expectation that primary materials would move higher on dollar weakness or overall inflation of the US money supply. Nothing could be further from the truth. The reality is that widespread investment in the production of such base inputs, both here and abroad, has driven their real cost lower, and financing or monetary expansion has not counteracted that effect. Dollars are not worth 0. Real industrial commodities you can hit with a stick are not worth infinity.
The next long section covers employment, and shows an increase in total employment of 2.5 million jobs over the last year, to a total of 149.9 million people working. The change is a 1.7% annual rate. An employment cost index is up 2.25% year over year. The product of the two tells us that employment income is up 4% year over year, the major driver of the 4.6% increase in personal income we saw back in the first section. The internals tell us virtually the entire increase is in service payrolls. Unemployed fell 800,000 and average duration of unemployment fell by 5 weeks to 27.6 weeks. Reported job openings are also 11% higher at 5.4 million listings as of October 2015.
Few areas of reporting as so heavily "spun" for political and ideological reasons. But you have to be in utter denial not to see major and sustained improvements in the US employment situation. Total employment at the recession bottom back in December 2009 stood at only 138 million, and is up 12 million since then. See the accompanying chart for the timing and extent of this steady recovery. The moral here is that continued moderate growth is baked in for 2016 - not gangbusters but definitely not recession stuff. Here is a plot showing total US employment over the last 10 years -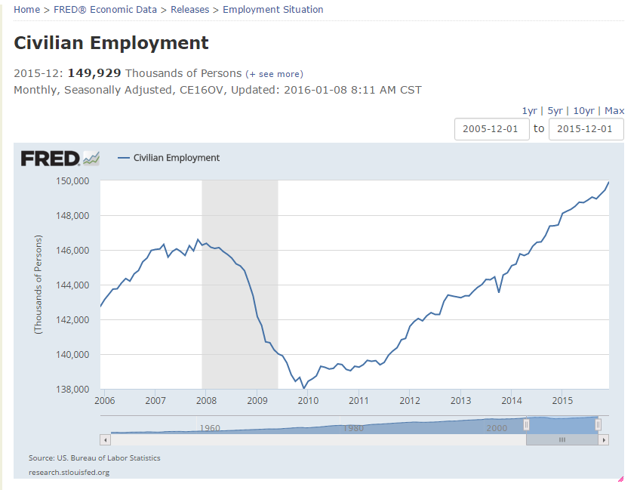 The next section covers construction, and shows dramatic improvement in the US housing sector, which has been unusually weak since the last recession. Housing permits and starts show 19.5% and 16.5% year on year gains, to levels of 1.3 and 1.2 million unit annual rates. This is basically the first time we've see figures well above the 1 million unit rate since before the 2008 crash. Overall construction spending is up 10.5% year on year to a $1.1 trillion annual rate. The Case Shiller house price index shows 5.1% annual price increases nationwide. This strong performance in the previously quite depressed housing sector in 2015, with clear momentum into 2016 (permits leading starts higher etc), is not widely reported yet, and is quite bullish for overall US economic growth in the coming year. The following charts shows the improvement in the housing sector since the recession lows. Notice that we are still far under the peaks of the pre-recession housing boom -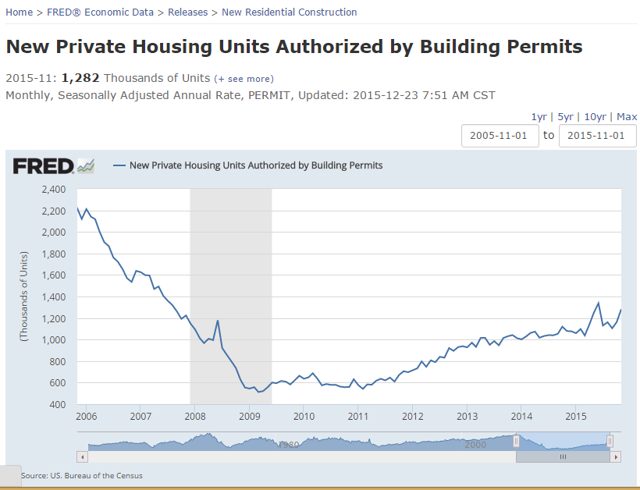 The overall picture I arrive at from the review of the entire report is one of continued economic growth, driven by import insensitive sectors like housing and service industries, with employment growth and personal income growth strong enough to carry weakness in primary production and import-sensitive industries. Industrial America is going to be held back by commodity price weakness, a strong dollar, and foreign competition. There will be no broad inflation to speak of in the coming year, and energy in particular will remain weak for an extended period. Domestic real estate will be a bright spot, and should show increased investment and real price increases. US household balance sheets should improve on solid employment and personal income gains, and continued real appreciation in house prices.
Overall economic forecast: continued slow growth with low inflation
Sectors to avoid: energy, steel, primary materials, import sensitive industry
Sectors to overweight: US real estate, home builders, autos (including foreign)
Disclosure: I/we have no positions in any stocks mentioned, and no plans to initiate any positions within the next 72 hours.
I wrote this article myself, and it expresses my own opinions. I am not receiving compensation for it (other than from Seeking Alpha). I have no business relationship with any company whose stock is mentioned in this article.
Additional disclosure: Long US financials, overall US stocks