We've been focused lately on Tesla Motors (NASDAQ:TSLA). Last week, we published Beware Tesla's Model 3 Mess. To say the least, it received a lot of attention, and we have summarized what we learned from the many thoughtful comments in a separate article.
One topic, though, deserves more detailed attention: the Gigafactory. In our Model 3 article, we pointed out what we believe are some worrisome developments involving the Gigafactory:
First, in a tweet this past September, Elon Musk cautioned that a "fully operational" Gigafactory would be required to produce a $35,000 Model 3, but offered no further detail on exactly what will be needed to make the Gigafactory "fully operational".
Second, one month after that tweet, Tesla added a phrase (bolded below) to its risk disclosure about the Gigafactory to its 10Q filing:
Given the size and complexity of this undertaking, the cost of building and operating the Gigafactory could exceed our current expectations, we may have difficulty signing up additional partners, and the Gigafactory may take longer to bring online than we anticipate.
Third, Tesla has fallen more than a year behind its own schedule for signing up "partners" as the Gigafactory.
Fourth, while Tesla has promised the State of Nevada that it will spend $3.5 billion on the Gigafactory, it has spent less than 10% of that amount to date on a "pilot" portion of the plant that is one-sixth or so the size of the 10 million square feet promised.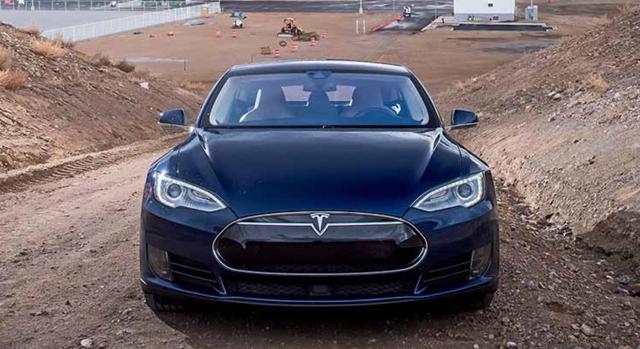 Source: myteslamotors.com
Prodded by comments from Seeking Alpha readers, particularly some sharp observations by one who identifies himself as xonkd, we have taken a closer look at economic development studies commissioned by the State of Nevada. We have also studied the agreements between the State of Nevada and Tesla.
As we detail here, those documents and agreements serve to further confirm our conclusion that the Gigafactory is far behind the schedule Tesla promised. And, by a large measure, the Gigafactory also is failing to generate the economic benefits the State of Nevada expected.
A Gigafactory Timeline - the Dream
What follows is a Gigafactory timeline that underlines the huge chasm between the promises and the reality.
February 2014: Tesla Forecasts Completion of Gigafactory Partner Discussions by the end of 2015
In February 2014, Tesla published a "blog" about its proposed Gigafactory. In its blog, Tesla said it expected the Gigafactory would enable it to reduce the per kWh cost of its battery pack for its mass-market car (which has since been designated as the Model 3) by "more than 30 percent."
The blog linked to a six-page illustrated presentation about the proposed Gigafactory, which you can find here. On page two of that six-page presentation, Tesla showed a "Gigafactory Process Flow" which involved supplies of a number of different raw materials and flow process for battery manufacture: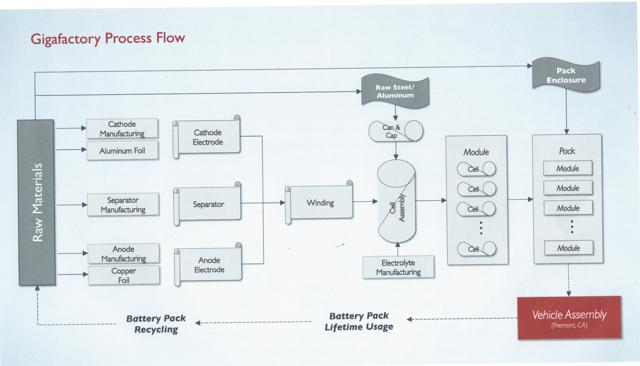 Obviously, a number of different suppliers would be required to furnish and assemble the raw materials.
Tesla's plan was to put all those suppliers (whom Tesla called its "Partners") under one roof so that they could combine their efforts in an integrated battery manufacturing facility, thereby achieving the promised reduction in battery costs. Tesla anticipated negotiating with those "Partners" to reach agreements about their location in the Gigafactory.
February 2014: Tesla Forecasts Completion of the Gigafactory Structure by 2016
The timeline also forecast that Tesla would have completed the entire "Facility construction" by the end of 2015: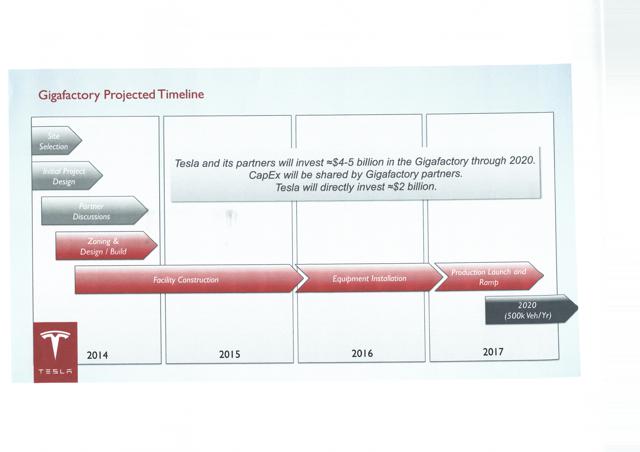 (After "Facility construction," there remains on Tesla's timeline only the phases called "Equipment Installation" and "Production Launch and Ramp;" no further "Facility construction" was indicated after 2015.)
February 2014: Tesla Tells Its Bond Buyers, 'We'll Use Your Money To Build the Gigafactory'
Simultaneously with the Gigafactory presentation, Tesla issued $2 billion of "covenant light" convertible bonds. When it did so, the press reported that Tesla was planning to use the money to construct the Gigafactory. Examples of these reports are here, here, and here.
In its bond indenture, Tesla gave the bond buyers the same assurance:
We intend to use the remaining net proceeds to accelerate the growth of our business in the U.S. and internationally, for the development and production of the "Gen III" mass market vehicle, the development of the Tesla Gigafactory and other general corporate purposes….
September 2014: Nevada's Government Projects Tesla Capital Spending and Jobs
By the fall of 2014, Tesla was juggling negotiations with several different states, trying to secure the best possible package off tax breaks, subsidies, and other incentives. By that time, the negotiations in Nevada were advanced, and had prompted the Governor's office to commission the state's Office of Economic Development to prepare a study on the likely economic impact of Tesla.
The study, which is published here, was prepared by the Nevada state agency, relying heavily on the work of an Arizona consulting firm called Applied Economics. Applied Economics, in turn, used what it described as a sophisticated modeling software program called IMPLAN. The study was crosschecked against models prepared by the University of Nevada using its own software called REMI.
The Office of Economic Development commissioned yet a third study from developers of developers of another economic modeling tool known as Economic Modeling Specialists International (EMSI). The Nevada bureaucrats reported that they were confident that they had done their modeling carefully:
By commissioning separate reports from both REMI and EMSI, [the Governor's Office of Economic Development's] goal was to make sure that IMPLAN results were reasonable and accurate. Assisting the [Governor's Office of Economic Development] in its review of these results was Alan Schlottmann, Professor of Economics at the University of Nevada, Las Vegas. Dr. Schlottman is a respected economist with real-world experience studying complex manufacturing projects, including the BMW factory located in South Carolina. Also providing assistance was Jeff Hardcastle, the Nevada State Demographer. Jeff is part of the Nevada Small Business Development Center at the University of Nevada, Reno and has over 20 years' experience running the REMI model.
Fortified by all this expert firepower and software sophistication, the Governor's Office of Economic Development expressed confidence that its report "provides a conservative estimate for the Tesla project."
On page 7 of the 44-page report, you can find these "conservative" forecasts of the Gigafactory's anticipated economic impact in Nevada:

October 2014: Nevada and Tesla Strike a Deal
Confident that it had a good grip on the benefits that Tesla would bring to their state, Nevada officials completed negotiations with Tesla and signed an agreement on October 17, 2014.
The Tesla-Nevada agreement, together with its extensive exhibits, are published here. Unfortunately, the Tesla-Nevada agreement is heavily redacted, as is a summary of the agreement. It is all but impossible to determine the exact nature of Tesla's undertakings or the agreed timetable. A summary of the agreement gives a taste of the extent of the redaction:
The initial construction phases are described as [***] and [***]. The concept layout of the Gigafactory is shown in the exhibit. [***] The placement of process manufacturing equipment will begin [***].

[***] structural concrete foundations will begin [***], following the construction of the building pad. Structural steel erection will follow closely behind the foundations and will continue into [***]. As structural steel progresses the building envelope; the roofing system, siding and windows, will follow. Following the building envelope, the mechanical, electrical and process systems begin to advance and will continue to support the manufacturing equipment. As these systems come on line, Tesla's manufacturing partners will start installing equipment in [***]. The installation and commissioning of the mechanical, electrical and process systems will continue through [***].

During the construction of [***] the site development activities will continue to progress, providing access, drainage, parking lots and utility services required for the factory's operation.
Under the agreement, Tesla, together with Panasonic (OTCPK:PCRFY) and the other "participants" it brings to the Gigafactory, are to make certain levels of capital investment and provide specified numbers of jobs. The redactions make it impossible to determine the exact nature and timing of Tesla's obligations, or the circumstances under which they can be clawed back.
In exchange for the capital investment and jobs, the State of Nevada granted Tesla a package of benefits including abatements of a host of local and state taxes, 10 years of discounted electrical rates, and up to $195 million of transferable tax credits extending into 2022. The total package of benefits provided by the State of Nevada was reported to be $1.25 billion.
Despite the secrecy about details, the exhibits filed in conjunction with the Tesla-Nevada agreement do offer some important clues about the level of capital investment and jobs that Tesla must achieve.
For instance, on October 17, 2014, Tesla's Nevada legal counsel sent Nevada officials a letter with the following assurance: "The Project is expected to have a profound impact on the economic development and the economic diversity of the State of Nevada as described in the 44 page report prepared by Applied Economics for the Office, dated September 2014."
Also, Yates Construction Company, whom Tesla engaged to build the Gigafactory structure, furnished a chart showing that by January of 2016 (today), Phases 1 and 2 of the structure would be completed (or, at least, the workers employed on them would have shrunk to zero), while Yates would be employing 1,100 workers in Phase 3 and another 1,100 workers in Phase 4.
The State of Nevada included in the agreements its own summary, stating that construction would take place between September 2014 and December 2017, with peak employment of 3,000 construction and installation workers, and a three-year construction impact of $1.6 billion.
The Gigafactory Reality - Daniel Kahneman, Call Your Office
Those familiar with our work know that we are huge fans of Daniel Kahneman's work, particularly his seminal and path-breaking book, "Thinking Fast & Slow." In Chapter 23 of that book, Kahneman identifies what he calls the "Planning Fallacy," by which plans and forecasts by those embarking on complex projects are often "unrealistically close to best-case scenarios."
Kahneman offers myriad examples from government, business, and academia, including his own attempt to help plan publication of a textbook:
When forecasting the outcomes of risky projects, executives too easily fall victim to the planning fallacy. In its grip, they make decisions based on delusional optimism rather than on a rational weighting of gains, losses, and probabilities. They overestimate benefits and underestimate costs. They spin scenarios of success while overlooking the potential for mistakes and miscalculations.
Daniel Kahneman no doubt would not be surprised to learn the following:
The 2014 bond proceeds that were to be spent on the Gigafactory are long gone.
Tesla has not come close to its own estimate that it would complete the Gigafactory structure by the end of 2015.
Tesla has spent about $300 million on the Gigafactory - far less than Nevada estimated would have been spent by now.
Tesla's only announced "partners" at the Gigafactory are Panasonic and two fledgling mining companies with contingent contracts for the supply of lithium-hydroxide. (Even though Tesla speaks of Panasonic as partner, section 16.5 of the October 1, 2014 General Conditions between the parties makes clear that is not so in a legal sense: "Relationship of Parties. The Parties are independent contractors under these General Terms and the Contract and no other relationship is intended, including, without limitation, a partnership…" The absence of any partnership duties is why Panasonic remains free to engage in other manufacturing enterprises, including one recently announced in China that will supply batteries to Tesla competitors.)
Tesla recently issued, at page 22 of its November 10Q filing, a caution that "we may have difficulty signing up additional partners." (This was added to existing disclosures that "the cost of building and operating the Gigafactory could exceed our current expectations" and "the Gigafactory may take longer to bring online than we anticipate.")
As of September 30, 2015, Tesla had 50 employees at the Gigafactory and Panasonic had 32. During the third quarter, there were (on average) another 847 construction workers on site. Based on drone flyovers (which unfortunately are removed from the web soon after they appear), it appears that many, if not most, of the construction workers have now left the Gigafactory site.
Structural steel that had been erected for a larger structure has been removed. There is no indication that any additional structure is being erected.
No doubt, Tesla and Panasonic will have more than 82 of their own employees on site during 2016, but with the imminent departure of most of the construction workers, they certainly won't have anything close to the 1,700 projected by the State of Nevada. Indeed, a Tesla enthusiast recently published an article here suggesting that - even though Tesla statistics supposedly "scream" rapid growth - Tesla has only about 50 jobs advertised for its Gigafactory site at present, which is consistent with internet job site searches.
It is doubtful, indeed, that in 2016 Tesla will approach, never mind achieve, the State of Nevada estimate of 1,700 employees at the Gigafactory.
Conclusions
There are two glaring conclusions one can draw from all of this:
First, Tesla's February 2014 forecast of its Gigafactory spending and progress was wildly optimistic; and
Second, the State of Nevada's September 2014 forecast of Tesla's economic impact also was wildly optimistic.
There is just no getting around it - the Gigafactory is nowhere near as large in size as promised, and has no present prospect of becoming that large, and the marshaling of "partners" is woefully behind schedule.
But, is it possible that these facts do not necessarily spell trouble for the Model 3? Cannot Tesla, as some of our commenters suggested, do just fine with a smaller Gigafactory in the early years?
No, not if one puts stock in Tesla's original promise that the enormous Gigafactory would be the key to achieving 30% or more in reduction of battery costs, and its conviction that such a cost reduction would pave the way for the Model 3's success. And that, after all, is the narrative that has buoyed Tesla's stock price for the past several years.
Nor is a significantly larger Gigafactory on the near-term horizon. Tesla, which only months ago forecast it would achieve "positive free cash flow" at some point during the fourth quarter of 2015, has backed off that forecast, and continues to burn cash. To all appearances, it presently lacks the capital to proceed much further with the Gigafactory without borrowing more money, issuing more stock, locating a financial partner, or some combination of all three.
We stand by our assertions that (1) Tesla will need a capital infusion of at least several hundred million dollars to complete anything but a pilot-size Gigafactory; (2) Tesla is far behind its own schedule in attracting Gigafactory "partners"; and (3) the prospect of a fully-integrated battery manufacturing facility in the Nevada desert remains almost as distant today as it was two years ago.
We respectfully submit that any Tesla investor who fails to consider the facts about the Gigafactory delays and revisions does so at his or her own financial peril.
What About Panasonic?
To those who take comfort in the recent headline that "Panasonic Will Bet Big on the Gigafactory," we offer the cautions set forth here. Panasonic has done nothing but affirm that its own equipment installation obligations are in large measure contingent on the demand for Tesla products.
Was This Trip Necessary?
A final note. Was the Gigafactory even necessary? Seeking Alpha member commonnonsense spoke most eloquently for those commenters who think not:
[I]t's notable that one of the best run, most profitable companies in history (Apple) does not make their own batteries. Their supply chain is a marvel, allowing them to churn out 1/4 billion devices annually. Battery cells are a commodity, available from any number of reliable suppliers who scramble to compete for tiny profits in that industry. Why does Elon think he can do it better and cheaper? How long would it take to realize any return on the $5 billion investment he envisioned? And when Lithium-Ion technology is superseded by something else, how quickly can the GF adapt?
Food for thought.
A Note About Predictions
We are fond of quoting the words of the late, great Yogi Berra, "It's tough to make predictions, especially about the future."
As usual, the prediction we can most confidently make is that our predictions about the Gigafactory will be wrong. However, a prediction we make with only a slightly smaller degree of confidence is that our forecasts will come a lot closer to reality than those of, say, Tesla Motors or the State of Nevada.
A Note About the Other Contributors to this Article
I have used the first person plural ("we" and "us") in this article because I have shaped much of my analysis from other thoughtful Seeking Alpha members, most especially those calling themselves xonkd and investor.gator. I have also relied heavily on the insights of some knowledgeable posters at the Yahoo Tesla message board, chiefly the posters who identify themselves as "temagami" and "n0m0renancy".
As always, these posters are not responsible for my errors, nor do they necessarily join in all points of my analysis. However, I am deeply grateful for their contributions.
And a Note About How To Contact Us
We now have a twitter address (Montana Skeptic@montanaskeptic1) and an email address (montana.skeptic@gmail.com). We hope to use twitter to announce future articles and blog posts.
Disclosure: I am/we are short TSLA VIA LONG-DATED PUTS.
I wrote this article myself, and it expresses my own opinions. I am not receiving compensation for it (other than from Seeking Alpha). I have no business relationship with any company whose stock is mentioned in this article.
Editor's Note: This article discusses one or more securities that do not trade on a major U.S. exchange. Please be aware of the risks associated with these stocks.