Alibaba (NYSE:BABA) just about recovered its losses in the summer, only to fall again when China intervened with its stock exchange twice in the past week at the start of this year. Previously, BABA's downside was justified. Problems in China's economy, including falling export and lower economic activity, and interference in its stock market (People's Republic of China, or PBoC, disallowing short selling, propping up stocks) meant BABA was a stock to avoid. With Alibaba about to breach $70, investors should still stay away from this stock.
Note: This article was originally published on December 28 for premium subscribers as a stock to avoid, when the stock was around $85, 18 percent higher. This article was updated to reflect last week's developments in China's stock market.
$95 price target too high
Analysts are far too optimistic on Alibaba's prospects. The average consensus is $95.74, with the lowest target price at $80:

Source: tipranks.com
In its latest quarter, Alibaba did not report anything that would justify this bullish outlook. The company has a huge reach in China through its e-commerce properties. Its valuations are favorable when compared to American firms like eBay (NASDAQ:EBAY), PayPal (NASDAQ:PYPL), or Amazon (NASDAQ:AMZN).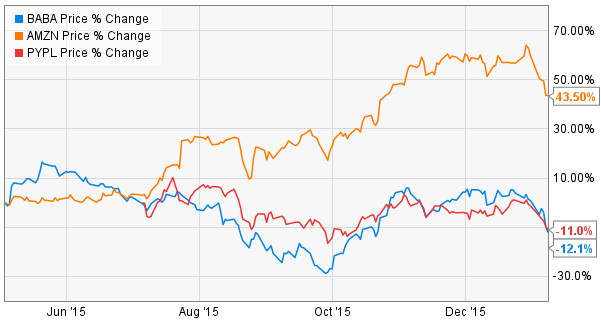 Data by YCharts
Investors will notice a steep discount for Alibaba over the highly priced Amazon.com. Alibaba has a "China discount." This happens because political intervention may happen at any time in the region. At the macro level, China may release questionable economic numbers, so investors are left wondering how accurate they are.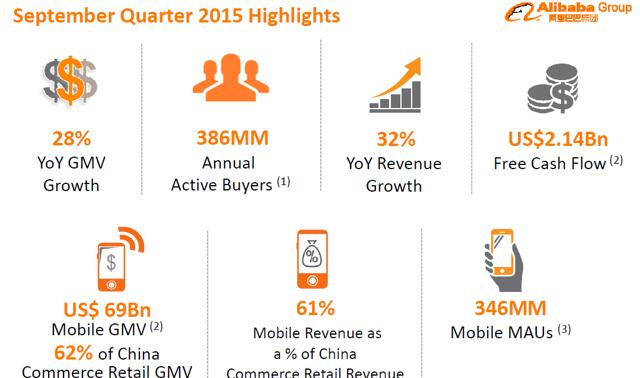 In the last quarter, the company hinted its growth rate will improve, by taking the time to differentiate its mobile business from its desktop one. Mobile is growing rapidly, but progressing only at a measured, steady pace: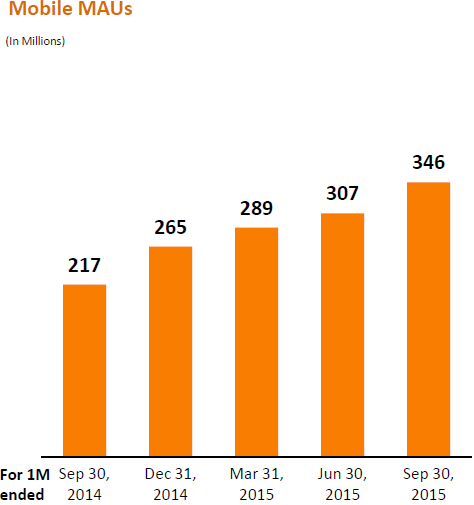 As shown below, Alibaba's monetization rate for mobile GMV (quarterly gross merchandise volume) now approximately matches that of total GMV. As mobile use increases, the company should reasonably expect sales here to permanently exceed sales from the desktop channel: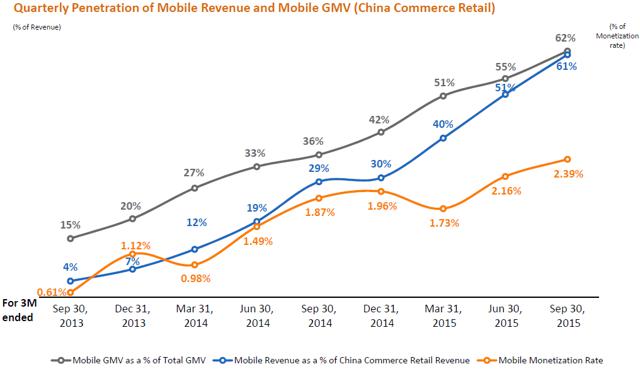 On December 28, Alibaba stock rebounded back to the $85 range. At that time, I did not find it a compelling buy. Mobile is growing nicely, but all it has done is replace the drop in non-mobile:
(click to enlarge)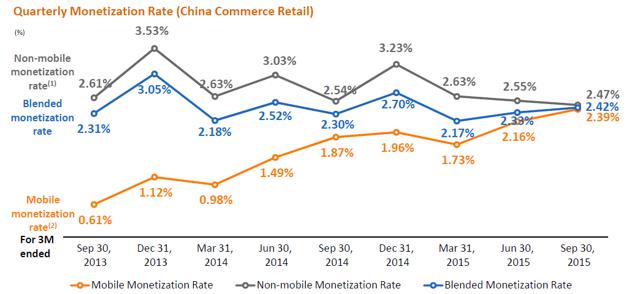 Multiple risks
Alibaba is still facing higher costs: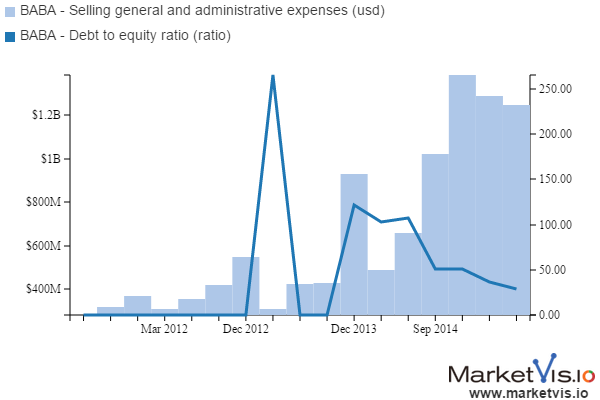 Debt is manageable, but if China's economy worsens and consumer demand falls, Alibaba shareholders will suffer. Profitability is already falling. As shown below, the EBIT margin percent dropped in 2014 and has yet to improve. Free cash flow is healthy: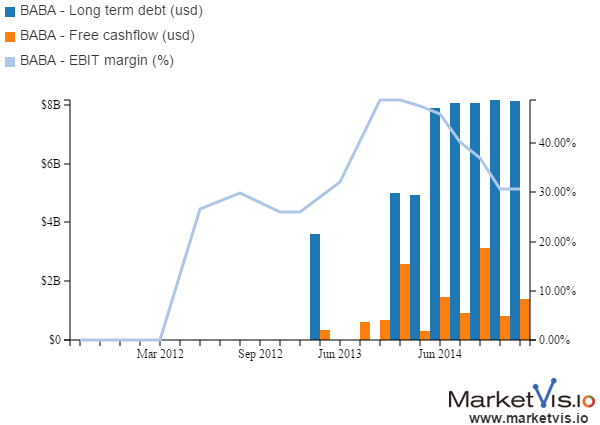 China
China's economy and stock market is still a wild card. Alibaba trades more closely to China's fortunes than investors care to admit. 2016's trading on the Shanghai Exchange proved highly volatile and negative. China's stock market must find a floor first. The government said it would not close markets if stocks fall. This also means China will step in to buy publicly traded stocks aggressively if needed.
Avoid Alibaba
Investors should observe how determined China is in stabilizing its market. If successful, Alibaba's stock will stop falling. Chances are still high, though, the stock will revisit lows in the $60 to $65 range. There is some hope. The country will likely push through reform for IPOs, which will boost liquidity and ease restrictions. With overall liquidity higher in the Chinese market, it will ultimately benefit Alibaba's stock valuation in the long run.
Disclosure: I/we have no positions in any stocks mentioned, and no plans to initiate any positions within the next 72 hours.
I wrote this article myself, and it expresses my own opinions. I am not receiving compensation for it (other than from Seeking Alpha). I have no business relationship with any company whose stock is mentioned in this article.